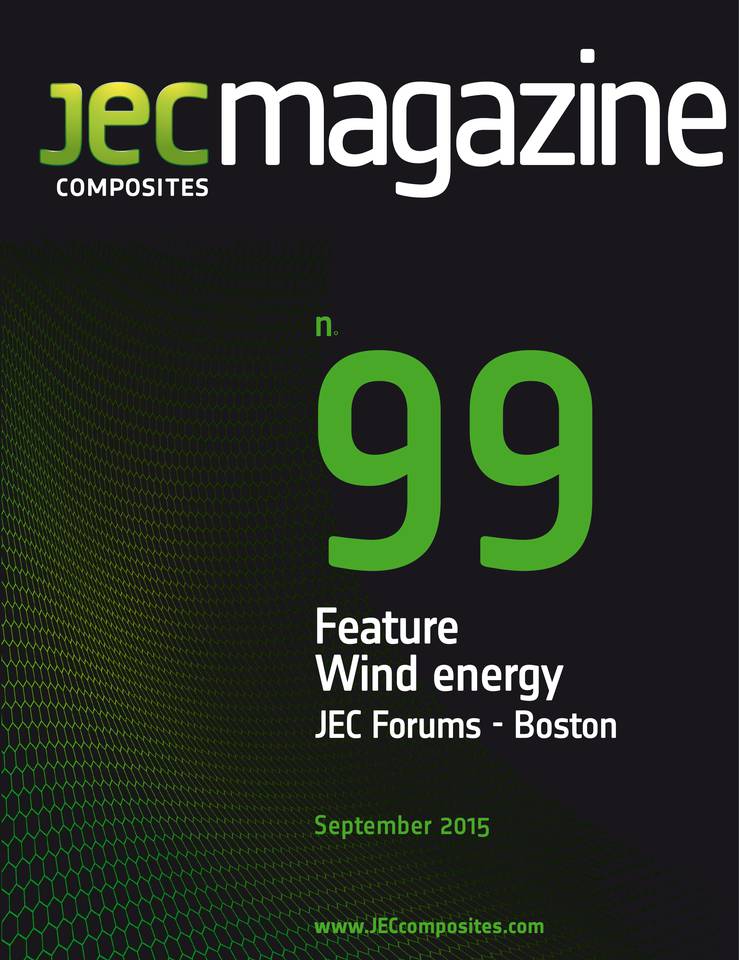 JEC Composites Magazine
N°99 - september 2015
Preview
JEC Composites Magazine is the point of contact of the international Composites Community, 6 times a year, with topics covering scientific information, business, technology, manufacturing, and application sectors trends.
In each and every issue, readers will learn about the entire composites industry value chain (from raw materials to application markets), and be inspired with current and future innovations.
The six sections of the magazine consist in:
NEWS: with interviews, articles about business development (M&As, appointments, partnerships and collaborations, awards etc.).
BUSINESS: with articles covering trends and markets, focusing on a specific country or region, with the composites market, or the application markets, or the companies strategies etc. in that country or region, and a startup focus.
MANUFACTURING: with articles about production processes and processing equipment.
FEATURE: an in-depth overview of a specific topic (typically an application sector), plus a JEC World Preview in April/May and Review in June/July.
SOLUTIONS: composites around us, with articles showing how composite materials are being used in applications which impact our everyday lives.
TECHNOLOGY: with articles about developments in materials, testing and control, repair, joining, design and simulation, recycling and reuse, R&D.
Enjoy your reading!
Contents
How can production ramp-up goals be met in the aerospace and automotive industries?
"Composites are being used more and more extensively in airplanes and cars. All the key products in transportation take advantage of the many properties of composite materials. Superior...
Read More
N°99 - september 2015
EDITO
How can production ramp-up goals be met in the aerospace and automotive industries?
"Composites are being used more and more extensively in airplanes and cars. All the key products in transportation take advantage of the many properties of composite materials. Superior...
POINT OF VIEW: THE FUTURE OF MASS PRODUCTION
Cytec: a strong focus on time savings, productivity and automation
At the end of April, Cytec Industries Inc. opened a new kitting facility in Toulouse, France. This is a key milestone for Cytec in its strategy to bring manufacturing capabilities for value added...
COMPANIES & BUSINESS
IACMI is officially open for business
Hundreds of composites experts from industry, government and academia gathered in Knoxville for the launch of the Institute for Advanced Composites Manufacturing Innovation, or IACMI. A signing...
Vision Systems opens a production plant dedicated to composite
In order to respond to the growing need of its customers in terms of composite products integration, the company is setting up a production unit that will specifically produce composite parts. The...
Purdue University breaks ground on $50 million project
The Indiana Manufacturing Institute is a part of a $50 million project in which Purdue University researchers will advance research of composite materials manufacturing to develop more energy-...
U.S. senator introduces bill to develop carbon fiber recycling
Senator Maria Cantwell calls for a study of the technology and energy savings of recycled carbon fiber and directs the U.S. Department of Energy (DOE) to collaborate with the automotive and aviation...
UTA opens a Center for Integration of Composites into Infrastructure
The new Center for Integration of Composites into Infrastructure, an NSF Industry/University Cooperative Research Center, will highlight the sustainable benefits of using composites in infrastructure...
Fokker, NLR, Airborne and TU Delft start maintenance centre for composites
At Le Bourget Airshow 2015 the Dutch Composites Maintenance Centre agreement was signed between Fokker, NLR, Airborne and TU-Delft. The DCMC will initiate and support innovations in the Maintenance...
CAT contracts with Finnoff Aviation Products to sell MT Composite Propellers
Commuter Air Technology (CAT), an AGC Aerospace & Defense company headquartered in Oklahoma City, announces an agreement with Finnoff Aviation Products to provide 5-blade MT Composite Propellers for...
"Our aim is to ensure bicyclers are safe to race"
As an introduction to Cyclitech, the first international conference on bicycle technology, co-organised by JEC Group and SPE, that will take place on 8-9 December 2015 in Brussels, Belgium, JEC...
APPLICATIONS
A recreational airplane as advanced as the latest wide-bodied aircraft
Elixir Aircraft, a French start-up based in Périgny near La Rochelle in the Charente-Maritime region, hopes to win over a lot of recreational pilots with its new CS-LSA-certified, all-carbon airplane....
Cork, flax and green epoxy: a perfect balance for a skateboard
Sicomin collaborated with Archer Cork Skateboards to provide a dynamic direction for environmentallyresponsible composite technologies. Sicomin's Greenpoxy 56 was used to manufacture the Archer Cork...
Lightweight emergency medical cot
Ferno's iN∫X is an emergency medical transport de-vice that allows the two sets of wheels to operate separately and presents superior weight support. Emergency medical technicians (EMTs) go through a...
MARKET
Natural fibres: tending towards optimism
Biocomposites are riding high at the moment, as are natural fibres (we ask the purists who insist that the entire biocomposite must be biosourced to pardon us). Manufacturers are getting over their...
SPECIAL JEC FORUMS 2015
MIT-necstlab: a research team dedicated to composites in Aeronautics
Centered in MIT's Department of Aeronautics & Astronautics, the necstlab researchers are focused on improving performance of advanced aerospace structures. Dr. Adriana Gama explores the potential of...
14th lnternational JEC Conferences: Knowledge and networking
This two-day conference focuses on design and simulation in the aeronautics and automotive industries. Throughout various topics, the sessions will provide thought provoking elements and concerns,...
FEATURE WIND ENERGY
Double-digit growth continues
Even though declining oil prices are not working in its favour, the wind energy sector continues to flourish at the global level, since the pressure is on domestic energy policies to focus on...
A wind turbine without blades
Vortex Bladeless, a Spanish tech startup, has developed a multipatented wind turbine without blades. The turbine design uses an aero-elastic coupling that architects and civil engineers absolutely...
Visualizing RTM behaviour using advanced 3D CAE technology
Sandwich structures have been widely used in recent years in wind turbine blades and aircraft part manufacturing to further strengthen the structural properties of parts [1]. The study described in...
Optimizing fabrics for wind blade infusion
When optimizing the infusion process for the manufacture of wind turbine blades, a key factor to consider is the permeability of the rein-forcement fabrics. Multiaxial reinforcements specialist Formax...
Automation strategies in rotor blade production: preforming vs. direct textile layup
Wind turbine blades are usually made of long fibre-reinforced composites. The reinforced fibres are processed into high-performance technical textiles made up of glass and carbon fibre material,...
Recycling decommissioned composite wind blades
Global Fiberglass Solutions Inc. (GFSI) and Washington State University (WSU) have successfully manufactured a variety of composite products with fibreglass material taken from decommissioned wind...
An internet aid for advances in wind turbine blade design
The recovery of energy from renewable sources is a primary goal today and wind energy provides significant opportunities with only modest environmental effects. Yet, the very efficiency of wind energy...
RESEARCH & DEVELOPMENT
Gambling with graphene…. Will it pay off?
Graphene has been hailed as the miracle material of the 21st century. But so far, the most available commercial composite product with graphene in it is a tennis racket and that seems to be more of a...
Boeing simulates thermal expansion in composites with expanded metal foil for lightning protection of aircraft structures
Modern aircraft such as the Boeing 787 Dreamliner are comprised of more than 50% carbon fibre composite requiring the addition of expanded metal foil for lightning strike protection. Researchers at...
TECHNOLOGIES & INNOVATIONS
Power transfer in complex shape heated moulds or functional composites
In mould curing process or composite functionalization is concerned by power exchange limitations and often requires stretchable fatigue withstanding heating circuits, because of the repeated heat...
Tension control in composites manufacturing
Tension control plays a vital role in composites manufacturing in order to increase or achieve automated processing, continuous processing, reduced scrap, increased product quality and more. Tension...
A fully biodegradable flax fibre-reinforced thermoplastic filament for 3D printing
Texilis' R&D team and ComposiTIC researchers developed a flax fibre/polylactic acid (PLA) composite material filament for 3D printing. Metylos designers then created and manufactured objects to...
Fast production epoxies for lightweight automotive composites
State-of-the-art epoxy resin technologies from Hexion enable cost-effective light-weighting and high build rates in the automotive industry via resin transfer and liquid compression moulding (RTM and...
COMPOSITES IN THE WORLD
The big natural fibres circle
The animal coffin is made from remnants and natural resources. It both conserves resources and provides the opportunity to bid farewell to the pet. This accords perfectly with the words of Antoine...
A new player on the field
SST lightweight composite head guards for pitchers are designed to reduce head injury from the impact of a baseball. They insert easily into the sweat liner of any ball cap and are comfortable for...
Thank you
You just used 1 credit. You have left.