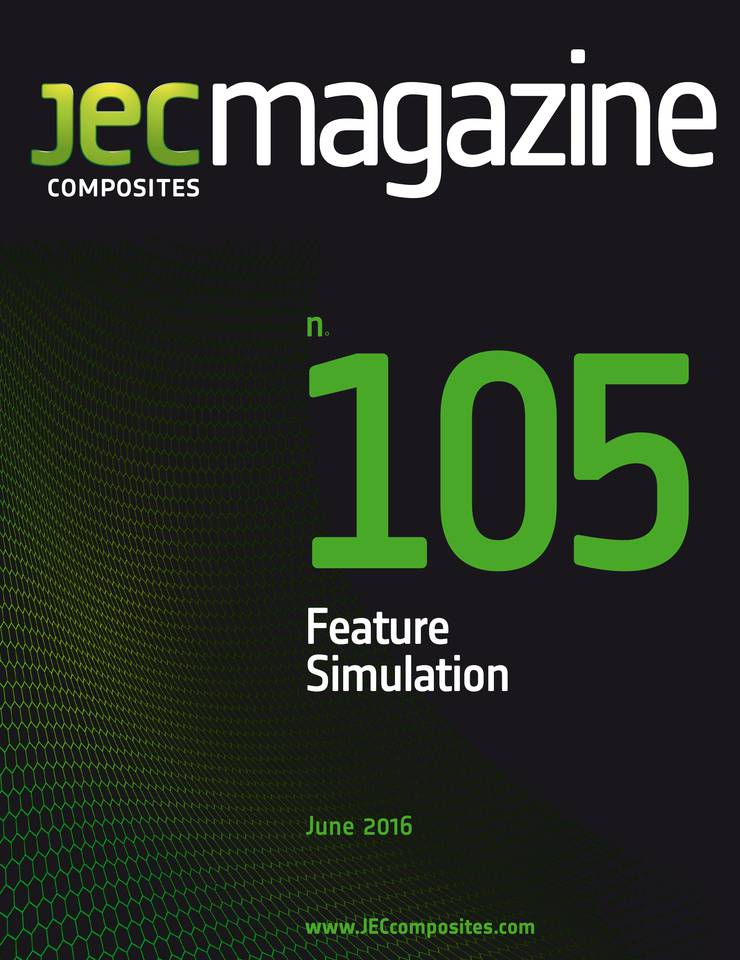 JEC Composites Magazine
N°105 - june 2016
Preview
JEC Composites Magazine is the point of contact of the international Composites Community, 6 times a year, with topics covering scientific information, business, technology, manufacturing, and application sectors trends.
In each and every issue, readers will learn about the entire composites industry value chain (from raw materials to application markets), and be inspired with current and future innovations.
The six sections of the magazine consist in:
NEWS: with interviews, articles about business development (M&As, appointments, partnerships and collaborations, awards etc.).
BUSINESS: with articles covering trends and markets, focusing on a specific country or region, with the composites market, or the application markets, or the companies strategies etc. in that country or region, and a startup focus.
MANUFACTURING: with articles about production processes and processing equipment.
FEATURE: an in-depth overview of a specific topic (typically an application sector), plus a JEC World Preview in April/May and Review in June/July.
SOLUTIONS: composites around us, with articles showing how composite materials are being used in applications which impact our everyday lives.
TECHNOLOGY: with articles about developments in materials, testing and control, repair, joining, design and simulation, recycling and reuse, R&D.
Enjoy your reading!
Contents
Is simulation the key to success?
"We are tempted to answer "yes" to that question, or at least to consider that it is difficult to get along without simulation these days. Over the years, and with the tremendous progress in...
Read More
N°105 - june 2016
EDITORS
Is simulation the key to success?
"We are tempted to answer "yes" to that question, or at least to consider that it is difficult to get along without simulation these days. Over the years, and with the tremendous progress in...
Point of view: eastern promises
"My vision was always to become a high-volume producer for automotive & aerospace OEMs."
Founded in 2005 by Patrick Hessel, c2i is specialised in carbon-fibre components manufacturing and assemblies. The company has grown rapidly in the aeronautics and automotive fields due to a brand new...
Companies & Business
£38 million fund will use F1 technology to design greener cars
Winners of government competition will develop ideas to cut vehicle emissions and help plug-in cars drive further. Formula 1 technology could soon make family cars lighter, improve fuel efficiency and...
Petronas, CRS-ACS and ACS Australia sign an agreement for a composite repair system
Petronas Technology Ventures Sdn Bhd signs a licensing agreement with Cooperative Research Centre for Advanced Composite Structures (CRC-ACS) and Advanced Composite Structures Australia Pty Ltd (ACS...
Faurecia sells its Automotive Exteriors Business to Plastic Omnium
The transaction concerns the bumpers and front end modules business of Faurecia which had sales of €2 billion in 2015 and employs 7,700 people in 22 sites. The Entreprise Value of the transaction is...
IDI Composites International joint venture with SMC Composites in Mexico
The newly named company, IDI Composites International Mexico, will focus on expanding IDI's footprint and bring the number of IDI's global manufacturing facilities to seven. Demand for IDI's proven...
Quickstep contract to open up South Korean automotive market
Quickstep Holdings announces its entry into the South Korean automotive market through a new sales contract with the Korea Institute of Science and Technology (KIST). Quickstep will develop and supply...
Nordex and Acciona Windpower join forces to create a major player in the wind industry
Nordex is acquiring Corporación Acciona Windpower S.L. from Acciona S.A. to form a new major player in the wind industry. Nordex and Acciona Windpower complement each other in a number of important...
Superior Composites announces a $2.5 million expansion at its Kentucky facility
Executives from Superior Composites joined state economic development and local officials in Vanceburg, Kentucky, to mark the start of a $2.5 million expansion. It is expected to create 32 new full-...
Composite Integrity takes on a new dimension
The Institut de Soudure Group integrated most of the activities of PPE (Pôle de Plasturgie de l'Est) on March 1st. This buyout enabled the Group with more than one hundred years of experience to...
Composite methodologies for enhanced productivity
In recent years, the use of composites has grown steadily in a number of industrial sectors. By 2015, global sales of these innovative materials amounted to 61 billion euros. The growth of the global...
Applications
An amphibious aircraft made from advanced composites
With weight reduction being a major concern for any aircraft, it's no surprise that MVP Aero chose advanced composites materials as a solution for their newest model. During the U.S. Sport Aviation...
A racing kayak made out of recycled carbon fibre
A team of academics developed a high-performance racing kayak made out of recycled carbon fibre, which entered the International Canoe Race in Wiltshire, UK. How better to illustrate recycling...
Wall-climbing carbon fibre robot
Disney Research and the Swiss Federal Institute of Technology in Zurich (ETH) teamed up to create the VertiGo robot, which has the ability to scale walls. Used in a similar way to a remote-controlled...
An abundance of composite simulation software
There is a multitude of software programmes used in the composite industry. This comes as no surprise, given that the number of computer-aided design and finite element analysis programmes for any...
Market
ANSYS beefs up its offer for composites with its version 17.0
The software specialist had a vision in mind when it developed ANSYS 17.0: to achieve a tenfold improvement in the user's simulation experience and the results obtained in performance, precision and...
A new lab in Brazil
We recently met Hugo Borelli Resende, the head of the Lightweight Structures Laboratory, a unique laboratory in Brazil with recognised expertise. Opened just over a year ago, the lab has cutting-edge...
Feature simulation
High-speed reactive RTM process simulation for the automotive industry
ESI Group is conducting research with Ecole Centrale de Nantes (ECN) to propose an innovative industrial computation technique for dual-scale flow simulations. Composite parts are produced by...
Simulation technology for fibre concentration prediction in lightweight FRP product designs
In addition to fiber orientation and fiber length/breakage, fiber concentration is also a key factor to consider when developing a fiber-reinforced plastic (FRP) product. The simulation capability of...
Composite impact analysis – aerospace experience leads to automotive solutions
This article describes crash and impact calculation methodologies in aerospace applications and shows that knowledge and experience are paving the way for the automotive industry to use more...
Multi-scale material modelling for additive manufacturing
Part complexity is no longer a restraint for a creative design engineer. With the leap forward of additive techniques from rapid prototyping only to the production of actual end-use parts, a new range...
Composite material property database
CompoSIDE Ltd., the engineering simulation and data management platform with dedicated composite design and analysis software, releases the CompoSIDE CMDB add-on featuring over 1,200 composite...
Managing composites information to enable lightweighting projects
Materials information management is vital for enterprises striving to achieve success in lightweighting projects. Success often depends on an organization's ability to capture and manage high volumes...
Research & development
Smart composite structures: benefits, technical issues and potential applications
In different industrial fields such as transport or aerospace, there is currently a strong research effort on structural weight reduction. One of the most promising solutions, of course, is the use of...
Laser machining of CFRP
The use of lasers for CFRP machining offers the advantages of a non-contact process and ease of automation, while eliminating tool wear, lowe-ring operating costs and reducing or eliminating fibre...
Technologies & Innovations
Destructive and non-destructive testing of composites for design and manufacture
Early in the design cycle, the modelling and simulation of composite components for use in demanding structural applications requires a detailed knowledge of the properties of these anisotropic and...
Joining dissimilar materials without adhesives: innovation to reduce weight and costs
The use of polymeric materials in structural applications and/or with advanced properties has increased during the past years since they present so many benefits such as low weight, high specific...
Thank you
You just used 1 credit. You have left.