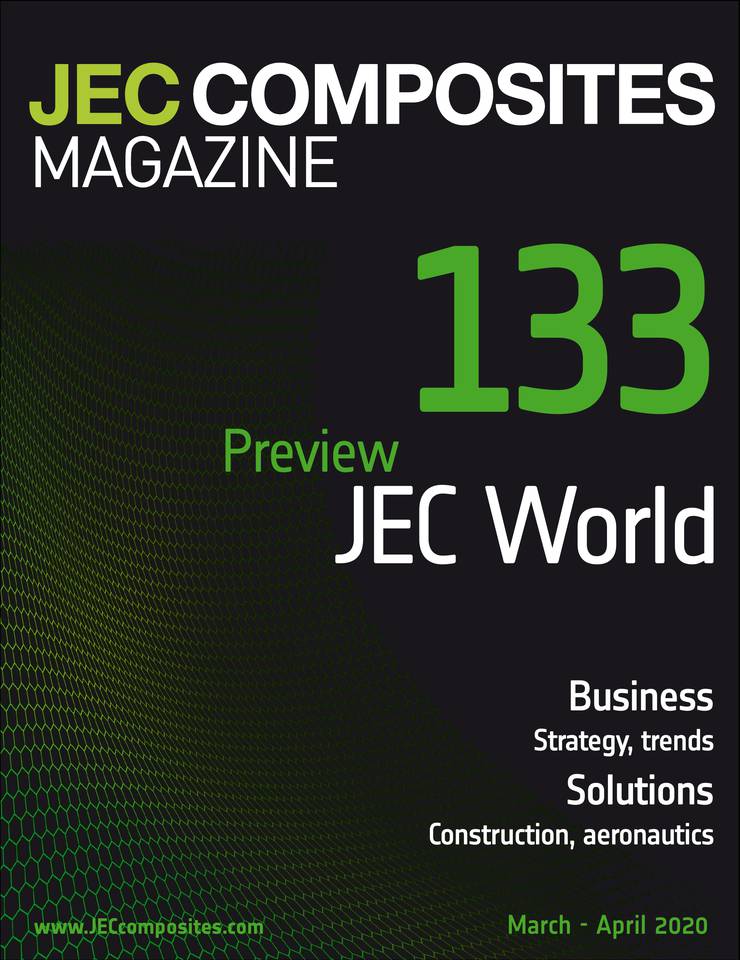 JEC Composites Magazine
N°133 - march 2020
Preview
JEC Composites Magazine is the point of contact of the international Composites Community, 6 times a year, with topics covering scientific information, business, technology, manufacturing, and application sectors trends.
In each and every issue, readers will learn about the entire composites industry value chain (from raw materials to application markets), and be inspired with current and future innovations.
The six sections of the magazine consist in:
NEWS: with interviews, articles about business development (M&As, appointments, partnerships and collaborations, awards etc.).
BUSINESS: with articles covering trends and markets, focusing on a specific country or region, with the composites market, or the application markets, or the companies strategies etc. in that country or region, and a startup focus.
MANUFACTURING: with articles about production processes and processing equipment.
FEATURE: an in-depth overview of a specific topic (typically an application sector), plus a JEC World Preview in April/May and Review in June/July.
SOLUTIONS: composites around us, with articles showing how composite materials are being used in applications which impact our everyday lives.
TECHNOLOGY: with articles about developments in materials, testing and control, repair, joining, design and simulation, recycling and reuse, R&D.
Enjoy your reading!
Contents
Ever better
"It's already been almost a year since the last JEC World – a year that went very quickly, punctuated by the release of a large number of innovations. This year has been a rich, exciting period,...
Read More
N°133 - march 2020
EDITOR'S
Ever better
"It's already been almost a year since the last JEC World – a year that went very quickly, punctuated by the release of a large number of innovations. This year has been a rich, exciting period,...
News
NEWS in brief
Investments BMW Group invests 400 million euros in Plant Dingolfing for BMW iNEXT In doing this, it is preparing for the manufacture of pure battery-electric and highly automated BMW cars at...
NEWS AEROSPACE
Growth of thermoplastic composites
The GIFAS (French aerospace industries association) thermoplastic composite sector is made up of 60 companies, representing exhaustively the French aeronautics sector, both in terms of the size of the...
BUSINESS
Selling your business, Part 1: maximizing value on both sides of the deal
The relatively young and fragmented composites industry continues to attract particular attention from three discrete investment communities: mid-market financial investors seeking strong growth...
Automotive: what will be tomorrow's reality?
With increasingly stringent CO2 emission reduction targets imposed by the European Union, manufacturers have to keep pace. The first possible solution is to electrify the automotive fleet. The second...
Maritime and shipbuilding sector: a niche market with growth potential
The maritime industry is still a small but interesting market for composites. The main material used in boatbuilding is glass fibre, for the hulls and superstructures. The yacht building sector has...
China's glass fibre industry is entering a new cycle
While a new economic framework is pushing prices up, a growing new-infrastructure related demand may be a boon for a few Chinese glass fibre manufacturers. At the end of 2019, Taishan Fiberglass, a...
MANUFACTURlNG
GaplessWeave process for higher-quality carbon fibre fabrics
The GaplessWeave process offers a new way of closing the gaps in a woven carbon fibre fabric without pre-spreading the carbon fibre yarns. Two goals are addressed: One is to make the fabric more...
The potential of epoxy SMC in electro-mobility battery systems
Evonik's new curing agent for epoxy SMC – VESTALITE® S – makes it possible to use SMC technology in structural automotive applications. As part of a case study, Evonik's joint venture Vestaro is...
New updates for the Composite Materials Module's users
COMSOL, the leading provider of software solutions for multiphysics modelling, simulation, and application design and deployment, announces the latest version of its COMSOL Multiphysics® software. In...
lnfused primary structures: the gateway to tomorrow's air mobility
Using infusion processes to manufacture primary structures for aerospace applications can help the industry to achieve goals regarding cycle times and cost reduction. Especially for the new rising UAM...
New core filler for aircraft interiors: reduced material, weight and manufacturing costs
Using lightweight materials while offering very high stability and stiffness, sandwich panel constructions are very often used in today's sophisticated aircraft interior structures. In structural...
Eco lmpact Calculator, a Life Cycle Assessment tool for the composites industry
The Association of the European Composites Industry, EuCIA, introduced the Eco Impact Calculator, a cradle-to-gate life cycle impact assessment tool that uses calculation methods that comply with...
PREVIEW
THE GREATEST SOURCE OF INNOVATION AND INSPIRATION IN THE COMPOSITES INDUSTRY!
JEC World, definitely the world leading get-together of the composites industry, this year expects to welcome more than 43,500 professionals, from manufacturers to engineers, decision makers, buyers...
EDUCATION HUB
The Education Hub is a programme and show area dedicated to the younger generation and anyone who wants to discover new professional opportunities in the industry. It includes a Job Centre, JEC...
JEC OBSERVER OVERVIEW OF THE GLOBAL COMPOSITES MARKET IN 2019-2024
The new issue of JEC Observer - Overview of the global composites market 2019-2024 is now available, and we can be optimistic for our industry. The overall trends are positive. Volume and value are on...
EXCEPTIONAL PROGRAMMING, EXCEPTIONAL KEYNOTES!
Whether they are leaders of our industry or from the end-user industries, successful entrepreneurs or even high-level sportsmen, come and meet and be inspired by their visions, prospects and learn...
NEW AT JEC WORLD 2020 7 HUBS
At JEC World 2020, many programmes and zones are presented to make you exchange, discover and find new business opportunities during 3 days. For the first time in 2020, 7 hubs on the showfloor...
FRANKY ZAPATA THE FLYING MAN BECOMES A REALITY WITH COMPOSITES
2019 was a remarkable year for French inventor Franky Zapata, Founder and CEO of the Zapata Company. In July the 'Flying Man' grabbed the world's attention when he rode his jet-powered hoverboard over...
PREVIEW JEC WORLD
KEYNOTE: Awards Ceremony for Composites Challenge, Startup Booster and JEC Innovation Awards BACK TO THE FUTURE: FLYING MAN BECOMING REAL - HOW I BUILT THE FLYBOARD. He will explain how innovative...
REFRAMING GLASS' ROLE IN INFRASTRUCTURE
Composites are redefining performance, boosting productivity and unlocking new application development in the building, construction, new energy and infrastructure markets. In this article, Marcio...
PREVIEW JEC WORLD PREVIEW
THE INDUSTRIALISATION ERA
As the use of composite materials continues to increase, improvements in industrialisation are now essential to drive the industry to the next level of growth. Carmelo Lo Faro, President of Solvay's...
A PROGRAMME FROM BRILLIANT MINDS FOR A BRILLIANT INDUSTRY
Be first to hear about some of the most promising research projects and meet the talented teams behind them at the Composites Challenge. This competition for PhD Students is a unique opportunity to...
PREVIEW JEC WORLD THE FINALISTS
SIMONE BANCORA École Centrale Nantes Title: From Pressure to Geometry: a scalable method for realistic textiles reconstruction. Description: We propose a method to reconstruct the architecture of a...
CHRISTOPHER HUNT
Title: WrapToR composite truss structures. Description: Wrapped Tow Reinforced (WrapToR) trusses combine the structurally favourable geometry of trusses with the impressive material properties of...
FROM PhD TO ENTREPRENEUR
Christian Fischer commenced his career in the research world but went on to create Bcomp, a developer of natural fibre composite solutions. He shares his advice for researchers thinking about becoming...
THE INDISPENSABLE FUEL OF THE COMPOSITES INDUSTRY
Main Innovation Partners The composites industry has always been highly entrepreneurial and innovative in nature as composite materials and processing technologies continue to evolve and find new...
PUSHING THE STATE OF THE ART
Jelle Bloemhof, Head of Composites Manufacturing Technologies at Airbus, explains how the company benefits from the JEC World Startup Booster competition and what the jury is looking out for. JEC...
JEC CELEBRATES INNOVATION AT JEC WORLD 2020
After a challenging selection process among the numerous applications received by JEC, 33 finalists were shortlisted in 11 categories for the JEC Innovation Awards at JEC World 2020. The winners,...
CREATING UNIQUE VALUE THROUGH INNOVATION
Kordsa, a world leader in innovative reinforcement solutions for the tyre and construction and composites technologies markets, is the Official Partner of the JEC World 2020 Innovation Awards. Murat...
THE FINALISTS CATEGORY ADDITIVE MANUFACTURING
SCALABLE COMPOSITE ROBOTIC AM ELECTROIMPACT www.electroimpact.com/ Associated partners: Northrop Grumman Systems Corporation (USA), Siemens Digital Industries Software (USA) SCRAM is an industrial...
EMBRACING LIFE CYCLE THINKING
THE NATURAL SOLUTION The European Confederation of Flax and Hemp (CELC) is dedicated to informing manufacturers about the many advantages these renewable fibres bring to composites. As...
SHAPING THE FUTURE OF COMPOSITES
FREE ACCESS - AGORA - HALL 5 The Composites Industry Programmes bring together top decision-makers in the global automotive, aerospace, and sports & health industries to debate the potential of...
PREVIEW JEC WORLD
SPORTS & HEALTH INDUSTRY PROGRAMME: « THE COMPOSITES TRIFECTA: DESIGN FLEXIBILITY, PERFORMANCE, AND COMFORT »
Improving user experience and helping it become risk-free, as well as facilitating rehabilitation for patients coming back from severe injuries and pursuing perfomance in high-level sports, are only a...
THE WORLD'S BIGGEST SHOWCASE AREAS HIGHLIGHTING THE LATEST COMPOSITE INNOVATIONS
Our goal at JEC Group is to develop the composite industry by creating programmes including the innovation planets. They allow us to showcase the vast potential and benefits of composites vs. or...
MEETING EVOLVING DEMANDS IN NEW ENERGY VEHICLE DESIGN
Hexion is sponsoring the JEC World 2020 Mobility Planet. Francis Defoor, Global Market Segment Leader Transportation, told us how the company's resins and advanced materials are enabling innovation in...
CELEBRATE THE EXPANSION OF THE COMPOSITES INDUSTRY
In 2020 JEC World celebrates its 50th anniversary and its achievement as the leading international composites show, and the premier business, networking and innovation platform for the global...
DISCOVER NOW THE JEC WORLD 2020 TECHNICAL CONFERENCES PROGRAMME!
Upscale your knowledge, exchange information and meet your peers, the JEC Conferences are made for this. A unique occasion for speakers to highlight their know-how and for the attendees to set their...
DISCOVER THE FUTURE OF COMPOSITES MANUFACTURING AT JEC WORLD
Industry 4.0 is transforming the world of manufacturing. The factory of the future will be flexible and smart, leveraging automation and digitalisation to boost efficiency, quality and...
NEW OPPORTUNITIES WITH ADDITIVE MANUFACTURING
Jérémie Soulestin, Head of Research, Materials & Processes Centre at IMT Lille Douai discusses the importance of additive manufacturing to the future of the composites industry. Additive manufacturing...
THE INDUSTRY 4.0 APPROACH
AZL Aachen GmbH provides technology and business development support in the field of lightweight production technology. Dr. Michael Emonts, Managing Director of AZL Aachen, discusses the importance of...
EXPLOITING EVERY BENEFIT COMPOSITES HAVE TO OFFER
With over 30 years of experience designing, analysing and optimising composite structures, Altair is helping designers and engineers to attain their goals in an affordable way. We asked Ming Zhou,...
3DEXPERIENCE PLATFORM TO DESIGN, SIMULATE & MANUFACTURE EFFICIENT COMPOSITES STRUCTURES
As a global leader of virtual modelling and simulation, Dassault Systèmes provides an innovative collaborative Platform to offer its customers experiences integrating modelling, simulation, trade-offs...
THE NETHERLANDS COMPOSITE THINKING TAKES OVER
In collaboration with the Ministry of Economic Affairs & Climate Policy and its top sectors HTSM (High Tech Systems and Materials) and Chemistry, CompositesNL, the trade organisation for the...
WELCOMES INVESTMENT IN HIGH-TECH INDUSTRIES
Growth in the Russian composites market is outpacing global figures as a result of government measures to expand the adoption of composite products beyond the military and industrial sectors. The JEC...
COUNTRY ON STAGE
DISCOVER THE STRENGTH OF SOUTH KOREA'S CARBON COMPOSITES INDUSTRY
KCTECH, the Korea Institute of Carbon Convergence Technology, is organising the Korean Pavilion at JEC World 2020 and will present the capabilities and strengths of the country's composites industry...
PREVIEW JEC WORLD
Raw materials, intermediate products, ancillary products, equipment, applications… innovation is in the spotlight at JEC World
This year again, innovation will be in the spotlight at JEC World. Some innovations are highlighted in the following pages. Faced with the volume of new products and services exhibited this year, we...
Booth: Hall 6 – S66 Multi-sector
REACH-COMPLIANT BIO-BASED RESINS Bitrez, a European manufacturer of specialist polymers and chemicals, will showcase its work around regulatory compliance at JEC World 2020, while also launching a new...
LIGHTWEIGHT RESIN SPRAY SOLUTION FOR COMPLEX HONEYCOMB
Booth: Hall 6 – M31 Automotive Rimline HC+ resin technology is a new, twocomponent po-lyurethane resin system for spray application to fibreglass-reinforced honeycomb panels for automotive interior...
FOAMING CORE TECHNOLOGY
Booth: Hall 6 – R27 Multi-sector Creating aesthetically appealing, lightweight, highly structural curved or three-dimensional foam core composites for the automotive, aerospace, truck and...
Z-AXIS REINFORCED CARBON FIBRE
Booth: Hall 6 – P32b Multi-sector Boston Materials developed Supercomp, a material that solves the performance, cost and sustainability issues of today's carbon fibre. This higher...
SUSTAINABLE NONWOVENS BASED ON RECYCLED CARBON FIBRES
Booth: Hall 6 – R52 Multi-sector Tenowo produces nonwovens based on recycled carbon fibres (rCF). The fibres come from edge trim of woven and non-crimp fabric production (with original sizing) or from...
LOW-CTE THERMOPLASTIC RESIN FOR LARGE-SCALE 3D PRINTING
Booth: Hall 5 – E32 Multi-sector Airtech's new "Tooling of Tomorrow" initiative leverages the company's 45 years of polymer extrusion and manufacturing expertise to address the needs of the large-...
EPOXY TECHNOLOGY FOR HIGH-VOLUME LEAF SPRING PRODUCTION
Booth: Hall 6 – G52 Automotive Composite leaf springs have been used in the automotive industry for a long time, for example in the GM Corvette, Daimler Sprinter and Volvo models from the new Scalable...
WHITE CONDUCTIVE FLUOROPOLYMER COMPOUNDS – FLOMELT
Booth: Hall 6 – B65 Multi-sector In the field of fluoropolymer conductive compounds, one of the currently available solutions includes the addition of conductive carbon (or carbonaceous fillers) to...
WATERSPORTS LOOK TO THE FUTURE WITH RECYCLABLE EPOXY PARTS
Booth: Hall 6 – E28 Sports & Leisure COBRA International, the market leader in serial production of strong, light and beautiful composite products, has been pioneering the introduction of more...
INTERMEDIATES
Booth: Hall 5 – F17 Automotive BEST-IN-CLASS HIGH-TEMPERATURE PHTHALONITRILE PREPREGS Azista Industries is introducing a phthalonitrile resin-based prepreg. Composite materials made with these...
BIO-BASED EPOXY SYSTEMS FOR WIND ENERGY AND AUTOMOTIVE
Booth: Hall 6 – G43 Multi-sector Sicomin's SGi 128 is a new, innovative intumescent epoxy gelcoat that is particularly well suited to fire-retardant coating applications for critical components found...
NEW MARINE PRODUCTS ENABLE SHORT CYCLE TIMES
Booth: Hall 5 – J41 Marine Hexcel will present the new HexBond 679 low-temperature film adhesive and new HexPly UD carbon tapes with air venting Grid Technology, both specifically tailored to offer...
CHEMISTRY CHOICE FOR COMPOSITE SUSPENSIONS
Booth: Hall 6 – M31 Automotive Huntsman developed two high-performance resin families matching cus-tomer performance and processability requirements for dynamically-loaded automotive suspension...
NEOLAMINATES MADE FROM THERMOPLASTIC UD TAPES
Booth: Hall 5 – P11 Multi-sector W8SVR neolaminates from HUESKER Synthetic are made from thermoplastic UD tapes and have the potential to further improve the weight/performance ratio of thermoplastic...
THERMOPLASTIC SANDWICH PANEL TECHNOLOGY
Booth: Hall 6 – R37b Multi-sector Tri-Mack Plastics Manufacturing Corporation continues to innovate with the development of thermoplastic sandwich panel technology for aerospace and other...
CARBON NANOTUBES FOR INNOVATIVE COMPOSITES AND ADHESIVES
Booth: Hall 6 – M31 Multi-sector Miralon products are a new generation of ultra-long carbon nanotube-based materials. Unlike standard carbon nanotubes, Miralon is produced in the form of sheets or...
INNOVATIONS FOR AUTOMOTIVE APPLICATIONS
Booth: Hall 5 – J41 Automotive Hexcel is supporting NaCa Systems, a Tier 1 specialist in automotive interior parts that combine natural materials with carbon fibre in composite parts, to produce a car...
NEW INTUMESCENT PAINT FOR PROTECTING COMPOSITES IN A FIRE
Booth: Hall 6 – A35 Multi-sector The fire behaviour of fibre-reinforced polymer composites in hot areas in the case of a hidden fire or post-accident is a key challenge. Intumescent paints bring...
COMPOSITE MAINTENANCE AND REPAIR IN EXTREME CONDITIONS
Booth: Hall 6 – M31 Multi-sector introduced the Araldite2050 acrylate adhesive focusing primarily on the wind energy, marine and outdoor assembly industries. In these industries, on-site maintenance...
PHTHALONITRILE ADHESIVE FOR APPLICATIONS UP TO 600°C
Booth: Hall 5 – F17 Multi-sector APNA01 is Azista's custom-formulated ultrahigh temperature resistant structural adhesive, which can be cured at temperatures of ~250°C. This adhesive can withstand...
ANCILLARY PRODUCTS
Booth: Hall 5 – E67 Multi-sector A UNIQUE RHEOLOGY ADDITIVE Garamite is a solid rheology additive based on a composition of organically-modified phyllosilicates. The combination of various...
DEBONDING-ON-DEMAND SOLUTIONS FOR ECO-DESIGN
Booth: Hall 6 – A35 Multi-sector Structural adhesives are widely used in many industries such as automotive, aerospace, microelectronics, shipbuil-ding, energy and sports & leisure. Strong efforts...
FUNCTIONAL FILLERS FOR E-MOBILITY
Booth: Hall 5 – E56 Automotive The requirements for many electromobility applications have not yet been defined and can vary depending on the country, automobile manufacturer or supplier. At the heart...
A NEW POLYESTER-BASED COLOURANT LINES
Booth: Hall 5 – N21 Multi-sector At the 2020 JEC World Composites show in Paris, Chromaflo Technologies will present additional colourants for its polyester-based Plasticolors GTS for gelcoats and...
DEVELOPMENT OF COMPOSITE MATERIAL MODELS AS A SERVICE
Booth: Hall 5 – E86 Multi-sector An accurate material model is the key for reliable prediction of composite mechanical behaviour through simulation, thus allowing design optimization as part of the...
NEW PNP SERIES PNEUMATIC PRESSES FOR A WIDE VARIETY OF APPLICATIONS
Booth: Hall 6 – R51a Multi-sector There is a growing need in composite development for a machine that has highly-accurate force, temperature and cooling control. The capabilities of Wabash MPI and...
A SIX-AXIS PICK & PLACE ROBOT FOR LARGE AEROSTRUCTURES
Booth: Hall 5 – Q80 Aerospace Cevotec expands its service portfolio for manufacturers of aerostructures with the addition of SAMBA Step L in its high-tech lab near Munich, Germany. The new R&D system...
HEATED TOOL-CURED INTEGRATED WING SKIN
Booth: Hall 6 – M74 Aerospace Spirit AeroSystems combined its patented self-heated tooling and resin infusion technology to produce the world's first lower wing cover (LWC) demonstrator with no...
ULTRASONIC CUTTING AND SURFACE MACHINING EFFECTOR
Booth: Hall 6 – A52 Multi-sector The Soniblade L ultrasonic cutting and surface machining effector is dedicated to Nomex and aluminium honeycomb. The cutting knife can cut Nomex and aluminium...
NEW LARGE SCALE ADDITIVE MANUFACTURING MACHINE
Booth: Hall 6 – P50d Multi-sector Thermwood recently introduced an all-new LSAM additive manufacturing machine model, called the LSAM MT. This new machine offers an all-new configuration and...
EUROPEAN LAUNCH ADVANCED COMPOSITE PLATE SAW
Booth: Hall 6 – S60 Multi-sector The PCR 600 router is a natural addition to Sharp & Tappin's Compcut range of advanced composite plate saws and is capable of tackling the challenges of machining...
CURING OVENS FOR COMPOSITE MATERIALS
Booth: Hall 6 – D31 Multi-sector SAT Thermique offers a range of standardized and tailored-made ovens for the cure and post-cure of composite materials. These ovens can heat parts faster with the best...
5-AXIS CNC MACHINING CENTRE FOR COMPOSITES AND ALUMINIUM
Booth: Hall 6 – G32 Multi-sector LaborMac is a 5-axis machining centre specifically developed to optimize the machining of aluminium and composite moulds and parts. The extreme rigidity provided by...
LARGE AND COMPLEX TOOLING THROUGH 5-AXIS MACHINING
Booth: Hall 6 – T37 Multi-sector Dutch-Shape is well equipped to fulfil the aim of being the best in aerospace and automotive tooling. With its large 5-axis machines, the company can shape tooling up...
COLLABORATIVE SANDING ROBOT
Booth: Hall 6 – A52 Multi-sector In collaboration with the French manufacturer ISYBOT, GEBE2 is developing a collaborative sanding application based on the SYB 3 cobot. This new robot provides a...
DEVELOPMENT OF A NEW ON-LINE INSPECTION SYSTEM
Booth: Hall 6 – D35/D37 Multi-sector Building on 35 years of experience in the inspection sector, Edixia Automation developed a range of solutions tailored to meet today's new demands from the...
FURNACES FOR CARBON COMPOSITE MATERIALS
Booth: Hall 6 – A42 Multi-sector Carbon composite materials are currently used in many industries such as automotive, aerospace, wind power, agriculture, etc. Different materials and manufacturing...
ROBOTIZED ACOUSTIC DRILLING FOR COMPOSITES
Booth: Hall 6 – A52 Aerospace GEBE2 developed an acoustic drilling solution for aircraft nacelle composite panels. The holes are made by drilling effectors equipped with multiple spindles such as...
NDT OF CARBON FIBRE NCFS WITH HIGH-FREQUENCY DEVICE
Booth: Hall 5A - D17 Multi-sector When manufacturing multiaxial carbon fibre fabrics with more than two layers, companies increasingly require online inspection and recording of quality directly...
MULTIMATERIAL-WELDING FASTENING COMPOSITE MATERIALS
Booth: Hall 5 – Q70 Multi-sector MultiMaterial-Welding is an ultra-fast, versatile and resilient fixation method for lightweight substrates and multimaterial combinations. Using ultrasonic technology...
AUTOMATED SURFACE QUALITY CONTROL TO REDUCE WASTE
Booth: Hall 6 – P50 Multi-sector Surface Analyst XA is an automated solution for evaluating material surfaces to reduce waste, rework, and recalls when poorly prepared substrate surfaces result in...
EMISSION ABATEMENT LOWERS FIBRE FABRICATION COST BY 20%
Booth: Hall 6 – R31f Multi-sector Carbon fibre manufacturing requires customdesigned air pollution control solutions for oven and furnace emission control, which only adds to the cost of fibre...
HIGHLY FLEXIBLE, SCALABLE AND PLUG & PLAY PROCESS CONTROL
Booth: Hall 5 – C69 Multi-sector With its innovative MultiMode system, Dienes sets new standards in process control. Laboratory and prototype lines need to be varied for every new experiment. Dienes...
NEW ECO-FRIENDLY CARTRIDGES FOR COMPOSITES
Booth: Hall 6 – E84 Multi-sector Sulzer developed a next-generation primary packaging for adhesive applications: the ecopaCC collapsible cartridges. This solution replaces conventional, rigid, side-...
THE FUTURE OF COMPOSITES IS ADHESIVE-FREE
Booth: Hall 5 – M92 Multi-sector Emitting ultraviolet rays at an ideal 172 nm, USHIO's research into vacuum-ultraviolet (VUV) excimer technology is leading the way to safe treatment of sensitive...
A REVOLUTIONARY DRY ICE BLASTER
Booth: Hall 6 – D73 Multi-sector Cold Jet – the global leader in dry ice technology – reinvented dry ice blasting with the release of the PCS 60, featuring the company's patented Particle Control...
FLEXIBLE CFRP TENSION MEMBER
Booth: Hall 5 – Q29 Construction CL RESTRAP is a flexible CFRP tension member made of continuous unidirectional carbon tapes. The member is manufactured using bespoke production processes engineered...
DRY CARBON TAPES IMPROVE CROSS-COUNTRY RACING SKIES
Booth: Hall 5 – J41 Sports & Leisure Hexcel is collaborating with Madshus, a leading innovator in the world of cross-country skiing, on the engineering of a range of nextgeneration dry carbon fibre...
EXPANDING AERONAUTICS SERVICE IN EUROPE
Booth: Hall 5 – G21 Aerospace Web Industries will showcase services available through its newest acquisition, Omega Systèmes, which consists of Omega Systèmes Atlantique, in Nantes and Omega Systèmes...
COMPOSITE LEAF SPRINGS – A SLENDER ALTERNATIVE TO STEEL
Booth: Hall 6 – D55 Automotive Leaf springs made of fibre-reinforced plastics are taking over the automotive industry – they save space, reduce weight and do not corrode, even if a lot of salt is...
BIG GAINS FOR SMALL SPACECRAFT USING HIGH-STRAIN COMPOSITES
Booth: Hall 6 – R49a Aerospace Opterus Research and Development, Inc. is changing the way spacecraft design is traditionally approached, particularly for smallsats and extremely large aperture...
PRODUCTS AND SOLUTIONS FOR DELICATE DESIGNS
Booth: Hall 6 – N89 Multi-sector The Svismold concept comes in at the point where monolithic materials reach their limits (weight, performance). Performance- and costoptimised uni/multi-directional...
INJECTION OVERMOULDED THERMOPLASTIC COMPOSITES
Booth: Hall 6 – R32 Sports & Leisure PolyOne is highlighting the recently introduced Rome Black Label snowboard binding. This is a premium binding from Rome Snowboard Design Syndicate made with...
NEW SHAPE-MEMORY RIVETS FOR THE AERONAUTICS INDUSTRY
Booth: Hall 6 – F/G73 Aerospace In the aeronautics sector, weight is a key parameter and has to be continuously reduced. To help reduce the total weight of an aircraft, PolymerExpert suggests...
SOLUTlONS
Composites in infrastructure
In this article, the author of JEC Group's latest publication "The future of infrastructure", gives a synopsis of the book which identifies the areas where composites are successfully penetrating...
Composites joining science and religion
When aircraft makers start building religious structures, they get a chapel made of modern aircraft materials. And it's not a joke. They were even forestalled by the Russian Orthodox Church, one of...
Composite infrastructure products: a new alternative for the construction industry
When one thinks about composites, such things as Ferrari cars or SuperJets immediately come to their mind. However, few people know that composite materials have been used successfully for many years...
To new horizons, with composites
With a weight of only 5 metric tons (11,000 lbs), the new Pilatus PC-24 business jet is light enough to take off and land on short, grassy runways. Its low weight stems from the use of components made...
Thermoplastic composite bracket for aircraft engines
Thermoplastic composites are attracting growing interest in the aeronautics sector due to major advantages such as function integration, post-processability, low environmental impact and attractive...
Taming the offshore winds
In August 2019, Makani gave a demonstration of its M600 invention in crosswind flight, from a floating platform. This latest prototype for the kite-inspired system provides a new approach to...
Where are natural fibre composites heading?
Natural fibre composites are emerging as a sustainable alternative to composites reinforced with man-made fibres. However, they are still in their early adoption stages by the industry, and still...
The challenges of building large structures from flax fibre composites
The development of sustainable structures is a vital challenge that engineers need to address quickly to meet the needs of future generations. Flax fibre-reinforced composites are often cited as a...
TECHNOLOGY
Properties and composite applications of nanocalcite-modified epoxies
JAMES M. NELSON 1 , DOUGLAS P. GOETZ 2 , JAY LOMEDA 2 , PAUL SEDGWICK...
Architected Material and Structures (AMS), a team from Navier Laboratory (Ecole des Ponts ParisTech/IFSTTAR/CNRS)
AMS is one of four Navier Laboratory teams. Navier, which employs some 180 people, carries out research on the mechanics and physics of materials, structures and geomaterials, and on their...
Fibre-metal elastomer laminates – Lightweight components with superior damping characteristics
In the development of machine tools, the most important values to ensure competitiveness are machine performance and accuracy. Both are affected significantly by the specific mass-related stiffness...
Thank you
You just used 1 credit. You have left.