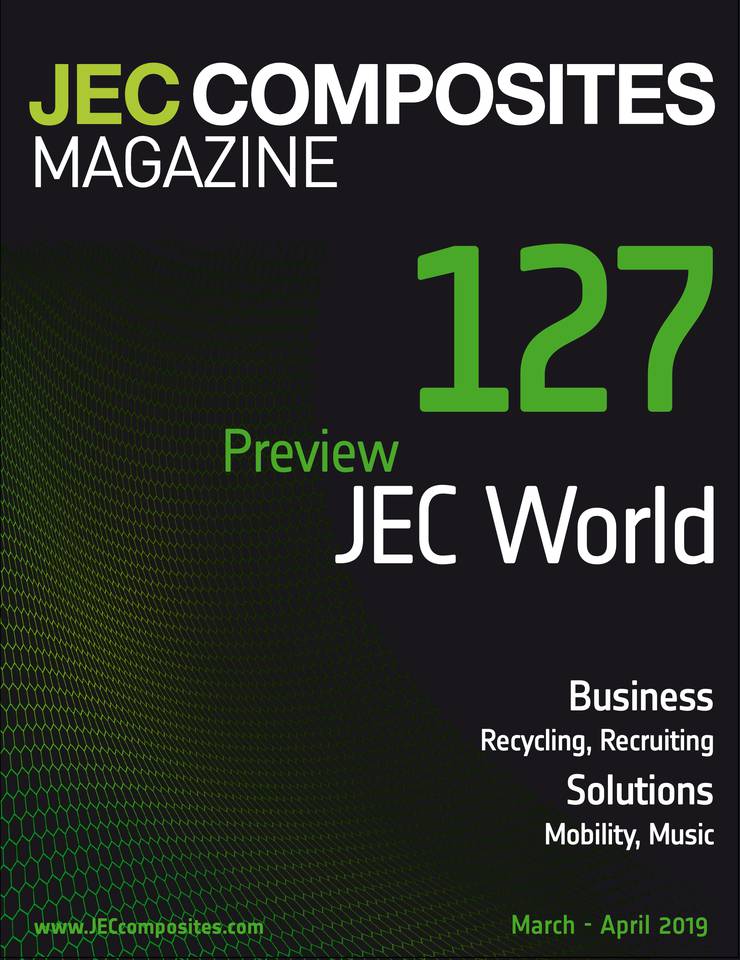 JEC Composites Magazine
N°127 - march 2019
JEC Composites Magazine is the point of contact of the international Composites Community, 6 times a year, with topics covering scientific information, business, technology, manufacturing, and application sectors trends.
In each and every issue, readers will learn about the entire composites industry value chain (from raw materials to application markets), and be inspired with current and future innovations.
The six sections of the magazine consist in:
NEWS: with interviews, articles about business development (M&As, appointments, partnerships and collaborations, awards etc.).
BUSINESS: with articles covering trends and markets, focusing on a specific country or region, with the composites market, or the application markets, or the companies strategies etc. in that country or region, and a startup focus.
MANUFACTURING: with articles about production processes and processing equipment.
FEATURE: an in-depth overview of a specific topic (typically an application sector), plus a JEC World Preview in April/May and Review in June/July.
SOLUTIONS: composites around us, with articles showing how composite materials are being used in applications which impact our everyday lives.
TECHNOLOGY: with articles about developments in materials, testing and control, repair, joining, design and simulation, recycling and reuse, R&D.
Enjoy your reading!
Contents
JEC World reinvents itself every year to reflect future industry needs
New programmes, new features, new business, and new solutions to industry challenges This year's JEC World is set to be the biggest and best to date. As part of our special preview, we spoke with...
Read More
N°127 - march 2019
JEC WORLD 2019
JEC World reinvents itself every year to reflect future industry needs
New programmes, new features, new business, and new solutions to industry challenges This year's JEC World is set to be the biggest and best to date. As part of our special preview, we spoke with...
Anything is possible
"JEC is the perfect event to explain why and how composite materials made the flight of Solar Impulse around the world possible and how important they are for a more efficient world." WEDNESDAY, MARCH...
Sustainability presents opportunity for innovation
Thursday, March 14th at 12.30 pm ­ AGORA, HALL 5 Keynote: Construction Composites Circle Architecture as the `Third Skin' An architect and engineer by training, Professor Carlo Ratti teaches at MIT,...
LIGHTWEIGHT SOLUTIONS FOR SMART MOBILITY
Valeo is a leading supplier and partner to the automotive industry worldwide. We asked Nadine Gasnier, Product Marketing Manager, about the company's strategy and the composites technologies it plans...
lnnovation begins at JEC World
Global megatrends are reshaping our world and presenting complex challenges to business, industry and society. Composite materials are an essential part of the answers to the challenges of tomorrow....
COMPOSITES KEY TO ZERO EMISSIONS SOLUTIONS
As a global leader in automotive technology, Faurecia provides innovative solutions to automotive challenges within its three strategic businesses: Faurecia Seating, Faurecia Interiors and Faurecia...
ELECTRIFICATION BRINGS OPPORTUNITY
Mubea Carbo Tech, headquartered in Salzburg, Austria, is a Tier 1 supplier of carbon fibre components to the automotive industry and the motorsports sector. The company also manufactures composite...
CMS TARGETS GROWTH IN COMPOSITES
CMS produces numerically controlled multi-axis machining centres for processing plastics, composites, metals and a variety of other materials. CEO Giovanni Negri and Advanced Materials Division...
WALLONIA EXPORT-INVESTMENT AGENCY DRIVEN BY HIGH END MARKETS
According to Agoria, the Belgian federation for the technological industry, the composites industry in Belgium is stable, driven by high end markets and with high investment. More than 200 companies...
Connecting the global composites community
Every year, leading centres of expertise, innovation clusters, economic development agencies and associations from around the world choose JEC World as a forum to promote the technologies and...
CZECHTRADE BUILDING BUSINESS WITH THE CZECH REPUBLIC
The Czech Republic's participation at JEC World 2019 is organised by CzechTrade, a governmental trade promotion agency established by the Czech Republic's Ministry of Industry and Trade, within the...
COMPOSITES AUVERGNE-RHÔNE-ALPES A DESIRE FOR INNOVATION
The Auvergne-Rhône-Alpes region, recognised at European level for its composites expertise, is an important pool of innovative companies. The collective Composites Auvergne-Rhône-Alpes, with its...
BRETAGNE DÉVELOPPEMENT INNOVATION BUILDING ON A BACKGROUND IN OCEAN RACING
The Bretagne region of France is highly skilled in composite materials thanks to its strong background in ocean racing. As a unique real-time testbed, it brings together some of the world's best...
PAYS DE LA LOIRE TERRITOIRES D'INNOVATION DIVERSITY FOSTERS INNOVATION
The industrial dynamism of the Pays de la Loire is well established. As one of France's leading regions for new factories and industrial jobs, Pays de la Loire is home to many big names including...
HESSEN TRADE & INVEST GMBH LIGHTWEIGHT DESIGN IN HESSEN
The German State of Hessen will participate in JEC World for the first time. Hessen has a balanced landscape of both supplier and user companies for lightweight design and construction. Suppliers are...
BADEN-WÜRTTEMBERG INTERNATIONAL A FOCUS ON AUTOMOTIVE, AVIATION AND CONSTRUCTION
Baden-Württemberg is innovation region number one in Europe when it comes to spending on R&D (4.9% of GDP), patent applications in relation to inhabitants and employees working in R&D related jobs....
NRW.INTERNATIONAL TAKING THE LEAD IN MICROSYSTEMS, NANOTECHNOLOGY AND NEW MATERIALS
In Germany, microsystems technology (MST) plays a central role in growth and employment. The global market share of German MST products is approximately 20% and rising. There are 766,000 jobs directly...
SAXONY ECONOMIC DEVELOPMENT CORPORATION SAXONY : A LONG TRADITION IN MATERIALS SCIENCE
Saxony's companies and research institutes provide outstanding expertise for "lightweight construction in efficient material combinations." In doing so they offer all the requisite competences for the...
ASOCIACIÓN ESPAÑOLA MATERIALES COMPUESTOS (AEMAC) DISCOVER SPAIN'S COMPOSITES COMMUNITY
The Spanish Association of Composite Materials (AEMAC) has the vision of serving as interaction between the scientific, technical and business community, representing our community in international...
FRP INSTITUTE HUGE POTENTIAL IN INDIA'S COMPOSITES MARKET
The size of the Indian composites industry is 360,000 tonnes and the growth rate is around 8%. However, the growth in composites is likely to accelerate into double digit figures above 10%. The per...
DEPARTMENT FOR INTERNATIONAL TRADE UK AT THE FOREFRONT OF THE COMPOSITES SECTOR
The UK has, from an early stage, been at the forefront of developing scientific research into new composite materials and technology. It already has a vibrant and competitive composites industry,...
US COMMERCIAL SERVICE BRIGHT PROSPECTS FOR US COMPOSITES
The market for composites is bright. Increased demand for lightweight materials crosses various market segments ranging from aerospace components to small consumer goods. The American economy greatly...
KOREA INSTITUTE OF CARBON CONVERGENCE TECHNOLOGY (KCTECH) GROWTH IN CARBON COMPOSITES
The market for carbon composite materials in Korea is estimated at US$430 million in 2013, $660 million in 2019, and $900 million in 2023. The annual average growth rate is expected to reach 7.7%,...
Market trends drive adoption of composites
EC is helping to drive growth in the composites industry by comunicating the many advantages of composites over other mateials. From automotive and aerospace, to building and construcion, renewable...
NEW TECHNOLOGIES FOR HIGHER PERFORMANCE
Building on its long history in performance boat building, Multiplast has diversified into further markets where its composites expertise is valued. We spoke with the company's President, Dominique...
The leading startup competition in the world of composites
JEC World is much more than an exhibition. The accompanying three-day programme of conferences, networking and knowledge-sharing forums offers something for everyone. And this year there are a number...
SHAPING INTUITIVE MOBILITY AT DAIMLER
Dr. Karl-Heinz Füller is responsible for material and concept innovations at Daimler AG and a member of the jury for the JEC World 2019 Startup Booster competition. We asked him about Daimler's vision...
AIRBUS ENVISIONS THE FUTURE FACTORY
Head of Composites Manufacturing Technologies at Airbus, and a member of the JEC World Startup Booster jury, Jelle Bloemhof gave us an insight into Airbus' business strategy and the future role of...
Creating the link from research to industry
KEYNOTE PRESENTATION: THE FUTURE OF ADDITIVE MANUFACTURING AND COMPOSITES MATERIALS BY HEMANT BHEDA, CO-FOUNDER, AREVO. WEDNESDAY MARCH 13TH, 12:30-14:30 ­ AGORA, HALL 5 Many thousands of researchers...
COMPOSITE ADDITIVE MANUFACTURING ­ MOVING INTO THE MAINSTREAM
A growth rate beyond 6x is expected in the composite additive manufacturing market over the next six years. Hemant Bheda, Co-founder of AREVO, tells us why, and explains why 3D printing of large,...
A one-hour programme from brilliant minds for a brilliant industry
After the big success of last year's Composites Challenge, JEC World is launching the second edition of the programme, where ten PhD students from different universities will present their research in...
Shaping the Future of Composites
Aerospace Composites Circle. Unlocking Future Growth for Composites in the Aerospace Market. March 12th, 15.30-17.00 ­ AGORA, Hall 5 The JEC World Composites Industry Circles programme brings together...
Expand your global composites network
This year, JEC World Conferences is pleased to introduce an exciting new feature to the JEC World audience: Country on Stage. This provides a unique opportunity for countries to highlight the...
Sponsored interview
COUNTRY ON STAGE : The Netherlands
New at JEC World this year, Country on Stage provides a valuable opportunity to enhance your knowledge of the global composites market and expand your business network. These informative, interactive...
COUNTRY ON STAGE : Turkey
The Turkish composites industry has developed rapidly over recent years and it continues to offer high growth potential. Turkish composites companies have gained an excellent reputation in the global...
JEC WORLD 2019
ln Brittany, offshore racing and composite materials sail together
Brittany has always been known for its close relationship with the sea and its navigational and boatbuilding expertise, and since the 1960s, yachting and offshore racing have taken the helm. Brittany...
GSEA Design: structural design
GSEA Design is a design and engineering firm that specializes in mechanical engineering. Its expertise focuses on the use of finite element mechanical and structural analysis to simulate product and...
Kaïros, the biocomposite expert
Established in 2007, Kaïros is directed by Roland Jourdain and Sophie Vercelletto. The company's primary goal is to manage all the technical, logistic and administrative aspects for Roland's racing...
SEAir: "The future belongs to flying boats"
Also operating in Lorient, the SEAir company is busy using foils to make the boats of today fly in the future. While the concept of the foil is at least a hundred years old, its actual use has only...
UBS ­ ComposiTIC
ComposiTIC is a regional technical platform that specializes in the implementation of innovative composites through the design of materials and automated processes based on automated fibre placement...
Coriolis Composites
A specialist in the implementation of composite materials, Coriolis Composites develops, makes and markets robotic cells for fibre placement with a standard 6-axis robot, enabling the laying of...
How the Dutch pave the way to composites innovations
The Netherlands hosts a remarkable number of knowledge-intensive industries. Major global multinationals such as Shell, AkzoNobel, Unilever, Philips, ASML and DSM have large R&D labs in the country....
"The composite industry generates about $ 1 billion per year for the state's economy"
We met with UAMMI Executive Director Jeff Edwards, who is a tireless advocate for the state of Utah and for advanced materials – including composites, of course. Utah has been focusing on composites...
Rock West Composites is making composites affordable
Rock West Composites is a perfect example of the dynamism that abounds in the state of Utah. This company is characterized by a highly responsive operational mode, custom work on demand with short...
JEC World 2019 Conference Programme
Exchange, meet your peers, the JEC Conferences are made for this. A unique occasion for speakers to highlight their know-how and for the attendees to make their benchmark on the state-of-the-art...
JEC celebrates innovation at JEC World 2019
After a challenging selection process among the numerous applications UHFHLYHG E\ -(& ðQDOLVWV ZHUH VKRUWOLVWHG LQ FDWHJRULHV IRU WKH -(& Innovation Awards at JEC World 2019. The winners, selected...
Raw materials, simulation, equipment, production, R&D, service
JEC World is traditionally the event where most of the new outstanding products and technologies are released for the first time. It gives all the exhibitors and visitors the occasion to make their...
APPLICATIONS
Construction CL Solid CFRP bridge cable Carbo-Link (CL) designed a solid CFRP tension member to link any two parts of a bridge superstructure, facilitating exact property characteristics combined with...
Thank you
You just used 1 credit. You have left.