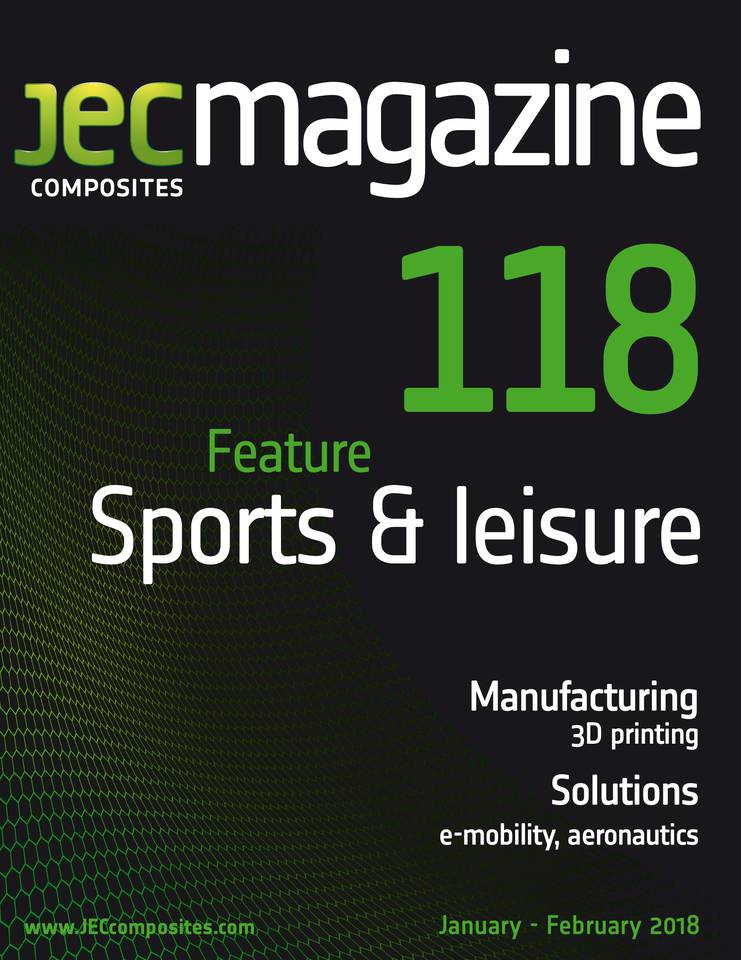 JEC Composites Magazine
N°118 - january 2018
Preview
JEC Composites Magazine is the point of contact of the international Composites Community, 6 times a year, with topics covering scientific information, business, technology, manufacturing, and application sectors trends.
In each and every issue, readers will learn about the entire composites industry value chain (from raw materials to application markets), and be inspired with current and future innovations.
The six sections of the magazine consist in:
NEWS: with interviews, articles about business development (M&As, appointments, partnerships and collaborations, awards etc.).
BUSINESS: with articles covering trends and markets, focusing on a specific country or region, with the composites market, or the application markets, or the companies strategies etc. in that country or region, and a startup focus.
MANUFACTURING: with articles about production processes and processing equipment.
FEATURE: an in-depth overview of a specific topic (typically an application sector), plus a JEC World Preview in April/May and Review in June/July.
SOLUTIONS: composites around us, with articles showing how composite materials are being used in applications which impact our everyday lives.
TECHNOLOGY: with articles about developments in materials, testing and control, repair, joining, design and simulation, recycling and reuse, R&D.
Enjoy your reading!
Contents
Essentials in the sports & leisure sector
"If you add in motorsports like auto, motorcycle and offshore racing, you might say that's the limit. Here, as elsewhere, composite materials have made inroads and continue to gain ground. The cycling...
Read More
N°118 - january 2018
EDITOR
Essentials in the sports & leisure sector
"If you add in motorsports like auto, motorcycle and offshore racing, you might say that's the limit. Here, as elsewhere, composite materials have made inroads and continue to gain ground. The cycling...
OPlNlON
"Some of the innovations originate in sectors that might surprise you"
When Look Cycle introduced the first carbon cycle frame in 1986 it demonstrated the excellent performance of carbon epoxy composites to aging equally contributes to its choice as the ideal material...
NEWS
Orbital ATK awarded $24 million contract from Lockheed Martin for F-35 composite structures
Under the terms of the three-year contract, Orbital ATK will produce bullnose and blade seals at its facility in Clearfield, Utah. Orbital ATK currently produces upper and lower wing skins, engine...
Airbus and Bombardier announce C Series partnership
Airbus SE and Bombardier are to become partners on the C Series aircraft programme. The agreement brings together Airbus' global reach and scale with Bombardier's newest, state-of-the-art jet aircraft...
GE Aviation takes occupancy at its factory dedicated to produce silicon carbide materials
The $200 million center is comprised of two adjacent factories on 100 acres. One factory will produce SiC ceramic fiber, the raw material used to make the unidirectional ceramic matrix composites...
Solvay and Strata sign final agreement for aerospace materials joint venture
The companies have formalized their Joint Venture (JV) to supply Boeing with advanced composite materials from a hightech facility to be built in Al Ain. Following the signature of the JV agreement,...
Siemens Gamesa inaugurates its first blade plant in Morocco
Siemens Gamesa Renewable Energy (SGRE) has officially inaugurated its rotor blade factory in Tangier (Morocco), an event chaired by Morocco's Minister of Industry, Investment, Trade and Digital...
A world leader in advanced materials
In less than 20 years, Shanghai Leadgo-Tech established itself in the world landscape and is now recognized as a high-tech company providing one-stop local support. Leadgo-Tech focuses on the...
lnauguration of the composites and recycling platform
On October 6th, Cetim's regional innovation and technology transfer centre, Cetim-Cermat, celebrated its 40th anniversary and officially inaugurated a platform for experimentation and demonstration...
Enhancing Performance Thanks to Advanced Composite Technologies
9:00 am⏵The Use of Carbon Fiber in Sporting Goods, Thomas Lemire, President, T.F. LEMIRE CONSULTING 9:30 am⏵Stronger, Lighter and Safer Composite Sport Products, Frederic Ohlsson, Product Development...
Driving Innovation in Manufacturing Processes - Part 1
9:00 am⏵ 2D Composite Cutting, Trevor Stevenson, VP, EASTMAN MACHINE 9:30 am⏵Automated Resin Transfer Molding for High Volume, Andy Wekin, Senior Manufacturing Engineer, GENERAL COMPOSITES 10:00...
agenda NEWS 2018
January North American International Auto show January 14-28 Detroit, MI, USA www.naias.com World Future Energy Summit January 15-18 Abu Dhabi, UAE www.worldfutureenergysum-mit.com ICCMA 2018 January...
BUSINESS
Smart Factory – The factory of the future
Developed countries are investing a lot of effort to advance the Smart Factory concept. They expect this will enable them to maintain superior production efficiency and keep production jobs. But what...
The European GRP market in 2017
The AVK – the German Federation of Reinforced Plastics – has published this year's market report for glass fibre reinforced plastics (GRP). In the European countries included in the 2017 study, the...
Natural fibre-reinforced plastics: establishment and growth in niche markets
More than 30 compound companies should produce over 80,000 tonnes of granulates using wood and natural fibres in Europe in 2017, including new producers with major growth plans. In total, around...
MANUFACTURING
ComposiTIC: a high-tech regional structure open to small and medium-sized businesses
Located in Lorient, Brittany (France) on the Atlantic coast, the ComposiTIC technology platform specializes in the processing of innovative composites via the design of materials and automated...
Zero-waste carbon composite material production
Carbon Fibre Preforms launches a new tooling board and an ultra-high temperature carbon composite material produced with a revolutionary zero-waste ROCCS (Rapid Output Controllable Composite Shapes)...
FEATURES
Lighter stronger… faster: automating RTM pump press systems
Like any well tuned results driven athlete, manufacturers must continuously challenge themselves to make gains in strength, speed and efficiency in an ongoing effort to remain relevant and...
Additive manufacturing applications in sporting goods production
Athletes and manufacturers in competitive sports continually strive to innovate through the adoption of new technologies, materials and customized equipment. Recent advancements in additive...
The first 3D-printed golf driver head
For over 45 years, CRP has been working for the F1 world with CRP Meccanica, CRP Group's specialized division in precision CNC machining. For over 20 years, the company has also been active in the...
Carbon swingarm for the Ducati 1299 Superleggera
Once again, Riba Composites won one of the most difficult projects to date: the new design development for the Ducati 1299 Superleggera, thus becoming a Ducati official supplier. Riba Composites, a...
FB Design beats world records with high-speed racing boats
The manufacturing of high-speed racing boats that can perform under extreme conditions is an art mastered only by few. With now over 45 years of experience, FB Design has been continuously driving...
The perfect carbon diving scooter for every purpose
Diver propulsion vehicles (DPV) were once reserved for technical divers, but these times are over thanks to companies like WingsAndMore GmbH & Co. KG that developed carbon composite DPVs for both...
An innovative carbon non-crimp fabric (NCF) for sports applications
At Chomarat, we work closely with internationally renowned universities, research institutes and technical centres to develop the composite materials of the future. The C-PLY™ range, designed in...
SEAir, the future belongs to flying boats
After making a Mini 747 fly as a world premiere, SEAir strikes again. Specialised in sailing and motorised flying boats, the designer recently revealed its latest innovation: a Zodiac 5.50 equipped...
The history and future of surfboard design
Today, the surfboard market is an even more rapidly evolving and innovative test bed for composite materials and processing techniques than when the first fibreglass boards started to come to market...
Multiaxial reinforcements for enhanced ski design and manufacture
Hexcel's range of composite materials for skis, snowboards and other high-performance winter sports equipment enables the creation of extremely lightweight components with no compromise in...
SOLUTlONS
New Ferrari Land FRP cladding meets Euroclass fire specification
The Ferrari Land theme park in Spain officially opened to the public on 7 April 2017. It is the third theme park to open at PortAventura World Parks & Resort, located in Salou, about an hour by car...
With FocusOn, Italian architect takes sustainability to a new level
Venetian architect Alessandro Sammartini designed a sustainable structure from recycled materials, perfect for temporary exhibitions. FocusOn is an easy-to-install pavilion that uses the best...
The first SeaBubbles prototype flies on the Seine in Paris
Décision SA, part of the Carboman group and a specialist in the development and prototyping of complex composite solutions, has completed the first of five SeaBubbles water taxi prototypes that were...
Software helps optimize the structure of world's largest all-composite aircraft
How do you get the biggest aircraft in the world off the ground? It helps if you make it out of composites instead of metal. Lightweighting has been an aerospace and other industry imperative for some...
TECHNOLOGY
Polypropylene/cotton stalk biocomposites with enhanced characteristics
Cotton stalk is a bio-waste of cotton cultivation that contains nearly 45% cellulose and can be used as a reinforcement for thermoplastics. The influence of cotton stalk concentration, chemical...
Tailored cylindrical warp-knitted fabric for insulation and reinforcement
Shindo IM Company developed a tailored cylindrical warp-knitted fabric that is ideal for insulation and reinforcement applications. Its unique properties, such as a high stretching potential and...
Thank you
You just used 1 credit. You have left.