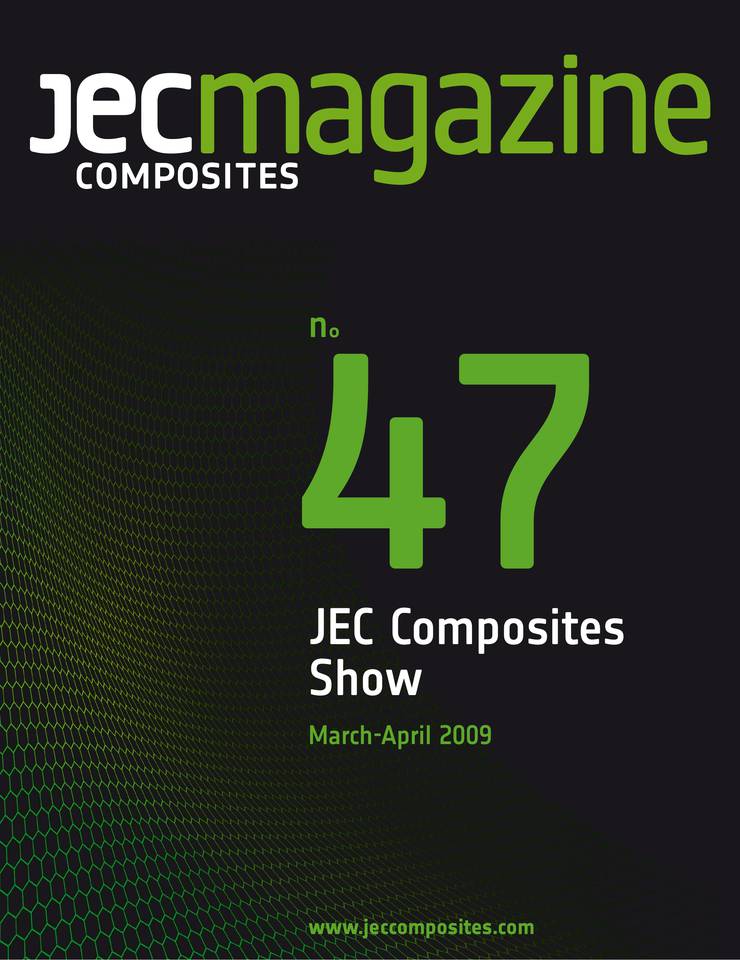 JEC Composites Magazine
N°47 - march 2009
Preview
JEC Composites Magazine is the point of contact of the international Composites Community, 6 times a year, with topics covering scientific information, business, technology, manufacturing, and application sectors trends.
In each and every issue, readers will learn about the entire composites industry value chain (from raw materials to application markets), and be inspired with current and future innovations.
The six sections of the magazine consist in:
NEWS: with interviews, articles about business development (M&As, appointments, partnerships and collaborations, awards etc.).
BUSINESS: with articles covering trends and markets, focusing on a specific country or region, with the composites market, or the application markets, or the companies strategies etc. in that country or region, and a startup focus.
MANUFACTURING: with articles about production processes and processing equipment.
FEATURE: an in-depth overview of a specific topic (typically an application sector), plus a JEC World Preview in April/May and Review in June/July.
SOLUTIONS: composites around us, with articles showing how composite materials are being used in applications which impact our everyday lives.
TECHNOLOGY: with articles about developments in materials, testing and control, repair, joining, design and simulation, recycling and reuse, R&D.
Enjoy your reading!
Contents
Increasing opportunities for composites
The composites sector has enjoyed several decades of almost constant growth since the first composite materials appeared in the 1940s. Average world growth, which was in the order of +4.1% per annum...
Read More
N°47 - march 2009
EDITORIAL
Increasing opportunities for composites
The composites sector has enjoyed several decades of almost constant growth since the first composite materials appeared in the 1940s. Average world growth, which was in the order of +4.1% per annum...
COMPANIES
Bayer builds world's largest production plant for carbon nanotubes
Bayer MaterialScience has begun work on the construction of a new facility for the production of carbon nanotubes (CNTs) in Chempark Leverkusen, as unveiled on January 26, 2009. The new plant will...
Isomatex enters its industrial phase
Isomatex is launching the industrial production of high-performance reinforcement fibres at Gembloux, Belgium, in the heart of Europe. The new production unit came into service at the beginning of...
Shanghai FRP Institute: an original model
The Shanghai FRP Research Institute is an unusual organization. Originally designed as a technological R&D centre, it now not only develops products, but also manufactures and markets them. The...
in partnership with JEC Composites E-letter
JEC Composites Magazine: What business model do you favour for your continued development? MAO PENGLING: We'll carry on developing new products and our present technologies and facilities. We'll also...
AGENDA OF EVENTS
AGENDA OF EVENTS
2009 March Hybrid materials March 15-19 Tours, France www.hybridmaterials conference.com EWEC - European wind energy conference March 16-19 Marseille, France www.ewec2009.info Nanocomposites 2009...
COMPANIES
Key customer strategy opens up new markets
Over the past few years, Dürr's Environmental and Energy Systems (EES) business unit has achieved considerable sales growth in the still relatively young chemical, pharmaceutical, and synthetic-fibre...
EQUIPMENT
New kind of portable NDT device
The Exoscan™ from A2 Technologies is a handheld, battery-operated FTIR analyzer designed to measure a wide variety of solid and liquid samples. In the composite industry, it can be used as a non-...
BUSINESS
Industrialization of the carbon composite industry
High-performance composites are in great demand in various sectors but their high cost is still a deterrent. Carbon composite experts from the SGL Group shares their viewpoint on issues such as...
Composite challenges to meet growing wind-industry needs
Wind energy is a major source of clean, renewable energy that could be used to meet the needs of the world's populations. If the demands of this booming market are to be satisfied, we need to develop...
Advantages of natural-fibre applications using BioHybrid Composites
The world is facing a major challenge with the need to reduce dependency on fossil fuels. For our own well-being and for the next generation, each and every one of us has to contribute to a...
Recyclable and repairable thermosets
Thermoset materials commonly used for producing fibre-reinforced plastics (FRP) are not easily recyclable and repairable. Existing concepts are mainly based on milling and burning. The Fraunhofer...
A UAV made in Switzerland
Swiss UAV has developed several particularly elegant Unmanned Aerial Vehicles (UAV). The initial designs were created by the company and then adapted to composite material requirements by a...
Training specialist
The transfer of skills is a major challenge for any company. In the composite industry, comprehensive know-how is needed to draw the maximum benefits from these materials. We asked a composite...
FEATURE
Controlling product costs as early as the concept design phase
Cost issues dominate today's projects more than ever. Across all sectors, the final cost of a product is an increasingly important factor in its success. Even industries traditionally considered as...
Laser-assisted thermoplastic tape-laying systems
In the production of fibre-reinforced plastics, process automation is the key to reducing the manufacturing costs of lightweight construction components. The development of the laser-assisted...
Fibre placement robots and software
Coriolis Composites supplies fibre placement robots and software for the aerospace, wind power and all other industrial sectors. Coriolis Composites is today firmly established as a leading expert and...
Fibre placement
JEC Composites Magazine: Business has really taken off again for you just lately. How do you account for this? CLEMENTINE GALLET: Our technology is tried and tested, six international patents testify...
Robotics for composite materials
Pushed by productivity concerns and ever stricter quality requirements, more and more companies are turning to tried and tested robotized solutions. Kuka is proposing two aeronautical applications...
Kuka Robot lands new success in the aircraft industry
Kuka Robot has received a key order from the aircraft industry. The European aircraft manufacturer Airbus SAS has placed a blanket order for the delivery of 41 omniMove platforms for assembly of the...
Cutting, kitting and assembly of composite materials
In recent years, the cost of both materials and labour have increased at a much faster rate than productivity innovation. This has been exacerbated by shortages of both mate-rial and skilled resources...
Machining airframe composites with abrasive waterjet
The use of carbon-fibre composites as a structural material for commercial airframes is increasing significantly. This material represents 50% by weight of the new Boeing 787 and 52% on the Airbus...
Radius-Pultrusion™ widens the borders of profile manufacturing
The traditional pultrusion process is restricted to the production of straight profiles. Turning round the traditional process proved to be the key to create any kind of curved profiles with a...
SPECIAL
Germany: country of honor
The JEC Group is acknowledging the importance of the German market for the composite sector by honouring Germany at the 2009 Show. Germany is definitely the country taking centre stage: No.1 foreign...
BUILDING & CONSTRUCTION FORUM /
Tuesday, March 24 - 10:30 am – 1:30 pm A new role for composites Moderator: AICO (Associazione Italiana Compositi per le Costruzioni) Building and construction market overview 1) FRP composites for...
bSPECIAL
Winner: Huntsmann Advanced Materials (Switzerland)
Over the past 11 years, the JEC Paris Innovation Programme has involved more than 1,000 companies. More than 95 companies and 349 partners have been rewarded for the excellence of their composite...
SPECIAL
Winner: Institut für Verbundwerkstoffe GmbH (Germany)
Partnership network: Airbus Composite Technology (Germany) Name of product or process: Thermoplastic tape placement process for in situ consolidation. Description: The automated placement head can lay...
Winner: Premium Aerotec (Germany)
Partnership network: Trans-Textil GmbH (Germany), Gore (Germany), Saertex (Germany), Euro-composites SA (Luxembourg) Name of product or process: A400M cargo door Description: At roughly 7m x 4m, the...
Winner: Kuka (Germany)
Partnership network: IVW Institut für Verbundwerkstoffe (Germany), Bond Laminates GmbH (Germany), Jacob Composite GmbH (Germany), Institute for Manufacturing Technology and Production Systems...
Winner: OCV Reinforcements (France/USA)
Partnership network: Rossi Stamp (Italy), Bouvet & Lorillard (France), IDA Industrie Design Architecture (Italy) Name of product or process: Twintex-reinforced thermoplastic windows. New localized...
Winner: 3B Fibreglass (Belgium)
Partnership network: Fred Olsen Ltd (Norway), Gent University (Belgium), Spiromatic (Belgium) Name of product or process: Sea-wave energy converter designed to produce electricity. Description: The...
Winner: Profile Composites Inc. (Canada)
Partnership network: National Center for Manufacturing Sciences (USA), A&P Technology (USA), Bayer Materials Science (USA), Mag Cincinnati Automation (USA), Toyota Engineering and Manufacturing...
High-performance resins > Stand Q50
Ad-YZF is a high-performance prepreg from Advanced International Multitech Co. (AD Group). The resin system can efficiently increase the heat-resistance properties of composite materials. AD's epoxy...
FiberSIM 5.5 enhances composite manufacturability > Stand T45
Vistagy will be announcing FiberSIM® 5.5, the latest version of its composite engineering software. FiberSIM is integrated into commercial CAD systems and used for designing and manufacturing...
Labour and material processing solutions > Stand N32
Airtech RTL is a lean clean room offering designed to reduce touch labour (RTL) and remove material waste (RMW) in the manufacturing process of composite parts. Airtech recognises that the cost of...
Films for lightweight underbody shields > Stand H74
Mondi is an international paper and packaging group providing extrusion-coated, laminated, siliconized and printed solutions. Key operations are in Europe, Russia and South Africa. Mondi Technical...
USERS' PLATFORM
Composite ss hh uu tt tt ee rr
Nikon Inc. just launched the D3X, a digital single-lens reflex camera dedicated to professional photographers, featuring extreme 24.5-megapixel resolution and superb low-noise capabilities. It excels...
Insulation in high-field superconducting magnets
The earth's average magnetic field is about 47 micro-tesla. This magnetic field is why compass needles move. The possibility of generating much higher magnetic fields opens the way to major scientific...
Rapid manufacturing in military applications
Saab Avitronics has developed a hand-held test apparatus for military operational environments using rapid manufacturing technologies such as the selective laser sintering technology and Windform®...
KNOW-HOW
Process monitoring using ultrasound measurement technology
Ultrasound measurement technology provides the opportunity to monitor the compression moulding process of SMC (Sheet Moulding Compound) materials. This technology can be used to detect changes in the...
Effect of tackifying binders on matrix properties
A binder is used in the manufacture of rigid preforms for resin infusion processing. It is applied to dry reinforcement fabric and becomes 'tacky' when heated, bonding adjacent layers of fabric...
A new generation of rapid manufacturing equipment
Significant advances have been made in producing large numbers of parts simultaneously at high speed and with high accuracy by using a brand new MLS MicroLightSwitch® based exposure system. The system...
Blocbuilder RC-50: a novel reactivity controller
Glass fibre reinforced plastic components have been used in a wide variety of products from kitchen appliances and car hoods to tool handles and bridge components. As the demand for these types of...
Thank you
You just used 1 credit. You have left.