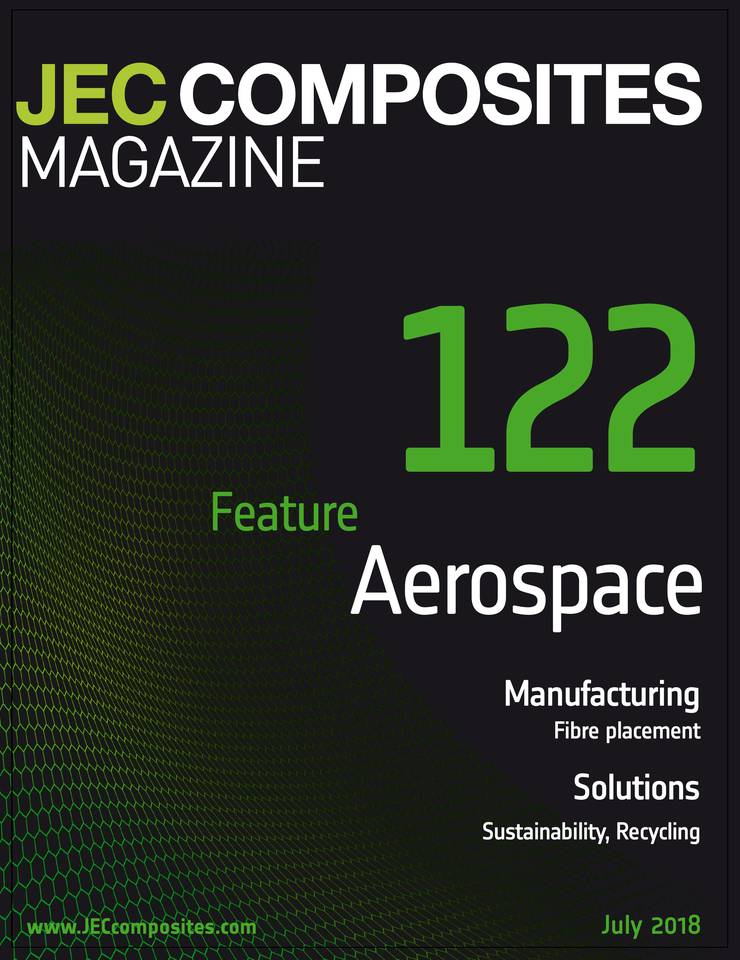 JEC Composites Magazine
N°122 - july 2018
Preview
JEC Composites Magazine is the point of contact of the international Composites Community, 6 times a year, with topics covering scientific information, business, technology, manufacturing, and application sectors trends.
In each and every issue, readers will learn about the entire composites industry value chain (from raw materials to application markets), and be inspired with current and future innovations.
The six sections of the magazine consist in:
NEWS: with interviews, articles about business development (M&As, appointments, partnerships and collaborations, awards etc.).
BUSINESS: with articles covering trends and markets, focusing on a specific country or region, with the composites market, or the application markets, or the companies strategies etc. in that country or region, and a startup focus.
MANUFACTURING: with articles about production processes and processing equipment.
FEATURE: an in-depth overview of a specific topic (typically an application sector), plus a JEC World Preview in April/May and Review in June/July.
SOLUTIONS: composites around us, with articles showing how composite materials are being used in applications which impact our everyday lives.
TECHNOLOGY: with articles about developments in materials, testing and control, repair, joining, design and simulation, recycling and reuse, R&D.
Enjoy your reading!
Contents
Composites gather momentum
"Without a doubt, something is happening in the composite industry. Some might say that our sector is gaining a new vitality, and I for one am inclined to believe it. The news says it all: increased...
Read More
N°122 - july 2018
EDITORIAL
Composites gather momentum
"Without a doubt, something is happening in the composite industry. Some might say that our sector is gaining a new vitality, and I for one am inclined to believe it. The news says it all: increased...
OPINION
"Stratiforme stands out from its competitors by its comprehensive global offering"
Stratiforme Industries is specialized in designing and manufacturing of composite parts for railway, nuclear and defense industries. With more than 50 years of experience, the company and its CEO, Guy...
NEWS
NEWS in brief Appointement Continental Structural Plastics appoints Karen Williams as plant manager
Continental Structural Plastics (CSP) announced in May the promotion of Karen Williams to plant manager of the Huntington, Indiana, manufacturing facility. She became the first woman to be named to a...
"We are actively investing in the growth of our Composites business"
At the end of March, Owens Corning announced that Marcio Sandri was named President, Composites. Mr. Sandri will report to Chairman and Chief Executive Officer Mike Thaman. On this occasion, we met...
BUSINESS
Overview of the global carbon composites market
The global market for carbon fibres is projected to reach 151 thousand metric tons by 2024, led by unique properties that make carbon fibre an attractive material in a wide range of engineering...
BUSINESS MARKET
Attractive growth opportunities for composites in the transportation market
The transportation industry is going through rapid changes due to various mega trends such as the emergence of autonomous vehicles, connected mobility, maturing powertrain technologies, and light-...
MANUFACTURING
Fibre placement in-process monitoring and solutions for quality optimisation
InFactory Solutions, a subsidiary of Airbus, qualified its first sensor for in-process monitoring of the AFP process, thus reducing process time dedicated to quality inspection. Recently, the...
Repurposing residual AFP tape for complex aerospace parts
Shaping effectively the future of aviation requires a constant flow of new ideas that combine maximum technical progress with optimum ecological and economic efficiency. To this end, the engineers and...
Overcoming the complexities of RTM
At JEC World 2018 in Paris, the Kistler Group demonstrated the new functionalities of the ComoNeo process monitoring system. Thanks to the latest software update, the Group's process monitoring and...
Filament winding for automated joining of lightweight profiles
Filament ring winding is an innovative process for joining lightweight hollow profiles made of fibre-reinforced composites in line with the load. Compared to already established joining processes, it...
FEATURE
Full out-of-autoclave thermoplastic welded airframe
This article presents a new development, a full out-of-autoclave (OoA) thermoplastic airframe, and the industrial demonstration of dynamic induction welding with carbon tape for future fuselage...
Thermoplastic composites are vital to drive aerospace build rates
The speed of aircraft manufacture is a vital factor that will increase the adoption of thermoplastic composite technologies. Over 35,000 new aircraft should be built within 20 years. The aircraft...
FEATURE AEROSPACE
The Dash X unmanned aerial vehicle
Unmanned aircraft are everywhere. There is no end to the versatility of airborne sensors and communication. Micro-sized computer processors and the associated hardware have taken the man out of the...
Successful mission of TuPOD, a TubeSats deployer manufactured via additive manufacturing
Small satellites provide a responsive alternative to larger, more expensive satellites. As the demand grows, engineers must adapt these "nanosatellites", or CubeSats, to accomplish new achievements...
Orbital ATK and Lockheed Martin celebrate F-35 programme milestone
On 21 February 2018, Orbital ATK, a global leader in aerospace and defence technologies, and Lockheed Martin celebrated the successful completion of the 5,000th Orbital ATK-built F-35 composite part....
A "one shot" aircraft to revolutionize the light aviation sector
A revolution in the light aviation sector is taking place at La Rochelle, between sky and sea. The Elixir Aircraft Company set up business in this stronghold of the boating industry to reap the...
An aeronautics and space-oriented research group
The Clément Ader Institute's (ICA) Composite Materials and Structures research group (UMR CNRS 5312) was set up in 2010 after the Institute was created by decree in July 2009. The group conducts...
SOLUTlONS
Agricultural waste for thermal and acoustic insulation in construction
Natural products derived from agricultural waste such as natural fibres, rice husk and cork can be used to replace the current thermal and acoustic insulation products used in construction, which are...
Natural fibres and recycled rubber: new alternative solutions for composite panels
The synergy between VESO Concept's expertise in biocomposites and Aliapur's know-how in tyre recovery and recycling has resulted in a successful collaboration. Four different panels offering good...
Art FRP, an innovation based on the Japanese traditional sense of beauty
Toyugiken Inc. and Ikenobo jointly developed the world's first noble artis-tic vases made of Kyoto-based Nishijin-ori silk textile and a matrix resin, offering a very impressive jewellery-like aspect...
The shape of speed
Roborace is an all-electric, all-autonomous wheel-to-wheel spectacle. The race car weighs roughly 2,150 pounds, which sounds light, but is about 600 pounds heavier than a Formula 1 car with the...
TECHNOLOGY
Conductive and reinforced glass fibre products using single-wall carbon nanotubes
Single-wall carbon nanotubes (SWCNTs) are one of the most innovative materials. Even an ultra-low dosage of nanotubes in resin can impart permanent and uniform conductivity to glass fibre and...
Optimizing the key manufacturing parameters of the AFP process
Most users of Automated Fibre Placement (AFP) equipment use the software provided by the machine vendor, which is simply not economical or realistic for manufacturers. This paper presents a universal...
Thank you
You just used 1 credit. You have left.