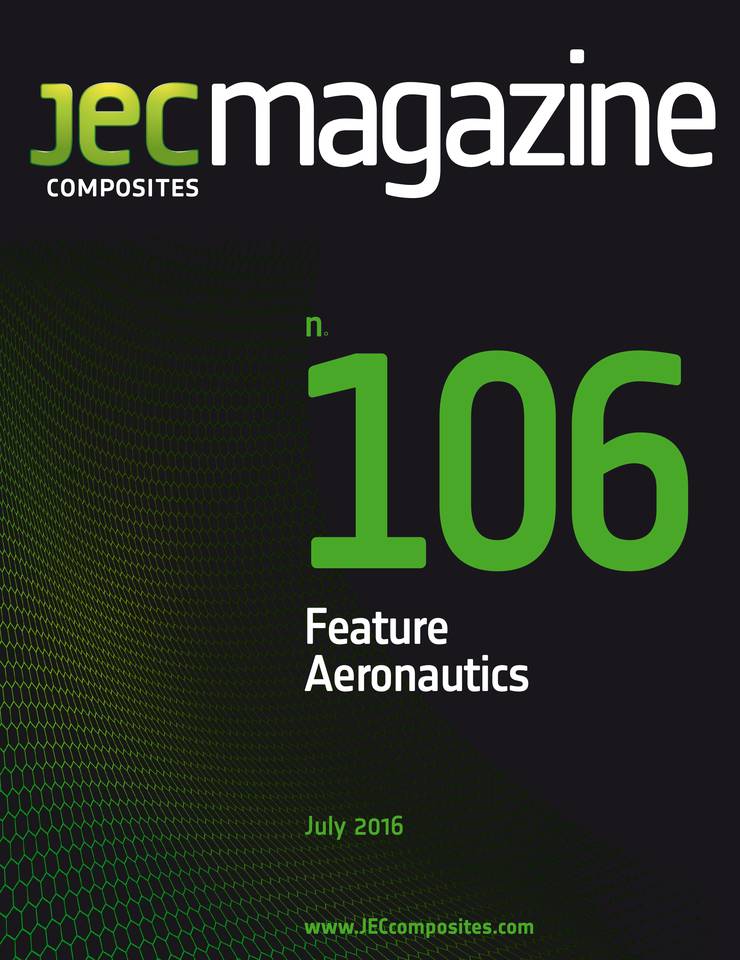 JEC Composites Magazine
N°106 - july 2016
Preview
JEC Composites Magazine is the point of contact of the international Composites Community, 6 times a year, with topics covering scientific information, business, technology, manufacturing, and application sectors trends.
In each and every issue, readers will learn about the entire composites industry value chain (from raw materials to application markets), and be inspired with current and future innovations.
The six sections of the magazine consist in:
NEWS: with interviews, articles about business development (M&As, appointments, partnerships and collaborations, awards etc.).
BUSINESS: with articles covering trends and markets, focusing on a specific country or region, with the composites market, or the application markets, or the companies strategies etc. in that country or region, and a startup focus.
MANUFACTURING: with articles about production processes and processing equipment.
FEATURE: an in-depth overview of a specific topic (typically an application sector), plus a JEC World Preview in April/May and Review in June/July.
SOLUTIONS: composites around us, with articles showing how composite materials are being used in applications which impact our everyday lives.
TECHNOLOGY: with articles about developments in materials, testing and control, repair, joining, design and simulation, recycling and reuse, R&D.
Enjoy your reading!
Contents
Collaborative projects: a key to success
"With the collaborative economy on the rise, collaborative projects in the composite sector are also becoming more apparent as a key to success, or at least as a prerequisite. With the help of...
Read More
N°106 - july 2016
EDITO
Collaborative projects: a key to success
"With the collaborative economy on the rise, collaborative projects in the composite sector are also becoming more apparent as a key to success, or at least as a prerequisite. With the help of...
POINT OF VIEW: EUROPE
"I expect these figures to be similar in 2016"
After the unprecedented success of JEC World 2016, the world's leading composites event, we approached Composites Germany and its President Dr. M. Effing to discuss his feelings on the subject of the...
COMPANIES & BUSINESS
Hexcel appoints Thierry Merlot as President and opens a $10 million Innovation Centre in UK
Thierry Merlot, who was VP & General Manager since 2010, has now been appointed as Group President for the European, Asian, Pacific, Middle-Eastern and African aeronautics markets. In addition, Hexcel...
DowAksa opens a global composites center boosts Turkey's aerospace capabilities
The high technology facility is designed to advance Turkey's carbon fiber and other reinforcement composites manufacturing mainly for aerospace applications in both defense and commercial aviation,...
EURO-COMPOSITES®: 30 years of uninterrupted growth
Established in 1985, EURO-COMPOSITES® exemplifies success in the composite industry. The company started out in honeycomb production and is now one of the undisputed leaders in the sector, reputed for...
APPLICATIONS
New acoustic technologies reduce ambient noise to enhance driving comfort
A few months ago, Röchling Automotive introduced several innovations related to acoustic optimization. Moreover, several developments from the company's acoustics portfolio are now ready to go into...
A sun roof frame entirely made of natural fibres
BASF and the International Automotive Components Group (IAC) have teamed up to develop FiberFrame, the first automotive roof frame entirely made of natural fibres. ln a context where environmental...
MARKET
Soaring use of composites in aircraft engines
Some people think that the use of composites in aircraft engines is fairly recent, but this is not the case. Rolls-Royce had already started using carbon turbine blades back in the late 1960s. The...
FEATURE AERONAUTICS
Innovative composite products and structures
Stelia Aerospace offers global solutions for aeronautical manufacturers and airlines. Resulting from the merger, on 1st January 2015, of Aerolia and Sogerma, the company designs and pro-duces...
Experimental and numerical investigations : effects of defects in laminated L-angles
Considering the widespread use of composites in aerostructures and the sector's high production rates, it is now essential to define standard quality and associated acceptance criteria for composite...
New aircraft spoiler concept using thermoplastic composites
In the aerospace industry, there is a strong need for cost-effective lightweight solutions based on innovative materials and processes. A simple aircraft spoiler design has been developed utilizing...
Development of a composite fan system
The composite fan system R&D project was launched by IHI Corporation to develop composite structural parts for the fans used in next-generation commercial aero-engines. The technology developed for...
Manufacture of nominal-shape composite stiffeners using autoclave injection
Composites are the material of choice for today's aircraft structures due to their excellent weight-specific performance. Recent dry-fibre technology developments open the door for infusion-based...
New technology for hybrid carbon-fibre fuselage
The innovative Boeing 787 Dreamliner consists of more than 50% carbon fibre reinforced plastic (CFRP), a material that combines low weight and exceptional strength. Using COMSOL tools, engineers at...
The future of flight looks bright for PEEK
After a busy 2015, you could forgive Victrex for thinking this year would be a good chance to take it easy. After all, the British manufacturer of PAEK polymer solutions found its products specified...
RESEARCH & DEVELOPMENT
Ageing of fibre-reinforced polymers for construction applications
The use of fibre-reinforced polymer (FRP) composites in construction has proved to be an effective solution to repair and/or upgrade existing buildings or infrastructure systems. While the technical...
Honeycomb reaches a new level
Aluminium honeycomb is commonly used as a core material in high-tech sectors such as aeronautics. This intermediate material saw only a few enhancements over the last couple of decades. But...
TECHNOLOGY & INNOVATIONS
Fast and reliable non-destructive inspection of composites
X-ray phase contrast imaging (XPCI) allows for fast and reliable non-destructive inspection of a broad range of flaws in thick monolithic components or complex composite structures. Initially...
The first-ever all-composite lighthouse marine navigation aid
Huntsman Advanced Materials' commitment to innovation and process improvement was tested to the full on a recent lighthouse project led by Acciona Infraestructuras. Working in collaboration with a...
COMPOSITES IN THE WORLD
Composites to protect your back
Polymeric spinal rods provide a bridge between rigid all-metal spinal implants and more dynamic therapeutic options. Adopting this «bridging» approach, France-based Innov'spine, a leading specialist...
Thank you
You just used 1 credit. You have left.