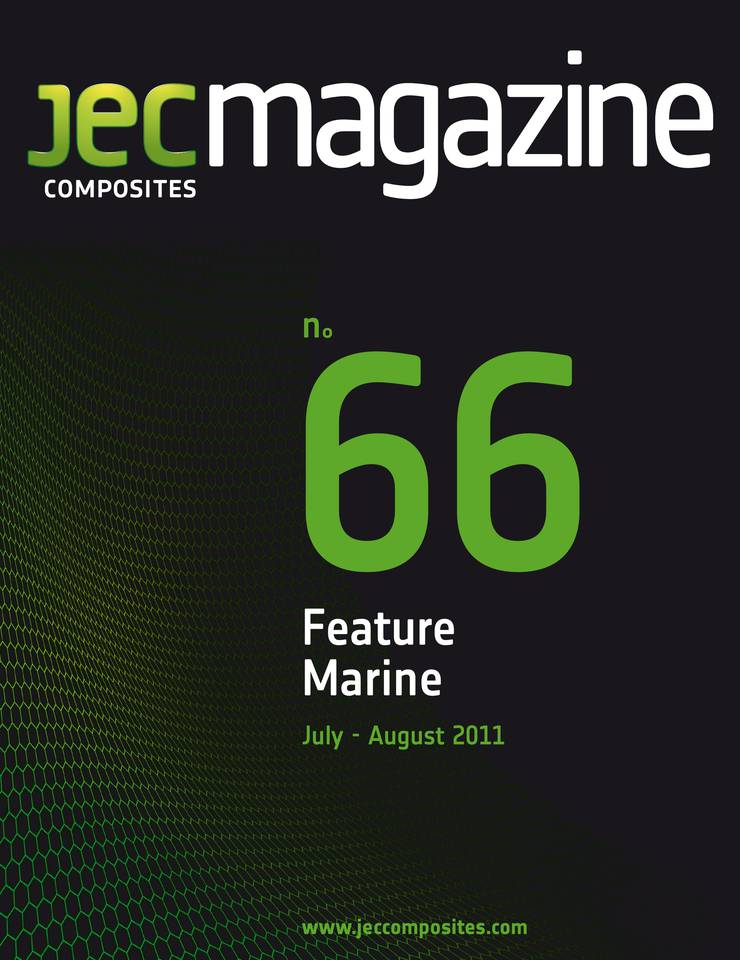 JEC Composites Magazine
N°66 - july 2011
Preview
JEC Composites Magazine is the point of contact of the international Composites Community, 6 times a year, with topics covering scientific information, business, technology, manufacturing, and application sectors trends.
In each and every issue, readers will learn about the entire composites industry value chain (from raw materials to application markets), and be inspired with current and future innovations.
The six sections of the magazine consist in:
NEWS: with interviews, articles about business development (M&As, appointments, partnerships and collaborations, awards etc.).
BUSINESS: with articles covering trends and markets, focusing on a specific country or region, with the composites market, or the application markets, or the companies strategies etc. in that country or region, and a startup focus.
MANUFACTURING: with articles about production processes and processing equipment.
FEATURE: an in-depth overview of a specific topic (typically an application sector), plus a JEC World Preview in April/May and Review in June/July.
SOLUTIONS: composites around us, with articles showing how composite materials are being used in applications which impact our everyday lives.
TECHNOLOGY: with articles about developments in materials, testing and control, repair, joining, design and simulation, recycling and reuse, R&D.
Enjoy your reading!
Contents
Room for improvement!
"The latest JEC Europe trade show in Paris on 27-29 March 2011 confirmed the wealth of large-scale composite projects in the automotive sector. That sector is racing to keep up with all the different...
Read More
N°66 - july 2011
EDITOR'S
Room for improvement!
"The latest JEC Europe trade show in Paris on 27-29 March 2011 confirmed the wealth of large-scale composite projects in the automotive sector. That sector is racing to keep up with all the different...
POINT OF VIEW: PRODUCTS FOR THERMOPLASTIC REINFORCEMENT
Johns Manville invests in engineered glass fibres
Johns Manville (JM) is strengthening its presence in the automotive business and strongly believes in the future growth opportunities associated with composites. The company, whose products cover...
COMPANIES & BUSINESS
THÈME SABIC and Montefibre co-operate on carbon fibre projects
SABIC will use Montefibre's technology for a new industrial-grade carbon fibre plant with a capacity of more than 3,000 metric tons to be built in Saudi Arabia, as unveiled on 15 June 2011. The two...
Compositadour, a technical platform devoted to the aerospace sector
Compositadour is a centre of excellence for composite part production processes and, in particular, for automated processes. Its prime focus is the aerospace sector, followed by other industrial...
APPLICATIONS
Lightweight design for winter sports
Know-how drawn from the skiing and motorsport sectors was used to develop the perfect ski. The Audi Carbon Ski concept is an eyecatching piece of sports equipment with a minimalist design entirely...
An innovative bridge made of a single 40-metre-long beam
ACCIONA Infraestructuras S.A. (Spain) received a JEC Innovation Award 2011 in the Civil Engineering Category for a CFRP bridge installed in Madrid, Spain. This innovation – developed in partnership...
MARKET
Global glass-fibre production: tailoring better for needs
The glass-fibre composite market has considerably picked up these past few months, and it can be said that the 2008/2009 crisis is well behind us. Production capacities have opened up again. A number...
Boosting growth through training
lt's becoming common to say that there is a shortage of employees qualified in composites. But, it is not the only and main reason to adopt in-house training... Why create your own training school?...
Brazilian composites industry forecasts 8.2% revenue growth in 2011
Revenue grew 16.3% in the first quarter. New research commissioned by the Brazilian Composite Materials Association (ABMACO) now differentiates between polyester-and epoxy-based composites in...
Renewable energy, a concrete opportunity for technopolymers
Industrial, policies and financial systems worldwide are focusing on renewable energy sources and energy saving as of now and for the future. There will be many opportunities for the world of...
FEATURE AUTOMOTIVE
Greenes Group installs CNG tanks
Greenes Group is one of the Netherland's leading installers and retrofitters of compressed natural gas (CNG) tanks for cars and light commercial vans. The Group, that also operates a rental and...
Providing high-performance car manufacturers with composite advantages
An innovator in advanced composites, Hexcel develops designenabling technologies for high-performance car manufacturers. For over 20 years, the best known names in the industry have benefited from...
A unique approach to modelling composite materials and structures
Even though a notable rise in the practical use of composite materials can be observed in the automotive industry, the simulation of composite structures still poses a challenge. DIGIMAT offers a...
New processes for large-scale production of composite automotive applications
In conventional manufacturing processes, composite structures are formed in costly multistage process chains and joined in additional process steps such as gluing or welding. In terms of process...
Novel tailor-made biocomposites for automotive engineering funded by an EC project
The ECOplast European research project is dedicated to the research into novel biocomposite materials based on renewable resources for automotive engineering applications. The project consortium...
Structural bio-composites for the transportation sector
NPSP Composieten was founded in 1998 as Natural Powered Speed Products. Its first triumph was the Flaxcat, a catamaran reinforced with flax. BBC's Tomorrow's World made a special programme about it...
Kineco, in pole position
Kineco's perfect command of technologies in the field of advanced composites has not escaped the attention of key players in the car racing industry and especially those in Formula One. From Goa in...
RESEARCH & DEVELOPMENT
Optimised torque shaft
Conseil & Technique continues to deploy its technological innovations in the field of composite parts. C&T will soon focus on the issue of composite springs (torsion springs, disc springs). In the...
FRP recycling technology by dissolving resins under ordinary pressure
Since fiber reinforced plastics (FRP) have high strength and durability in lightness, it has been widely used for sporting goods, bathtubs, automobiles, railway vehicles, boats, etc. However, because...
TECHNOLOGY & INNOVATIONS
Belotti, the composite parts milling specialist
Belotti S.p.A. manufactures 3-and 5-axis machining centres and water jet cutting robots. The quality of the products, combined with a corporate will to succeed, has enabled the company to carve out a...
A highly efficient machine for producing carbon-based multiaxial non-crimp-fabrics
Karl Mayer has developed a weft insertion system for the in-line processing of cut-to-length tapes for use in the processing of spread-out carbon material – a new development for challenging...
Robotics and composites: a growth driver within everyone's reach!
In recent years, multi-axis robots have become a major growth driver for the composites industry. Long consigned to fairly imprecise manual operations, of irregular quality and with low productivity,...
Wireless traceability of prepreg product temperature
This paper focuses on the issues related to temperature and out-time monitoring of prepreg materials during storage and transportation. The solutions presented are applicable to prepregs, carbon...
Thank you
You just used 1 credit. You have left.