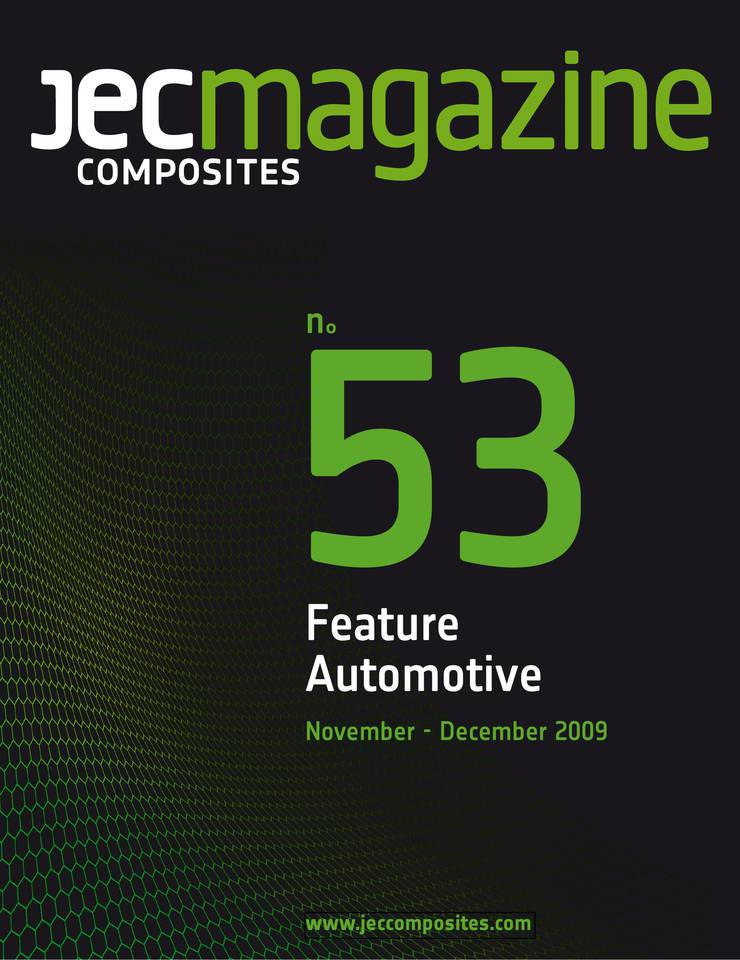 JEC Composites Magazine
N°53 - november 2009
Preview
JEC Composites Magazine is the point of contact of the international Composites Community, 6 times a year, with topics covering scientific information, business, technology, manufacturing, and application sectors trends.
In each and every issue, readers will learn about the entire composites industry value chain (from raw materials to application markets), and be inspired with current and future innovations.
The six sections of the magazine consist in:
NEWS: with interviews, articles about business development (M&As, appointments, partnerships and collaborations, awards etc.).
BUSINESS: with articles covering trends and markets, focusing on a specific country or region, with the composites market, or the application markets, or the companies strategies etc. in that country or region, and a startup focus.
MANUFACTURING: with articles about production processes and processing equipment.
FEATURE: an in-depth overview of a specific topic (typically an application sector), plus a JEC World Preview in April/May and Review in June/July.
SOLUTIONS: composites around us, with articles showing how composite materials are being used in applications which impact our everyday lives.
TECHNOLOGY: with articles about developments in materials, testing and control, repair, joining, design and simulation, recycling and reuse, R&D.
Enjoy your reading!
Contents
Full steam ahead!
According to statements from the World Monetary Fund and Ben Bernanke, the president of the U.S. Federal Reserve, economic recovery is near at hand. On 15 September, Mr. Bernanke announced that the...
Read More
N°53 - november 2009
EDITORIAL
Full steam ahead!
According to statements from the World Monetary Fund and Ben Bernanke, the president of the U.S. Federal Reserve, economic recovery is near at hand. On 15 September, Mr. Bernanke announced that the...
JEC ASIA
JEC Asia 2009 demonstrated the tremendous growth of composites in Asia
For the second year, the movers and shakers of the composite world from the Asia-Pacific zone gathered in Singapore for the 2009 JEC Show Asia. There was no shortage of good reasons for attending this...
JEC Asia: Life Achievement Award 2009
During the JEC Asia Show, participants had the opportunity to exchange experiences and to network with the most emblematic personalities from the world of composites. This year's recipient of the...
A unique international event in Asia
With 55 countries involved in the event, JEC Asia is the only international platform for the Asia-Pacific area. The show welcomed all the major delegations (China & Taiwan, Japan, India, Australia,...
COMPANIES
Advance FRP: Choosing success
Advance FRP has been producing composite doors for 25 years and is currently investing in a new production process. The company, based in Mumbai, India, works for both local and export markets....
New company: Composite Technical Services
Composite Technical Services Inc. (CTS) announced on 18 August 2009 it has established manufacturing and R&D operations in Dayton, Ohio (USA). Combining innovation with environmental sustainability,...
EQUIPMENT
The induction heating specialist turns to injection moulding
Cage System® technology from RocTool is capable of heating and cooling the surface of a mould – and only its surface – almost instantaneously. The mould is cooled by means of a hydraulic system close...
BUSINESS
LFRTs: dynamic, fast-growing materials
A recent study shows that long fibre-reinforced thermoplastic composites (LFRTs) are one of the most dynamic and fastest growing materials in the plastics industry today. Although the materials have...
A strong bond for solar modules
Kuka Systems has joined forces with Tesa SE for the automated application of adhesive tape to solar modules. The Robo Tape R tape head from Kuka Systems is used after the laminating process. Once the...
Cost-effective complex vacuum bagging
Vacuum bagging complex prepreg parts can be time-consuming and difficult. As the demand for complex high-performance composites grows, so does the need for simplified, more reliable vacuum-bagging...
FEATURE
Greener solutions for new vehicles with reduced environmental impact
SABIC Innovative Plastics has been honoured with a 2009 Green Dot Environmental Responsibility Award™ in Transportation for its pioneering work on the Hyundai QarmaQ Advanced Technology Demonstration...
Automotive thermoplastic composites : Global recession, technology responses
The global automotive industry is emerging from recession with a shift in fleet composition, new automotive technologies, and an industry structure better suited to meet environmental, economic and...
New crossover alternative energy vehicle
Velozzi developed the Solo crossover AEV design with the support of Bayer MaterialScience innovations. With its sleek, dazzling style, this eco-friendly solution has the look and feel of luxury. The...
Composite body structure
The concept of a fully load-bearing body structure was shown to be feasible with the E-LFT process. Using a clever design and fibre arrangement, even a commodity polymer such as glass-fibre-reinforced...
User-friendly composites that take the heat
For high-temperature composites, finding a good balance between performance, convenience and cost is a recurring challenge. With a new generation of glass-ceramic matrix composites processed like CFRP...
High-performance coatings for tribologically-optimized pistons
The consistent optimization of combustion engines in terms of efficiency and emission reduction is a major challenge in modern automotive engineering. Energy loss in the engine is primarily caused by...
Renault F1 team cuts development time for composite diffuser by 50%
Vistagy's FiberSIM® software helps cut the time it takes to design and produce the diffuser for ING Renault F1 team's R29 race car in half. By helping the team to quickly adapt to changes in F1...
High-quality composite body panels for the Aston Martin DBS Volante
For luxury goods, everything has to be perfect. Aston Martin cars are no exception to this rule. These exceptional cars make the most of composite advantages. Gurit is applying the SPRINT® CBS (Carbon...
USERS' PLATFORM
CCaarrbboonn ffiibbrree stirrups
Prodrive, a motorsport and automotive technology specialist, has designed lightweight horse racing stirrups made from carbon fibre to help make the world's lightest jump racing saddle. The stirrups...
Luxurious composite cc hh ee ss ss bb oo aa rrdd
Carbon Luxury produced the world's first carbon fibre chessboard. The chessboard was designed by Dominik Scheurer, one of the company's founders who worked as composite design engineer in Formula One....
TToo tthhee bboottttoomm of the ocean
The Deep Flight Super Falcon is the newest vehicle in the Deep Flight series of submersibles. This fourth-generation winged submersible built by Hawkes Ocean Technologies benefits from forty years of...
The Bugatti "" SS aa nn gg BB ll ee uu ""
In August, continuing this year's 100th anniversary celebrations, Bugatti Automobiles S.A.S. unveiled the Bugatti "Sang Bleu", an exclusive, one-off Grand Sport honouring the brand's precious...
Quasi-isotropic braid reduces cost in large composite tooling
The National Research Council of Canada – Herzberg Institute of Astrophysics' (HIA) Dominion Radio Astrophysical Observatory (DRAO) won a JEC Award 2009 in Paris for the "Composite Applications for...
Protective composite wall for strengthening a railway zone
With this new creation, ApATeCh shows once again just how vast the range of applications is for composite materials. In an environment as aggressive as this coastal area, composites are an obvious...
KNOW-HOW
Process technologies for thermoplastic fibre-reinforced polymer composites
The Institut für Verbundwerkstoffe GmbH (IVW) develops technical composite applications and provides material, process and product development services up to the support of pilot series from one...
Positive pressure repairs without an autoclave
Autoclaves are used to manufacture most of the composite structures found in today's aircraft. Repairing such structures in an autoclave is both time-consuming and expensive. To address this issue,...
Automated textile preforming: for the mass production of FRP components
Within the FOR 860 DFG group of researchers at the RWTH Aachen University, the Institut fuer Textiltechnik (ITA) is developing two approaches for textile preforming. These approaches – single-step...
Thank you
You just used 1 credit. You have left.