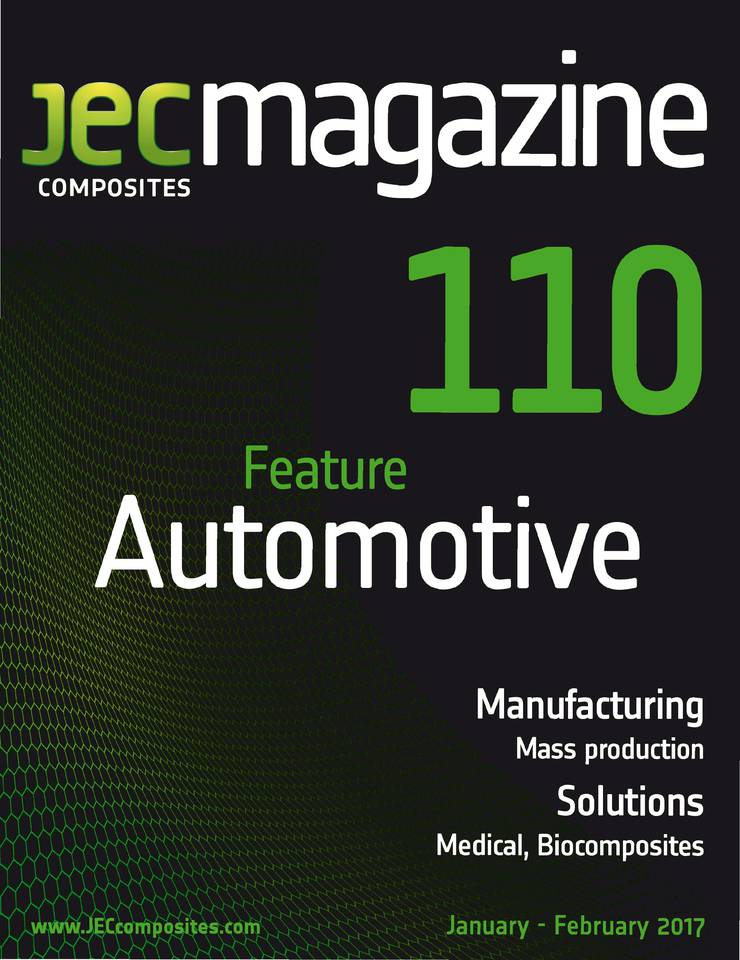 JEC Composites Magazine
N°110 - january 2017
Preview
JEC Composites Magazine is the point of contact of the international Composites Community, 6 times a year, with topics covering scientific information, business, technology, manufacturing, and application sectors trends.
In each and every issue, readers will learn about the entire composites industry value chain (from raw materials to application markets), and be inspired with current and future innovations.
The six sections of the magazine consist in:
NEWS: with interviews, articles about business development (M&As, appointments, partnerships and collaborations, awards etc.).
BUSINESS: with articles covering trends and markets, focusing on a specific country or region, with the composites market, or the application markets, or the companies strategies etc. in that country or region, and a startup focus.
MANUFACTURING: with articles about production processes and processing equipment.
FEATURE: an in-depth overview of a specific topic (typically an application sector), plus a JEC World Preview in April/May and Review in June/July.
SOLUTIONS: composites around us, with articles showing how composite materials are being used in applications which impact our everyday lives.
TECHNOLOGY: with articles about developments in materials, testing and control, repair, joining, design and simulation, recycling and reuse, R&D.
Enjoy your reading!
Contents
Automotive, a focus of concern
"The figures for 2016 are not yet available, but a look at 2015, which is not too far off, shows that 90 million vehicles were produced worldwide that year, including 66 million passenger cars and 23...
Read More
N°110 - january 2017
ÉDITO
Automotive, a focus of concern
"The figures for 2016 are not yet available, but a look at 2015, which is not too far off, shows that 90 million vehicles were produced worldwide that year, including 66 million passenger cars and 23...
OPlNlON MOBILITY
Hutchinson "Composite materials are enriching the products in our business lines"
Hutchinson had a turnover in 2015 of €3,833 billion. With its 38,000 employees spread over 25 different countries, the group is committed to participating in a mobile future where travel is safer,...
NEWS
First A350-1000 becomes airborne for its maiden flight
The first A350-1000 took off for its maiden flight at Blagnac in Toulouse, France. The crew in the cockpit on board this flight comprises: Hugues van der Stichel, Experimental Test Pilot; Frank...
China's Ministry of industry accelerates the upgrade of building materials
During the 12th five-year plan period (2011-2015), the building materials industry grew annually by 10% in value. In this context of accelerated development, the share of inorganic non-metallic...
SGL Group is development partner for high-performance fuel cells in the automotive sector
The company is a develop-ment partner in the joint development project INSPIRE, that has been funded with a € 7 million award from Europe's Fuel Cells and Hydrogen Joint Undertaking (FCH JU) and will...
Hyperloop Transportation Technologies surpasses $100 million in total investment
Hyperloop Transportation Technologies (HTT) announces investments by EdgeWater Investments totalling $30 million. This investment is in addition to previous investments including several million from...
Rolls-Royce expands aerospace research centre for ceramic matrix composites
Rolls-Royce announces that it is growing its presence in Southern California, with a $30 million expansion into a new 62,000 square foot facility that will be dedicated to research and development of...
IACMI appoints Bryan Dods as CEO
The Institute for Advanced Composites Manufacturing Innovation, the Composites Institute, a national institute driven by the University of Tennessee, Knoxville and US Department of Energy, welcomes...
Canada invests $2.9 million in Canadian biomass and composites industries
Minister of Natural Resources Jim Carr, on behalf of Agriculture and agri-food Minister, Lawrence MacAulay, announced funding of up to $2.9 million to the Composites Innovation Centre Manitoba (CIC)...
Three finalists for the first JEC Asia Startup competition
Twelve startups were selected for the first JEC Asia Startup competition based on strict criteria: their products and/or solutions for the composite industry, the innovativeness of their business...
"Innovation can help create new businesses"
KCTECH was the main sponsor of the competition, alongside Spring Singapore, KDX, RSA Capital, Airbus Helicopters, Ludwig Bölkow Campus and EOS. We asked Mr. Kyusoon Park to explain the reasons for...
Hutchinson: more and more composites
With its September buyout of Composite Industrie, the Hutchison Group gave a strong indication of its growing interest in composite materials. While the group is no newcomer to the sector, it invests...
BUSINESS
The place for new materials
Sports & leisure is the market of choice to test new materials, thanks to marketing that caters to novelty and performance, and to a regulatory framework with fewer standards compared to aerospace or...
JEC WORLD 2017 is committed to innovation
JEC Group is proposing a new focus on entrepreneurship to identify and support tomorrow's industrial successes related to composites. O ver recent years, JEC Group has been working to focus attention...
Zhuhai Air Show displays China's defence and export ambitions
The 11th China International Aviation and Aerospace Exhibition, known as the Zhuhai Air Show, was held early November in Zhuhai, Guangdong province, China. The air show has become the go-to spot for...
MANUFACTURlNG
Draping gripper system improves the speed and quality of RTM processing
In the value chain of resin transfer moulding (RTM), the transport of the fibre mat used for the production of fibre-reinforced plastics (FRP) is a step that does not add additional value to the...
Formula and tooling considerations for manufacturing with wood-plastic composites
Organic materials such as starch and natural fibres act as substitutes for petroleum-based feedstock and reduce the amount of greenhouse gas emissions associated with plastics production. Biobased...
New sandwich skin helps panels to outperform conventional counterparts by up to 71%
The Canadian company GRIP Metal Limited has developed a patented stamping process – GRIP Metal™ – to modify a metal surface with an array of micro-formed hooks that can physically adhere to other...
FEATURE AUTOMOTIVE
3D printing meets FRP: more flexibility for highly-stressed components
Individuality and adaptability need not be at odds with robustness and stability. It is envisaged that products such as car seat shells or medical prostheses, which are required to meet all of these...
lndustrial laser processing of fibre-reinforced plastics
Composite materials such as CFRP and GFRP are taking the world of industrial series production by storm. These materials are considered difficult to work with, but modern lasers make it possible to...
A new generation of aesthetic composites based on styrenic copolymers
The INEOS Styrolution Research Network is a unique R&D model in the plastics industry that goes beyond the classical funding of university projects. At the centre of this partnership is a project...
Carbon multiaxial fabrics for safety-critical application
Bright Lite Structures selected Hexcel's HiMax™ reinforcements for the manufacture of safety-critical areas of the Zenos E10 composite chassis. The carbon fibre multiaxial fabrics ensure that the...
A moulding process using two-sided steel compression
Polycon Industries, a division of Magna Exteriors Corp., has developed a moulding process based on two-sided steel compression moulding. A proprietary fast-cure, high Tg carbon fibre prepreg using...
"We constantly develop agility, flexibility and innovation" says Jacques Hoffner, Vice-President R&D, at Faurecia Composite Technologies
Faurecia has earmarked composites as a key enabler for vehicle light-weighting and is concentrating its R&D efforts in two directions : developing affordable carbon fibre and reaching automotive...
Safety and multi-performance
The Mercedes-Benz Unimog has been an enormous success for 60 years. The multi-functional multi-purpose utility vehicle can operate in water, resist the heat of flames, support a crane, or pull rail...
SOLUTlONS
The Vendée Globe IMOCA boats that fly : A meeting with Quentin Lucet, naval architect
The 8th Vendée Globe, the 70-day, solo non-stop race around the world without assistance, sails back to Les Sables d'Olonne in early January. This 2016-2017 Vendée Globe is the first one in which...
High-end motorbikes eager to carbon fibre too
While carbon-fibre frames have been used for a number of years in circuit motorcycle racing, there have been relatively few carbon-fibre structural parts in the motorcycles sold by the major brand...
Development of a lightweight composite exoskeleton
Composite materials offer assistive technologies for paraplegics with a lighter, more practical exoskeleton. These last few years, medical exoskeletons have gone from being mere possibilities to...
TECHNOLOGY
Flock fibre-reinforced laminar composites for improved Mode I fracture toughness
Interfacially flocked Z-axis oriented reinforcing fibres can dramatically improve the interlaminar shear strength of organic polymer laminar composites (OPLC). To this end, three flock process...
Temperature-sensitive joints for water-soluble braiding mandrels
A braiding mandrel and its support structure based on a temperature-sensitive autonomous slip- and backlash-free coupling are investigated in this paper. In combination with water-soluble moulding...
An innovative composite damping solution
Parts made of high-modulus, high-strength composite materials tend to be very noisy, in particular when (even small) shocks occur, and the sound generated by these parts can be uncomfortable and...
Thank you
You just used 1 credit. You have left.