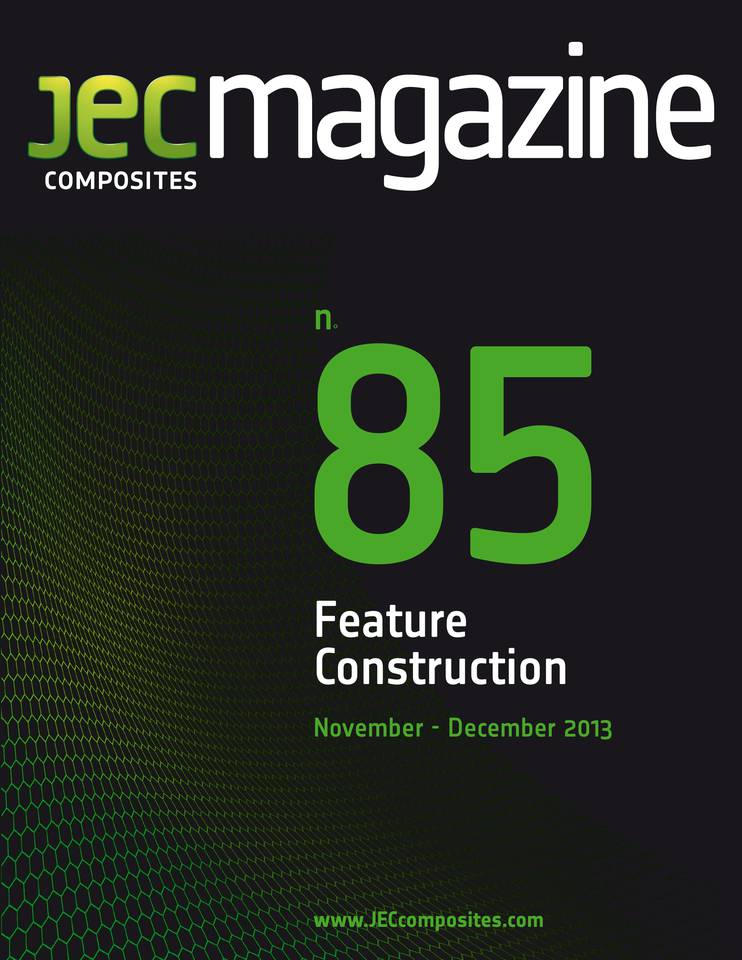 JEC Composites Magazine
N°85 - november 2013
Preview
JEC Composites Magazine is the point of contact of the international Composites Community, 6 times a year, with topics covering scientific information, business, technology, manufacturing, and application sectors trends.
In each and every issue, readers will learn about the entire composites industry value chain (from raw materials to application markets), and be inspired with current and future innovations.
The six sections of the magazine consist in:
NEWS: with interviews, articles about business development (M&As, appointments, partnerships and collaborations, awards etc.).
BUSINESS: with articles covering trends and markets, focusing on a specific country or region, with the composites market, or the application markets, or the companies strategies etc. in that country or region, and a startup focus.
MANUFACTURING: with articles about production processes and processing equipment.
FEATURE: an in-depth overview of a specific topic (typically an application sector), plus a JEC World Preview in April/May and Review in June/July.
SOLUTIONS: composites around us, with articles showing how composite materials are being used in applications which impact our everyday lives.
TECHNOLOGY: with articles about developments in materials, testing and control, repair, joining, design and simulation, recycling and reuse, R&D.
Enjoy your reading!
Contents
Composites, the new frontier of architectural design and engineering
"Again and again, we are struck by the extent to which composite materials, by their properties and performance, give free rein both to the imagination of the boldest of designers and (with respect to...
Read More
N°85 - november 2013
EDITO
Composites, the new frontier of architectural design and engineering
"Again and again, we are struck by the extent to which composite materials, by their properties and performance, give free rein both to the imagination of the boldest of designers and (with respect to...
POINT OF VIEW: BESPOKE EQUIPMENT
PEI, 150 years of innovation and customized solutions
Pinette Emidecau Industries (PEI) may be celebrating its 150th birthday this year, but the engineering specialist and builder of large-scale mechanical machinery is by no means a devotee of the past....
COMPANIES & BUSINESS
GE opens ceramic matrix composites mass production plant for next generation jet engines
The 170,000-square-foot factory will be located in Asheville, North Carolina. The company plans to hire 340 people over the next five years and move all the existing workforce at current machining...
2013, a turning point for CPIC
While going international is a must that can also drive growth, it also involves risks. Incorporating entities with a different culture is a challenge, as is establishing a consistent global strategy....
APPLICATIONS
Multiplast, from the ocean to the stars
The Multiplast shipyard is well known by competitors in the world's premier sailing events for a good reason, which is that any number of victories and records have been achieved on mono- and...
Hi-tech composite skateboards
At the beginning of October, surfboard manufacturer Hydroflex Technology LLC launched a high-end skateboard line through the crowdfunding website Kickstarter in order to raise the capital needed to...
When composite waste becomes a new design object
In Rochefort (France), the CRITT MPC centre has been innovating since 2007 to give waste from the composite industry (in particular boat fabrication waste) a second life, eliminating the need to...
Innovating and developing new FRP materials for growth markets
Fibre-reinforced plastics (FRP) are conquering increasingly more markets in future industrial sectors. Very few construction material markets are flourishing to the same extent as composites globally....
Optimal penstock routing with GRP pipe systems
From an economic and ecological perspective, the importance of hydropower is definitely on the rise as it provides an array of advantages compared to other conventional methods of power generation....
MARKET
Over-moulded organo-sheets: heavily filled parts by the millions
Automation, production rates and cost are key words when it comes to developing the production of composites in never-before-achieved volumes. Of course, these words bring to mind the injection...
FEATURE CONSTRUCTION
A composite roof for an eye-catching library dome
The Princess Noura bint Abdulrahman University, north of the Saudi Arabian capital Riyadh, is among the top ten largest universities in the world and the largest women-only university. Founded in...
Developments using fibre-reinforced polymers (FRP) in construction
In 2009, Mark Singleton and John Hutchinson wrote a paper entitled "The development of FRP composites in building construction" where they described the many advantages of using pultruded FRP (PFRP)...
Innovative architectural design using composites as construction materials
The construction market, being one of the largest industries for composites globally, is still dominated by conventional building materials such as concrete and steel, and shows certain reservations...
CFRP grid use continues to grow in precast concrete
Throughout the last decade, carbon-fibre-reinforced polymer (CFRP) grid has earned widespread acceptance in the precast concrete industry, primarily as a shear connector in insulated wall panels and...
High-quality performance gelcoat for residential buildings
As part of an on-going product innovation and quality improvement programme, Stormking has specified the use of Scott Bader's Crystic®LS 96PA spray gelcoat in both white and slate grey for all its GRP...
Advanced fibre-reinforced polymer (FRP) composites for structural applications
Composites have become essential materials for building new structures and repairing existing infrastructure. This book provides an overview of different advanced FRP composites and their use in a...
Robust, energy-efficient windows with polyurethane composites
The efficient thermal insulation of buildings not only reduces energy consumption, it also spares the wallets of the owners and tenants. Furthermore, it makes a real contribution towards conserving...
AASHTO-approved composite bridge system ready for USA roll-out
Design guidelines for corrosion-resistant bridge construction were published in January 2013 by the American Association of State Highway and Transportation Officials (AASHTO). These LRFD (Load and...
New FRP pedestrian bridge deck improves safety and provides critical connecting link
Composite Advantage LLC's FiberSPAN™ fibre-reinforced polymer bridge deck product was installed on a new 3-span steel superstructure at Wolf Creek National Park near Vienna, Virginia (USA). The new...
Monitoring the dielectric cure of an epoxy-graphite prepreg
Lambient Technologies tested samples of an epoxy-graphite prepreg using dielectric cure monitoring to study the material's cure over the desired temperature profile. This report presents and discusses...
Carbon composite boom for concrete pumping truck: a technological challenge
Carbon fibre composite materials with an epoxy matrix were used to produce the final sections of an articulated arm for a concrete pumping truck. The reduced boom weight allowed reducing the tilting...
TECHNOLOGIES & INNOVATIONS
Composite damage detection using distributed strain sensing
The RTS150 is an off-the-shelf real-time fibre optic sensing interrogator. With tens of thousands of strain or temperature sensors constantly monitored up to 100 times per second, it brings sensing...
A novel tool for composite beam computations
Using composite beams is a real trend today in many engineering applications. However, the mechanical behaviour of such composite structures is not so easy to understand, to predict, to compute and...
Thank you
You just used 1 credit. You have left.