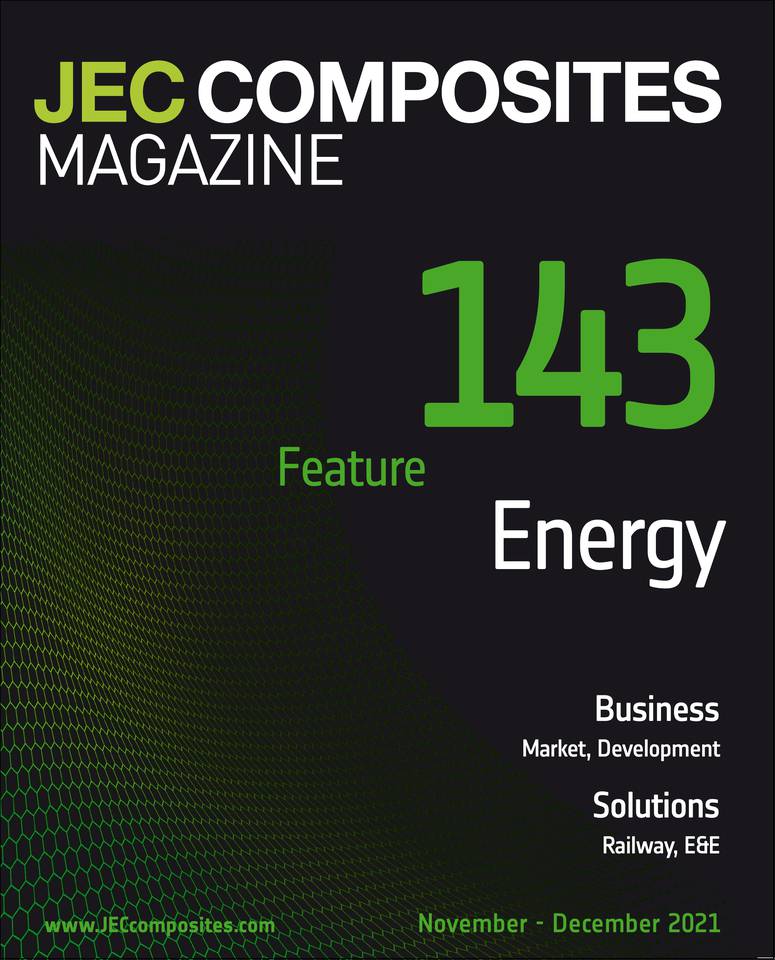 JEC Composites Magazine
N°143 - november 2021
Preview
JEC Composites Magazine is the point of contact of the international Composites Community, 6 times a year, with topics covering scientific information, business, technology, manufacturing, and application sectors trends.
In each and every issue, readers will learn about the entire composites industry value chain (from raw materials to application markets), and be inspired with current and future innovations.
The six sections of the magazine consist in:
NEWS: with interviews, articles about business development (M&As, appointments, partnerships and collaborations, awards etc.).
BUSINESS: with articles covering trends and markets, focusing on a specific country or region, with the composites market, or the application markets, or the companies strategies etc. in that country or region, and a startup focus.
MANUFACTURING: with articles about production processes and processing equipment.
FEATURE: an in-depth overview of a specific topic (typically an application sector), plus a JEC World Preview in April/May and Review in June/July.
SOLUTIONS: composites around us, with articles showing how composite materials are being used in applications which impact our everyday lives.
TECHNOLOGY: with articles about developments in materials, testing and control, repair, joining, design and simulation, recycling and reuse, R&D.
Enjoy your reading!
Contents
Energy: Composite materials hold all the cards By
"Whether for ensuring our survival (and our comfort), our mobility, our ability to transform our environment and to power the ever-increasing number of accessories we use on a daily basis, energy is a...
Read More
N°143 - november 2021
EDlTORlAL
Energy: Composite materials hold all the cards By
"Whether for ensuring our survival (and our comfort), our mobility, our ability to transform our environment and to power the ever-increasing number of accessories we use on a daily basis, energy is a...
MOVING COMPOSITES FORWARD
«Our goal is to deliver a car that you only need to charge once or twice a year»
After winning the World Solar Challenge with the experimental sustainable family car Stella, part of the Lightyear Dutch team behind it started to dream about world's first street legal solar family...
NEWS
Spirit AeroSystems inaugurates world-class innovation centre
Spirit AeroSystems (Europe) Limited (UK) has celebrated the official opening of its state-of-the-art Aerospace Innovation Centre (AIC) in Prestwick, Scotland in the presence of Scotland's First...
Toray Advanced Materials Korea has acquired a prepreg factory in Qingdao, China
Toray Advanced Materials Korea (TAK) is expected to enter the car-bon fiber composite material market in earnest by securing the prepreg business. TAK, a subsidiary of Japan's Toray and Korea's...
Chinese giant glass fibre producers are betting on Middle East
Glass fibre colossus China Jushi has invested another US$ 335 million in Egypt to extend its annual production capacity with 120,000 tons of glass fibre products and expand raw material processing...
''We have always provided experienced personnel to support our clients composites operations''
Since 1996, ACT – Advanced Composites Training – has been offering the most innovative and comprehensive accredited courses in applied technologies for composites manufacturing, tooling, maintenance,...
Novel, affordable solutions for lightweight automotive and aerospace parts
The RIGHTWEIGHT Interreg North-West Europe (NWE) project aims to apply lightweight solutions to make transport greener and foster the exchange of knowledge and expertise between the automotive and...
BUSlNESS
Carbon fibre: China accelerates the timelines
Relying heavily on imports and continuously pressured by a steadily growing demand, the Chinese carbon fibre industrial supply chain has to more than double its current production capacity. China's...
Five decades of composites, from raw materials to finished parts
The foundation to exploring the true potential of composites resides in raw material providers who understand the magic of these materials. Companies that have an organized R&D, understand end use and...
MANUFACTURlNG
Hollow stereolithographic structures reinforced by short carbon fibres
Photopolymers are often insufficient for structural use in additive manufacturing due to their limited mechanical properties. In this paper, the reinforcement of stereolithography structures by...
FEATURE
Hydrogen permeation testing on non-metallic materials
As more countries join together and commit to decarbonisation following a declaration of a climate emergency, the demand for clean energy has never been greater. The need to realise the potential of...
EuCIA highlights opportunities for composites under EU Green Deal energy strategies
Under the European Green Deal the European Commission has set out a number of strategies that support its ambition of making the EU climate neutral in 2050, many of which could drive growth in the use...
Megapol by EDF: the polymer wild card of the nuclear sector
EDF' R&D department recently created Megapol, a consortium of international experts unique in the world whose objective is to find simple, safe and low-cost solutions to help extend the lifespan of...
Vestas V236-15.0 MW: the Eiffel Tower of the seas
The motto "the bigger the better" is becoming a reality for offshore wind turbines with the new Vestas V236-15.0 MW that, according to its designers, promises extraordinary electricity output. At 280...
New surfacing technology enabling high-quality paint-ready surfaces
Hexcel recently released its latest HexPly® XF surface technology that significantly reduces shell manufacturing time within the wind blade surface finishing process. According to the company, HexPly...
The Green Nacelle: pioneering natural-fibre composites in wind energy
Summer 2021 provided a landmark moment for the development and application of natural-fibre composites (NFC) in wind energy as the 7.3m Green Nacelle was placed on top of its tower in Rotterdam, and...
Zero-emission blade recycling
The wind energy sector and other fibreglass users are desperately looking for sustainable recycling solutions for their end-of-life products. Enter a new player: Continuum intends to revolutionise the...
FAIRMAT raises 8.6 million euros for carbon fibre composites recycling
Benjamin Saada, the cofounder of Expliseat, has launched his new start-up that's pioneering the development of disruptive technologies to recycle high-tech materials. Its first pool will help it...
SOLUTlONS
Gita mini, the Sherpa robot
With a gita mini, you can leave that heavy backpack at home. This smart two-wheeler robot knows exactly how to keep pace with its owner, making carrying your belongings a breeze. Small, practical, and...
A ''Composite Textile'' brand from Japan
"Composite Textile" is a type of soft composite materials with the characteristic of a carbon fiber. Hideyuki Kasuga has named this "new material" as "hide k 1896" (material brand). "Composite...
Composites won't be left standing on the platform
The transport sector, and specifically railway, hold significant promise for composite material applications. Indeed, their characteristics and properties make them a choice material: - For passenger...
TECHNOLOGY
Fibre-reinforced composites with a vitrimer matrix
Vitrimers combine the advantages of thermoset and thermoplastic polymers in one material. Due to their outstanding physical and chemical properties, this new class of polymers offers completely new...
Thank you
You just used 1 credit. You have left.