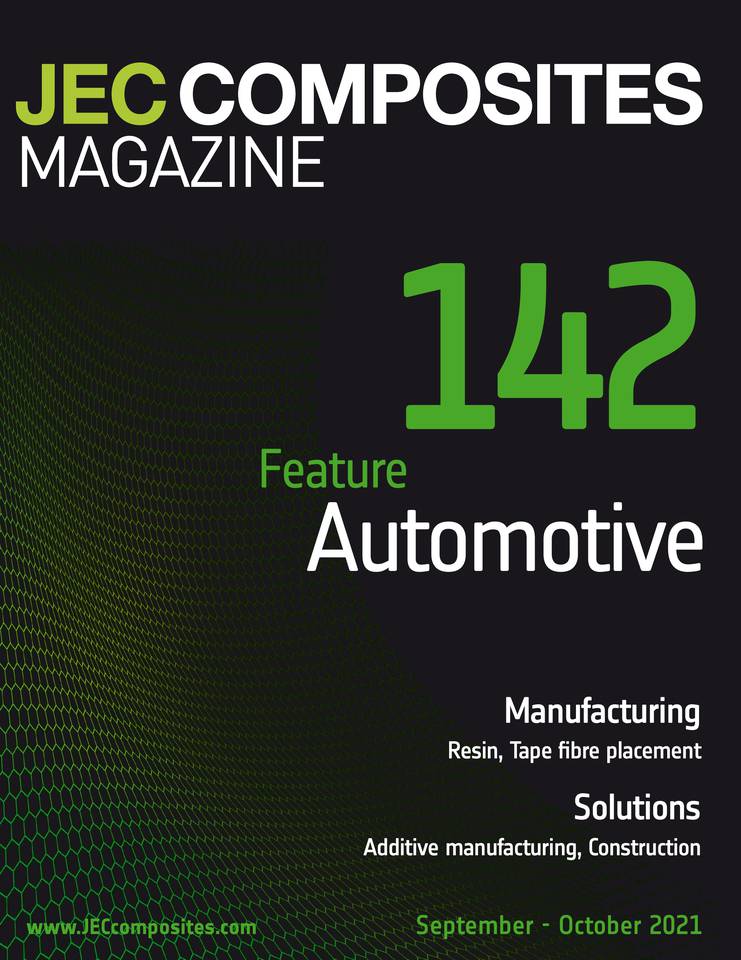 JEC Composites Magazine
N°142 - september 2021
Preview
JEC Composites Magazine is the point of contact of the international Composites Community, 6 times a year, with topics covering scientific information, business, technology, manufacturing, and application sectors trends.
In each and every issue, readers will learn about the entire composites industry value chain (from raw materials to application markets), and be inspired with current and future innovations.
The six sections of the magazine consist in:
NEWS: with interviews, articles about business development (M&As, appointments, partnerships and collaborations, awards etc.).
BUSINESS: with articles covering trends and markets, focusing on a specific country or region, with the composites market, or the application markets, or the companies strategies etc. in that country or region, and a startup focus.
MANUFACTURING: with articles about production processes and processing equipment.
FEATURE: an in-depth overview of a specific topic (typically an application sector), plus a JEC World Preview in April/May and Review in June/July.
SOLUTIONS: composites around us, with articles showing how composite materials are being used in applications which impact our everyday lives.
TECHNOLOGY: with articles about developments in materials, testing and control, repair, joining, design and simulation, recycling and reuse, R&D.
Enjoy your reading!
Contents
Automotive : new paradigm
"The automotive industry is going through a particularly rough period: Europeans are falling out of love with their car, traffic conditions in city centres are increasingly more hostile, and users are...
Read More
N°142 - september 2021
EDITORIAL
Automotive : new paradigm
"The automotive industry is going through a particularly rough period: Europeans are falling out of love with their car, traffic conditions in city centres are increasingly more hostile, and users are...
MOVING COMPOSITES FORWARD
«Manufacturers have realized they must increase their flexibility and resilency»
Plataine announced it has signed on Original Equipment Manufacturer (OEM) agreement with SAP. Through this agreement, Plataine's software along with SAP manufacturing solutions, will allow customers...
NEWS
Investments Georgia Tech leads industry effort to tackle the composite and hybrid materials challenge
Georgia Tech is announcing a new Center for Composite and Hybrid Materials Interfacing that will dramatically improve how composite and hybrid structures are joined and repaired. The Center will work...
Record turnaround secures major ThermoPress order
IPCO, one of the world's leading manufacturers of double belt presses and precision scattering systems, has completed the record-breaking delivery of a high-performance press system for glass fibre...
BUSINESS
Skyroot Aerospace: the story of young space enthusiasts from lndia
"A dream is not that which you see while sleeping, it is something that does not let you sleep." – Dr. APJ Abdul Kalam It is the dreams that propel us. The dream of a democratized accessible space for...
Commercial bio-based resins for composites
With a surge in interest driven by the rising environmental consciousness, the range of commercial bio-based resins is expanding on both the thermosetting and thermoplastic fronts. Here is a quick...
The reality of natural fibre markets and research paving the way to valorization (Part 2)
Flax, hemp and other natural fibres are part of the solution for the transition towards sustainable development. Their variety provides new properties that make them stand out from the crowd. And yet,...
MANUFACTURlNG
Application characteristics of epoxy foam
Super Resin, Inc. used its resin development technology to develop a foam based on epoxy resin offering characteristics that cannot be found in conventional foams. This paper introduces the features...
High-performance polymers for fibres and fibre-reinforced composites
Thermoplastic high-performance polymers (HPP) combine excellent technical properties with low weight, which is why these materials are used in particular in the automotive and aerospace industries [1,...
FEATURE AUTOMOTIVE
Jointly conducted analysis and structural test evaluation for automotive B-pillar parts
Acarbon fibre/epoxy prepreg-based reinforcement part with aluminium was attempted to be applied to the B-pillar assembly to replace the existing steel-based parts to reduce the weight of the vehicle....
FEATURE
Composites innovation in U.S. commercial trucks and vans
Like the broader automotive sector, the U.S. commercial truck industry is on the brink of major change, including a transition away from the internal combustion engine. Composite materials have a role...
The importance of lightweight construction for the automotive industry
In Europe, one third of the GFRP materials produced is used in the transport sector. According to the 16th Composites Market Survey by Composites Germany, the future of the sector appears positive...
First Composite intensive multi-material BiW structure made in/for China
Forward Engineering and subsidiary KDX Design Center successfully developed a composite-intensive multi-material BiW (Body in White) structure for Changan (EADO ET), the Chinese Automotive OEM...
Green composite perspectives for semi-trailers
Reducing the environmental impact of its products and manufacturing processes is a matter of prime concern for the French company CHEREAU, a leader in the field of refrigerated semi-trailers...
SOLUTlONS
"The Massivit 10000 cuts production timelines drastically. lnstead of weeks, it takes days"
The Massivit 10000 is a large-volume additive manufacturing system that shifts the paradigm for large tooling by significantly shortening mould-production time, using Massivit 3D's Cast-In-Motion...
Enhancing construction with composites Greener and cheaper concrete
The production of cement for concrete currently accounts for about 8% of the total global CO2 emissions. Faced with the problem of reducing the building industry's carbon footprint, the University of...
TECHNOLOGY
Holistic optimization of the high-speed tape lay-up process using a digital twin
To boost series production of thermoplastic composites based on unidirectional tapes, economically- and ecologically-optimized tape placement strategies have to be established. The introduction of a...
lmproved manual composite manufacturing with an augmented-reality system
A digital assistance system providing guidance for the production of composite components by manual lay-up processes was developed and implemented on commercial smart glasses at the Fraunhofer IPT....
Making thick-section composite components
The Exeter Composite Lab seeks to tackle several manufacturing barriers to the widespread utilisation of thermoplastic composites, for thick-section metal replacement. Overcoming manufacturing...
Thank you
You just used 1 credit. You have left.