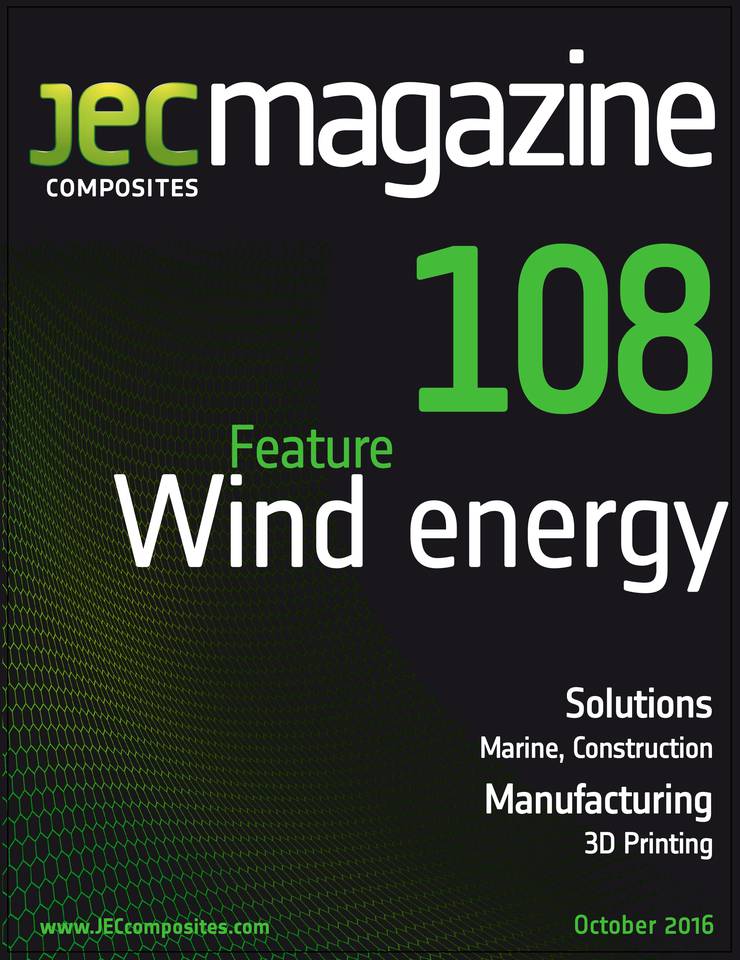 JEC Composites Magazine
N°108 - october 2016
Preview
JEC Composites Magazine is the point of contact of the international Composites Community, 6 times a year, with topics covering scientific information, business, technology, manufacturing, and application sectors trends.
In each and every issue, readers will learn about the entire composites industry value chain (from raw materials to application markets), and be inspired with current and future innovations.
The six sections of the magazine consist in:
NEWS: with interviews, articles about business development (M&As, appointments, partnerships and collaborations, awards etc.).
BUSINESS: with articles covering trends and markets, focusing on a specific country or region, with the composites market, or the application markets, or the companies strategies etc. in that country or region, and a startup focus.
MANUFACTURING: with articles about production processes and processing equipment.
FEATURE: an in-depth overview of a specific topic (typically an application sector), plus a JEC World Preview in April/May and Review in June/July.
SOLUTIONS: composites around us, with articles showing how composite materials are being used in applications which impact our everyday lives.
TECHNOLOGY: with articles about developments in materials, testing and control, repair, joining, design and simulation, recycling and reuse, R&D.
Enjoy your reading!
Contents
The sector where everything is possible
"Not a month goes by without a new announcement: the longest blade, the largest wind farm, an offshore achievement, the introduction of new materials, or new growth records for the market or for...
Read More
N°108 - october 2016
EDITORIAL
The sector where everything is possible
"Not a month goes by without a new announcement: the longest blade, the largest wind farm, an offshore achievement, the introduction of new materials, or new growth records for the market or for...
OPINION
«The composite industry in Thailand continues to grow»
With a well-developed infrastructure, a free-enterprise economy, and generally pro-investment policies, Thailand historically has had a strong economy. To learn more about the composite industry, we...
NEWS
in brief Appointement
Joseph M. Gingo appointed CEO and President of A. Schulman The Board of Directors of A. Schulman announces that Chairman Joseph M. Gingo has been named Chief Executive Officer and president. Gingo had...
agenda 2016 October
K 2016 October 19-26 Düsseldorf, Germany www.k-online.com Offshore Energy 2016 October 25-26 Amsterdam, Netherlands www.offshore-energy.biz AIRTEC 2016 October 25-27 Munich, Germany www.airtec.aero 15...
BUSINESS
China composites industry expects reorganization as two construction giants merge
China National Building Materials Group Corp. (CNBM) will take over smaller rival China National Materials Group Corp. (Sinoma). The agreement between the two companies was approved by the Chinese...
Present and future of basalt fibre technology, manufacturing and market development
This article describes the current state of technological development of basalt fibre, the new generation of process equipment, certain production cost issues, the increased volume of basalt...
MANUFACTURING
Processing a long bamboo fibre/bio-based matrix biocomposite
Assystem, in partnership with Cirimat, developed an innovative biocomposite material that meets the most stringent environmental requirements as it is bio-based and recyclable. This material can be...
High-performance sustainability with bio-based epichlorohydrin (ECH)
As the global demand for "green" materials grows, so does the momentum for advanced materials with high strength and superior sustainability profiles. Epicerol® is a bio-based epichlorohydrin (ECH)...
Will composites be competitive with metals in 3D printing?
The composites industry has a tendency to get caught off-guard by metals as they make progress into more applications. 3D printing is an area where metals have taken the lead, but a number of...
WIND ENERGY
The first polyurethane wind rotor blade made in Asia
This article presents the successful trial of a 1.5-MW polyurethane wind rotor blade made with a newly-developed polyurethane resin in China, which made a great impression in the wind energy industry....
The world's longest blade for offshore applications
Adwen and LM Wind Power cooperated to develop a huge 88.4m wind turbine blade that perfectly represents industrial innovation at an unprecedented scale. This project has been months in the making,...
A new generation of wind turbine blades
The goal of the four-to-five-year Effiwind project launched in March 2014 is to develop a new generation of wind turbine blades that are made of recyclable thermoplastic acrylic polymer materials. The...
Expected results
- Innovation: Effiwind will constitute a major technological innovation for the wind turbine sector. Lowering the weight of the blades will make it possible to increase rotor efficiency with more...
Environmentally-friendly wind turbine turns traffic into energy
Capture Mobility is offering a new wind turbine made from recycled carbon fibre, which turns the wind created by traffic on busy main roads into reusable energy. The way the wind turbine came to be is...
Fastening solution for offshore wind turbine maintenance hatch
bigHead Bonding Fasteners is regularly challenged to provide custom-designed fastening solutions for its customers. W hile the standard range of over 400 mild steel and stainless steel "bigHeads"...
Visualizing resin transfer moulding behaviour using advanced 3D CAE technology
Resin transfer moulding (RTM) is one of the most prevalent processes available today in composite product manufacturing since it can reduce production time and produce high-strength fibre reinforced...
ls it possible to accelerate the design of composite wind turbine blades?
AnalySwift, LLC, a provider of efficient high-fidelity modelling software for composites and other advanced materials, recently announced that the Middle East Technical University (METU) is leveraging...
Sound fundamentals and fierce competition
National energy-mix policies, environmental concerns and the need to supply electricity to isolated areas are boosting wind energy. The market picked up in 2015 and continues to consolidate and seek...
SOLUTlONS
Ship of the Year 2016 in Norway: a legend out of carbon fibre
The new Seasight designed by BRØDRENE AA in Norway is a hybrid sightseeing vessel made out of carbon fibre-reinforced composites in order to reduce its structural weight by 50% and save 20% fuel...
All-composite lighthouse
Acciona Infrastructures SA designed, developed and installed the first-ever 35m-high all-composite lighthouse, once again meeting its corporate philosophy of being pioneers in sustainable development...
University of Valencia EDEM refurbished with an all-composite cladding system
As part of a major expansion of the EDEM Business School, three harbour buildings that were formerly part of the Port of Valencia have been combined, redesigned and totally refurbished inside and out,...
A further step in the development of robotically -fabricated fibre composite structures
This article describes the innovative pavilion installation based on a fibre composite structure at the Victoria and Albert Museum in London. This installation demonstrates an automated and creative...
SOLUTIONS in the world Go fast as a shadow
One of the 6 original custom-built Batpod motor-cycles used in 'The Dark Knight' and 'The Dark Knight Rises' movies has been put up for auction.Created by Dark Knight production designer Nathan...
TECHNOLOGY
Fatigue modelling of composite materials for industrial applications
A novel approach is proposed for the static and fatigue modelling of composite structures by progressive damage simulation, leading to direct lifetime estimation of industrial structural components....
Automated repair preparation and post-machining of composites
This paper focuses on the reworking of fibre-reinforced plastic (FRP) components during manufacturing as well as the repair of such structures while in service. It gives a summary of adaptive...
Thank you
You just used 1 credit. You have left.