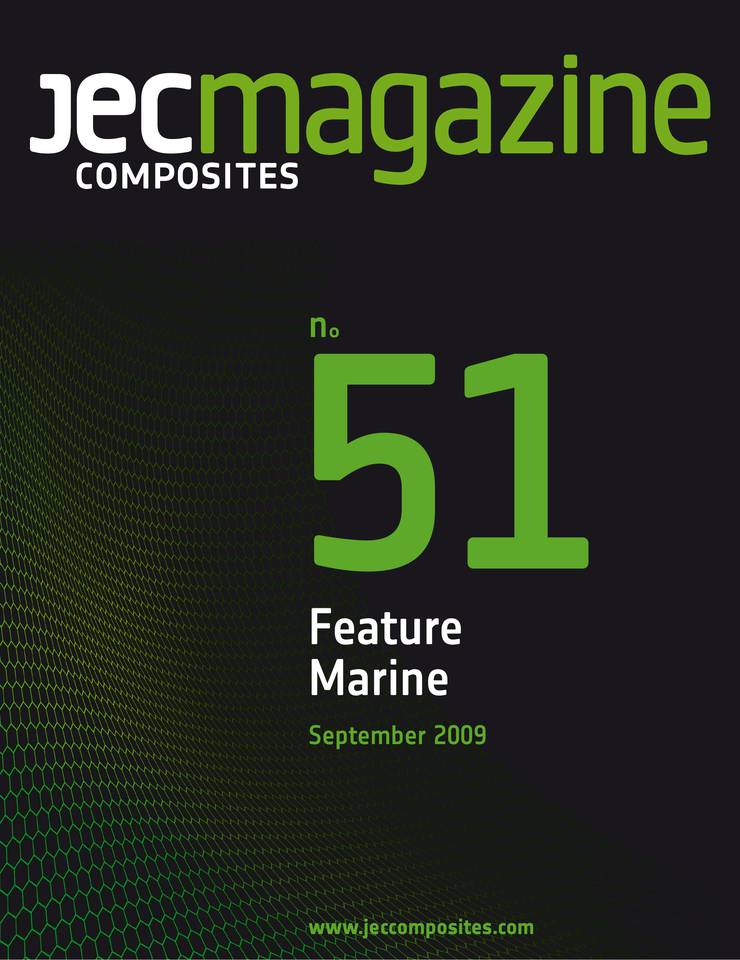 JEC Composites Magazine
N°51 - september 2009
Preview
JEC Composites Magazine is the point of contact of the international Composites Community, 6 times a year, with topics covering scientific information, business, technology, manufacturing, and application sectors trends.
In each and every issue, readers will learn about the entire composites industry value chain (from raw materials to application markets), and be inspired with current and future innovations.
The six sections of the magazine consist in:
NEWS: with interviews, articles about business development (M&As, appointments, partnerships and collaborations, awards etc.).
BUSINESS: with articles covering trends and markets, focusing on a specific country or region, with the composites market, or the application markets, or the companies strategies etc. in that country or region, and a startup focus.
MANUFACTURING: with articles about production processes and processing equipment.
FEATURE: an in-depth overview of a specific topic (typically an application sector), plus a JEC World Preview in April/May and Review in June/July.
SOLUTIONS: composites around us, with articles showing how composite materials are being used in applications which impact our everyday lives.
TECHNOLOGY: with articles about developments in materials, testing and control, repair, joining, design and simulation, recycling and reuse, R&D.
Enjoy your reading!
Contents
Doing nothing is not a solution
The marine industry (particularly the yacht segment) may be badly affected by the current crisis, but it is still just as innovative, to judge by the many examples in our Feature section. All aspects...
Read More
N°51 - september 2009
EDITOR'S
Doing nothing is not a solution
The marine industry (particularly the yacht segment) may be badly affected by the current crisis, but it is still just as innovative, to judge by the many examples in our Feature section. All aspects...
COMPANIES
AGY's expansion into Asia Pacific
The acquisition closed in June 2009 and has expanded AGY's geographic manufacturing footprint, enabling it to better service its growing Asia-Pacific customer base. The Asia-Pacific region represents...
Kamenny Vek: the Russian basalt-fibre specialist
Established in 2002 in Dubna (Moscow region, Russia), Kamenny Vek manufactures high quality continuous basalt fibres to offer a broad range of products (direct rovings, assembled rovings, twisted...
JEC ASIA - FLOOR PLAN
Your events programme « à la carte »
Asia represents today 29% of the total value of the worldwide composite market, that is 18 billion euros, and 38% of the global market's volume. This region is in rapid development and composite...
COMPANIES
Mahindra Composites sets out to capture new markets
To develop, Mahindra Composites doesn't rely only on its domestic market or its affiliation with the huge industrial group, Mahindra & Mahindra. It is counting on innovation and the capture of new...
BUSINESS
Carbon fibre: investing cautiously
The carbon-fibre manufacturers who were investing heavily over the past three years to meet high market demand are now applying moderate investment strategies. At the moment, demand in the composite...
Innovation: carbon composite tools
JEC Composites Magazine: The carbon composite parts used in the fields of aerospace (Airbus A350WB, Boeing 787, etc.), wind turbines (blades) and boatbuilding (hulls, masts) are getting bigger all the...
Catch the attention
Sinuous and attractive to the eye, composite products have entered the furnishing world, demonstrating their versatility and suitability for rounded surfaces that are asymmetric, hollow, light and...
R&D engineer
Research and development involves time, efforts and money, but it is becoming more and more important for the health of a company. Whether researchers and technical project managers are involved in...
FEATURE
A manufacturing solution for series production of boats
Working with the huge moulds required for fibreglass boat hulls and decks is a formidable challenge that is tackled on a daily basis in boat manufacturer Jeanneau's modelling shop at Les Herbiers....
High Modulus has the wind in its sails!
The story of High Modulus is remarkable in every way. After thirty years of hard work, this internationally-renowned company specializing in the marine industry is now ready for the future. Its secret...
Prepregs for race boats: adapting aerospace materials to the marine world
SP, the marine business of Gurit, works in close cooperation with leading designers and boatyards to develop marine prepregs that achieve similar mechanical performance levels to those of aerospace...
A revolutionary new boat: using next- generation carbon nanotube-enhanced prepreg
Nanomaterial specialist Zyvex Performance Materials (ZPM) unveiled a new boat to be built by Strategic Composites and made entirely with ZPM's next-generation carbon nanotube (CNT) enhanced prepreg,...
Carbon nanotubes for custom-made surfboards
Entropy Surfboards, Amroy Europe Ltd and Bayer MaterialScience LLC have teamed up to deliver a new line of custom-made surfboards that incorporate carbon nanotubes. Entropy Surfboards, a division of...
A unique hydroplane inshore powerboat
Team 21, based in Lowestoft, East England, design, build and race inshore powerboats. For the 2009 racing season, they replaced their wooden racing craft with a newly designed Newace© fibreglass model...
Manufacturing boats with CoreCork®
Andrea Ratti, professor at the Politecnico di Milano, coordinated a project for the construction of an infusion-moulded sailboat using CoreCork® material. The qualities of this "renewed" material...
With Alt.en, composites are all about the environment
The green tide is sweeping all before it, and is boosting the activity of the company Alt.en (as in "Alternative Energies"), which has just delivered two electricallypowered catamarans made of...
USER'S PLATFORM
MM 11 44 Carbon Fibre Rifle Stock
The McCann Industries Carbon Fibre Rifle Stock uses state-of-the-art technology to bring the venerable M14 into today's battlefield, with accessories and configurations similar to the M4. The CFRS...
iPhone cc aa ss ee ss
Gorilla cases® is manufacturing extremely resistant design products for transporting Apple devices. Gorilla products focus on the aesthetics and ergonomics of the MacBook and iPhone. The handmade hard...
The FF -- CC ee ll ll Roadster
For about a year, more than 150 apprentices and sandwich-course students worked on the design, development, assembly and completion of the F-Cell Roadster. The main aim of the project was to integrate...
2010 OO llyy mm pp ii cc TToo rr cc hh
The Olympic Torch, designed by iconic Canadian company Bombardier, was recently introduced to Canada and the world in the mountain resort of Whistler, home to alpine skiing, sliding and Nordic events...
Major advancements in long fibre injection
In collaboration with Bayer MaterialScience and KraussMaffei, Camoplast has developed Camoplast Long Fibre (CLF™), a major innovation that makes it possible to produce large parts using the long fibre...
Successful partners
JEC Magazine interview questions for Camoplast, Bayer MaterialScience and KraussMaffei regarding the development of the Camoplast Long Fiber (CLF) process and the hull for the personal watercraft. JEC...
USER'S PLATFROM
Composite pressure vessels and multimedia filters
Kineco (Goa, India) specializes in the design and production of composite parts for the automotive, rail transport, water and defence sectors, among others. Kineco has a good command of filament-...
KNOW - HOW
Premium gelcoat for high-quality sanitary ware
Gelcoated glass-reinforced plastics have extensive use and application potential in many markets due to their cosmetic appeal, durability and resilience in structural and non-structural applications....
An SMC-moulded ice axe
Replacing metal with SMC (Sheet Moulding Compound) is one focus of the Polynt group's compounds business. This is illustrated here with a patented foldable ice axe. The structural SMC used shows...
Nano-toughening structural epoxy adhesives
Toughening of high-performance structural epoxy adhesives using dispersed organic nanoparticles enhances their performance and longevity, pushing the boundaries of adhesives in composite applications....
Thank you
You just used 1 credit. You have left.