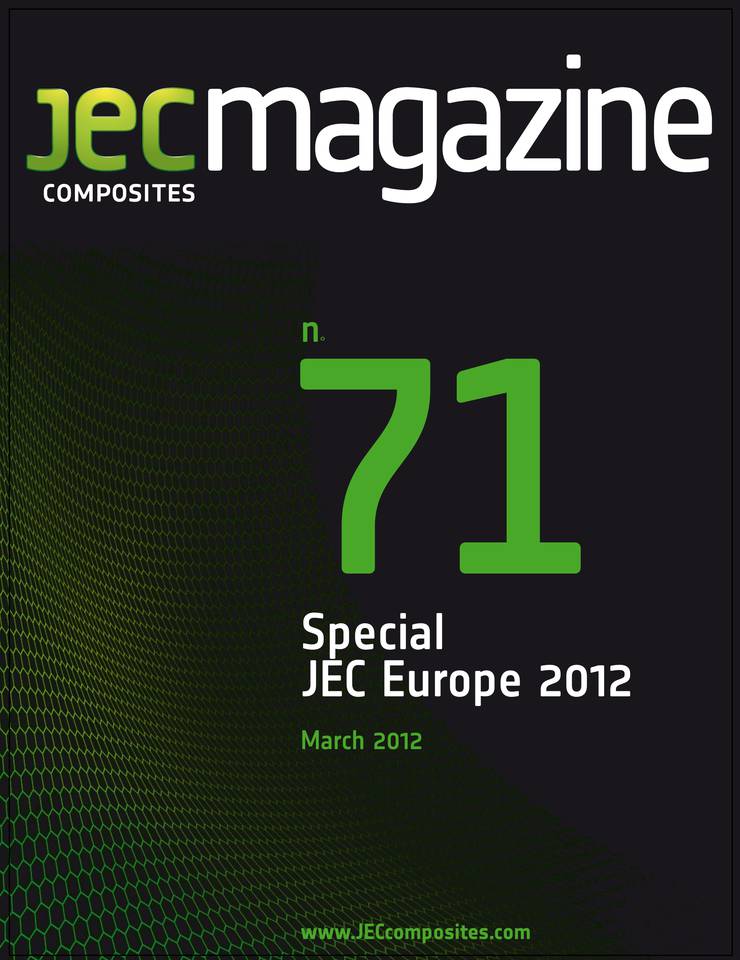 JEC Composites Magazine
N°71 - march 2012
Preview
JEC Composites Magazine is the point of contact of the international Composites Community, 6 times a year, with topics covering scientific information, business, technology, manufacturing, and application sectors trends.
In each and every issue, readers will learn about the entire composites industry value chain (from raw materials to application markets), and be inspired with current and future innovations.
The six sections of the magazine consist in:
NEWS: with interviews, articles about business development (M&As, appointments, partnerships and collaborations, awards etc.).
BUSINESS: with articles covering trends and markets, focusing on a specific country or region, with the composites market, or the application markets, or the companies strategies etc. in that country or region, and a startup focus.
MANUFACTURING: with articles about production processes and processing equipment.
FEATURE: an in-depth overview of a specific topic (typically an application sector), plus a JEC World Preview in April/May and Review in June/July.
SOLUTIONS: composites around us, with articles showing how composite materials are being used in applications which impact our everyday lives.
TECHNOLOGY: with articles about developments in materials, testing and control, repair, joining, design and simulation, recycling and reuse, R&D.
Enjoy your reading!
Contents
Europe leads in composite manufacturing processes
"The world economy is experiencing some strong turbulence. There are many experts; each has his/her own opinion on the subject. These opinions often differ, and are sometimes even mutually opposed,...
Read More
N°71 - march 2012
EDITO
Europe leads in composite manufacturing processes
"The world economy is experiencing some strong turbulence. There are many experts; each has his/her own opinion on the subject. These opinions often differ, and are sometimes even mutually opposed,...
POINT OF VIEW: UK, COUNTRY OF HONOUR ON JEC EUROPE 2012
FRP Composites is a key growth industry for the UK
Historically, the UK had a leading position in composites driven by early adoption of carbon-fibre composites in the defence and aerospace industries. Outside of the 38 largest companies, the UK...
COMPANIES & BUSINESS
Owens Corning sells Twintex intellectual property and business portfolio
Owens Corning announced it has reached an agreement with Fiber Glass Industries (FGI) to sell its global Twintex reinforcements rovings intellectual property rights and business portfolio. FGI...
Braj Binani Group acquires 3B - The Fibreglass Company
The holding company of USD 1.6 billion Braj Binani Group announced the acquisition of a 100 per cent equity interest in 3B from Platinum Equity. This acquisition is part of Braj Binani Group's...
New Max 5 carbon fabric production line by METYX composites
As part of an ongoing commitment to carbon fiber processing, METYX Composites invested in a new MAX 5 carbon reinforcement production line. This is the most recent in a series of investments planned...
Banpo, serious advantages for the future
Banpo Industries is a small but dynamic Japanese business, with a reputation in its market for its high-quality products. In order to continue its growth, however, Banpo is having to consider new...
Paul G. Allen wants to revolutionize space travel
Paul G. Allen – the co-founder of Microsoft – and aerospace pioneer Burt Rutan have reunited to develop the next generation of space travel. Allen and Rutan, whose SpaceShipOne was the first...
APPLICATIONS
Composites to the aid of populations
The Asia-Pacific region is being hit by natural catastrophes on a regular basis, each time more severely. The consequences for the populations there are dire, and increasingly deadly. Infrastructures...
The largest indian GRP infrastructure project
Ercon Composites, a leading Indian pultru-der, recently completed the largest project of its kind in the world. For this project, Ercon supplied 117 structural platforms entirely prefabricated in-...
First small watercraft that is compostable at end of life
The NavEcoMat project partners are presenting a ground-breaking prototype for a small pleasure craft made entirely of biocomposites. The project involves the development of a high-performance...
MARKET
Quality engineer: ensuring compliance with customer needs
With a view to ensuring optimum productivity, the Quality engineer organises and coordinates the management of product and service quality, across all processes and structures of the industrial...
Global bioplastics demand forecasts
The Freedonia Group recently released a study entitled "World Bioplastics - Industry Study with Forecasts for 2015 & 2020". According to this study, the world demand should more than triple by 2015....
Composite-dedicated natural fibres in France and Europe
FRD, an R&D competence centre and engineering platform for the "natural fibres for materials" industry, considers a number of plant-based solutions here, covering the range of natural fibres available...
SPECIAL JEC EUROPE 2012
Around 1,500 companies involved in the UK composites sector
The UK produces about £1.1bn of composite components and structures. The aerospace sector is the biggest user of composites and the driver of high value carbon fibre composites. The UK composites...
Carbon/magnesium wheels for high-performance vehicles
Carbon rims have a noticeable effect on a car's fuel economy, emissions, performance and handling. The improvement is significant as per the example of Porsche given below. The first prototype carbon...
Batch-production prepreg machine
> Booth V43 Developed with ease of use and cost effectiveness in mind, this prepreg machine targets small to medium composite part producers who want to better control their materials and processes...
10:1 methacrylate range now produced in Europe
> Booth D43 Following the expansion of their European production facilities, SCIGRIP, the leading global smart adhesives supplier, is now perfectly positioned to serve the marine, transportation,...
+/-45 pitch fibre biaxials and +/-30 carbon multiaxials
FORMAX will launch two exclusive new materials at JEC: +/-45 pitch fibre biaxials and +/-30 lightweight carbon multiaxials. FORMAX has developed a new range of high-modulus +/-45 biaxials based on...
Multi-component materials in small, accurately-measured packs
> Booth J29 Andpak's latest in-house technology allows multi-component materials such as adhesives, resins, mastics and coatings to be delivered in small, accurately-measured packs. Each component is...
4th lnternational Composites Summit: Composites for mass production Construction & Building
The adoption of composite technology: Stretch the imagination to construct a reality Dr. Ashish P. Diwanji, Vice President of Innovations for the Composites Solution Business, Owens Corning ⏵A...
JEC Innovation Awards Program 2012: lnnovation awards winners Aeronautics
New non-destructive testing system for the inspection of composite parts used in the aeronautic industry Winner: EADS (France) Partnership Network: Airbus (Spain); Airbus (F); Tecnatom SA (Spain);...
Applications other sectors Composite lattice structure for pedestrian bridge
> Booth D75 A pedestrian crossing of an unusual shape has been built by order of the Khimki administration (Moscow region, Russia). This pedestrian overpass consists of four 33-metre-long spans...
Equipment other sectors Greater autoclave efficiency with lower cycle costs
> Booth W71 TE Wire & Cable, a leading supplier of performance-enhancing autoclave thermocouples and thermocouple interconnect assemblies, has engineered two brand new autoclave thermocouple products...
Production other sectors Relay Station in Europe
> Booth K66 Marking a milestone in the company's global business, Fiberforge has installed its first Relay Station in Europe – the Relay Station 2000 at Fraunhofer ICT in Pfinztal, Germany. Fiberforge...
Simulation pipes, tanks Software for filament winding patterns
> Booth D25 The most common types of filament-wound parts (pipes, tanks and vessels) use a parametric model which allows for quick changes in the size of parts. It is very common to have a range of...
Raw materials other sectors Anti-counterfeiting taggants
> Booth Z64 OLNICA, a French company that specialises in anticounterfeiting solutions for materials protection, has developed a wide range of invisible marking powders to secure materials against...
Testing other sectors New composites testing laboratory
> Booth R75 Bureau Veritas Laboratories is presenting its new Composites Centre of Excellence located in France, near Bordeaux. This centre offers a wide range of customized services applied to...
R&D other sectors Electrically-heated metal-coated CRP moulds
> Booth U58 The University of Applied Sciences and Arts in Dortmund shows a method for constructing CRP moulds that can be electrically heated. The moulds are preferably intended for small- and...
United States: a land of composite
The American composites industry has a strong proven track record for its high-volume usage, with automated processes coupled with good design and development expertise. The future of the American...
Washington State's Composite Cluster - the future is here
Washington State has developed into a global leader in the advanced composite materials industry. Situated amongst the mountains and rivers of the beautiful Pacific Northwest, Washington State has the...
University of Delaware – Center for Composite Materials
The Center for Composite Materials was founded at the University of Delaware in 1974. Since then, we have collaborated with several hundred local, national and international companies representing...
RESEARCH & DEVELOPMENT
Composites failure criteria and estimation of associated A-and B-basis design allowables*
In a 2002 paper by Hinton, Kaddour, and Soden (Composites Science and Technology, 62: 1725-1797) on a summary of the so-called World-Wide Failure Exercise, whereby 14 theories for predicting failure...
Structural integrity of thin-ply laminates
This paper demonstrates the main effects of thin-ply laminates on the structural integrity of polymer composites. The influence of thin plies on the free-edge delamination onset strain is quantified...
Giving more freedom to composite designers through advanced NCF reinforcements
Since the first introductory presentation at the JEC 2011 Design conference, Chomarat has been working to develop C-PLY™ reinforcement in collaboration with a research group of manufacturers and...
Novel +α/-β Spread Tow fabrics for the production of tubular items
The recent development of TeXtreme® +α/-β The lack of bias fabric reinforcement has been hindering the commercial development of a variety of composite material products – especially tubular items,...
Technical flax & polyamide 11: performance with renewable ressources
These days, manufacturers are looking for new lighter-weight materials with high technical performance that are more environment friendly and compatible with a competitive eco-responsible approach....
TECHNOLOGIES & INNOVATIONS
From carbon fibre to carbon-fibre-reinforced thermoplastics
Traditionally, most aerostructures are manufactured using carbon-fibre-reinforced polymers (CFRP), which are thermoset pre-impregnated carbon fibres in the form of unidirectional tape or woven fabric....
Free design tools with unmatched easy, speed and sophistication
Two new powerful composites analysis and design tools are now available for researchers and designers that can produce fast answers. Back in 1984 when Macintosh was first introduced, only available...
Thermoplastic Composite structural innovative assemblies for the automotive industry
As a result of their advantages (recyclability, weldability and low environmental impact), long (continuous) fibre thermo-plastic composites (LFTPC) are being used more and more for structural...
Sustainable and environmentally friendly technologies for the automotive sector
Sustainable bio-based materials have entered the market in end-use applications such as automotive components, as shown by the studies described in this paper. Because these materials still represent...
COMPOSITES IN THE WORLD
A more efficient pedal
Ergon, a German company that specializes in ergonomic components for bicycles, launched a flat pedal to provide an ergonomic and positive connection between bike and user. According to its inventors,...
SPECIAL JEC ASIA
Around JEC Asia 2012: Asia-Pacific, a land of opportunity for new carbon projects
"Market projections suggest that Asia will be leading the growth of the global composites industry, with a CAGR greater than 5% by 2013. At this growth rate, Asia will reach about 40% of the total...
Automotive: Emerging countries take the lead 2011, a pivotal year for the automotive industry
In 2011, for the first time in history, emerging countries – led by China – will dominate world automotive production. Given the fierce competition, going global, diversifying, and adapting one's...
Thank you
You just used 1 credit. You have left.