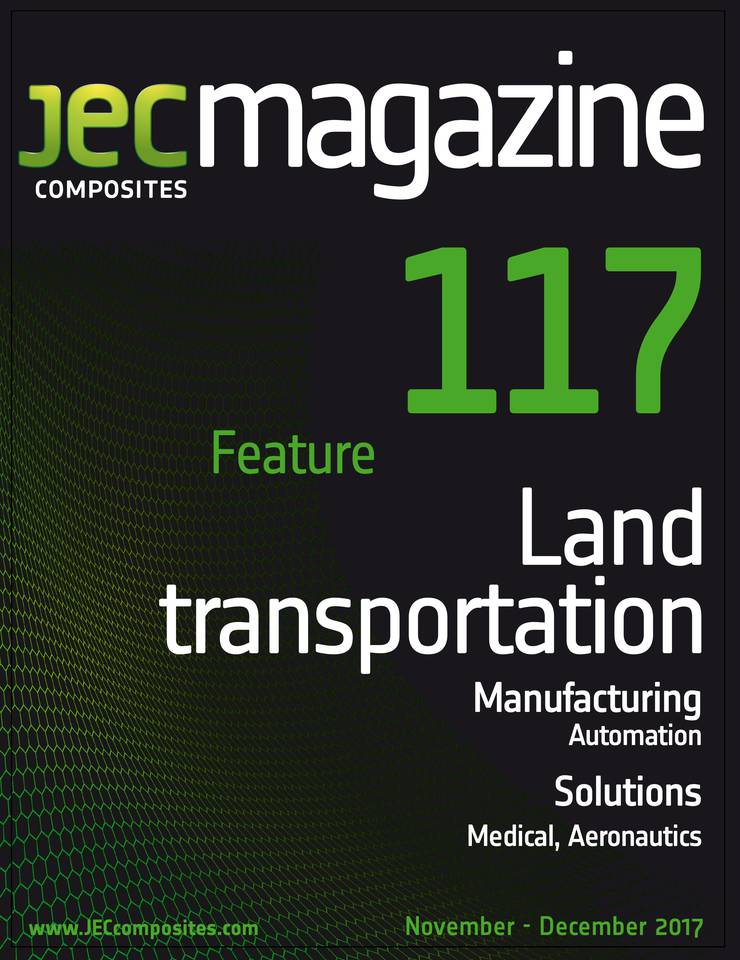 JEC Composites Magazine
N°117 - november 2017
Preview
JEC Composites Magazine is the point of contact of the international Composites Community, 6 times a year, with topics covering scientific information, business, technology, manufacturing, and application sectors trends.
In each and every issue, readers will learn about the entire composites industry value chain (from raw materials to application markets), and be inspired with current and future innovations.
The six sections of the magazine consist in:
NEWS: with interviews, articles about business development (M&As, appointments, partnerships and collaborations, awards etc.).
BUSINESS: with articles covering trends and markets, focusing on a specific country or region, with the composites market, or the application markets, or the companies strategies etc. in that country or region, and a startup focus.
MANUFACTURING: with articles about production processes and processing equipment.
FEATURE: an in-depth overview of a specific topic (typically an application sector), plus a JEC World Preview in April/May and Review in June/July.
SOLUTIONS: composites around us, with articles showing how composite materials are being used in applications which impact our everyday lives.
TECHNOLOGY: with articles about developments in materials, testing and control, repair, joining, design and simulation, recycling and reuse, R&D.
Enjoy your reading!
Contents
Opportunities for composites
"The general transportation market is in for some significant upsets. We might say that the manoeuvring has begun, and it concerns all sectors. Everyone is talking about the issue of mobility, and...
Read More
N°117 - november 2017
EDITORIAL
Opportunities for composites
"The general transportation market is in for some significant upsets. We might say that the manoeuvring has begun, and it concerns all sectors. Everyone is talking about the issue of mobility, and...
OPlNlON
"The factory of the future is possible only if a unified, secure communication infrastructure is set up"
Smart operations in composite materials production require the use of new and disruptive technologies, from analytics and mobile to collaborative machines. They require new strategies that make the...
NEWS
Owens Corning to invest in European composites operations
Owens Corning announces plans to invest $50 million to rebuild a glass melter and expand production capacity by approximately 25 percent at its Chambéry, France, composites manufacturing facility. The...
Hexcel completes Structil acquisition
Hexcel Corporation announces that it has completed the acquisition of all of the shares of Structil, a French producer and supplier of high-performance composites to the aerospace, defense and...
Hengshen and Bombardier have signed a cooperation agreement
Jiangsu Hengshen Corporation and the civil aircraft manufacturer Bombardier have signed a strategic cooperation agreement on carbon fiber prepreg supply. Hengshen will be the first Chinese carbon...
Porcher Industries acquires entire operations of P-D Interglas Technologies
Porcher Industries, a specialist in technical textiles and thermoplastic composite solutions, has announced that it has completed the acquisition of Interglas Technologies' operation including all...
Magna partners with Startus Insights to boost innovation pipeline in Europe
As the auto industry transforms, Magna's commitment to innovation and collaboration with the startup ecosystem continues to gain momentum. In its latest activities, Magna has partnered with StartUs...
Orbital ATK plans $5 million expansion in Ohio
The company specialized in aerospace and defense technologies, announces it is expanding its Beavercreek, Ohio, facility by 40,000 square feet in 2017-2018 with a capital investment of approximately...
Gurit transfers UK prepreg business to Gurit Spain by 2018
Zurich, Switzerland announced that it will transfer its UK prepreg business to its Spanish prepreg production facility by summer 2018. Following the technology change from the use of pre-impregnated...
IACMI announces discontinuous recycled carbon fiber project for automotive Class A surface finishes
The Institute for Advanced Composites Manufacturing Innovation (IACMI) announces a project to develop processing and material technologies to create Class A surface finishes for the automotive...
Composite materials in the heart of the Augsburg science park
The rate of innovation in today's world has sped up dramatically. In the long run, businesses and research institutes are only successful if they are able to adapt quickly. Adapt to changing...
The lnnovation Park in speeds innovation towards the efficient use of raw materials, energy and other valuable resources
Joint interview with Wolfgang Hehl, CEO, Augsburg Innovationspark GmbH (Augsburg Innovation Park) and Andreas Thiel, CEO, Regio Augsburg Wirtschaft GmbH (economic development association of the region...
JEC Asia lnnovation Awards 2017: 12 winners
During the first JEC Asia 2017 show in Seoul, South Korea, 12 companies were rewarded in several major application sectors. Like the rest of the world, the Asia-Pacific region is seeing major...
agenda NEWS
2017 December Biocomposites Conference Cologne December 6-7 Cologne, Germany www.biocompositescc.com CAMX December 12-14 Orlando, USA www.thecamx.org 2018 January North American International Auto...
BUSINESS
Steady growth for North America
In the global composite market, North America is the world's second-largest market in terms of volume and the largest in terms of value, so it is an important region. Transportation and construction...
EPTA report reveals vast opportunities for pultruded composites in residential housing
Earlier this month, an industry report published by the European Pultrusion Technology Association (EPTA) highlighted a large potential for growth within the residential housing market, especially in...
China's road to innovation: the German way
Chinese companies recently showed interest in the German composite industry, mainly through the acquisition of companies with specific technologies or R&D collaborations with universities. These...
MANUFACTURING
Fibre Patch Placement: expanding the scope of additive manufacturing
Fibre Patch Placement combines the advantages of additive manufacturing with state-of-the-art performance expectations of the composites industry. In their article about High-performance creations:...
Flexibility in automated composites lamination
There was once a time when a part was manufactured by automated tape laying (ATL) or automated fibre placement (AFP) just by looking at the complexity of the curvature. In the case of a very high...
Automated manufacturing of stiffened composite shells using dry fibre material
Appropriate manufacturing concepts need to be developed to meet the growing demand for CFRP parts and the increasing production rates in the aviation sector. Therefore, a development stream is ongoing...
lndustry 4.0 materials handling components and innovative LFT pellets
The manufacturing industry has been improving its materials handling components, making them more modular and giving them Industry 4.0 capabilities. ProTec recently presented its own components,...
LAND TRANSPORTATION
Composite innovations boost transport technologies
The compilation below provides a selection of the composite innovations and developments that were shown at InnoTrans 2016 and presented in the Innovation Report. Composite materials are increasingly...
Out-of-autoclave train body using a new curable prepreg
The EV101 prepreg has excellent flame retardant performance that meets the requirements of the railway sector. It has been widely used in both interior and exterior structural and non-structural...
Enough to cover three soccer fields – Germany's ICE train fleet's composite flooring
Germany's ICE fleet trains use SMT's new lightweight infused flooring to replace previously installed heavy wooden panels. The fire-resistant structural composite sandwich brings weight savings,...
Steady growth for the world rail market
The land transport sector, and rail in particular, represents a significant growth potential for composite materials. The reason for this is twofold: firstly, the penetration rate of composites is...
Modernization of lndian rolling stock – A welcome signal for composites
"Indian Railways is an organization that touches the hearts and existence of all Indians, even Mahatma Gandhi, who decided to undertake a voyage of discovery of India before launching himself into the...
lntegrated urban solutions are the core driver of user-oriented ad-hoc mobility
Our society is experiencing a new multi-vehicle era of mobility: urban mobility is becoming more and more connected, digital and efficient. Mobility patterns are gaining in complexity. The needs...
Composites hit a snag in railway
For cost reasons associated with things like fire safety and recyclability, composite materials are still used sparingly on trains. Manufacturers are working on new concepts for use, however. More or...
A large-volume, lightweight CFRP container
Shanghai Cedar Composites Technology Co., Ltd. and their partner China International Marine Containers (Group) Ltd. recently presented a carbon container project that offers good technical performance...
The future of inner-city freight is coming closer
Just as in the automotive sector, the move to electrically powered trucks and buses can provide a good opportunity for composite materials. By making a vehicle lighter, you can either increase the...
SOLUTIONS
Composite wheelchair casters reduce weight and provide a smoother ride
When Frog Legs, Inc. of Ottumwa, Iowa, wanted to switch from machined aluminium to a carbon fibre composite for a new generation of their wheelchair caster wheels, they partnered with PlastiComp,...
Novel materials solution for high-pressure composite tanks for hydrogen storage
Royal DSM, a global science-based company active in health, nutrition and materials, has introduced a material solution for high-pressure composite tanks for hydrogen storage in its continuing mission...
Aircraft interior modules based on thermoplastic honeycomb
Thermoplastic honeycomb technology specialist EconCore joined forces with Diehl Aircabin to develop next-generation solutions for aircraft interior modules as part of a European Commission-funded...
An eye-catching carbon fibre bycicle
A handmade Urban Stealth singlespeed Bike with styling inspired by the famous F-117 Nighthawk aircraft. The B-9 NH Black Edition represents the evolution of the BME X-9 concept bike and features a...
Lightweight and stiff carbon-fibre backboard
X-Trim 4 is foldable carbon fibre spinal board developed for cave rescue and all the situations in very narrow confined spaces. Weight and size are minimized to 5kg for a 5mm thickness to facilitate «...
TECHNOLOGY
Health monitoring of CFRP using printed circuits
This study presents an approach for monitoring the structural health of CFRP using conductive paths of printed silver nanoparticle ink. Both delaminations and surface cracks can be detected by...
Building a case for automated composite lay-up
With technology advancing and engineers pushing further towards automation, traditional composite manufacturing methods will soon phase-out for more cutting-edge solutions. Before committing to...
Thank you
You just used 1 credit. You have left.