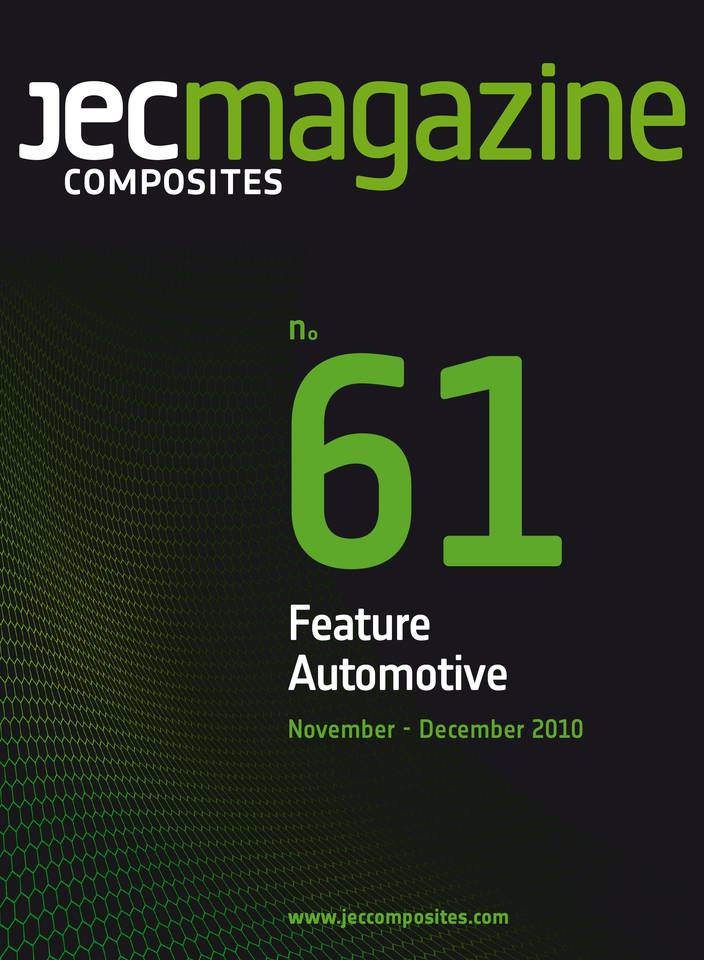 JEC Composites Magazine
N°61 - november 2010
Preview
JEC Composites Magazine is the point of contact of the international Composites Community, 6 times a year, with topics covering scientific information, business, technology, manufacturing, and application sectors trends.
In each and every issue, readers will learn about the entire composites industry value chain (from raw materials to application markets), and be inspired with current and future innovations.
The six sections of the magazine consist in:
NEWS: with interviews, articles about business development (M&As, appointments, partnerships and collaborations, awards etc.).
BUSINESS: with articles covering trends and markets, focusing on a specific country or region, with the composites market, or the application markets, or the companies strategies etc. in that country or region, and a startup focus.
MANUFACTURING: with articles about production processes and processing equipment.
FEATURE: an in-depth overview of a specific topic (typically an application sector), plus a JEC World Preview in April/May and Review in June/July.
SOLUTIONS: composites around us, with articles showing how composite materials are being used in applications which impact our everyday lives.
TECHNOLOGY: with articles about developments in materials, testing and control, repair, joining, design and simulation, recycling and reuse, R&D.
Enjoy your reading!
Contents
From one world to another
As I write these lines, professionals from all over the world and the public continue to flock to the 2010 Paris Motor Show (2-17 October), the largest event for that sector. In 2008, it attracted...
Read More
N°61 - november 2010
EDITORIAL
From one world to another
As I write these lines, professionals from all over the world and the public continue to flock to the 2010 Paris Motor Show (2-17 October), the largest event for that sector. In 2008, it attracted...
COMPANIES
Development
SAIC awarded USD 11 million contract to deliver manufacturing facility for composite building materials Science Applications International Corporation (SAIC) has been awarded a new prime contract by...
Agreements and partnerships
Spirit AeroSystems and GOL Linhas Aereas Inteligentes enter into agreements As announced on 27 September, GOL Linhas Aereas Inteligentes has selected Spirit AeroSystems, Inc. as the sole provider of...
National Aerospace Laboratories: incisive know-how
National Aerospace Laboratories (NAL), Bangalore, is a constituent institute under the Council of Scientific and Industrial Research of India. NAL is a high-technology-oriented institute that...
INNOVATIONS
Twelve companies rewarded by JEC and CCE for their composites Innovations
For the 6th year in a row, the JEC CCE Innovation Awards Programme was a huge success. Umeco Composites, Official Partner of the Competition, has been actively supporting the JEC CCE Innovation Awards...
EQUIPMENT
Increasing bond strength and reducing defects in ultrasonic welding
The ultrasonic welding technique, which uses high-frequency ultrasonic acoustic vibrations to create solid-state welds, is becoming more popular for composite materials such as carbon fibre. To...
BUSINESS
Aerospace composites in Quebec: a wealth of players and R&D
Located not far from New York, the Greater Montreal metropolitan area is one of the world's three major aerospace hubs, along with Seattle and Toulouse. Practically all of Quebec's aerospace industry...
Market survey
…/… Aerospace composites in Quebec: a wealth of players and R&D JEC Composites Magazine: How did you become CEO of FDC Composites? JACQUES CABANA : When I finished my studies, I joined the Canadian...
Tool-side breathing allows BAE Systems to manufacture its new UAV
Toolside and Bagside breathing are long established techniques. They are used to remove air and volatiles from a composite laminate while curing under a vacuum bag. BAE Systems has successfully...
Composites and the carbon label
Where does the composites industry stand with respect to carbon inventory issues? Is it useful for the manufacturers concerned to know their carbon impact in order either to use it in promoting their...
FEATURE AUTOMOTIVE
Formula One experience to drive forward other industries
What can wider sectors of industry learn from Formula One's extensive use of composites? That is the question discussed in this article, including Formtech Composites' take on the direction in which...
BMW's MCV, the first mass-produced car with a carbon passenger cell
With the Megacity Vehicle project and related investment, BMW Group underlines its commitment to the use of composite materials, including carbon fibre, and signals a break with traditional approaches...
An interesting solution for NASCAR race engine alternators
With all the jostling and bumping going on, it is sometimes easy to forget that stock car racing is after all an endurance event. Top NASCAR teams work to ensure reliability for every race on every...
Prepreg materials investigated as a storage battery for future cars
Advanced Composites Group's materials are being investigated for use as a power storage medium that could revolutionize car design and manufacturing. The company is engaged in a €3.4 million project...
Lamborghini prepares for the future with a new carbon-fibre research centre
Last July, Automobili Lamborghini S.p.A. announced a new Advanced Composites Research Centre (ACRC) at its headquarters in Sant'Agata Bolognese. This invest-ment follows other composite investments...
How adhesives reduce emissions, minimize waste and improve recycling
Environmental conditions and anything that can affect issues such as global warming and heavy metals are gaining considerable attention from both consumers and regulatory agencies. The more...
FRP recycling in Europe, North America and the Pacific Rim area
This paper presents an overview of FRP/composite recycling activities in Europe, North America and the Pacific Rim area, where great efforts have been made recently. A green-label system and the...
USERS' PLATFORM
Composites in the world Agile as a snake for ii ccee cc ll ii mm bb ii nn gg
The Cobra is a state-of-the-art, leashless ice axe made of carbon fibre that is ideal for alpine, ice and mixed climbing. Its lightweight, curved shaft gives the axe exceptional clearance without...
Conseil & Technique, an SME dedicated to the development of new products
Since its creation, Conseil & Technique, based in Toulouse, France, has developed its own unique know-how in the design of composite parts. It all began with the daunting technical challenge of...
Advanced graphite composite bipolar plates for fuel cells
GrafTech International (USA), Ballard Power System (Canada), Case Western University (USA) and Huntsman Advanced Materials have developed two new resin systems to meet the stringent requirements for...
KNOW-HOW
Four factors drive the development of superior wind blades
Blades are probably the most complicated and important component of wind turbines. Manufacturers are making substantial investments in developing larger wind turbines in order to enhance efficiency...
Bespoke simulation tool for thermoplastic composite
Manufacturing with fibre-reinforced thermoplastic materials is challenging and often requires expensive experimental testing. The Institut für Verbundwerkstoffe focused its attention on the complete...
Latent acid catalysts for process control of phenolics
For composite products where fire safety is paramount and high temperature resistance is important, the polymer of choice is phenolic. Phenolic composites are usually produced using resole resins,...
Thank you
You just used 1 credit. You have left.