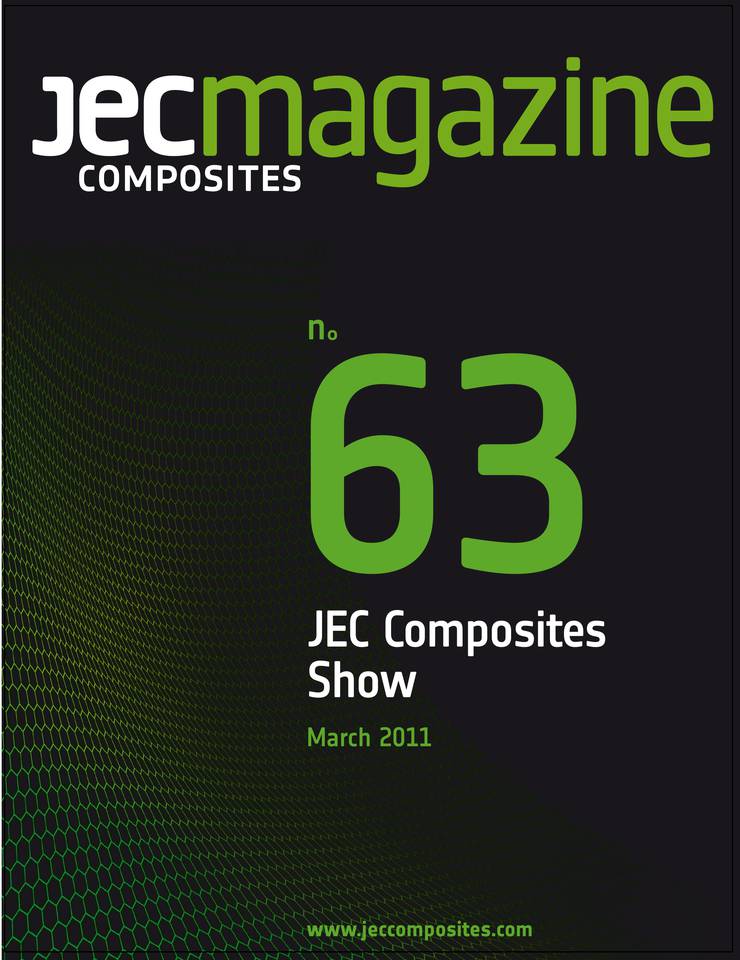 JEC Composites Magazine
N°63 - march 2011
Preview
JEC Composites Magazine is the point of contact of the international Composites Community, 6 times a year, with topics covering scientific information, business, technology, manufacturing, and application sectors trends.
In each and every issue, readers will learn about the entire composites industry value chain (from raw materials to application markets), and be inspired with current and future innovations.
The six sections of the magazine consist in:
NEWS: with interviews, articles about business development (M&As, appointments, partnerships and collaborations, awards etc.).
BUSINESS: with articles covering trends and markets, focusing on a specific country or region, with the composites market, or the application markets, or the companies strategies etc. in that country or region, and a startup focus.
MANUFACTURING: with articles about production processes and processing equipment.
FEATURE: an in-depth overview of a specific topic (typically an application sector), plus a JEC World Preview in April/May and Review in June/July.
SOLUTIONS: composites around us, with articles showing how composite materials are being used in applications which impact our everyday lives.
TECHNOLOGY: with articles about developments in materials, testing and control, repair, joining, design and simulation, recycling and reuse, R&D.
Enjoy your reading!
Contents
Composites within reach for billions of our earth's inhabitants
"For decades, composites have been considered as expensive niche materials that require sophisticated production processes and therefore are impossible to mass produce, besides being difficult to...
Read More
N°63 - march 2011
EDITORIAL
Composites within reach for billions of our earth's inhabitants
"For decades, composites have been considered as expensive niche materials that require sophisticated production processes and therefore are impossible to mass produce, besides being difficult to...
POINT OF VIEW: AN EXTRAORDINARY GROWTH
Duqueine: a new global Tier-1
Within just a few years, Duqueine Company has transformed itself from an SME to a global supplier. Its new facility in Mexico extends its presence out of Europe. It will help the Duqueine Group to...
AGENDA OF EVENTS
In partnership with JEC Composites E-letter
2011 March Naval Meetings March 16-17 Bordeaux, France www.navalmeetings.com Composites Australia & Composites CRC Conference & trade show March 17-18 Gold Coast Queensland, Australia....
COMPANIES & BUSINESS
Sora Composites stays ahead of the field
Sotira Automotive, the composites branch of the Sora Composites Group, has its gaze fixed firmly on the road ahead. With the development of a brand-new RTM carbon chassis, and the Sora Racing 1...
CPIC Fiberglass, a strategy with results
CPIC Fiberglass organized a meeting with its customers in TengChong (Yunan) last September, attracting more than 200 people from a hundred companies from twenty different countries. The topics...
APPLICATIONS
Case Study: Composite surface smoothness improvement
Spread Tow Fabrics could be a valuable solution to improve the surface smoothness of composites, reducing print-through and visual defects. These reinforcements could reduce the use of extra fillers,...
Protection you can depend on
3B-the fibreglass company supplies some of the most advanced composite technologies for diverse applications with its HiPer-tex™ fibre reinforcement, which provides substantially increased energy...
MARKET
BMW: Composite Specialists needed
Automotive industry seeks for talented engineers specialized in Composites. Many projects need light and strong structures. Here the case of BMW, which to realize projects such as Megacity, needs to...
The Chinese composites market just keeps on growing!
As with a number of business sectors, China has high objectives in the composite industry and no intention of playing a minor part. The crisis has shown that its domestic market is now capable of...
Airbus foresees demand for nearly 26,000 aircrafts in the next 20 years
Almost 26,000 new passenger and freighter aircraft valued at US$3.2 trillion will be needed between 2010 and 2029, to satisfy demand according to Airbus' Global Market Forecast (GMF). This demand is...
FEATURE SUSTAINABILITY
Targets for bio-based composites and natural fibres
Currently, at least 315,000 metric tons of biocomposites reinforced by natural fibres are already being used in the European industry, mainly in the automotive and construction sectors. By 2020, this...
Hemp: fibres meant for composites
Natural fibres are destined to develop in the composite sector, to judge by the Maprofi project on "Controlling hemp fibre properties for use in polymer-based agro-composites", which was officially...
Technical flax: a real opportunity for composites
Can technical flax open the way to eco-composites by becoming the third most-used fibre after glass and carbon? The issue has been raised, and manufacturing confederation Fimalin aims to make...
Eco-design: a new line of business and a new organisational mode for the value creation chain
The many environmental crises of recent decades have brought about a sea change in attitudes, clearly shared across society, sparking changes in behaviour and in lifestyles and now finding expression...
Sustainable recycling solutions for composite
In today's green-oriented society, a composite recycling system is a real necessity. With this in mind, the author of the present article has been trying to develop a new chemical recycling method....
SPECIAL JEC SHOW 2011
2nd Innovative International Composites Summit: Composites for mass production Global carbon fibre market
Manufacturing large quantities of high quality, low cost, carbon fibre Moderator: University of Manchester, Andrew Meredith Walker - Professor ⏵Growth Opportunities for Composites 2011 - 2023,...
JEC Innovation Awards Programme 2011: And the winners are... Applications/ Sports and Leisure New carbon/ magnesium wheels for high-performance vehicles
Winner: NRG Wheels Ltd (UK) Partners: Huntsman Advanced Materials GmbH, Cristex (UK) and The University of Bristol Ltd. (UK) The wheels are made of a forged magnesium/ aluminium alloy hub. Specially-...
Structural adhesives > Booth T20 for all types of asymmetric materials
AEC Polymers® has developed a new range of structural adhesives with exceptional performance that do not require any primer or surface preparation. These adhesives can be used to assemble all types of...
Booth P20 Multi-sector aluminium and steel composite panels
After the successful global launch of ThermHex technology for packaging applications, EconCore is intensively exploring new material combinations, beyond single-material sandich panel concepts. The...
Pins connecting composites to metals > Booth M71
Teufelberger and its partners are presenting the T-Igel® hybrid pin connection in various composite applications during JEC 2011. The T-Igel® is a unique solution for joining composite structures to...
High-performance fillers – The Mineral Engineers > Booth U39
The Quarzwerke Group is a globally active family-owned company with a leading market position in the mining and processing of various mineral raw materials. Its more than 125 years of experience and...
Rubberize your FRPs > Booth F31 – Direct-bonding elastomers
Rubber can now be integrated in FRP parts in a single processing step. The rubber material, which has very good direct-bonding properties, is cured at the same time as the resin. The resulting...
Nanocomposite: > Booth R82 lowest cost, higher performance
Polymer Technologies' latest technology makes it possible to produce nanosilica epoxy or hardeners at much lower cost than traditional methods. The elongated nanosilica (aspect ratio >1) further...
Epoch-making unique-shaped > Booth P75 glass fibre for FRTP
Nittobo has developed a new type of glass fibre, the FF and HIS variable-shape glass fibres, designed to improve the performance of FRTP (fibre reinforced thermoplastic) moulds. While conventional...
Two new low-density epoxies > Booth M73
Magnolia Plastics, Chamblee, GA, USA recently developed two low-density, flame-resistant epoxies for aerospace applications. Magnolia 7068 A/B is a lightweight (0.80 g/cc) epoxy with excellent...
Bio-based > Booth G45 resin for artificial stone
Building and operating our buildings, homes and workplaces in a more environmentally friendly way is beneficial to the planet and therefore to its populations. Specialised in biobased and bio-...
New technology in > Booth T31 glass fibre reinforcements
Ilium specializes in manufacturing structural fibre glass reinforcements. Thanks to a new patented technology, Ilium has developed a range of glass fibre reinforcements for the composite industry...
Chemical- and wear-resistant thermoplastic composites > Booth X64
Haufler Composites is a manufacturer of custom-made semi-products consisting of carbon fabrics and thermosetting or thermoplastic matrices. The company produces high-performance CF/PEEK boards...
European flax and hemp: ecological and technical value for composites > Booth M80
Heralding an industry more respectful of the planet and its renewable resources, natural fibres differ by their technical added value for the industrial market. The European Confederation of flax &...
New blade repair system > Booth K44
The Renuvo blade repair system offers a fresh and novel approach to the blade-repair market, addressing many of the practical issues that have prevented more effective and expedient maintenance...
New developments in carbon fibre > Booth G57
- When Hexcel launched HexTow® IM10 at JEC 2010, it attracted a lot of attention. Since then, many customers have initiated programmes to fully characterize this exciting new fibre and see what...
Fire-resistant basalt-reinforced natural composites > Booth K74
Basalt fibres are used more and more in composite applications such as automotive parts, corrosion-resistant products, sport items, friction applications, high-pressure vessels, construction, and the...
Metal replacement and weight savings with PEEK > Booth J11
Increasingly demanding customer specifications such as durability, high strength and high temperature paired with weightsaving and cost-reduction requirements in the oil and gas, aerospace and...
A new range of > Booth G58 forward-integrated carbon-fibre-based products
Toho Tenax is developing a range of forward-integrated carbon-fibre-based products. The most advanced of these products are Tenax®-based thermoplastics. A new production line for Tenax® TPUD prepreg...
High-performance DCPD formulations enter new era > Booth D45
A new family of high performance DCPD (dicyclopentadiene) based formulations have been developed by Telene SAS. The Telene® 1800 series overcome sensitivity to water and moisture, enabling new...
New epoxy range optimized for RTM > Booth H56
In many different industries, especially the automotive industry, the RTM process seems to be the preferred solution for series production of fibrereinforced plastics, replacing metal parts and...
A styrene-free rehabilitation liner > Booth T20
The Galtzaberde innovation is the first styrene-free polyester liner to be produced in Europe. Literally translated from Basque, galtzaberde means "green sock". The innovation is a big first for the...
Innovative CNT material > Booth J64 for industrial applications
Carbon nanotubes (CNT) need to be available in a well manageable form and maximized concentration to take advantage of their exceptional characteristics. Invent GmbH successfully developed such a...
Viscosity-optimized Apyral for high flame retardancy > Booth M81
Nabaltec offers a broad range of viscosity-optimized ATH products for the production of flame-retardant materials based on liquid resins. These Nabaltec products comply with the strictest standards....
New products > Booth Q37 from Czech Republic
5M is a major manufacturer of raw materials for composite production (epoxy resins, semipregs, pultruded profiles, sandwich panels). Backed by its in-house laboratory and R&D department, 5M is...
Ultra-lightweight carbon non-crimp fabrics > Booth T40
At its headquarters in the Venice area, Selcom SRL Multiaxial Technology recently installed the latest version of the Liba Max5 CNC textile machine for the production of ultra-lightweight multiaxial...
Cellulosic short fibres > Education & Skills Village as reinforcement
Natural-fibre-reinforced plastics are currently used massively in the automotive industry for the production of lightweight, stiff interior panels. Despite advantages such as low density, low price...
CAD/CAM for robots > Booth R79
Robotmaster® offers a powerful software solution for programming industrial robots to perform tasks. This integrated robot programming, simulation and program generation solution uses industry-proven...
New polymerization initiators > Booth N50
AKPA Chemicals specializes in the production of organic peroxides, initiators and accelerators for the composite and plastics industries. At JEC Composites Paris 2011, the AKPA® booth will exhibit the...
Validation and verification of composite structures > Booth J64
Bishop GmbH offers advanced capabilities in non-linear finite-element analysis of composite structures, more particularly impact, delamination and crack propagation investigations. These analyses are...
Automatic cut & restart > Booth M75 mechanism for impregnated fibres
Mikrosam's engineering team has designed and manufactured an award-winning automatic cut & restart mechanism for wet impregnated fibres (patent pending). Mikrosam will be presenting this mechanism...
Multi-flow oxidation ovens > Booth W63
Harper now offers unique multi-flow oxidation ovens to complement its world-leading thermal processing solutions, from furnaces to complete process lines for carbon fibre. Available in both research...
Leveraging composite materials and processes > Booth T45
FiberSIM® 2010 delivers key capabilities to optimize designs and increase productivity throughout the composite design and manufacturing cycle. Features include: - preserving composite design intent:...
New suction procedure for five-axis milling machines > Booth X64
Erbo GmbH is presenting a world first in the field of suction technology for milling machines. Previously, suction extraction had been impossible for five-axis milling machines. Erbo has developed a...
Specialized robotic products > Booth R79
Gebe2 Productique designs and manufactures turnkey production equipment for producing parts made of composite materials. We propose solutions not only for the different steps of the manufacturing...
New generation of > Booth P56 tape-laying/fibre placement solutions
Forest-Liné has been continuously improving the carbon-fibre prepreg layup technology, now offering the Atlas/Access V2 tape laying solution and the Atlas FP fibre placement system. The Forest-Liné V2...
Innovative microwave > Booth U20 curing system
An innovative system capable of fully curing several types of resins has been developed by AIMPLAS. The system is suitable for all part sizes and has already been tested with polyester, vinylester and...
High-speed technical textile > Booth S75 cutter live at JEC Paris
Gunnar International, Weissenberger AG is a Swiss-based company that develops, produces and globally sells high-tech, innovative computercontrolled cutting machines. Gunnar is presenting its Technical...
Effective, energy-optimised exhaust gas treatment for carbon fibre processes and recycling > Booth W64
A reasonable amount of heat energy is required for the fibre oxidation ovens and carbonisation furnaces used in the production of carbon fibre. Substances such as hydrogen cyanide (HCN), ammonia...
High-pressure resin transfer moulding (HP-RTM)
The HP-RTM process will play a key role in automotive production, where it will be used for manufacturing carbon-fibre composite components. In cooperation with KraussMaffei, Dieffenbacher has...
Heated vacuum presses for thermoplastic composite materials > Booth X42
Fontijne hydraulic laboratory platen presses are used in the polymerprocessing, rubber, laminating/wood and aircraft industries. The presses are mostly utilized for R&D and quality control in...
Universal 5-axis milling and ultrasonic machining centre
Twenty-five years after its first ultrasonic machine, Creno has developed an advanced new concept for honeycomb component machining. The Creno 5 Axis Ultrasonic is a high-accuracy, high-volume milling...
Lightweight construction for e-mobility > Booth D46 D-SMC: direct process for SMC in operation
Dieffenbacher developed the new D-SMC process in a consortium together with DSM and the Fraunhofer ICT. The direct compounding technology bypasses the costly wrapping, storing and logistical-handling...
Cutting optimization > Booth T17
As an industrial partner, Lectra supports its customers' optimization goals by providing a range of solutions that include equipment, software and services specific to their business challenges. This...
Aramid scissors > Booth Q58 – now also with curved models
Technical textiles such as kevlar are increasingly used. They have a lot of advantages compared with classic materials. However, these technical fibres are resilient to a point that they make cutting...
Laser transmission welding > Booth T18 for fibre-reinforced plastics
Feasibility strongly depends on the optical properties of the welding component. The upper welding component needs to be sufficiently transparent to guide the laser radiation into the welding area....
Metering and mixing systems > Booth E57
The Hilger u. Kern/Dopag Group is offering a metering and mixing system for the production of fibre-reinforced plastics. The Eldomix 603 is a solvent-free gear metering system used to process low- to...
Full system for tool and mould > Booth Q65
Polyprocess develops a full system of efficient products, and has succeeded in boosting their performance by optimizing or developing specific features of the different complementary chemical...
High-speed machining robot for composites > Booth P80
A major partner covering all industries for nearly 30 years, Stäubli Robotics has developed a high-speed machining robot, the RX170 HSM (high-speed machining). The robot's main features include a...
Technology and solutions > Booth R12 for FRP manufacturing
WeiDe designs, manufactures and exports manufacturing equipment for FRP pipes, FRP tanks and pressure vessels used in the water, sewage, hydro-power, construction, engineering, municipal, chemistry,...
Clean cut for composites > Booth U75
At the JEC show in Paris, Robust Habicht & Heuser GmbH & Co. KG (Remscheid) is presenting their cross-cut, slitting and winding technology for composites, which can be precisely designed to match the...
Casting equipment for insulators and busbars > Booth H66
Respecta has developed a new generation of VacuCast machines for the electrical insulator and cast-resin busbar industry. Customers are now able to use automated processcontrolled casting equipment to...
New laser-welding > Booth H23 apparatus for plastic sheets
Plasticell will display a laser-welding demonstrator for thermoplastic and thin composite sheets. This R&D tool was developed with Innoptics, a start-up which specializes in the design and...
Fibre-reinforced profiles finally "rounded up"
Unveiled in 2009, the highly rewarded "Radius-Pultrusion" technology allows the continuous production of curved and bent profiles for the first time. As straight fibre-reinforced profiles cannot be...
New processes > Booth F31 for large-scale production
The innovative new technologies (FIT Hybrid and SpriForm) developed by Jacob Plastics for largescale production of structures made from thermoplastic fibre-reinforced composites combine forming and...
Vacuum process material distribution > Booth N46
Flugzeug-Union Süd (FUS) is the official distributor for the Richmond/Aerovac range of vacuum bagging and tooling materials in Germany and other German-speaking countries. Aerovac vacuum bagging...
Leading-edge Fiberforge technology > Booth J67
Fiberforge is a leading-edge technology company that focuses specifically on the design and production of advanced long-fibre-reinforced thermoplastic composite parts. The company has developed a...
Self-sealing > Booth W64 permanent vacuum bag
This new self-sealed permanent vacuum bag can be reused (100 cycles) on any lay-up tool (composite, aluminium, galvanized) without integrated vacuum sealing device/channel. The benefits of this...
The pre-cut formats > Booth T50
How can you optimise your raw materials and increase your productivity? Richmond Aerovac introduces films pre-cut to your exact size requirements to improve the process of manufacturing composite...
Sandvik Coromant presents > Booth W64 composite solutions
Cutting tool and tooling solutions provider Sandvik Coromant will highlight a number of new product and business developments for the composite-machining market. Twelve months ago, Precorp and Sandvik...
Airtech, the innovators in vacuum bagging and composites > Booth M64
Airtech Advanced Materials Group, which includes Airtech International in the USA, Airtech Europe in Luxembourg, Tygavac Advanced Materials in England and Airtech Asia in China, continues to develop...
Composite tooling > Booth T50 with a hard metallic surface
A new technology has been developed to manufacture composite tools with a hard metallic surface. This innovation combines the light weight, low thermal mass and low cost benefits of carbon fibre...
Continuous processing of CFRP aircraft frames > Booth J64
An innovative continuous process was developed for the production of curved preforms for CFRP profiles (frames and stringers). The process, similar to the pultrusion principle, can produce radii of...
Aquitaine Region: > Booth T20 15 innovative companies
The regional innovation agency, Innovalis Aquitaine, provides support to hundreds of innovative projects in industry or services companies. Its 32 employees are experts in various fields; they provide...
Accelerated heating of water-soluble mandrel material > Booth J64
The method was developed to meet the challenge of heating an RTM moulding tool, where parts of the tooling are surrounded by a complex fibre preform and therefore thermally insulated. An inconsistent...
RESEARCH & DEVELOPMENT
Mechanical properties vs. fabrication for medical applications
Single fibre fragmentation tests and degradation tests of carbon/poly (ε-caprolactone) composites were used to investigate the effect of two fabrication methods: in-situ polymerisation and film...
Innovative epoxy prepregs using bio-based curing agents
Technologycom S.r.l. and Cimteclab S.p.A. have developed an innovative epoxy prepreg using a cardanol derivative as curing agent. Two different cardanol-based epoxy systems were studied by DSC. The...
TECHNOLOGY & INNOVATIONS
Towards smarter, more autonomous moulds
With rising production rates and the decreasing cost of high-performance composite parts, there is now a need for smarter tooling that has more autonomy. Compose proposes such moulding solutions for...
New coating-line concepts for high-precision prepreg products
The new Click&Coat technology features a highly adaptable and flexible technology concept that combines different production procedures in the area of coating, printing and laminating. Applications in...
State-of-the-art equipment for carbon fibre production lines
The process of producing carbon fibres belongs to a category where each process step has its specific features and each subsequent step depends critically on all previous steps. Three German...
Optimized fibre placement for composites
The builders of cathedrals probably didn't even know that the stones and mortar they were using were composite materials: two materials with different properties, stone being the basic element and the...
Cutting and forming of honeycombs
The processing of composite materials such as honeycomb requires certain special equipment. Geiss, a company with 50 years of experience in the processing of plastics materials, has already delivered...
Thank you
You just used 1 credit. You have left.