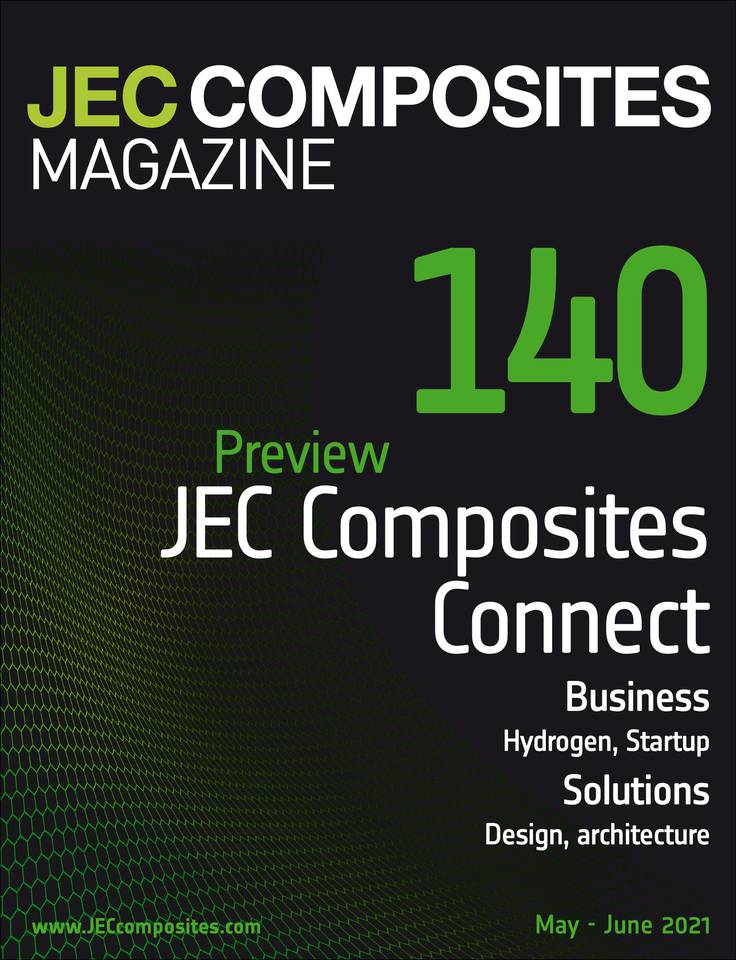 JEC Composites Magazine
N°140 - may 2021
Preview
JEC Composites Magazine is the point of contact of the international Composites Community, 6 times a year, with topics covering scientific information, business, technology, manufacturing, and application sectors trends.
In each and every issue, readers will learn about the entire composites industry value chain (from raw materials to application markets), and be inspired with current and future innovations.
The six sections of the magazine consist in:
NEWS: with interviews, articles about business development (M&As, appointments, partnerships and collaborations, awards etc.).
BUSINESS: with articles covering trends and markets, focusing on a specific country or region, with the composites market, or the application markets, or the companies strategies etc. in that country or region, and a startup focus.
MANUFACTURING: with articles about production processes and processing equipment.
FEATURE: an in-depth overview of a specific topic (typically an application sector), plus a JEC World Preview in April/May and Review in June/July.
SOLUTIONS: composites around us, with articles showing how composite materials are being used in applications which impact our everyday lives.
TECHNOLOGY: with articles about developments in materials, testing and control, repair, joining, design and simulation, recycling and reuse, R&D.
Enjoy your reading!
Contents
Change and continuity
"After 18 years at the head of JEC Composites Magazine, Frédéric Reux has decided to set a course for new horizons. The man behind its famous black cover, he passes on a magazine that has received...
Read More
N°140 - may 2021
EDlTORlAL
Change and continuity
"After 18 years at the head of JEC Composites Magazine, Frédéric Reux has decided to set a course for new horizons. The man behind its famous black cover, he passes on a magazine that has received...
MOVING COMPOSITES FORWARD
"We are enhancing our capabilities in o t eff t ve ar on fibre pr ducts"
While OEMs in the aeronautics business have been hit hard by the COVID-19 crisis, Teijin Limited is pursuing development of new types of fibres and taking part in the changes in aviation that will...
NEWS
Jaguar Land Rover's groundbreaking advanced composites project
The Tucana project is a four year programme to make the UK a world leader in low-carbon technology, helping prevent 4.5 million tonnes of CO2 emissions between 2023 and 2032 by accelerating mainstream...
BUSlNESS
Fabheads – An lndian start-up building 3D printers for composites
The engineers at Fabheads wanted to make composites manufacturing easier. Their idea of 3D printing machines was not just to incrementally increase the strength of plastic 3D-printed parts, but...
Composites and hydrogen, working together for a low-carbon economy
Whether in hydrogen production, storage or conversion to electricity, composites are ever-present on this very promising market. In certain applications, they even have no direct competition—at least...
MANUFACTURlNG
Adding value to composites through surface functionalization
INEOS Styrolution is presenting new versions of their StyLight thermoplastic composite that make it even more valuable and commercially attractive. Besides an aesthetic carbon hybrid, a new sandwich...
High-speed automated fibre placement of thermoplastic UD tape
Today, many large aircraft components rely on automated fibre placement (AFP) of thermoset materials followed by autoclave cure. However, there remains a substantial opportunity to utilize...
PREVIEW JEC COMPOSITES CONNECT
A BREAKTHROUGH DIGITAL EVENT TO BRING THE COMPOSITES COMMUNITY TOGETHER
As you know, JEC Group is the world's leading media and events company entirely dedicated to fostering the development of the composite materials industry. We do this by creating platforms and...
HOW TO JOIN US
Welcome to JEC Composites Connect: JEC Group's first non-stop digital event, open from 8:30AM (CEST) on June, 1st to 8:30PM (CEST) on June, 2nd, 2021. The event is free to attend. Once registered, you...
ZERO-EMISSION TECHNOLOGIES DRIVE NEW REQUIREMENTS
Jelle Bloemhof, Head of Composite Manufacturing Technologies at Airbus, tells us why innovation is a key enabler to improving aircraft manufacture and performance. JEC Composites Magazine: Please tell...
A FOCUS ON E-MOBILITY DIGITALISATION AND SUSTAINABILITY
As he prepares to take his place on the Startup Booster jury again this year, Dr. Karl-Heinz Füller, Manager, Future Outside and Materials, at Mercedes-Benz AG, explains how material innovations...
DRIVING THE FUTURE OF MOBILITY
Brian Krull, Global Director of Innovation at Magna Exteriors, joins the Startup Booster jury this year. We asked him about the trends driving innovation in the automotive market. JEC Composites...
INNOVATION THE INDISPENSABLE FUEL OF THE COMPOSITES INDUSTRY
Startup Booster is the leading startup competition in the world of composites and advanced materials. Supported by market-leading partners such as Airbus, Daimler and Magna, it is tailored to finding...
THE FINALISTS
The finalists for this edition of the Startup Booster competition include: 1. 9T LAB (SWITZERLAND) www.9tlabs.com We offer a manufacturing solution that leverages the latest developments in automation...
FRANKY ZAPATA NEVER STOP DREAMING
French innovator and entrepreneur Franky Zapata, better known as 'the Flying Man' famous for crossing the English Channel on his Flyboard® Air in August 2019, will deliver the keynote presentation at...
CELEBRATING THE BEST COMPOSITES INNOVATIVE PROJECTS
The JEC Composites Innovation Awards identify, promote and reward the most innovative composites projects worldwide. They celebrate fruitful cooperations between the different segments of the...
CELEBRATING AN INDUSTRY WHICH CONTINUES TO INNOVATE
Murat Oğuz Arcan, Chief Operating Officer, Composites, at Kordsa, tells us about some of the innovative technologies the company is developing. JEC COMPOSITES MAGAZINE: What is your business strategy...
A PROGRAM FROM BRILLIANT MINDS FOR A BRILLIANT INDUSTRY
JEC Group is launching the third edition of the Composites Challenge, where 10 PhD students from around the world will present their research in front of leading industrial manufacturers in the...
THE FINALISTS
The finalists for this edition of the Composites Challenge include: SIMONE BANCORA École Centrale Nantes Title: From Compaction Pressure to 3D Geometry: a scalable method for preform characterisation...
AEROSPACE TOWARDS A MORE SUSTAINABLE STRATEGY
Chairman: Yannick WILLEMIN Head of Marketing & Business Development, 9T Labs The aerospace industry is a major source of innovation and technological advancements that often originates inspiration...
PREVIEW
AUTOMOTIVE THE RIGHT MATERIAL AT THE RIGHT PLACE
Chairman : Dale BROSIUS CFO, IACMI Among the many challenges facing the automotive industry, reducing vehicle mass and therefore emissions, while maintaining safety and cost-efficiency, remain key....
PREVIEW JEC COMPOSITES CONNECT
INNOVATION REPORT Raw materials, intermediate products, ancillary products, equipment, applications… innovation is in the spotlight at JEC Composites Connect
This year again, innovation will be in the spotlight at JEC World. Some innovations are highlighted in the following pages. Faced with the volume of new products and services for JEC Composites...
SOLUTlONS
Graphene nanotechnology in composites for a challenging architectural design
Gazechim Composites Ibérica, S.A. (Spain) was a finalist at JEC's World Innovation Awards 2019 in Paris and a winner at the JEC Innovation Awards 2019 in Chicago in the Building category, for an...
lntroduction of custom-machined CFRP mechanical parts
Carbon fibre-reinforced plastics (CFRP) made with thermosetting resin are widely used materials but Kyowa MFG – a Japanese company that specializes in the production of machining equipment – believes...
Product drawings for FRP composites
In this paper, FRP Consultant, a Japanese company providing engineering support for companies, describes FRP (composite) product drawings, which are the main technical documents created by designers....
TECHNOLOGY
F-COMP – Functional COMPosites for the aeronautical industry
Within the framework of the F-COMP project, Naitec, Estia, Microlan and Hegan co-operated to develop a solution for embedding electronics in composites. The project aims to combine existing knowledge...
New solutions for hydrogen pressure vessel manufacturers
Huntsman Advanced Materials offers innovative solutions that support manufacturers in the design and production of composite pressure vessels for hydrogen storage and transportation. This includes...
BIONICS' work on bio-inspired shape-changing composites
The aim of the BIONICS research group, which belongs to a division of the French National Centre for Scientific Research (IRDL UMR CNRS 6027), is to propose a new generation of weather-adaptive,...
THERMWOOD ANNOUNCES LOWER COST LSAM ADDITIVE SYSTEMS
Thermwood Announces Lower Cost LSAM Additive Systems
In response to requests for a somewhat smaller, lower cost additive system which still has all the features and print quality of the large flagship LSAM systems, Thermwood has developed and is now...
Thank you
You just used 1 credit. You have left.