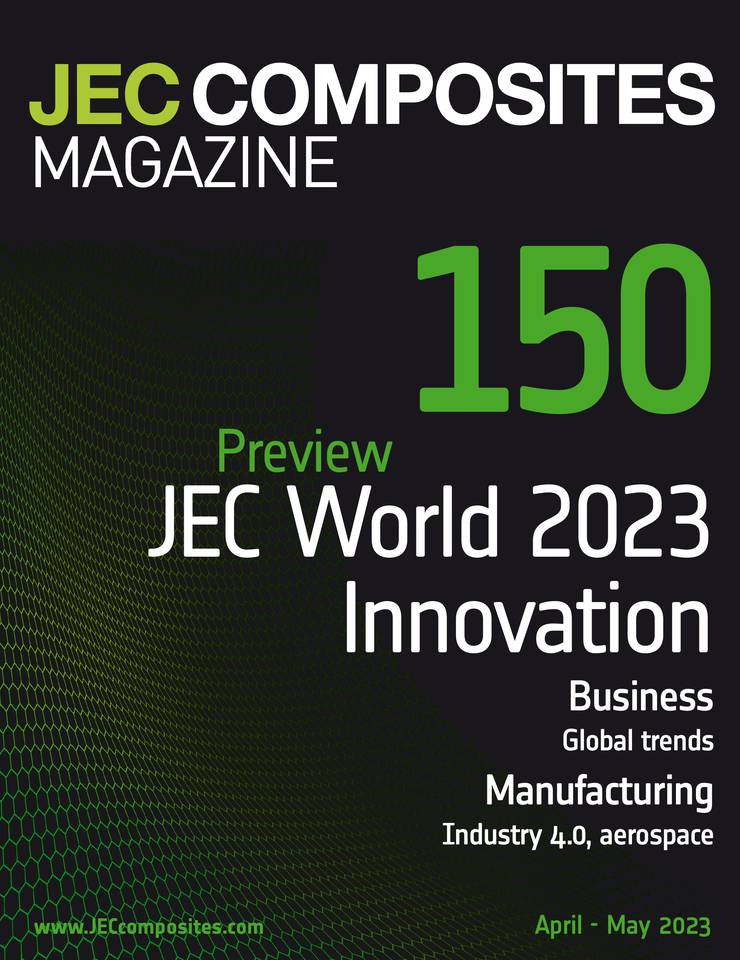 JEC Composites Magazine
N°150 - april 2023
Preview
JEC Composites Magazine is the point of contact of the international Composites Community, 6 times a year, with topics covering scientific information, business, technology, manufacturing, and application sectors trends.
In each and every issue, readers will learn about the entire composites industry value chain (from raw materials to application markets), and be inspired with current and future innovations.
The six sections of the magazine consist in:
NEWS: with interviews, articles about business development (M&As, appointments, partnerships and collaborations, awards etc.).
BUSINESS: with articles covering trends and markets, focusing on a specific country or region, with the composites market, or the application markets, or the companies strategies etc. in that country or region, and a startup focus.
MANUFACTURING: with articles about production processes and processing equipment.
FEATURE: an in-depth overview of a specific topic (typically an application sector), plus a JEC World Preview in April/May and Review in June/July.
SOLUTIONS: composites around us, with articles showing how composite materials are being used in applications which impact our everyday lives.
TECHNOLOGY: with articles about developments in materials, testing and control, repair, joining, design and simulation, recycling and reuse, R&D.
Enjoy your reading!
Contents
Turning challenges into new opportunities!
"JEC World 2023 is approaching but, at present, bouncing back is all what the composites sector can wish for in a period where the level of uncertainty for 2023 and beyond remains high. After an...
Read More
N°150 - april 2023
FROM THE EDITORIAL TEAM
Turning challenges into new opportunities!
"JEC World 2023 is approaching but, at present, bouncing back is all what the composites sector can wish for in a period where the level of uncertainty for 2023 and beyond remains high. After an...
MOVING COMPOSITES FORWARD
"Producing hydrogen 'on demand' is what makes our marine solution quite unique"
Across the globe, the growth of leisure boating –87% of which is motorisedhas an increasing impact on very fragile flora and fauna, in both freshwater and seawater habitats. The necessity of...
NEWS
Supply Chain: Europe wants a more sustainable and performant supply chain
MC4 (Multi-level Circular Process Chain for Carbon and Glass Fibre Composites) is a European partnership aiming to establish circular approaches for carbon and glass fibre composites because their...
BUSlNESS
''Bringing high-performance composites and additive manufacturing closer''
SphereCube 3D printing technology is able to process continuously-reinforced high performance composites for next gen mold-less environmentally friendly production. The Italian startup technology...
The composites industry bounces back at different speeds
The development dynamics of composites markets still depend on the underlying economic growth by countries. Concerning applications markets of composite materials, steady or even increasing demand for...
The merits of a long-term investment strategy
BigHead has been producing fastening solutions for composites, used by some of the world's leading brands in the automotive, marine and other industries, since 1966. Over this period, the company...
MANUFACTURlNG
The development of Industry 4.0 in manufacturing
Centred on advanced robotics and automation, new modes of human-machine interaction, vast troves of data and increased connectivity, Industry 4.0 modernises manufacturing and boosts industrial...
Additive Fusion Technology (AFT) leverages carbon fibre and high-performance thermoplastics
9T Labs, experts in digital, automated and cost-competitive serial production of continuous fibre components, have pioneered and developed AFT. Their their Red Series® AFT is beginning to demonstrate...
FEATURE
Sustainable composites mitigate the effects of climate change
In November 2022, Composites United Switzerland organised an international online event, the Sustainable Composites Conference (SCC), that provided an interesting insight into novel composite...
lnvestigating the potential of fibre-reinforced foams in wind energy applications
OptiFoam is a project aiming at using reinforced foam core materials in the manufacture of rotor blades for wind energy applications. It is supported by the Fraunhofer Institute for Wind Energy...
Additive manufacturing: the default manufacturing technology of the future
After a slow start in the 1980s, 3D printing of polymers as well as metals has spread very rapidly over the last 10 years in many industrial sectors. It is so booming that over the next decade, the 3D...
The pressure is on for a circular economy
'Pressolysis' is a new term for a process which removes resin from composites leaving extremely clean fibres with almost virgin properties. The Deecom® process, patented by UK B&M Longworth Ltd, could...
EDITORIAL
THE GLOBAL COMPOSITES COMMUNITY REUNITES AT JEC WORLD 2023
WELCOME TO THIS SPECIAL PREVIEW OF JEC WORLD 2023! JEC World is the leading global event for composites innovation, business and networking and we know that the industry is eager to meet. As frontiers...
INTERVIEW
FURTHERING DECARBONISATION OF THE AEROSPACE SECTOR
Jelle Bloemhof, Head of Composite Manufacturing Technologies at Airbus, tells us how the company is working with its global network to develop new composites solutions for its future products. JEC...
A SHIFT OF FOCUS TOWARDS SUSTAINABILITY AND CIRCULARITY
Dr. Karl-Heinz Füller, Manager Future Exterior and Materials at Mercedes-Benz AG, is a member of the JEC World 2023 Startup Booster jury. Here, he considers the evolving requirements for automotive...
SUPPORTING THE STARTUP ECOSYSTEM
Mitsubishi Chemical Group (MCG) is striving to build an active ecosystem that not only encourages visionaries, but also enables them to implement their ideas. Tim Vorage, Founder & Senior Manager of...
THE FINALISTS
Category "PRODUCTS & MATERIALS"
AGRONA (EGYPT) agrona.net Making Wood Without Cutting a Single Tree Two Billion trees are cut down every year just to supply wood to the furniture and the construction industry making deforestation...
INTERVIEW
CELEBRATING 25 YEARS OF THE JEC COMPOSITES INNOVATION AWARDS
Over the past 25 years, more than 1,900 companies worldwide have taken part in the competition and 214 companies and 527 partner organisations have been recognised for the excellence of their...
SUSTAINABLE APPROACHESARE TRANSFORMING THE COMPOSITES INDUSTRY
As we celebrate 25 years of the JEC Composites Innovation Awards, Deniz Korkmaz, Kordsa's CTO, reviews some of the industry's biggest innovations and drivers. JEC Composites Magazine: As the main...
INVESTING IN THE FUTURE OF COMPOSITES
Deniz Korkmaz, CTO of the JEC Composites Innovation Awards main sponsor Kordsa, explains why new recruitment and talent retention strategies must accompany continued innovation in composite...
THE FINALISTS
Category "AEROSPACE – PARTS"
HYBRID SEATING STRUCTURE FRAUNHOFER ICT (GERMANY) ict.fraunhofer.de Partner(s): Alpex Technology GmbH, Austria -Amade-UdG, Spain - Leitat, Spain INTEGRALLY STIFFENED TP PRIMARY STRUCTURE NIKKISO...
INTERVIEW
MICHIGAN'S COMPOSITES INDUSTRY: DRIVING INNOVATION
The US state of Michigan is internationally recognised for its composite materials expertise. The Michigan on Stage session at JEC World 2023 offers an introduction to the region's composites...
LIGHTWEIGHTED FUTURE:AERO-MOBILITY IN SOUTH KOREA
South Korea's Country on Stage session is organised by Korea Carbon Industry Promotion Agency (KCARBON), the national promotion agency and the nerve-centre for the carbon composites industry. Yunhyuk...
THE WORLD'S BIGGEST SHOWCASE AREA HIGHLIGHTING THE LATEST COMPOSITES INNOVATIONS
In 2023, we will set up two showcase areas highlighting parts and finished products covering the majority of the application markets for composite materials – the Mobility Planet, and the Industry...
BUILDING A SUSTAINABLE FUTURE FOR CONSTRUCTION
There is an increasing push toward a stronger, more sustainable future for the construction industry. During JEC World 2023, Owens Corning will host a conference explaining how composite materials...
A HOLISTIC APPROACH TO NET-ZERO CO2 EMISSIONS
As part of the JEC World 2023 'Session By' programme, Teijin will host a conference focusing on sustainability in the composites industry. Ton de Weijer, General Manager Innovation, tells us what...
JOIN THE COMPOSITES INDUSTRY
JOIN THE COMPOSITES INDUSTRY
Recruitment, training, and development, are hot topics in the composites industry, as well as in various application sectors, so in 2023 JEC World will initiate many initiatives to make the last day...
DISCOVER COMPOSITES
In 2023, JEC Group has decided to celebrate the expansion of the composites industry as a whole with an exhibition at JEC World 2023 dedicated to the progress of composites over the past years across...
TWO DEDICATED CONFERENCES/ AGORA 6
EMPOWERING WOMEN IN THE COMPOSITES INDUSTRY THURSDAY / APRIL 27 TH / 11:00-11:55AM This session aims to highlight the successes and challenges faced by women...
R&D, ancillary products, intermediate products, production, equipment, applications… innovation is in the spotlight at JEC World 2023
This year again, innovation will be in the spotlight at JEC World. Some innovations are highlighted in the following pages. Faced with the volume of new products and services for this edition, we...
TECHNOLOGY
PolePosition: making carbon layup more effective and efficient
Automation is one of the major trends that keep the composite industry growing. When it comes to specialised applications, modern sensing technology is still behind and lacking compared to a human...
Mechanical behaviour of multifunctional composites
MCVE Technologie, in collaboration with the Centre for Materials and Process of IMT Nord Europe, has recently validated and qualified the use of its solution for functionalising glass fibre fabrics....
Evaluating methodologies in India: advances and gaps
There is a global drive for diversification in manufacturing destinations. The Indian industries intend to be a manufacturing workshop for the world. To establish seamless supply chain relations, the...
" JEC Composites Magazine: Can you introduce your company Vivace Sonics to us?
V. G. Kulkarni: We commenced operations at Vivace Sonics in 1986. This was after my short period of service at ECIL (Electronics Corporation of India Limited). At ECIL, I was part of the design team...
Composite Technology Center GmbH (CTC): pioneering composite technologies solutions for sustainable mobility
The CTC develops cross-sectoral lightweight technologies and solutions for indus-trial use with a focus on composites. The focus is on innovative technologies for the industrial and automated...
Thank you
You just used 1 credit. You have left.