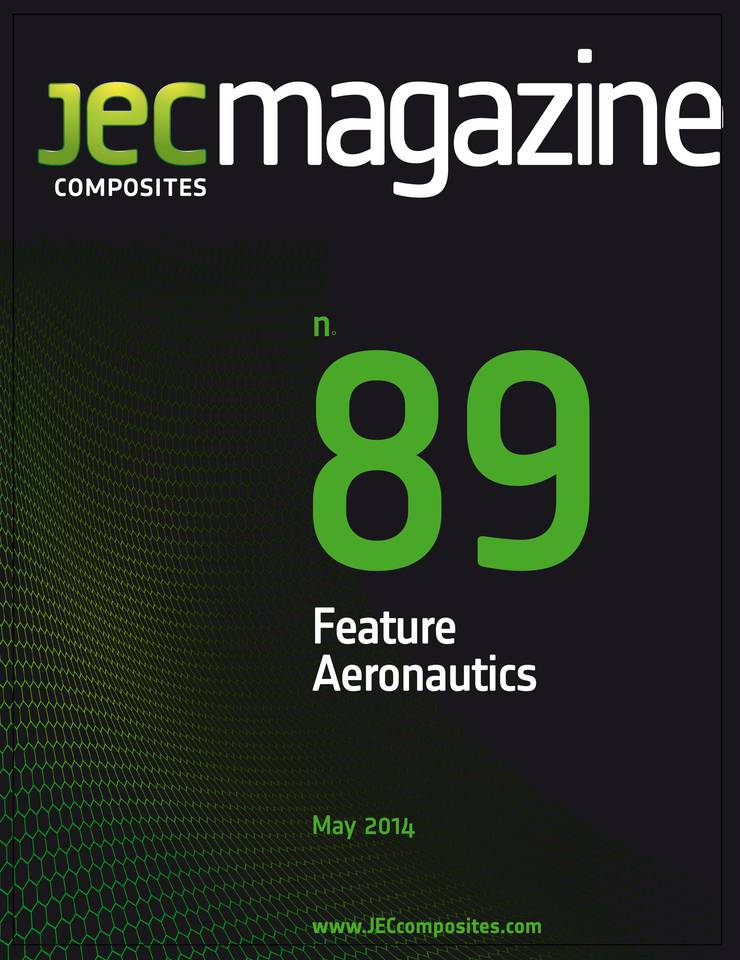 JEC Composites Magazine
N°89 - may 2014
Preview
JEC Composites Magazine is the point of contact of the international Composites Community, 6 times a year, with topics covering scientific information, business, technology, manufacturing, and application sectors trends.
In each and every issue, readers will learn about the entire composites industry value chain (from raw materials to application markets), and be inspired with current and future innovations.
The six sections of the magazine consist in:
NEWS: with interviews, articles about business development (M&As, appointments, partnerships and collaborations, awards etc.).
BUSINESS: with articles covering trends and markets, focusing on a specific country or region, with the composites market, or the application markets, or the companies strategies etc. in that country or region, and a startup focus.
MANUFACTURING: with articles about production processes and processing equipment.
FEATURE: an in-depth overview of a specific topic (typically an application sector), plus a JEC World Preview in April/May and Review in June/July.
SOLUTIONS: composites around us, with articles showing how composite materials are being used in applications which impact our everyday lives.
TECHNOLOGY: with articles about developments in materials, testing and control, repair, joining, design and simulation, recycling and reuse, R&D.
Enjoy your reading!
Contents
Bertrand Piccard 4 times faster than Phileas Fogg
"In 1863, Jules Verne dreamed of crossing the African continent from east to west in a balloon, specifically from Zanzibar to Senegal; in 1999, Bertrand Piccard went around the world in a balloon,...
Read More
N°89 - may 2014
ÉDITO
Bertrand Piccard 4 times faster than Phileas Fogg
"In 1863, Jules Verne dreamed of crossing the African continent from east to west in a balloon, specifically from Zanzibar to Senegal; in 1999, Bertrand Piccard went around the world in a balloon,...
POINT OF VIEW: PIPE REPAIR EXPERTISE
Onshore, offshore and deep-sea pipeline repair: views from 3X Engineering
An innovative approach, customized solutions and processability are helping composite materials to gain ground on the metal materials traditionally used in the pipeline repair sector. Stan Boulet...
AGENDA OF EVENTS
in partnership with 2014
June Sicomp June 2-3 Pitea, Sweden www.swereasicomp.se Sampe Tech 2014 June 2-5 Seattle, Washington, USA www.sampe.org XVIII International Conference on Mechanics of Composite Materials June 2-6 Riga,...
COMPANIES & BUSINESS
"PCT has ambitious plans for continuous expansion and investment in new technologies"
The chronicle of Premier Composite Technologies very much resembles a success story. Since it started up in Dubai in 2006, the company has never stopped growing and exploring new markets. By the end...
APPLICATIONS
Formula Student on a diet
The weight of the Formula Student car manufactured by the CTU CarTech team decreased by 35% over the past five years. This significantly increased the car's overall performance, resulting in top-class...
An amazing 2-seater electric-powered helicopter
E-volo's Volocopter is a revolution in aviation made in Germany. It has a unique way of moving like an UAV which allows this helicopter to be safer, simpler, and cleaner. The Volocopter is an...
30-year-old glass fibre pipeline appears as brand new
GRP pipes have withstood the forces of nature for 30 years at the power plant north of Lillehammer. The pipeline is emerging as resistant as when it was installed in 1982. A smooth and glossy inner...
Propex hard-shell cases made using a Hymmen double-belt press
Who would not like to call this smart Samsonite suitcase made out of stylish glossy plastic material with a fabric structure his own? One cannot think of being without this type of suitcase at any...
MARKET
Brazilian composites industry reports 9% revenue growth in 2013
The Brazilian composites sector reported a US$ 1,354 billion revenue in 2013, which corresponds to a 9% increase in comparison with the previous year. During the period, the production volume rose by...
US demand for FRP to rise 4.7% annually through 2017
Fibre-reinforced plastic composites will continue to supplant conventional materials such as aluminium and steel due to their light weight, stiffness, corrosion resistance and design flexibility. The...
WPC and natural fibre composites: market and trends in Europe
The nova-Institute and Asta Eder Composites Consulting have just released a market study entitled "Wood-Plastic Composites (WPC) and Natural Fibre Composites (NFC): European and Global Markets 2012...
FEATURE AERONAUTICS
Function integration: corrugated core for civil aircraft wings
In most integration methods developed for composite aircraft manufacturing, the part count of the final structure can be largely reduced. However, the number of preforms making up the integrated...
Ceramic matrix composite jet engine exhaust
The Arcoce plug is emblematic of Safran's commitment to introduce ceramic matrix composites (CMC) into civilian aviation. CMCs have a number of advantages over metal alloys, like up to 50% weight...
Evolution and harmonization of aerospace prepregs
Building high performance aircrafts still requires composite materials optimization, but it now comes with an issue that became strategic for all manufacturers: the rationalization and standardization...
Computer-aided engineering (CAE) technology applicable to the aerospace industry
The latest version of HyperWorks® represents the most advanced evolution of computer-aided engineering (CAE) technology applicable to the aerospace industry. This solution provides a comprehensive...
Composite design challenges : Airbus A350XWB wing covers
Technically advanced aircraft projects face considerable challenges: 1) design for weight, 2) design for rate; 3) design to simplify final assembly line (FAL) processes; 4) design for a high level of...
NLR's fibre-placement machine ushers in composite breakthrough
Composites are increasingly being applied in the transport industry. Now that the costs of these lightweight, durable construction materials have decreased, we are on the brink of a breakthrough. The...
Filament winding of composite isogrid structures
The industry is facing competitive pressures imposed by the rapid development of globalization and the urge of new environmental needs. It has to cope with the challenge of "More Affordable, Safer,...
Innovations in Russia in the aerospace sector, among others
The Russian market is also on the move, and composite materials are advancing in a number of application areas. Players are emerging in this buoyant sector. To find out more, we approached the Carbon...
Thermoplastic affordable primary aircraft structure consortium
In TAPAS, Dutch industrial companies and research institutes work together with aircraft manufacturer Airbus. Together, the eleven Dutch partners are commercially active in the Dutch aerospace...
RESEARCH & DEVELOPMENT
Multi-step infusion to optimize filling in the production of a large component
The RIFT (Resin Infusion under Flexible Tool) process is widely used for the manufacturing of composite parts in different sectors, from aerospace to aeronautics and automotive. To obtain high-quality...
Conclusions
A simulation software program is an essential tool for designing large structural composite components. Accurate predictions for resin-rich areas, air bubble formation, the presence of "dry spots",...
Twin-O-Sheet: producing functionalized hollow bodies in a shorter process chain
Current process chains for the production of functionalized hollow bodies from organo-sheets consist of multiple steps. The Twin-O-Sheet process integrates three steps (shaping, welding and injection...
TECHNOLOGIES & INNOVATIONS
Flax/Acrodur® sandwich panel: an innovative eco-material for automotive applications
Currently, the automotive industry is greatly marked by the growing use of natural fibres. In particular, flax fibres are widely used as an eco-friendly reinforcement in various applications,...
Multi-Material-Head
So far, fibre placement systems have been specialized and very expensive. Fraunhofer IPT has developed a versatile placement head especially intended for SMEs that can be used with thermo-set and...
Electromagnetic shielding properties in composites
Soric® EMS is a flexible core material that creates electromagnetic shielding properties in composites. This material is highly suitable for closed-mould processes, as it is pressure stable and...
Thank you
You just used 1 credit. You have left.