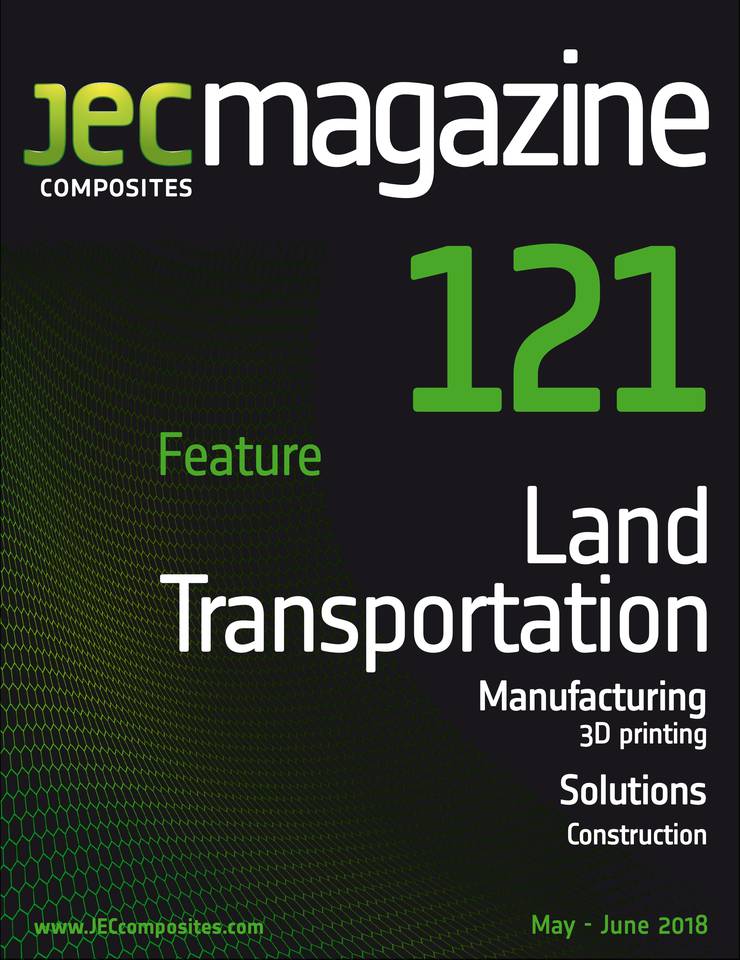 JEC Composites Magazine
N°121 - may 2018
Preview
JEC Composites Magazine is the point of contact of the international Composites Community, 6 times a year, with topics covering scientific information, business, technology, manufacturing, and application sectors trends.
In each and every issue, readers will learn about the entire composites industry value chain (from raw materials to application markets), and be inspired with current and future innovations.
The six sections of the magazine consist in:
NEWS: with interviews, articles about business development (M&As, appointments, partnerships and collaborations, awards etc.).
BUSINESS: with articles covering trends and markets, focusing on a specific country or region, with the composites market, or the application markets, or the companies strategies etc. in that country or region, and a startup focus.
MANUFACTURING: with articles about production processes and processing equipment.
FEATURE: an in-depth overview of a specific topic (typically an application sector), plus a JEC World Preview in April/May and Review in June/July.
SOLUTIONS: composites around us, with articles showing how composite materials are being used in applications which impact our everyday lives.
TECHNOLOGY: with articles about developments in materials, testing and control, repair, joining, design and simulation, recycling and reuse, R&D.
Enjoy your reading!
Contents
The Future of Transportation with composites
"Transportation means and infrastructures are the sinews of war, so to speak. Without transportation, there can be no viable or sustainable economic development. In other words, it is a sector that is...
Read More
N°121 - may 2018
EDITORIALE
The Future of Transportation with composites
"Transportation means and infrastructures are the sinews of war, so to speak. Without transportation, there can be no viable or sustainable economic development. In other words, it is a sector that is...
OPINION
"One of the essential features of the project is that it introduces intelligent structures"
Carbures, one of the spanish composites industrial flagship, recently signed a second contract with the American Hyperloop Transportation Technologies (HTT). At this occasion, Carbures accept to...
NEWS
Faurecia registers record order for its seating business by BMW Group
This order represents the highest single order intake ever for Faurecia in terms of sales volume. It includes just-in-time (JIT) assembly for 7 vehicles, as well as seat structures for 10 vehicles on...
Owens Corning appoints Marcio Sandri as President of Composites division
Arnaud Genis has decided to retire after serving as President, Composites for the last seven years and having spent more than 30 years in the composites industry. Mr. Sandri reports to Chairman and...
Magna launches Composites Centre of Excellence in Germany
Magna's new Composites Centre of Excellence in Esslingen, Germany, aims to help European automakers meet increasingly stringent emissions requirements with lightweight structures and exterior...
TPI and Vestas sign wind blade supply agreement to open facility in China
The US-based independent manufacturer of composite wind blades announced that it has signed a multiyear supply agreement with Vestas Wind Systems to provide blades from four manufacturing lines for...
JEC World 2018 gathered the whole composites industry in Paris
JEC World 2018 closed its doors on March 8 with a record increase in attendance following three days of vibrant networking and knowledge sharing The event confirmed the leading position of JEC Group...
Automotive - Application
Lightweight composite automotive suspension part Winner : Ford Werke GmbH (Germany) and its partners, Gestamp (United Kingdom), GRM Consulting (United Kingdom) and University of Warwick (United...
JEC lnnovation Awards Winners 2018
The JEC Innovation Awards ceremony, which took place on the Agora stage on Wednesday, March 7 at 5 pm, opened with a presentation by Yves Rossy, aircraft pilot and inventor of the first jet-powered...
Aerospace - Process
Complex structural applications for MAI sandwich technology Winner : Airbus (Germany) and its partners, BMW Group (Germany), Technical University of Munich (TUM) (Germany), Neue Materialien Bayreuth...
Aerospace - Process
Moldless process to manufacture one-piece parts Winner: M. Torres Diseños Industriales SAU (Spain) MTorres developed a new manufacturing process for large composite structures with fullyintegrated...
Automotive - Process
Series production of a rear panel module made of carbon composite Winner : Audi AG (Germany) and its partners, Voith Composites GmbH & Co. KG (Germany), Dow Automotive (Switzerland), and Zoltek Corp....
Construction & Infrastructure
Cabkoma cable made of CFRTP Winner: Komatsu Seiren Co., Ltd. ( Japan) and its partners, Kanazawa Institute of Technology ( Japan) and Nagase ChemteX Corporation ( Japan) The Cabkoma CFRTP strand rod...
Smart cities
The Wet Core Pod composite housing module Winner : MC Materiales Compuestos (Argentina) and its partners, Plaquimet (Argentina), Purcom (Brazil), IS Groupe -Composite Integrity (France), and G12...
Sustainable development
"3-in-1" line for producing recycled composites Winner : Cetim-Cermat (France) and its partner, CETIM (France) The innovation is a recycling line for both thermoplastics and thermoplastic composite...
Sport & Leisure
A modular construction system for the rear swing arm suspension of a motorcycle Winner: BMW Group (Germany) and its partners EDAG Engineering GmbH (Germany), KraussMaffei Technologies GmbH (Germany),...
JEC World 2018 Planets gathered what is feasible now and will be in the future
Last March, the part exhibition areas of JEC World, called Planets, welcame parts from 22 countries, involving nearly 100 companies. There were four : AERO, AUTO, BUILDING and MAKE IT REAL...
Fibre sizing products designed to react with polyamide resin matrices
Michelman showcased its Hydrosize Link U470 and U480 fibre sizing products designed to react with polyamide resin matrices. These high-performance sizing products are added during the fibre...
A versatile range of carbon fibre optimized for out-of-autoclave processes
As the composites market pursues automated processes for high-rate production, Porcher Industries' Dry Fibre offer a new way of processing materials Out-of-Autoclave (OOA). Porcher Industries Dry...
A technology that enables the selective targeting of performance gains by printing graphene into composite structures
Throughout the show Applied Graphene Materials (AGM) demonstrated Structural Ink, a novel technology that enables the selective targeting of performance gains, by printing graphene into composite...
Aeronautics RAW MATERIALS
A lightning strike protection prepreg Park Electrochemical announced the introduction of Electroglide lightning strike protection prepreg for aerospace applications. Electroglide lightning strike...
High-performance carbon fibre for aerospace
SGL Group has developed and started serial production of an innovative carbon fibre. Bearing the name Sigrafil C T50-4.8/280, the fibre is characterized by a high Young's modulus, making it...
A fully digital production line for carbon fibre rear wall panel
The patented Voith Roving Applicator (VRA) is the core and one of the main parts of this state-of-the-art production line producing the CFRP rear panel for the new Audi A8. This high-load structural...
Automated laminating cell and automated honeycomb potting
Airborne introduced its fully automated laminating cell using tape laying, cutting, and pick & place of composite laminates, and showed its automated honeycomb potting solution to fill sandwich...
A wireless positioning inspection system
Tecnatom's aerospace division showed Wireless Positioning Inspection System (WiiPA), an innovative manual inspection equipment that intended to provide a low-budget solution to some NDT applications...
A lightweight electric vehicle platform
The innovative lightweight EV platform concept, named the FW-EVX, was displayed on the UK National Composites Centre stand at JEC World. Williams Advanced Engineering has reimagined how electric cars...
Thermoplastic strengthening frame components developed for Arches Box TP project demonstrator
Porcher Industries presented thermoplastic strengthening frame components that were developed for the Arches demonstrator on its booth, whilst Stelia Aerospace displayed the fullscale thermoplastic...
Composite Challenge, where academy meets the industry
For its 2018 session, JEC Group launched its latest program, the "Composites Challenge" where ten PhD students from different universities presented their research in front of industrials that are...
Startup Booster – A springboard for innovative talents
The second session of Startup Booster competition was held during JEC World 2018, on 6-8 March 2018. The first day of the show was marked by the announcement of the three winners of the largest...
NEWS agenda
2018 May 5 th Shanghai International MRO Exhibition May 14-16 Shanghai, China www.mroexpo.com.cn Epoxy and resins technology conference May 14 - 17 Stockholm,...
BUSlNESS
Huntsman acquires Nanocomp Technologies
During the Fourth Quarter and Full Year 2017 Corporate Earnings call that took place at the end of February, Huntsman Chairman and CEO Peter Huntsman announced the successful completion of an...
JEC Composites Magazine: Nanocomp Technologies has just become part of the Huntsman family, what is your DNA?
John Gargasz: Nanocomp Technologies was founded in the Boston area as a new carbon mate-rial technology company in 2004. The first decade of our existence was about figuring out how to make very small...
"We want to bring the story of composites to the end user in a different way"
JEC Composites Magazine: What did you observe about the composites market that led you to propose new services now? Christian Kissinger: Today, composites only account for about 2% of the materials...
Overview of the North American composites market
In volume, the global composites market was approximately 10.8 Mt in 2016, growing from 10.4 Mt in 2015. The second largest market, after Asia, is North America (2.8 Mt), representing 26% of the...
MANUFACTURING
The Energica dashboard reinvented through professional 3D printing and composite materials
In Modena, the homeland of supercars and the Motor Valley of Italy, the first high-performance fully-electric motorcycle, "Ego", was born at Energica Motor Company S.p.A. Ego was rigorously developed...
Injection moulding: running tests earlier with 3D printing
The production of prototype tools for injection moulding is extremely complicated and costly, especially when steel or aluminium are used. The tools must therefore be milled and hardened, which means...
Fast RTM: a technically and economically optimised solution
The Fast RTM collaborative project led by IRT M2P resulted in the creation of an industrial platform demonstrating the feasibility of mass-produced structural composite automotive parts using reactive...
LAND TRANSPORTATION
The future of transportation with composites
Lightweighting, improving performance and energy efficiency, customized designs, are only a few of the key challenges composite materials can, and will, help answer. Their exceptional properties...
The Future of Composites in Transportation 2018
Lightweighting, improving performance and energy efficiency, customized designs, are only a few of the key challenges composite materials can, and will, help answer. Their exceptional properties...
A new platform for producing Class A surface quality components
This article introduces the PuriCoat platform for producing Class A surface quality, visible lightweight components within a very short cycle time. Through close technical collaboration between a...
Lighter construction for electric motors
For single-axle electric power units that are produced for the elec-tric-mobility mass market and for mechanical engineering, achieving cost-effective use depends on finding innovative technologies...
At Volvo, innovation rhymes with composites
Practically all parts of the Polestar 1 upper body, including the doors, bonnet and boot lid, are made of carbon fibre-reinforced polymer (CFRP) for maximum stiffness, torsional rigidity and...
lncreasing the share of composites in the lndian mass transit segment
All big cities across the globe, must address the problem of quick commute for millions of people every day. Kineco has commenced to innovate with composites to tame this unprecedented challenge. As...
New fire protection standard in trans-European rail traffic
As from 2018, train manufacturers and their suppliers have to imple-ment the provisions of the DIN EN 45545-2 binding European railway standard. Inter alia, the standard addresses the fire behaviour...
Composite containers for rail freight
In 2014, Acrosoma was acquired by VDL Fibertech Industries while continuing to focus on the market for its unique Acrosoma panels. The resources of a large group like VDL (5B€ in sales and a workforce...
OFF-ROAD VEHICLES
Lightweight Vehicle Underbody Protection Winner: Faurecia (France) Partner: Hexion (France) The innovation consists of a composite underbody protection achieving a weight saving of 53%, designed with...
The Future of Composites in Transportation
This edition of the JEC Innovation Awards Competition aimed to reward the best cutting-edge and ingenious projects involving the use of composite materials in ground transportation applications....
PUBLIC TRANSPORTATION
Design and Fabrication of an Integrated Monocoque Composite 40ft Plug-in Electric Transit Bus Winner: TPI Composites (USA) Partner: Proterra (USA) TPI Composites has designed and produced an all-...
SUSTAINABILITY
Light-weight Automotive Interior Parts with Natural Fiber Reinforcement Winner Bcomp (Switzerland) Partner: Persico (Italy) The innovation consists of forming, back injection & punching of automotive...
HEAVY TRUCKS
Self-molding, High Heat Composite Insulation System Winner: Saprex (USA) The project consists of a self-molding, PPS, thermoplastic composite insulation system for large bore diesel engine exhaust...
SOLUTlONS
CompoHouse, the demonstration building made of composites
Made of high-performance composite materials, the CompoHouse demonstration building is the result of an innovative reflection to rethink construction specifications from the beginning, focusing on...
Textile concrete makes thin, large-sized curtain walls possible
With the use of textile concrete, rear-ventilated concrete curtain walls are becoming increasingly popular. Solidian's non-metallic reinforcements enable the thinnest façade plates (15 to 30mm) in...
Tiny house for maximum comfort
The Lightest Tiny Home available. Quantum Tiny Homes are constructed with Insulated, Unitized Fibre-Reinforced Composite Structures Technology. The high-strength fibre-reinforced composite and rigid...
TECHNOLOGY
High-confidence performance predictions for hybrid thermoplastic composite applications
Multi-material hybrid structures combining continuous fibre thermoplastic composites with lower-cost options such as chopped fibre thermoplastic composites and metals are an attractive proposition for...
3D textile-reinforced composites: from manufacturing to structural design
Designing structural parts made of 3D textile-reinforced materials demands a deep understanding of the different physical phenomena to be accounted for at the individual steps from manufacturing to...
Thank you
You just used 1 credit. You have left.