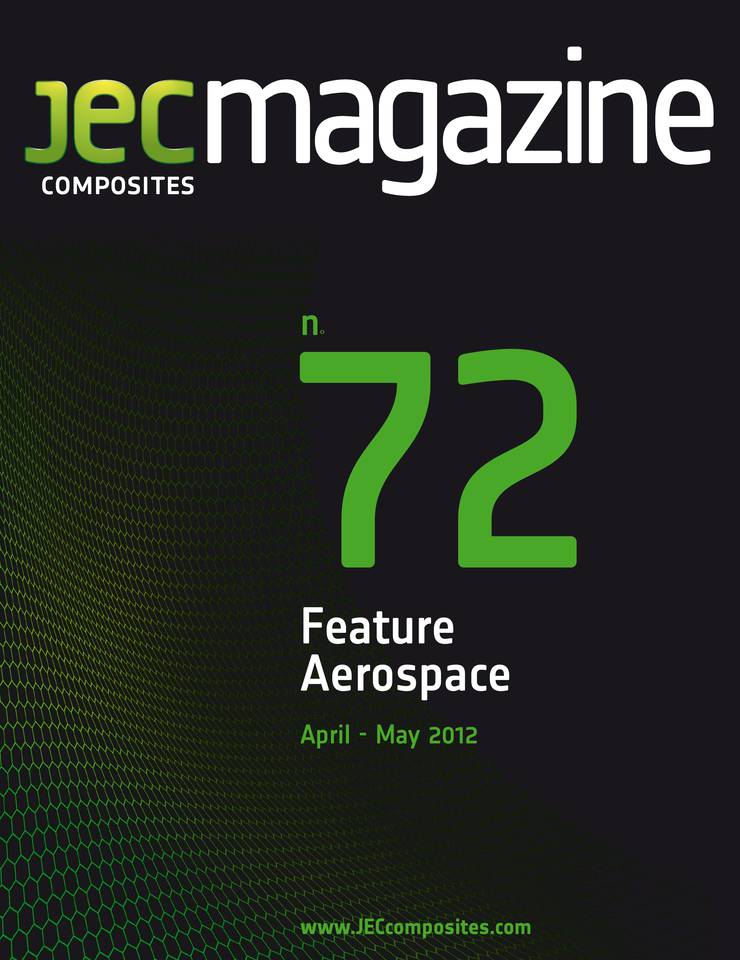 JEC Composites Magazine
N°72 - april 2012
Preview
JEC Composites Magazine is the point of contact of the international Composites Community, 6 times a year, with topics covering scientific information, business, technology, manufacturing, and application sectors trends.
In each and every issue, readers will learn about the entire composites industry value chain (from raw materials to application markets), and be inspired with current and future innovations.
The six sections of the magazine consist in:
NEWS: with interviews, articles about business development (M&As, appointments, partnerships and collaborations, awards etc.).
BUSINESS: with articles covering trends and markets, focusing on a specific country or region, with the composites market, or the application markets, or the companies strategies etc. in that country or region, and a startup focus.
MANUFACTURING: with articles about production processes and processing equipment.
FEATURE: an in-depth overview of a specific topic (typically an application sector), plus a JEC World Preview in April/May and Review in June/July.
SOLUTIONS: composites around us, with articles showing how composite materials are being used in applications which impact our everyday lives.
TECHNOLOGY: with articles about developments in materials, testing and control, repair, joining, design and simulation, recycling and reuse, R&D.
Enjoy your reading!
Contents
The irresistible rise of composites
"While the 2012 JEC Europe show was marked by record attendance, the Show also stood out by the large number of initiatives involving the use of composite materials and in particular carbon fiber...
Read More
N°72 - april 2012
EDITORIAL
The irresistible rise of composites
"While the 2012 JEC Europe show was marked by record attendance, the Show also stood out by the large number of initiatives involving the use of composite materials and in particular carbon fiber...
POINT OF VIEW: TORAY BELIEVES IN EUROPE
Toray believes in Europe
On 25 January 2012, carbon fibre company SOFICAR (for SOciété des FIbres de CARbone) officially became Toray Carbon Fibers Europe after the Japanese group Toray acquired 100% of SOFICAR's share...
AGENDA OF EVENTS
In partnership with JEC Composites E-letter
2012 May American Coatings Show May 8-9 Indianapolis, USA www.american-coatings-show. com China International Composites & Fiber Glass Exhibition May 17-19 Chongqing, China...
COMPANIES & BUSINESS
Toray to enhance global carbon fiber production capacity
Toray plans to invest a total of around 45 billion yen in these four bases to increase the annual production capacity by 6,000 tons. Production at the new lines at these bases is expected to start in...
SGL Group to expand european car-bon fiber precursor production base
The Carbon Company has signed a contract to acquire an 86% stake in the listed Portuguese company Fisipe – Fibras Sintéticas de Portugal S.A. – from the previous principal shareholder, Negofor. Thus,...
AkzoNobel and DSM to launch BluCure Cobalt-free curing
AkzoNobel and DSM have officially launched the BluCure umbrella brand covering innovative Cobalt-free resin curing technologies and products. At the JEC Composites show in Paris, the two companies...
Airbus to invest €2bn in R&D in 2012
At the Airbus Day 2012 in Brussels, Christian Scherer, Head of Airbus Strategy and Future Programmes said: "Airbus is a truly European company, and one that highlights how successful Europe can be if...
Gurit, an increasingly well-rounded partner
Gurit, a worldwide supplier of composite materials and technical solutions to the global wind energy market, provides a wide range of well-established products. The company's offer was recently...
APPLICATIONS
Advanced composite solutions in orthopaedics
Orthopaedic solutions for external use have followed a specific development through history, evolving from wood and aluminium to glass fibre and epoxy, to carbon fibre and acrylic, to composites and...
MARKET
Carbon fibre production : many investments and projects
Carbon fibre manufacturing demands substantial capital investment and R&D re-sources. Every single step in the manufacturing process is crucial to the final quality of the fibre. Since our last issue...
Quality assurance lab manager : ensuring everything meets standards
Cindy Gordon was recently promoted to the position of Quality Assurance Laboratory Manager at Norplex-Micarta headquarters in Postville, IA (USA). She succeeds Roger Tieskotter, who retired after 36...
FEATURE AEROSPACE
Composite materials will continue to define the future of aerospace
Advanced materials have been and will continue to be critical enabling technologies for aerospace innovation. In the early days, wood and fabric were used to create primary structures. This was...
Nano-architectures in aerospace composites
The aircraft industry is in need of lighter, stronger and safer materials. Carbon nanotubes, when placed strategically in composite materials, add a 3D reinforcement without reducing the in-plane...
PEEK thermoplastic powers state-of-the-art aerospace engineering for metal replacement
The aerospace industry is under constant pressure to improve the performance of aircraft, whether commercial or military, to make them more fuel-efficient and to lower costs. A key strategy is to...
Masterbox: How to optimize the curing process in the world's biggest laboratory autoclave
Given the demands of the aviation industry, the challenges of the carbon fibre reinforced plastics (CFRP) industry cannot be met with the current technology. This paper introduces a new concept to...
Automated equipment
Reducing aircraft weight is essential to boost fuel efficiency and to lower costs – and also, given the ever-increasing distances that airplanes of the future are expected to travel, to gain more...
OAK Aerocomposit chooses innovative solutions to build the MS-21 composite wing
M. Torres Diseños Industriales S.A.U., one of the world's leading suppliers of automation equipment for aerospace applications, and Aerocomposit, an OAK subsidiary in charge of manufacturing the...
New 5-axis composite machining centres for aerospace manufacturers
With the display of ten machines, including two new models, the latest Belotti Open House event attracted about 60 operators from the advanced materials industry. Machine versatility, evolution and...
Smart Vacuum Holding Fixtures
The Austrian company Micado, a global leader in smart holding fixtures for reworking composites, has set new standards with the DFT380 digital flexible holding tool. Due to their long-term experience...
Milestone celebration of Finnish aerospace composites expertise
To celebrate the delivery of its 100th shipset to Airbus, Patria held an internal celebration ceremony on 21 February 2012 at its production facilities in Halli, Finland. The 100th shipset is intended...
Aerospace: economic and environmental impacts
While time and experience have helped composites become established in the aerospace industry, these materials continue to be closely monitored, with extra efforts on the part of aircraft...
RESEARCH & DEVELOPMENT
Applications for shape-memory polymer composites in aerospace
The applications for shape-memory polymers and composites in aerospace have been widely studied since the 1980s. As shown in this paper, these promising smart materials are being particularly...
The importance of damage tolerance in aerospace structures
For many composite structures, the critical design driver is governed by damage tolerance. Focusing on and designing to the critical design driver can reduce cost and weight. Using blanket knockdown...
TECHNOLOGIES & INNOVATIONS
Inexpensive and quick repairs using automated twocomponent coating systems
Until now, there has been no recognized standard for the automated application of two-component coating materials (also known as 2K coating materials) frequently required for maintenance and repair...
Design and composites: for the better
The C-Stone and C-Bench by Belgian designer Peter Donders are machine-made from a single string of carbon fibre that has been guided around a temporary mandrel. The result is an airy but strong...
High-performance natural fibre tape and spread tow fabric
A novel natural-fibre-reinforced thermoplastic prepreg tape has been developed to maximise the performance of sustai-nable biocomposites. The tape, initially based on flax and PP, has been converted...
SPECIAL JEC ASIA
JEC Asia 2012, the place to be
Just a few weeks to go before the fifth and much-awaited annual JEC Asia event. For the fifth year in a row, JEC Asia, the leading composites trade show in the Asia-Pacific region will take place from...
Aerospace: Asia-Pacific leading the demand for new aircraft
Airlines in the Asia-Pacific region will take delivery of approximately 9,370 new aircraft over the next 20 years, according to the latest market forecast by Airbus. The latest forecast for the region...
Carbures announces major investment in Chinese aerospace supplier
Carbures is creating a joint venture with Guanglian Aeronautic Composite Materials Process & Equipment Co. Ltd., a manufacturer and distributor of carbon-fibre parts for the aviation sector. Carbures,...
Boeing 787 Dreamliner for Air India debuts in New Delhi
14-hour non-stop flight marks first visit to India for airplane painted in Air India's colours. After a 14-hour non-stop flight from Seattle, a Boeing 787 Dreamliner in Air India's colours touched...
Unprecedented agreement between KAI and Airbus
A record agreement of USD1.22 billion has just been signed between KAI (Korea Aerospace Industries) and the European manufacturer, Airbus. The agreement between the two organisations relates to the...
COMAC Pudong composite facility
This meeting fully affirmed the achievements made on the C919 aircraft project since the formation of Commercial Aircraft Corporation of China Ltd. The central government's major strategic decision...
Shanghai Aircraft invests in a composite tape layer
Charger™ low-rail gantry contour tape layer to produce main wings, stabilizers and central wing boxes for Comac Shanghai Aircraft C919 and C929 commercial passenger jets. M AG is expanding its...
Eurocopter designates its Singapore subsidiary as the Asia-Pacific training and MRO hub
As part of Eurocopter's Vision 2020 to achieve a balanced portfolio with emphasis on growing the Support & Services line of business, the company's South East Asia subsidiary based in Singapore will...
Carbon fibre: a host of projects in Asia
Carbon fibre has the wind in its sails. Not a month goes by without a new announcement taking place. The entire value chain is concerned: precursor, fibre, and prepreg. Asia, of course, is in pole...
Indonesia, a land of opportunity for composite materials
With over 245 million inhabitants, Indonesia is the 4th biggest country in the world in terms of population. With a growth rate in excess of 6%, the country is 16th worldwide (2010 figures). Needless...
Marathon: a pioneer in the boating sector
Marathon Pacific Marines is a leading glass-fibre boat manufacturer located near Jakarta, in Indonesia, one of the world's largest maritime nations with over 17,500 islands scattered throughout its...
Know-how for export
PT Graha Fortuna Purnama is very much in tune with the Indonesian composite sector. The company is dynamic and growing, with a multitude of projects. Just like its icon, the dolphin, Graha knows how...
PT. Induro: 35 years of recognized experience in Asia-Pacific countries and beyond
With facilities located about an hour's drive east of Jakarta, PT. Induro Internasional is one of the Indonesian composite sector's processors that has also made a reputation in exports, thanks to a...
Thank you
You just used 1 credit. You have left.