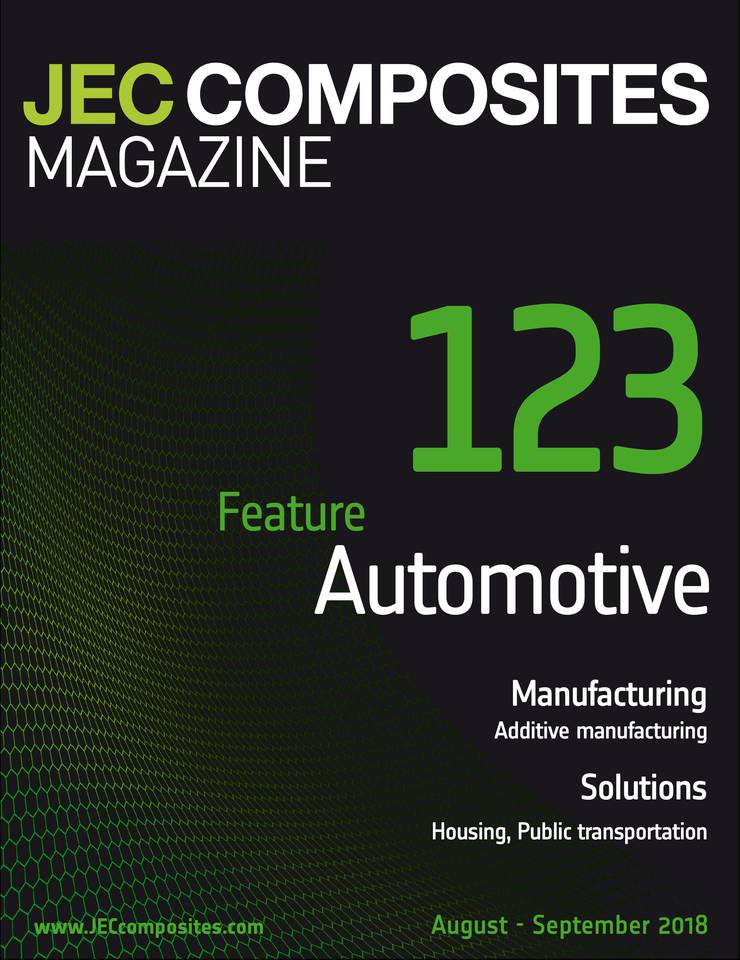 JEC Composites Magazine
N°123 - august 2018
Preview
JEC Composites Magazine is the point of contact of the international Composites Community, 6 times a year, with topics covering scientific information, business, technology, manufacturing, and application sectors trends.
In each and every issue, readers will learn about the entire composites industry value chain (from raw materials to application markets), and be inspired with current and future innovations.
The six sections of the magazine consist in:
NEWS: with interviews, articles about business development (M&As, appointments, partnerships and collaborations, awards etc.).
BUSINESS: with articles covering trends and markets, focusing on a specific country or region, with the composites market, or the application markets, or the companies strategies etc. in that country or region, and a startup focus.
MANUFACTURING: with articles about production processes and processing equipment.
FEATURE: an in-depth overview of a specific topic (typically an application sector), plus a JEC World Preview in April/May and Review in June/July.
SOLUTIONS: composites around us, with articles showing how composite materials are being used in applications which impact our everyday lives.
TECHNOLOGY: with articles about developments in materials, testing and control, repair, joining, design and simulation, recycling and reuse, R&D.
Enjoy your reading!
Contents
Growing business in the automotive industry
"Whether you're talking about the latest convention of the French Society of Plastics Engineers (SFIP, for Société Française des Ingénieurs des Plastiques) in Nantes on June 20-21, or the JEC...
Read More
N°123 - august 2018
EDITORIAL
Growing business in the automotive industry
"Whether you're talking about the latest convention of the French Society of Plastics Engineers (SFIP, for Société Française des Ingénieurs des Plastiques) in Nantes on June 20-21, or the JEC...
OPLNLON AUTOMOTIVE
"The emergence of a robust, well-structured composite supply chain is indispensable"
To introduce Deloitte's work/study on the automotive industry and on composites, a brief survey of which you will discover in this issue, we approached Guillaume Crunelle, the Deloitte associate in...
NEWS
in brief NEWS ContractHexagon Composites will supply compressed hydrogen tanks for serial production of fuel cell electric vehicles
Hexagon is developing the tanks to support anticipated production activities as early as 2020. Production is planned to run for at least five years. Hexagon estimates the combined value for...
BUSINESS
Overview of the glass fibre composite market
The global market for carbon fibres is projected to reach 151 thousand metric tons by 2024, led by unique properties that make carbon fibre an attractive material in a wide range of engineering...
Saint-Gobain acquires RT2i's 3D knitting technology
The French subsidiary of Saint-Gobain's composite business recently acquired RT2i's 3D knitting technology. Saint-Gobain now has unique know-how in the use of this breakthrough technology for...
« Light Vehicle 2025 » : an EU-funded automotive project for the Meuse-Rhine Euregio
On the occasion of the Automotive Congress in Eindhoven on 23 May 2018, the EU-funded cross-border Interreg Automotive project "Light Vehicle 2025" in the Meuse-Rhine (Wallonia and Flanders in...
MANUFACTURING
Full-strength 5-axis carbon fibre 3D printing revolutionizes aviation and space
Carbon fibre is an incredible material but laminates are a "suboptimal structure", usually barely edging out metals. 3D printing this high-performance material will enable its true lightweighting...
Breakthrough mass production technology for thermoplastic composite laminates
Thermoplastic composites are prized for their light weight and exceptional strength. However, mainstream adoption has lagged due to shortcomings in existing production processes, which are slow,...
FEATURE
JEC Group takes part in major automotive motor shows
Mobility today and tomorrow can take very various forms, be powered by different energies, and respond to various customer needs: - Vehicles may have one, two, three of four wheels, or even more- They...
Automotive and Composites: current state and forecast
Ten years after the economic and financial crisis, the automotive industry is in the midst of one of its biggest revolutions with the introduction of disruptive technologies, game-changing business...
Automotive and Composites : current and forecast
Content Table of Contents 2 Introduction 4 Part 1: The automotive industry and composites as of today 6 1.1 General overview of the automotive industry 6 1.1.1 Value chain of the automotive industry 6...
The automotive industry and composites as of today
This paper presents the first part of the study, which focuses on the current relationship between composites and the automotive industry. It includes three sections: first, a general understanding of...
"We have to think more and more about multi-material systems"
As part of our automotive report, we wanted to know a little more about the perception and use of composite materials in the automotive sector in Germany, a country that is very advanced in terms of...
Hydrogen promises for carbon fibres in personal vehicles
Their critics and all-electric vehicles notwithstanding, vehicles that run on hydrogen appear to have a rosy future. They would be difficult to make without composites, however. To keep the weight...
FEATURE AUTOMOTIVE
Trends for composite materials in automotive electric and electronic parts
The automotive sector needs to improve the fuel efficiency of vehicles to face challenges such as resource depletion and environmental pollution. As a technical approach, reducing the weight of...
Lightweighting powertrains in the electric future
Industry experts gathered for the Lightweight Composite Solutions Conference organized in Gent (Belgium) last May by Vyncolit NV and Sumitomo Bakelite Co., Ltd. Attendees from the automotive...
Green evolution in transportation: electric vehicle and charging station
The future of transportation is all set to be green, which means various alternatives need to be investigated to replace traditional gasoline vehicles. Another challenge is to make such alternatives...
Mechanical identification of a composite structure: vision-augmented simulation
Identifying the mechanical properties of a non-homogeneous structure such as a complex composite lay-up can be troublesome, especially when taking into account defects and damage, which are...
Class A surfaces using thermoplastic composites
After many years of development, INEOS Styrolution launched the first thermoplastic composite based on a SAN matrix at the 2016 K Fair in Düsseldorf. Above and beyond the typical structural stiffness...
A field report by Hervé Motte, R&D Innovation Manager at ARRK Shapers'
"To validate the manufacturing of a StyLight-based carbon aesthetic application on an industrial scale, ARRK investigated different technologies. The objective was to fulfil automotive requirements...
Composite "C" springs made of glass fibre for automotive application
Due to the high level of environmental pressure, weight saving and perfect ride handling are now essential in automotive transportation. To reduce both weight and unsprung masses, the best solution is...
Winning Formula, from automotive sports to passenger cars
Engineering the car of tomorrow is not just about making it fast, but also making it safe. On a race track, the rider wears the car as his suit. Out on the track, he relies as much on the engineering...
Next-generation lightweight material for automotive applications
At JEC World 2018 in Paris, Asahi Kasei presented the SunForce™ expanded modified polyphenylene ether (m-PPE) beads, the world's first particle foam bead material combining the characteristics of...
SOLUTlONS
Kinesurf, the adaptable shower tray
Kinedo has been making shower, spa and balneotherapy fittings for more than 45 years. This year, the French specialist is presenting its latest innovation: a cuttable shower tray that can adapt to any...
Composite bodies for electric buses
Proterra is a leader in the design and manufacture of zero-emission heavy-duty vehicles, enabling bus fleet operators to significantly reduce operating costs while delivering clean, quiet...
The first flight of the yacht
TThe FOILER is a radical evolution from any regular yacht. Its full carbon fibre hull is designed not only for a 007 look but also promises easier takeoff, a smooth landing, and comfortable sailing...
Carbon Fiber Full Size Guitar
Wooden guitars can be amazing instruments, the truth is they are not very durable. Klos Guitar solves all of these problems by making the body and sound board out of carbon fiber, and adding an...
Carbon fibre in (stop) motion
GEORGE® is the first pure carbon fibre armature created for animation in the world. GEORGE® was created as the first armature for professional use and applies the most advanced composite material...
TECHNOLOGY
Virtual testing of composite armour probabilistic penetration
For the first time ever, a fully validated and predictive virtual testing capability can predict the V0-V100 probabilistic penetration behaviour of advanced composite material-based soldier and...
Ultra-high-temperature ceramics: from carbon ceramic brakes to missiles
To cope with the extreme temperatures seen by missiles and missile parts during flight, MBDA, in partnership with the University of Birmingham, Surface Transforms plc, DSTL, and the DGA, and funded...
Thank you
You just used 1 credit. You have left.