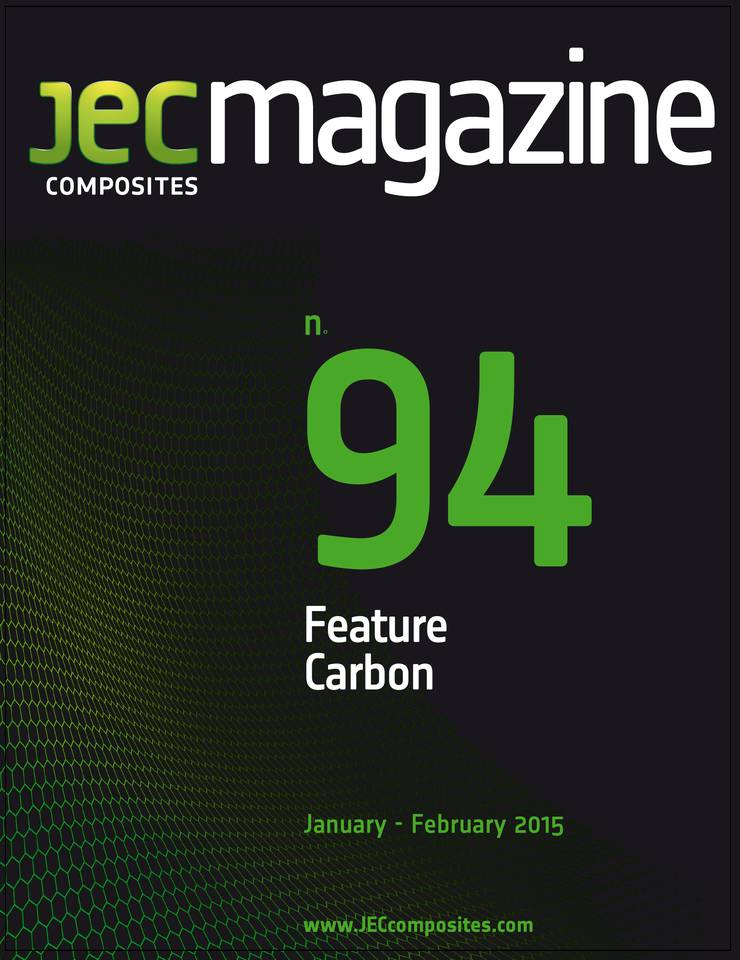 JEC Composites Magazine
N°94 - january 2015
Preview
JEC Composites Magazine is the point of contact of the international Composites Community, 6 times a year, with topics covering scientific information, business, technology, manufacturing, and application sectors trends.
In each and every issue, readers will learn about the entire composites industry value chain (from raw materials to application markets), and be inspired with current and future innovations.
The six sections of the magazine consist in:
NEWS: with interviews, articles about business development (M&As, appointments, partnerships and collaborations, awards etc.).
BUSINESS: with articles covering trends and markets, focusing on a specific country or region, with the composites market, or the application markets, or the companies strategies etc. in that country or region, and a startup focus.
MANUFACTURING: with articles about production processes and processing equipment.
FEATURE: an in-depth overview of a specific topic (typically an application sector), plus a JEC World Preview in April/May and Review in June/July.
SOLUTIONS: composites around us, with articles showing how composite materials are being used in applications which impact our everyday lives.
TECHNOLOGY: with articles about developments in materials, testing and control, repair, joining, design and simulation, recycling and reuse, R&D.
Enjoy your reading!
Contents
A new year, full of opportunities!
"My first editorial of the year is written for you, the ever-increasing number of people who follow us. We are very proud to announce that we have exceeded the threshold of 36,000 subscribers, 36,509...
Read More
N°94 - january 2015
EDITO
A new year, full of opportunities!
"My first editorial of the year is written for you, the ever-increasing number of people who follow us. We are very proud to announce that we have exceeded the threshold of 36,000 subscribers, 36,509...
POINT OF VIEW: RAW MATERIAL
Victrex, at the peak of innovation
With more than 35 years of research and development on polyaryletherketones, Victrex is a key raw material supplier in the composites industry. Their CEO, David Hummel, highlights Victrex's philosophy...
COMPANIES & BUSINESS
Chomarat opens North America facility for carbon reinforcements
The company has just celebrated the opening of its 58,500ft2 factory in South Carolina. This new plant will specialize in developing Chomarat's advanced composite business and is equipped with a Liba...
Hexcel invests £6 million in R&T facility in UK
Duxford is Hexcel's largest center for research into resin systems and adhesives. The company awarded its largest ever contract by Airbus to supply all of the carbon fiber prepregs for the A350 XWB...
Composite Holding Company and China Hi-Tech Group Corp. sign agreement to create strategic alliance
The purpose of this agreement is to develop polymer composite materials for different sectors of industry in Russia and China. Parties will invest over 500 million dollars till 2025. The idea is to...
Toray to supply carbon fiber prepreg for Boeing 777X
Boeing has signed a memorandum of agreement with composite supplier Toray Industries to expand its current contract for the Boeing 787 Dreamliner to include the 777X wings. In 2013, Boeing spent more...
A joint venture to develop the use of hemp-based materials for the automotive industry
Faurecia, an automotive equipment suppliers, announced the creation of a 50/50 joint venture with Interval, a French agricultural cooperative. The deal leads to the formation of Automotive Performance...
Airbus Group and Safran launch joint venture
With an initial workforce of around 450, starting operations on 1 January 2015, the joint venture named Airbus Safran Launchers will maintain the level of quality and reliability of Ariane 5, while...
Composite Cluster Singapore and partners develop a method to create high-performance composite structures with thermoplastic tapes
The concept builds on market proven thermoplas-tic tape placement technology and integrates it with advanced robotics and laser technologies to overcome limitations of current solutions. CCS will...
A £28 million expansion at National Composites Centre in UK
Secretary of State Vince Cable unveils £28 million expansion to the research and technology hub owned by the University of Bristol. The major project has seen the NCC double in size, allowing much...
« I am convinced that composite materials have a great future »
At the beginning of this year, we interviewed Bert Bakker, the new President of DSM Composite Resins, one of the world's leading manufacturers of resins. We thank him for his time. The industry is...
APPLICATIONS
3D-printed CubeSat in space
Satellites are always produced in small runs, even satellites for the GPS network or its counter-parts. But they need high-quality materials due to the enormous amounts of money that are spent to put...
Armoured composite crew compartments
Morgan Advanced Materials has developed an innovative, customized composite and ceramic armoured compartment that is ballistic-resistant and provides a significant weight saving compared to other...
Ultralight solar boat
The Scigrip solar boat is a sustainable structure aiming for the highest efficiency possible when it comes to weight, speed and overall optimization. It competed in the highly competitive DONG World...
MARKET
Industry's mood is good
"Bigger, Faster, Cheaper" was the title of our 2013 Overview published in Issue 86 of the JEC Composites Magazine. This three-word summary of the market demand is just as topi-cal as ever. Overall,...
"CCGC will continue to focus on its major business"
At a time when the Chinese composite market has started to recover, due notably to an increase in the wind turbine market, we interviewed Prof. Zang Dingjin, who governs the destiny of one of the...
FEATURE CARBON
Development of China's carbon fibre sector
China is not immune to global trends and the consumption of carbon fibre is rapidly increasing in all application sectors. The need for lightweight mate-rials is now being felt. In this context, China...
Carbon Nexus launches operator training
Carbon Nexus, a globally unique carbon fibre/composite research facility, has launched its first flexible training package for carbon fibre plant operators, maintenance technicians and process...
Hexcel to build carbon fibre plant in France
As part of a new programme, Hexcel will invest USD250 million in new precursor and carbonization lines to create a diversified global supply chain for the aerospace industry, an application sector...
Computational fluid dynamics applied to carbon fibre manufacturing
Computational fluid dynamics (CFD) is an effective tool to optimize the design of oxidation ovens used in carbon fibre manufacturing. CFD simulations evaluate the influence of oxidation oven...
CFRT composites move into overhead power transmission
An exciting new application for carbon fibre-reinforced thermo-plastic composites is as multi-strand cores for high-temperature low-sag (HTLS) overhead electrical conductors. The introduction of a...
Carbon nanotube technology promises a revolution in cabling
Carbon nanotubes (CNTs) are being used to provide conductive reinforcement of polymers. The nano-scale materials allow useful properties to be developed at lower loading percentages than larger sized...
Carbon fibre for a new lightweight automation technology
Arburg offers a new gripper made from lightweight and sturdy carbon fibre that extends the scope for customer-specific automation solutions. Complex structures and nested lifting axes make the carbon...
For the Albatros, a carbon multiaxial fabric with high added value
The Finot-Conq group opted for C-PLY™, a line of carbon multiaxial reinforcement fabrics by Chomarat, for its new ballasted centreboard sailboat Albatros. The reinforcement is being used for the hull...
RESEARCH & DEVELOPMENT
Fibre-optic sensing in composite structures
Epsilon Optics specialises in the application of fibre-optic sensing technology to the monitoring of critical structures ranging from helicopter rotor blades to tunnel linings and tidal energy...
Automated profile preforming for aerospace applications
The utilization of modern liquid composite moulding (LCM) processes for series production of structural skin-stringer components requires the development of automated manufacturing methods. In this...
TECHNOLOGIES & INNOVATIONS
Automated solutions for dry material placement
Danobat Composites is developing highly specialised solutions to automate the manufacturing of composites using dry materials. The company's disruptive dry fibre resin infusion technology is ideally...
Enhancing coated pultruded profile production for the construction market
The Coaline project aims at reducing the cost of coated pultruded profiles by up to 35%, simplifying the process and increasing its output. Obtaining suitable materials is often a problem in...
Ultrasound phased array wheel probe for composite testing
Olympus offers a new ultrasound phased array wheel probe that has been specifically developed to facilitate high-quality, immersion-like ultrasonic testing of composites and other smooth-surfaced...
Durability of organic-matrix composite materials
This paper, presented by CNEP, a French research center specialized on physicochemical analysis of polymer and composites, describes briefly the challenge of organic-matrix composites materials to...
Simulation and analysis of composites - challenges and opportunities
Composites offer many advantages in terms of stiffness, weight reduction, corrosion resistance, and fatigue performance. These advantages have led to the increased use of these materials in a variety...
Thank you
You just used 1 credit. You have left.