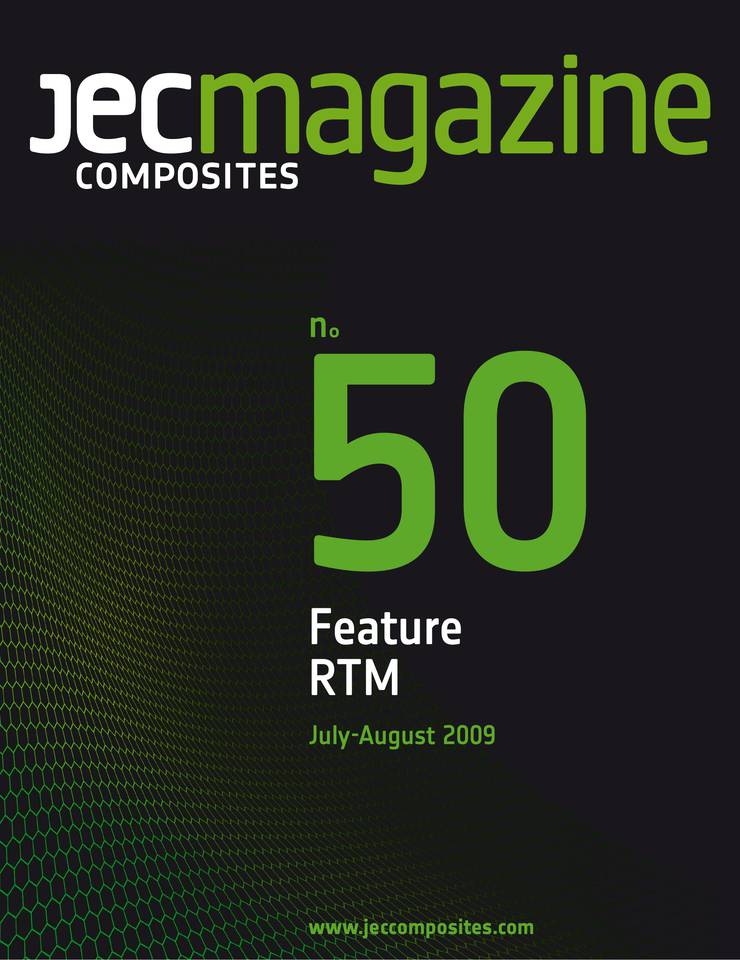 JEC Composites Magazine
N°50 - july 2009
Preview
JEC Composites Magazine is the point of contact of the international Composites Community, 6 times a year, with topics covering scientific information, business, technology, manufacturing, and application sectors trends.
In each and every issue, readers will learn about the entire composites industry value chain (from raw materials to application markets), and be inspired with current and future innovations.
The six sections of the magazine consist in:
NEWS: with interviews, articles about business development (M&As, appointments, partnerships and collaborations, awards etc.).
BUSINESS: with articles covering trends and markets, focusing on a specific country or region, with the composites market, or the application markets, or the companies strategies etc. in that country or region, and a startup focus.
MANUFACTURING: with articles about production processes and processing equipment.
FEATURE: an in-depth overview of a specific topic (typically an application sector), plus a JEC World Preview in April/May and Review in June/July.
SOLUTIONS: composites around us, with articles showing how composite materials are being used in applications which impact our everyday lives.
TECHNOLOGY: with articles about developments in materials, testing and control, repair, joining, design and simulation, recycling and reuse, R&D.
Enjoy your reading!
Contents
Not everyone is affected by the economic downturn
Although there can be no denying the downturn and the difficulties that the economy in general and the composite materials industry in particular are going through, there are nonetheless places and...
Read More
N°50 - july 2009
EDITORIAL
Not everyone is affected by the economic downturn
Although there can be no denying the downturn and the difficulties that the economy in general and the composite materials industry in particular are going through, there are nonetheless places and...
COMPANIES
Innovation: the guiding principe at Huntsman
JEC Composites Magazine met with André Genton, the new president of Huntsman Advanced Materials, to find out more about the company's new organization and strategy for the next few years. JEC...
More V: operating on a practically boundless market
The young More V company, that specializes in the production of FRP panels, is operating on a fast-growing market where the possibilities are still endless. Shanghai More V Building Material Co. Ltd,...
Colan Australia: innovation over 50 years
Thanks to its proactive innovation and quality policy, Colan Australia is now firmly rooted in its domestic market. This strong foothold enables the company to continue winning over clients overseas....
DSM Composite Resins and Büfa: they finalize european joint venture agreements
The intention to work together was announced in November last year, now all contracts have been signed. DSM and Büfa announced the completion of two joint venture agreements, one to create the first...
AGENDA OF EVENTS
Asia demand for composites is massive
JEC ASIA 2009 reflects the composites industry's tremendous growth in Asia. Major players of the composite industry have expressed the need for a composite platform in Asia-Pacific. The 2008 inaugural...
EQUIPMENT
Custom-coated carbide tools for improved adaptability and lower costs
The development and application of carbon-fibre-reinforced polymer (CFRP) composites as aircraft skin and structural parts has been a priority trend in aerospace manufacturing for more than a decade....
BUSINESS
US demand for decking to reach 1.1 billion lineal meters in 2013
In 2013, the overall US demand for decking should amount to 1.1 billion lineal meters, valued at $5.2 billion. These and other trends are detailed in Wood & Competitive Decking, a new study from the...
Wood-plastic composites: applications and performance costs
With approximately 1,000,000 metric tons of worldwide annual production and growth rates of up to 20% per year, wood-plastic composites (WPC) are one of the fastest growing segments within the...
A PhD student rewarded for his environmental concerns
The JEC/SAMPE Environment Award was created to reward innovative studies with strong environmental concerns. Antoine Le Duigou, PhD student from the French University of South Brittany, received his...
FEATURE
On the way to a high-tech process for high-performance applications
From the very beginning of light RTM to highly instrumented RTM for aeronautics, the RTM process recorded a technological evolution that required new tools and now allows full virtualization. PPE is a...
The latest innovations to the LRTM moulding process
The excitement continues with the growth of the Light RTM (LRTM) process around the world. In these uncertain economic times, the LRTM process is being redefined with heightened focus on cost...
Large truck mid-roof to be manufactured in Brazil
Tecnofibras will soon launch the production of a mid-roof for the 9800 truck model manufactured by International do Brazil. The part will be moulded using the Resin Transfer Moulding High Technology...
RTM part for French high-speed train
Owens Corning and Stratiforme Industries jointly developed a tough, lightweight composite door for one of the commercial lines of the French high-speed rail service, the world's fastest wheeled train....
An RTM production line with environmental credentials
Eparco specializes in the design and manufacturing of non-collective wastewater treatment systems. Its 5m3 septic tanks are manufactured at a rate of 30 units per day on a state-of-the-art RTM...
Institut fuer Verbundwerkstoffe GmbH Novel system technologies
Tool carrier In November 2008, IVW's new RTM mould carrier, type "MFT 10.5 x 12.5/10 universal - GL", manufactured at DEGUMA Schütz GmbH in Geisa, was put into operation at the Demonstrations- und...
USERS' PLATFORM
USERS' PLATFORM Composites in the world CC aa vv aa ll ii ee rr pot
After having explored different career paths on their own, Rafaële David and Géraldine Hetzel finally met at the Strate College Designers in Paris. They set up Az&Mut in September 2006 so they could...
The Aston Martin OO nn ee -- 77 77"
The One-77 is Aston Martin's definitive sports car. It epitomises everything about Aston Martin from technology and hand-craftsmanship of the hand-rolled aluminium panels to the attention to detail. A...
Glass-fibre-reinforced body cc aa mm ee rraa
Olympus delivers the E-620 digital single-lens reflex (DSLR) camera. The freedom of expression of this new camera is matched by its freedom of mobility. It can go wherever you go thanks to its compact...
Carbon fish ss cc uu ll pp tt uu rr ee ss
Alastair Gibson was born in 1962 near Johannesburg, South Africa. He completed his schooling at the King Edward VII boy's school, followed by two years of compulsory national service in the South...
An innovative reinforced profile for window frames
At the JEC Innovation Awards ceremony last spring in Paris, the representatives of five companies – Bouvet, Lorillard, IDA, Rossi Stamp and OCV™ Reinforcements – were presented with one of the...
MFG: boosting the growth of the wind energy market
In 2007, MFG opened a new manufacturing facility to support GE Energy's growing wind business. (That year, the industry grew by 45%; in 2008, installed generating capacity in the United States...
Blue Hawaiian Fiberglass Pool: leader in Florida
Inground swimming pools do more than provide a place for swimming and having fun. They are a solid investment in property and its value, not to mention a delightful longterm addition to people's...
KNOW-HOW
Formable aligned-fibre composite materials
The challenge facing structural composites is to industrialise manufacturing. The need for new, more compliant materials that can be processed rapidly and cheaply is now recognised as an essential...
High-modulus carbon fibres in super-structural compounds
Carbon fibres are among the most popular reinforcements for polymer-based composites, to be used in all applications where excellent mechanical characteristics are mandatory. Modern composite...
Thank you
You just used 1 credit. You have left.