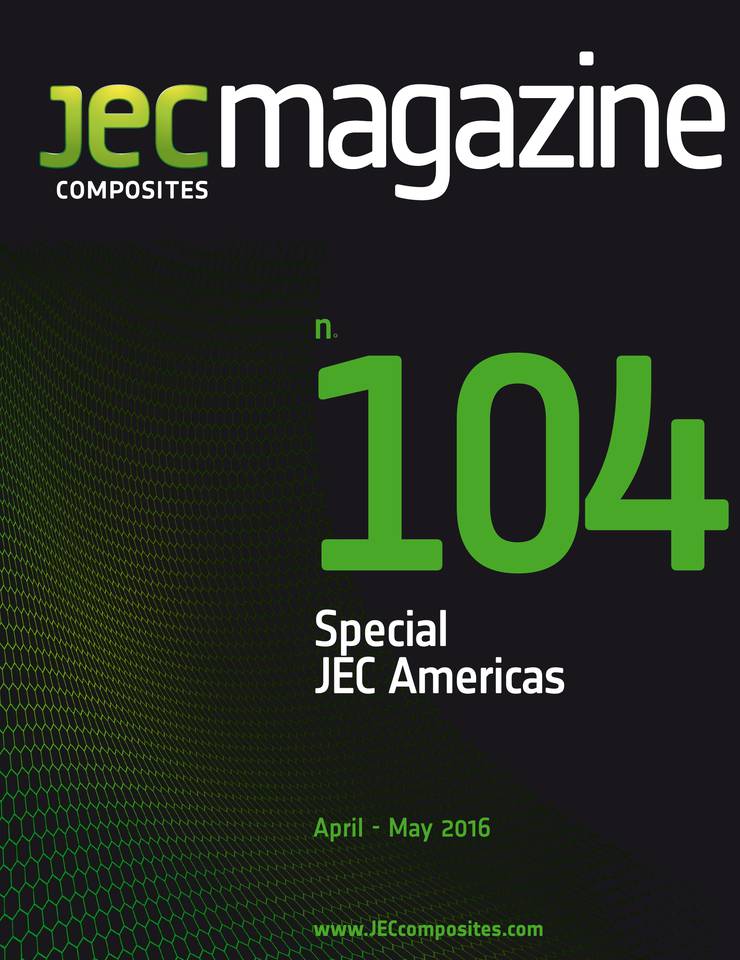 JEC Composites Magazine
N°104 - april 2016
Preview
JEC Composites Magazine is the point of contact of the international Composites Community, 6 times a year, with topics covering scientific information, business, technology, manufacturing, and application sectors trends.
In each and every issue, readers will learn about the entire composites industry value chain (from raw materials to application markets), and be inspired with current and future innovations.
The six sections of the magazine consist in:
NEWS: with interviews, articles about business development (M&As, appointments, partnerships and collaborations, awards etc.).
BUSINESS: with articles covering trends and markets, focusing on a specific country or region, with the composites market, or the application markets, or the companies strategies etc. in that country or region, and a startup focus.
MANUFACTURING: with articles about production processes and processing equipment.
FEATURE: an in-depth overview of a specific topic (typically an application sector), plus a JEC World Preview in April/May and Review in June/July.
SOLUTIONS: composites around us, with articles showing how composite materials are being used in applications which impact our everyday lives.
TECHNOLOGY: with articles about developments in materials, testing and control, repair, joining, design and simulation, recycling and reuse, R&D.
Enjoy your reading!
Contents
Encouraging initiatives that promote international trade in composites
""America cannot have a growing economy or lift the wages and incomes of our citizens unless we continue to reach beyond our borders and sell products, produce, and services to the 95% of the world's...
Read More
N°104 - april 2016
EDITO
Encouraging initiatives that promote international trade in composites
""America cannot have a growing economy or lift the wages and incomes of our citizens unless we continue to reach beyond our borders and sell products, produce, and services to the 95% of the world's...
POINT OF VIEW: THAILAND SMILES AT COMPOSITES
"We estimate the growth of Thailand's composite market to be around 10% in 2015"
Thanks to its dynamic economy and population of nearly 70 million, Thailand is a country of some weight – not only in the ecosystem of the Association of Southeast Asian Nations (ASEAN), which was...
COMPANIES & BUSINESS
DARPA selects Aurora to build VTOL X-plane technology demonstrator
Aurora Flight Sciences announced that the Defense Advanced Research Projects Agency (DARPA) has awarded the company the prime contract for Phase 2 of the Agency's Vertical Takeoff and Landing...
Jason Adams is appointed President of Lectra North America
Based in Atlanta, Georgia, United States, and reporting directly to Daniel Harari, Lectra CEO, Jason Adams' main objective will be to develop Lectra's presence in the United States, Canada and Mexico...
SGL Group bundles activities in the field of fibres and materials for composites
Since the beginning of this year, the composites business of SGL Group and the activities of SGL Automotive Carbon Fibers, the joint venture between SGL Group and BMW Group, have been bundled in a...
UTC Aerospace Systems opens advanced materials laboratory in Connecticut
The company opens its state-of-the-art Materials and Process Engineering (MPE) laboratory in Windsor Locks, Connecticut, UTC Aerospace Systems is a unit of United Technologies Corp. The MPE lab has...
Albany International to acquire advanced composites business
The company has agreed to acquire Harris Corporation's composite aero-structures division for total consideration of $210 million including the assumption of a $23 million capital lease. Harris had...
Automated Dynamics awarded DOE Hydrogen Project
The company will be leading a $1.5 Million program sponsored by the U.S. Department of Energy (DOE) to help advance fuel-cell and hydrogen technologies. Specifically, the Offices of Energy Efficiency...
Liberty Hall acquires AIM Aerospace for US$220m
The private equity firm focuses exclusively on investments in businesses serving the global aerospace and defense industry, announces the acquisition of AIM Aerospace, an independent supplier of...
APPLICATIONS
Innovative CFRP seat dome for new generation of eBikes
An innovatively designed seat dome was developed for a new generation of electric bicycles, using the CFRP braiding technology. Electric bike users are always looking for the next interesting...
From Olympic catamarans to high-tech composite components for industry
Marstrom Composite is a small and flexible manufacturer of high-performance carbon composite articles. The company started as a marine supplier and is now firmly established in other segments such as...
Collapsible carbon fibre travel guitar
Journey Instruments, the creator of the Overhead series of collapsible travel guitars, introduces a new series of coloured-top carbon fibre models to its line of collapsible travel guitars. These...
MARKET
How Industry 4.0 affects the composite production landscape
The change of production systems within the media-effective Industry 4.0 will affect the composite manufacturing sector due to enormous productivity increase potential. The Aachen Center for...
To develop its carbon production, China faces many challenges
China is a big consumer of carbon fibres. These are then re-exported mainly in the form of finished parts, especially for the sports & leisure sector. However, even with all the country's carbon...
SPECIAL JEC AMERICAS 2016
17th lnternational JEC Conferences: Knowledge and networking MAY 3RD - MorningKEYNOTE STAGE
⏵ May 3 rd - 10:30 am Novelties in thermoset resins - Challenges of the glass fibre industry Sponsored by: ● Advanced epoxy technologies ● Use and outlook in...
JEC Innovation Awards Program: a bright future for carbon fibre and thermoplastics
With 8 prizes and over 20 involved companies total, the JEC Americas 2016 Innovation Awards Competition aims to reward the best projects over a wide variety of subjects covering the whole value chain....
Is the oil and gas market a bust?
The global oil and gas industry, one of the largest industries worldwide, is undergoing a turbulent situation. Crude oil has been the worst performing commodity in recent years, causing a terrible...
"There are many unique opportunities here for composites companies"
Brunswick Landing, Maine's centre for innovation is the business hub of the former Naval Air Station Brunswick (NASB) base property. The Midcoast Regional Redevelopment Authority (MRRA) is in charge...
"We tend to focus on materials behaviour vs large-scale mechanical engineering"
While the state of Maine (USA), through the Midcoast Regional Redevelopment Authority (MRRA), is currently working on reindustrialising the Brunswick area, we met with the Director of the Composites...
RESEARCH & DEVELOPMENT
Self-healing cross-ply laminates – encouraging test results
Understanding and increasing the lifespan of composite materials is vital for wider adoption. Fatigue-induced microcracks can cause failures and are hard to detect and repair. Testing has demonstrated...
Automated path planning and thermographic monitoring for automated fibre placement
Therm-O-Plan utilizes path planning capabilities within the process monitoring system of fibre placement processes. A new methodology for knowledge-based path planning is being developed to reduce...
Susceptors improve microwave curing technology for thermosetting resins
The use of microwaves to initiate the curing process of resins is well known. Liquid resins that cure at high temperatures need an increase in temperature to start the polymerization reaction and...
TECHNOLOGIES & INNOVATIONS
New technology for long fibre compounds
Coperion GmbH, Stuttgart, is expanding its offering in the area of long fibre technology for the European and Asian regions. In cooperation with ProTec Polymer Processing GmbH in Bensheim, Coperion...
Efficient prepreg processing with speciality papers
Hockey sticks and skis are not the products that leading global papermaker Sappi is usually associated with. However, Sappi's speciality paper Algro® Sol was also developed to support the manufacture...
Multimaterial joining of steel inserts with continuous fibre-reinforced thermoplastics
Macro-textured metal inserts were successfully integrated in a one-step thermo-stamping/overmoulding process to yield highly structural assemblies. The technology, which has the potential for...
A new step in automotive manufacturing
iStream® Carbon – the chassis technology used for the Yamaha "Sports Ride Concept" sports car project – was shown for the first time at the 2015 Tokyo Motor Show. The "Sports Ride Concept" is an in-...
Manufacturing with wood-plastic composites
What do product designers and plastics manufacturers need to know about working with wood-plastic composites? The material selection process usually begins with a new idea for a product, or an idea...
COMPOSITES IN THE WORLD
Composites challenge
VertiGo is a wall-climbing robot that is capable of transitioning from the ground to the wall, created in collaboration between Disney Research Zurich and ETH. The robot has two tiltable propellers...
The elegance
Marea is just four millimetres thick at its edge yet is immensely strong due to its carbon construction. No conventional material has the strength to allow such a structure to take the stresses of...
Thank you
You just used 1 credit. You have left.