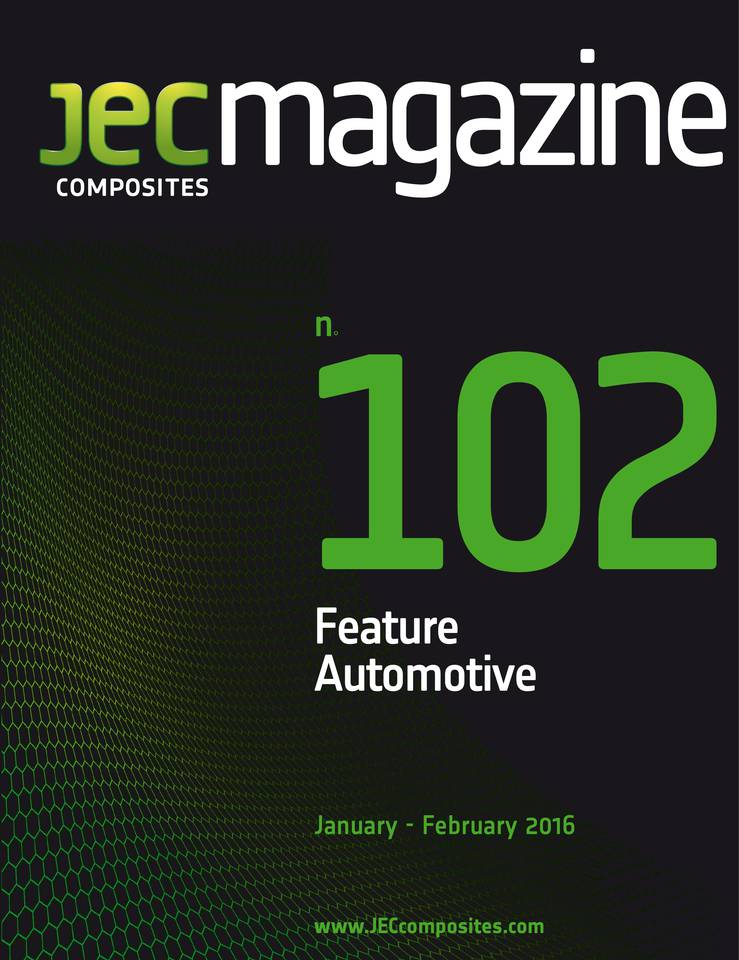 JEC Composites Magazine
N°102 - january 2016
Preview
JEC Composites Magazine is the point of contact of the international Composites Community, 6 times a year, with topics covering scientific information, business, technology, manufacturing, and application sectors trends.
In each and every issue, readers will learn about the entire composites industry value chain (from raw materials to application markets), and be inspired with current and future innovations.
The six sections of the magazine consist in:
NEWS: with interviews, articles about business development (M&As, appointments, partnerships and collaborations, awards etc.).
BUSINESS: with articles covering trends and markets, focusing on a specific country or region, with the composites market, or the application markets, or the companies strategies etc. in that country or region, and a startup focus.
MANUFACTURING: with articles about production processes and processing equipment.
FEATURE: an in-depth overview of a specific topic (typically an application sector), plus a JEC World Preview in April/May and Review in June/July.
SOLUTIONS: composites around us, with articles showing how composite materials are being used in applications which impact our everyday lives.
TECHNOLOGY: with articles about developments in materials, testing and control, repair, joining, design and simulation, recycling and reuse, R&D.
Enjoy your reading!
Contents
Cycle times at the heart of the issue
"As the automotive sector enters into some rough times, lowering vehicle weight is more than ever a central issue, and even a necessity. Lower weight appears to be the one solution for reaching...
Read More
N°102 - january 2016
ÉDITO
Cycle times at the heart of the issue
"As the automotive sector enters into some rough times, lowering vehicle weight is more than ever a central issue, and even a necessity. Lower weight appears to be the one solution for reaching...
POINT OF VIEW: ADDITIVE MANUFACTURING
Aurora Flight Sciences, composites materials conqueer the skies
Founded in 1989, Aurora Flight Sciences is primarily specialised in aeronautics research and construction of Unmanned Aerial Vehicles (UAV). During the 2015 Dubai Airshow, the company released the...
COMPANIES & BUSINESS
A compact line for carbon recycling will be installed at Institute für Textiltechnik in Augsburg
Dilo Group, a manufacturer of innovative and productive machines and production systems for non-woven applications, decided to set up a compact line for carbon fibre recycling at Institut für...
Plastic Omnium inaugurates a development center in Tokyo
This center, which groups together 80 people, is designed to support Plastic Omnium's growth among Japanese automotive manufacturers. It houses the design and management of the development of new...
Toray will build integrated production line for carbon fibre in the U.S.
The new agreement extends the comprehensive agreement that was signed in November 2005 by more than 10 years from this year. The total value of prepreg Toray Group will supply for both 787 and 777X...
DSM Composite Resins to be renamed Aliancys
Earlier this year DSM announced a partnership with CVC Capital Partners (CVC). This involved the formation of a holding company and the start of the DSM Composite Resins business as a separate...
Polynt launches production line in Germany
The company has invested in its German location near Frankfurt in a new production line fully dedicated to manufacturing of carbon fibre reinforced SMC for serial applications. Polynt is a specialist...
Covestro, Saertex and Hübers develop a technology to produce 45 meter-long spar cap for wind power rotor blades
Companies produced a prototype of a 45 meter-long spar cap. The spar is the core of the structural framework and has to accommodate the full wind load. Together with Saertex, a manufacturer of non-...
Aerion and Airbus announce expanded collaboration on supersonic AS2
With joint engineering efforts accelerating on the Aerion AS2 supersonic business jet program, Aerion and Airbus Group announced a new agreement that will expand North American-based Airbus Group...
APPLICATIONS
Hybrid, lightweight, armour project
The LightArmour project is a collaboration between seven partners over 27 months with the main goal of bringing an innovative alternative to traditional armour systems through the use of a combination...
Carbon fibre suspension part for motorcycles
With the added benefit of being suitable for multiple motorcycle models, this new suspension part has the particularity of being used for both the front and rear suspensions of a motorcycle. Created...
MARKET
2015, a year rich in new developments
There clearly has been a lot of activity in our industry this year. Its future in terms of volume has never been so rosy in the context of our obligations for CO2 emission reduction, with the...
FEATURE AUTOMOTIVE
Could the recent use of CFRP by German carmakers announce a take-off of CFRP?
Inovev is an analysis and information platform fully dedicated to the automotive industry. It analyses the vehicle market and all the innovations coming up in the global automotive industry, looking...
Automotive lightweighting with natural fibre-reinforced solutions
What if you could reduce part weight by 5% or more, maintain mechanical performance, and even use more sustainable materials in the construction of your vehicles? A new natural fibre-reinforced...
A proven solution for lightweight motorsport and road car bodywork
North Thin Ply Technology's thin plies are now used in a wide range of applications such as motorsports, marine/yachting, sports & leisure, aerospace and luxury goods. North Thin Ply Technology (NTPT)...
Thermoplastic Material Toolbox
In the future, lightweight design will become more important for ecological and sustainable mobility due to the shortage of resources, especially fossil fuels. Therefore, new design concepts and high-...
New PUR matrix triples energy absorption potential
Covestro, formerly Bayer MaterialScience, has developed a new Baydur® matrix system for carbon fibre structural components in cars that has three times the energy absorption potential of comparable...
Composite materials ready to replace aluminium in internal combustion engines
In the next 3-5 years, the first cylinder housings manufactured from polymer composite materials could be introduced into passenger car and motorbike engines, replacing the aluminium components...
Fit for large series
Automotive supplier Fritzmeier relies on HP-RTM technology from KraussMaffei to manufacture carbon fibre-reinforced components. More than 65 HP-RTM machines from KraussMaffei are already on the market...
RESEARCH & DEVELOPMENT
Nanofibre veils for high-performance composites
Revolution Fibres has developed Xantu.Layr™, the world's first commercially available nanofibre interleaving veil. Xantu.Layr™ has been shown to improve the fracture toughness (delamination...
A miracle in trace: Too good to be true! But it is truly true
Trace, the sum of the diagonal components of the stiffness matrix of composites, is the one and only one material property that is needed to determine not only the stiffness of laminates but also...
TECHNOLOGIES & INNOVATIONS
ln-process force and temperature monitoring while drilling composites
Machining operations are frequently used in the manufacture of fibre-reinforced plastics parts as a corrective operation to produce well-defined, high-quality surfaces that often require the removal...
Quality assessment of composites
The glass and carbon fibre industry continues to grow rapidly and into many new applications. A key quality characteristic of composite materials is the bond strength between fibre and matrix. This...
Intelligent automation of the preforming process
Driven by technological innovations and new applications, the composite market is expected to show growth worldwide in the foresee-able future. The use of composite materials in the transportation...
Thermoplastic composites production by room-temperature vacuum infusion
The CANOE technical platform recently produced the largest thermo-plastic composite boat ever manufactured by vacuum-assisted resin infusion at room temperature. This 9-metre long pirogue opens the...
Modern vacuum technology for resin infusion in yacht construction
Galeon motor yachts are up to 25 m long, with major components such as the hull, the deck and the superstructure constructed of glass fibre-reinforced plastic. The material is either hand-laminated or...
Thank you
You just used 1 credit. You have left.