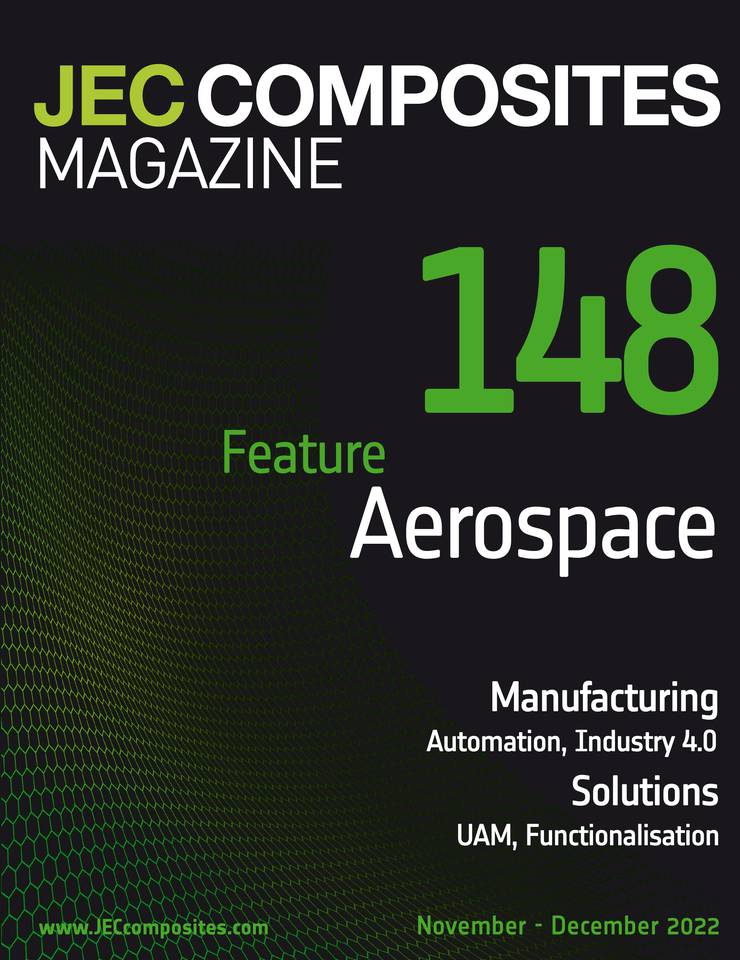 JEC Composites Magazine
N°148 - november 2022
Preview
JEC Composites Magazine is the point of contact of the international Composites Community, 6 times a year, with topics covering scientific information, business, technology, manufacturing, and application sectors trends.
In each and every issue, readers will learn about the entire composites industry value chain (from raw materials to application markets), and be inspired with current and future innovations.
The six sections of the magazine consist in:
NEWS: with interviews, articles about business development (M&As, appointments, partnerships and collaborations, awards etc.).
BUSINESS: with articles covering trends and markets, focusing on a specific country or region, with the composites market, or the application markets, or the companies strategies etc. in that country or region, and a startup focus.
MANUFACTURING: with articles about production processes and processing equipment.
FEATURE: an in-depth overview of a specific topic (typically an application sector), plus a JEC World Preview in April/May and Review in June/July.
SOLUTIONS: composites around us, with articles showing how composite materials are being used in applications which impact our everyday lives.
TECHNOLOGY: with articles about developments in materials, testing and control, repair, joining, design and simulation, recycling and reuse, R&D.
Enjoy your reading!
Contents
A new era of sustainable aviation
"Demand for air travel is recovering. Boeing's 2022-2041 Commercial Market Outlook forecasts a market value of US$7.2 trillion for new aircraft deliveries, with the global fleet increasing by 80%...
Read More
N°148 - november 2022
FROM THE EDITORIAL TEAM
A new era of sustainable aviation
"Demand for air travel is recovering. Boeing's 2022-2041 Commercial Market Outlook forecasts a market value of US$7.2 trillion for new aircraft deliveries, with the global fleet increasing by 80%...
MOVING COMPOSITES FORWARD
"We are working to strengthen our ability to provide solutions to our customers"
Elected as new President and CEO of Teijin Limited, Akimoto Uchikawa has replaced Jun Suzuki at the head of the Japanese group, one of the world's leading manufacturers of carbon fibre, aramid and...
NEWS
Boston Materials announces new headquarters in Billerica
The custom designed facility provides a manufacturing footprint that can support nine-digit revenues, enabling tremendous production scale, and will also create a significant number of new jobs to...
Collins Aerospace opens new facility at the Houston Spaceport to support future space exploration
Collins Aerospace inaugurated a new, 120,000 square-foot facility located at the Spaceport in Houston, Texas. An anchor tenant at the Houston Airport System's newly created space hub, Collins will...
National manufacturing centre for internationally certified FRP composite bridges officially opened in South Australia
Nick Champion MP, South Australia's Minister for Trade and Investment, Minister for Housing and Urban Development and Minister for Planning, officially opened this state-of the art manufacturing...
Aerospace: cautious enthusiasm for advanced thermoplastic composites
Has the time come for high performance thermoplastic composites to truly realise their potential in the aerospace sector? Industry leaders believe advances in thermoplastic composites technologies are...
BUSINESS
"We are committed to developing products that reflect our conscious consumption philosophy"
By developing a wood-based composite material, Dongnam Realize is making both plastic replacement and carbon sequestration a reality through the largescale industrialization of sustainably-managed...
Major carbon fibre industry chain to be developed in the Northeastern Jilin province
Jilin City has been designated a new carbon fibre national industrialization industry model area as well as an R&D and production base for large-tow carbon fibre. The aim is to develop a solid...
Emphasis on the large-tow market
Jilin Tangu underlines that the production rollout of large tows can reduce the space needed for manufacturing and better expand the downstream market supply. The company is committed to the...
MANUFACTURlNG
lndustry 4.0 offers increased traceability and reduced waste
The world of composites has never been smarter. The introduction of Industry 4.0 makes it possible to manage product life as efficiently as possible, to offer smarter solutions for supply chain...
lndustrialising hydrogen through high-volume tank manufacturing
Automated filament winding lines are helping to make hydrogen a viable alternative to fossil fuels in the automotive and aerospace markets. Cygnet Texkimp combines high-speed filament winding and...
FEATURE
Repairable composites based on epoxy vitrimer for aeronautics
The AIRPOXY project proposes a new generation of intrinsically repairable composite materials based on an epoxy vitrimer to reduce production and MRO costs in the aeronautics industry. Due to their...
The lnnovative lnfusion Airframe Manufacturing System (llAMS)
Along with Airbus Defence and Space, MTorres developed an AFP lay-up system for dry fibre that can be used with high-temperature hot forming and infusion technologies. This project was recognized as...
Large-scale high-rate automated composite deposition
Loop Technology are at the forefront of developing machines to automate the preforming process for large-scale composite structures at a high rate. The latest iteration of their conformal pick-and-...
Recyclable thermoplastic panel for cabin interiors
Diab has developed a 100%-recyclable thermoplastic (TP) panel for cabin interiors to meet the challenges of the aerospace market. The thermoplastic panel offers 10% weight savings compared to typical...
LAILA: an innovation incubator paving the way for serial lightweight production
A joint project between Helmut Schmidt University Hamburg and CTC GmbH, the lightweight technology and innovation centre at Airbus, is called LAILA, Laboratory for Intelligent Lightweight Production....
SOLUTlONS
Supporting the demanding needs of the UAM market
Solvay has a rich heritage in aerospace and automotive markets and has witnessed the evolution of people and cargo mobility trends first hand while playing a key role in supporting the transition to...
Seamless integration of solar film in FRP materials
The development of components for battery electric vehicles (BEV) is governed by many criteria related to energy, materials, and cost issues, as well as environmental requirements. The integration of...
TECHNOLOGY
Application of basalt rock-based materials in the automotive industry
This article presents the characteristics of basalt-based materials, their possibilities and their prospects for widespread application in the automotive industry, including for the production of...
SMART, an innovative rotomoulding technology solution
Founded in 1976, Persico is a world leader in manufacturing techniques and equipment for many different sectors, including rotational moulding. Through the SMART® technology, launched in 2013, Persico...
Advanced Technologies Lab for Aerospace Systems (ATLAS): a multi-disciplinary manufacturing ecosystem
Launched at the beginning of 2019 and employing over 100 research engineers and student technicians, the Advanced Technologies Lab for Aerospace Systems (ATLAS), Wichita State University's National...
Thank you
You just used 1 credit. You have left.