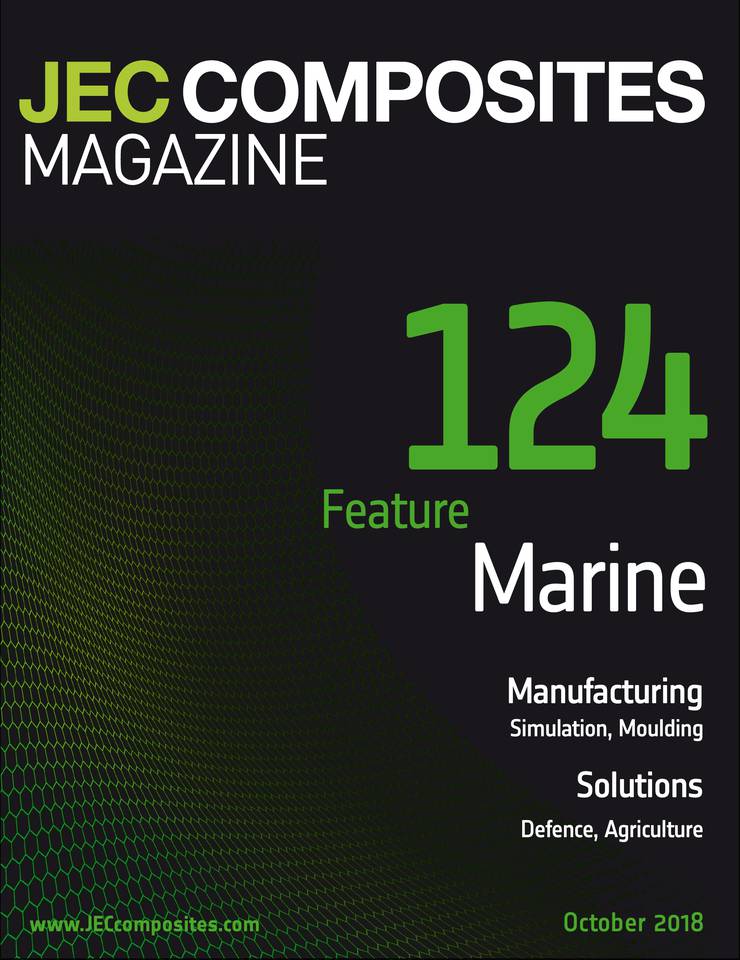 JEC Composites Magazine
N°124 - october 2018
Preview
JEC Composites Magazine is the point of contact of the international Composites Community, 6 times a year, with topics covering scientific information, business, technology, manufacturing, and application sectors trends.
In each and every issue, readers will learn about the entire composites industry value chain (from raw materials to application markets), and be inspired with current and future innovations.
The six sections of the magazine consist in:
NEWS: with interviews, articles about business development (M&As, appointments, partnerships and collaborations, awards etc.).
BUSINESS: with articles covering trends and markets, focusing on a specific country or region, with the composites market, or the application markets, or the companies strategies etc. in that country or region, and a startup focus.
MANUFACTURING: with articles about production processes and processing equipment.
FEATURE: an in-depth overview of a specific topic (typically an application sector), plus a JEC World Preview in April/May and Review in June/July.
SOLUTIONS: composites around us, with articles showing how composite materials are being used in applications which impact our everyday lives.
TECHNOLOGY: with articles about developments in materials, testing and control, repair, joining, design and simulation, recycling and reuse, R&D.
Enjoy your reading!
Contents
A sector that fosters innovation
"When speaking of the marine sector, we need to define what is a very large field. It includes all types of boat, of course (for fishing, pleasure, cruising, ferrying, freight, work in general and...
Read More
N°124 - october 2018
EDITOR
A sector that fosters innovation
"When speaking of the marine sector, we need to define what is a very large field. It includes all types of boat, of course (for fishing, pleasure, cruising, ferrying, freight, work in general and...
OPlNlON
"Composite materials allow a high degree of functional integration"
Based in Bordeaux in France's Gironde region, Gazelle Tech makes ultra-lightweight vehicles made of composite mate-rials. The cornerstone of this innovation is the automotive chassis technology based...
NEWS
Great Wall Motor and BMW have signed a joint-venture agreement
Witnessed by China-Germany government officials, Great Wall Motor Company Limited (GWM) and BMW signed a joint-venture (JV) agree-ment in Berlin. Named Spotlight Automotive and based in the Jiangsu...
Agility provides CNG products to the Indian vehicle market
Agility Fuel Solutions, a global provider of clean fuel solutions for medium- and heavy-duty commercial vehicles, and Advantek Fuel Systems, India's provider of natural gas solutions to Indian...
China's AVIC and Jiangsu Hengshen jointly develop a solar-electric drone program
The Aviation Industry Corporation of China (AVIC) is pursuing a solar-electric, long-endurance unmanned aerial vehicle (UAV) development program called Qimingxing (Venus). AVIC has partnered with...
Ashland opens composites research and development technical service center in Shanghai
The center will streamline and efficiently manage the formulation and testing of composites materials while reinforcing commitment to innovation and sustainability. The center will leverage global...
Teijin to acquire Inapal to expand European automotive business
The shares of Inapal will be purchased by Teijin Holdings, the Teijin Group's holding company in the Netherlands. Inapal, headquartered in Leca do Balio, Porto, Portugal, is a Tier One supplier of...
2018 October
Digimat Users' Conference October 8-11 Prague, Czech Republic www.e-xstream.com GOCarbonFibre 2018 October 9-11 Berlin, Germany www.gocarbonfibre.com Eco-plastic industry: go with bio-based or...
November 14th - 11:00 am Carbon fibre
International Carbon Festival Conference in partnership with : 11:00 am From applied science to composite industrialization, Prof. Dr.-Ing. Klaus Drechsler, Professor, TUM 11:20 am Design and...
JEC Asia 2018 Conference Programme
At JEC Asia 2018, the conferences will cover a wide spectrum of the composite offer. They will begin a focus on carbon fibre with the International Carbon Festival including presentations from CTC -...
November 15th - 9:00 am Automotive
Automotive composite application for structural parts 9:00 am Needs for plastic composite materials for future, Dr Jonghyun Kim, Senior Research Engineer, Hyundai Motor Group 9:25 am Multi-scale...
November 16th - 9:00 am Aeronautics
Aeronautics: 53% and beyond 9:00 am Dry fiber in automated composites lamination, Jesús Bravo, Key Account Manager , M. Torres Diseños Industriales SAU 9:25 am Revolutionizing production of...
FRIDAY 16TH OF NOVEMBER 2018 November 16th - 1:00 pm Business opportunities
Business opportunities (Raw materials, Process, Application, Countries, Region) 1:00 pm To be confirmed, David-Pierre Jalicon, CEO, Architect DPLG, FKCCI, DPJ & Partners 1:15 pm Entering the digital...
BUSINESS
Carbon fibre production in the north of Sweden
Many industries such as the automotive, aeronautics and wind energy sectors are looking for new solutions to produce carbon fibre with a minimum footprint. Northern Sweden happens to have Europe's...
Robot density rising globally
In its latest report released early February 2018, the International Federation of Robotics (IFR) underlines the continued global growth of robotics, expressed in terms of density, i.e. number of...
MANUFACTURING
Challenges for a greener aircraft
Weight savings and volatile organic emissions reduction are issues often debated nowadays in the transport sector. The goal of aircraft manufacturers is to achieve green aircrafts, which means to...
Reduce testing costs by accurate and efficient multiscale modeling
In the recent years multiscale modeling of composite materials has become a viable solution to reduce the amount of physical testing needed for accurate material characterization, and to better assess...
Radical change in composite moulding
Reusable alternative replacement of consumable vacuum membranes (vac bagging) for composite vacuum moulding continues to become more popular as moulders realize they are able to potentially pay for...
Process optimization for high-temperature aerospace applications
Nowadays, the aircraft parts that are installed in zones subjected to temperatures between 200°C and 400°C are almost entirely metallic. Alloys based on aluminium, titanium and steel dominate these...
FEATURE
A carbon fibre composite propeller for a passenger ship
The sea trials for a composite propeller one metre in diameter took place at Lorient, France on 19 March 2018. The propeller served to drive the passenger ship Le Palais, with a capacity of 286...
Equipping Indian vessels with advanced composite technology
The modernisation of the Indian fleet needs to be complemented with a rapid advancement in Equipment onbard. For years, the Indian Navy has relied on premier government research institutes (DRDO) and...
A real alternative to conventional "hot" structural repairs
The use of ColdShield, the bonded composite product developed by Paris-based Cold Pad, to repair corroded offshore deck plating received the DNV GL Approval in Principle (AiP), which confirms that the...
World's first 3D-printed yacht with carbon fibre-reinforced thermoplastic compounds
The Lehvoss Group, of which Lehvoss North America is a member, and its parent company Lehmann&Voss&Co of Hamburg, Germany, are partnering with Italian boatbuilder, Livrea Yacht, to build the world's...
A long polar adventure
Led by Sébastien Roubinet and sponsored by the French company Resoltech, a project to reach the North Pole by sailboat provided the opportunity to test the combination of Resoltech's 1050 room-...
ETS Rafale II student team builds carbon/epoxy C-Class hydrofoil catamaran
A team of 16 undergraduate and MSc. engineering students from the ÉTS (École de Technologie Supérieure) in Montréal, Canada, recently finished building Rafale II, an all-composite C-Class racing...
Testing composites for the marine industry
R-TECH Materials, an award-winning UK polymer and composites laboratory, is celebrating its tenth year of testing composites for the marine industry. The Port Talbot-based laboratory has worked with...
Developing a competitive RTM manufacturing process for oversized one-shot parts
The desire to team up a group of regional partners with various areas of expertise to address contemporary issues around indus-trial production led to Hobit, a project to develop a new process for the...
New research study into discontinuous-fibre composite tubes
NTPT™, specialists in Thin Ply prepregs, preforms and parts as well as leaders in automation, are collaborating with the Ecole polytechnique fédérale de Lausanne – Swiss Centre of Technology (EPFL)...
SOLUTlONS
The flexible dispenser for bigbags
Established in February 2017, the Austrian company Fledbag markets an epony-mous product that provides a solution to what is a daily issue for farmers: how to empty their bigbags easily, rapidly and...
Trolley-mounted ballistic shield system enables superior manouvrability for elite forces
To enhance mobility while delivering maximum protection against a range of potential enemy threats, Morgan Advanced Materials has developed a lightweight, highly mobile trolley system to complement...
Flax gains ground in composite materials
In early summer 2017, the world's largest flax-fibre-reinforced composite part was produced and installed in Paris by Multiplast-Groupe Carboman. The façade cladding, 23 metres long and 8 metres high,...
To infinity and beyond
Obayashi is considered to be one of the world's leading construction companies, with notable projects that include the Hoover Dam Bypass Project, the Dubai Metro Project, the high-speed railway in...
An eye in the stars
SkyVision's MT astrograph with high-performance structure is the latest instrument to be designed and developed in the SkyVision facilities. The lightweight, high-performing MT (Mobile Telescope)...
TECHNOLOGY
Mechanical performance of laminated palm and coir fibre-based bio-composites and hybrids
Fabrication methods combining a laminating process, hand lay-up and compression moulding were developed and utilised to manufacture bio-composite specimens from naturally-sourced fibres such as palm...
Glass-matrix carbon-reinforced materials: from Formula One to missile airframes
The MCM ITP project aimed at developing and assessing the glass-matrix carbon-reinforced PyroKarb materials from Pyromeral Systems to achieve a specific thermo-mechanical performance requirement at...
Thank you
You just used 1 credit. You have left.