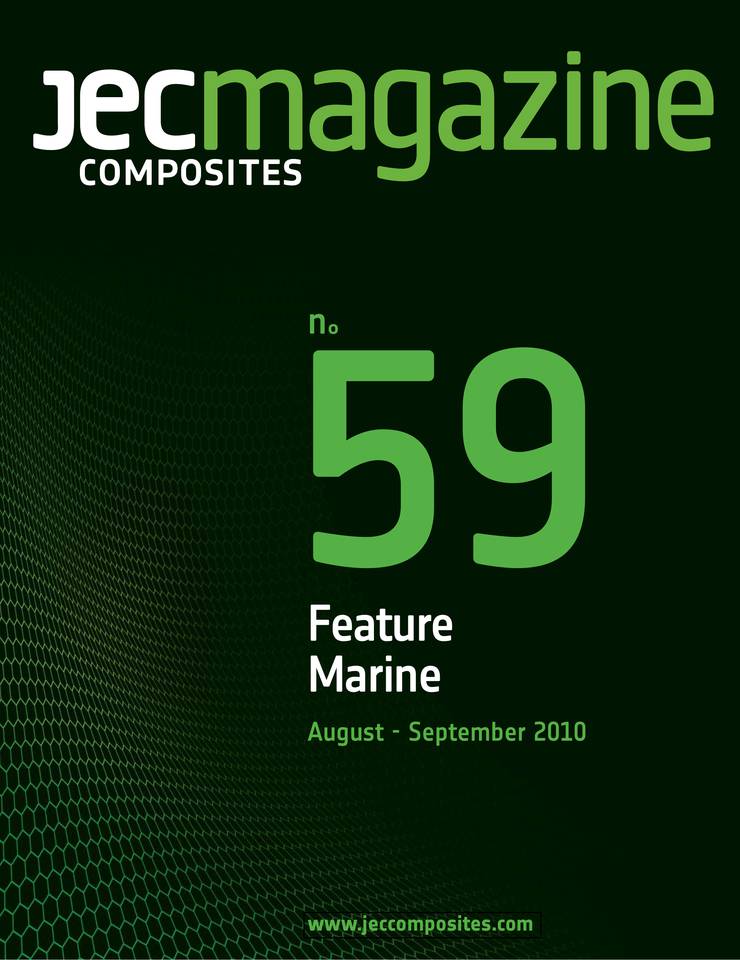 JEC Composites Magazine
N°59 - august 2010
Preview
JEC Composites Magazine is the point of contact of the international Composites Community, 6 times a year, with topics covering scientific information, business, technology, manufacturing, and application sectors trends.
In each and every issue, readers will learn about the entire composites industry value chain (from raw materials to application markets), and be inspired with current and future innovations.
The six sections of the magazine consist in:
NEWS: with interviews, articles about business development (M&As, appointments, partnerships and collaborations, awards etc.).
BUSINESS: with articles covering trends and markets, focusing on a specific country or region, with the composites market, or the application markets, or the companies strategies etc. in that country or region, and a startup focus.
MANUFACTURING: with articles about production processes and processing equipment.
FEATURE: an in-depth overview of a specific topic (typically an application sector), plus a JEC World Preview in April/May and Review in June/July.
SOLUTIONS: composites around us, with articles showing how composite materials are being used in applications which impact our everyday lives.
TECHNOLOGY: with articles about developments in materials, testing and control, repair, joining, design and simulation, recycling and reuse, R&D.
Enjoy your reading!
Contents
Composite materials: more surprises in store for us
That composite materials can still surprise us was demonstrated once again on July 7 with the experimental Solar Impulse aircraft's first night flight. The airplane stayed aloft for a total 26 hours,...
Read More
N°59 - august 2010
EDITORIAL
Composite materials: more surprises in store for us
That composite materials can still surprise us was demonstrated once again on July 7 with the experimental Solar Impulse aircraft's first night flight. The airplane stayed aloft for a total 26 hours,...
COMPANIES
Mergers and acquisitions
Goodrich Corporation acquires Crompton Technology Group Goodrich Corporation has acquired UK-based Crompton Technology Group, Ltd. (CTG), a leading designer and manufacturer of advanced carbon fibre...
Development
Magna Composites to create 327 new jobs North Carolina's Governor Bev Perdue announced on 15 June 2010 that auto parts supplier Magna Composites LLC plans to expand three plants in the western part of...
Agreements and partnerships
LAP wins order from Airbus Airbus commissioned LAP, the German specialist in laser-based measuring and projection technology, to provide 220 laser projection systems. Airbus will use the laser...
A global competition for breakthrough composite applications
Composites App Challenge solicits ideas to tackle some of the world's biggest issues in infrastructure, transportation and renewable energy. Owens Corning launched a global competition to find new...
INNOVATIONS
Phenolic prepreg products for interior applications
Lewcott Corporation has recently introduced new prepreg products and adhesives targeting a variety of interior applications and manufacturing processes. The new and improved prepregs extend the...
BUSINESS
Yuan Long FRP broadens its range of skills beyond pultrusion
Yuan Long FRP's core activity is pultrusion. It has also opened up to SMC/BMC, however, moving into a number of markets outside of its field of choice, mobile communications. Created in November 1993,...
Shanghai Tung Hsing Technology: steady growth through diversified markets
Led by its founder, Shanghai Tung Hsing Technology continues to pursue the growth it started fifteen years ago. The processor relies on its robust technical skills and market diversification for its...
Bio-based polymers: a revolutionary change
Limited fossil resources, their growing cost, public concern about climate change, and important breakthroughs in white biotechnology and related polymer technologies are all significant drivers to...
Kenaf, a fibre for the future: the Harusmas experience
Like other natural fibres, kenaf is arousing a growing interest, and not just on the part of stakeholders in the composite industry. As the environment becomes not only a major concern but also a...
Mechanical properties of natural-fibre-reinforced composites
Natural fibres are now considered as a suitable alternative to glass fibre, due to their advantages, which include low cost, high strength-to-weight ratio, and recyclability. Combining natural fibres...
FEATURE MARINE
Wave impact resistance of racing yacht composites
Repeated wave impact is a critical loading condition for racing yacht design. A test that was initially used to compare materials has been further developed to provide quantitative results and input...
Regatta racing at the highest level
YSA Yacht Design & Building introduces the new Competition Cat 30 catamaran developed with vacuum infusion resins. Y SA Yacht Design & Building, Wasserburg, Germany has always had the ambition to...
Flame-retardant adhesive for power packs in marine applications
Bonding technologies are now widely used in all types of industries. Adhesive innovation is focusing not only on improving mechanical properties, but also on integrating additional functions like...
FEATURE
Validation of marine structures – Testing approaches
This paper presents some of the tests and controls used to validate high-performance marine structures. The materials used to manufacture these structures are mainly carbon/epoxy composites with...
New styrene-free resin: better for Catamaran Cruisers and the environment
For more than 30 years, Catamaran Cruisers has been making houseboats that are highly affordable, durable, stable, manoeuvrable and fuel efficient. Now, Catamaran Cruisers is the first company in the...
Presaturated wipes reduce VOC emissions
European regulations require the reduction of VOC emissions, as they contribute to global warming. Presaturated solvent wipes is one solution that can be found in the market. As industrial companies...
48 days, 7 hours, 44 minutes around the world!
Technology transfers have become a reality in the world of composites. For the case in point, aerospace technologies have been applied successfully to ocean racing, resulting in a sailboat...
USERS' PLATFORM
Composites in the world Yin Yang tt aa bb ll ee
The Yin Yang table top is constructed from prepreg carbon fibre on an MDF core. BCL Manufacture AB used an RC 200 twill cloth, with the Yin Yang sign cut from unidirectional fibres and oriented at...
A prefabricated FRP composite bridge for the oil and gas industry
Canadian Mat Systems and Composite Advantage collaborated on a new FRP raised drill platform to offer oil and gas companies the possibility to suspend an entire drilling operation above ground and...
Low-cost structural thermoplastic composites for transport
Processes and materials have been developed to successfully manufacture very large structural components using a novel liquid thermoplastic composite (TPC). This technology has been proven with the...
Making modular bus body shells from composite materials
This technical paper deals with the development of a body shell mainly made of GFRP materials for small buses (19 to 34 passengers). The main goal was to substitute the monocoque design with a more...
Tougher fire-rated bus parts thanks to intumescent topcoat
Wright Composites manufactures a range of passenger vehicle FRP parts to demanding quality standards, high mechanical performance levels and stringent fire resistance specifications. To achieve all...
KNOW-HOW
Composite bonders – meeting the requirements of modern engineering
Today's structural adhesives not only need to combine good adhesion onto lightweight composite structures with long-term durability, but also comply with modern healthand-safety standards. Adhesives...
ESTRIM – a fast-demoulding injection technology for epoxy composites
The Cannon Group recently announced the development of ESTRIM – a fastdemoulding injection technology for epoxy resin-based composites for automotive and other mass-production markets. Lightweight...
Thank you
You just used 1 credit. You have left.