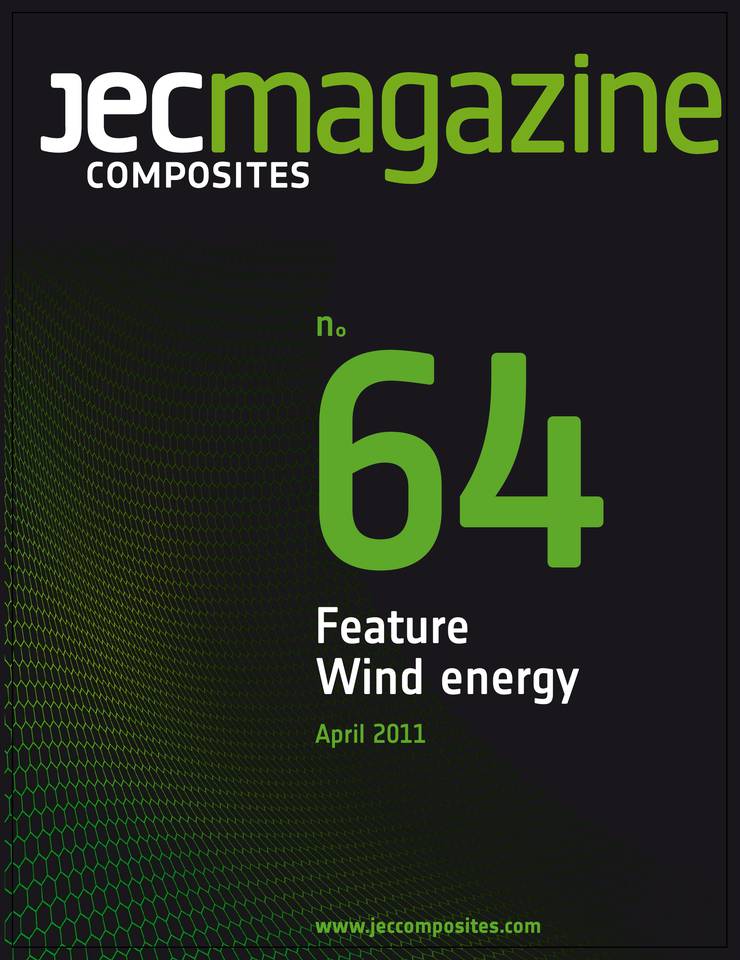 JEC Composites Magazine
N°64 - april 2011
Preview
JEC Composites Magazine is the point of contact of the international Composites Community, 6 times a year, with topics covering scientific information, business, technology, manufacturing, and application sectors trends.
In each and every issue, readers will learn about the entire composites industry value chain (from raw materials to application markets), and be inspired with current and future innovations.
The six sections of the magazine consist in:
NEWS: with interviews, articles about business development (M&As, appointments, partnerships and collaborations, awards etc.).
BUSINESS: with articles covering trends and markets, focusing on a specific country or region, with the composites market, or the application markets, or the companies strategies etc. in that country or region, and a startup focus.
MANUFACTURING: with articles about production processes and processing equipment.
FEATURE: an in-depth overview of a specific topic (typically an application sector), plus a JEC World Preview in April/May and Review in June/July.
SOLUTIONS: composites around us, with articles showing how composite materials are being used in applications which impact our everyday lives.
TECHNOLOGY: with articles about developments in materials, testing and control, repair, joining, design and simulation, recycling and reuse, R&D.
Enjoy your reading!
Contents
Knowlegde & Networking
"The announcement of the launch of JEC Americas in Boston (USA) on January 2011, the recent second edition of the ICERP-JEC Innovation Awards programme held in Mumbai on 3 March, followed on in rapid...
Read More
N°64 - april 2011
EDITOR'S
Knowlegde & Networking
"The announcement of the launch of JEC Americas in Boston (USA) on January 2011, the recent second edition of the ICERP-JEC Innovation Awards programme held in Mumbai on 3 March, followed on in rapid...
POINT OF VIEW: FAST EXPANSION
Oxeon spreads tows and business
Founded in 2003 in Sweden, Oxeon is specialised in Spread Tow Reinforcements. This company recently won the "Supergasell" price from the Swedish financial newspaper "Dagens Industri" as the fastest-...
COMPANIES & BUSINESS
THÈME Corima Technologies has lofty ambitions
In mid-December, Corima Technologies (Loriol, France) delivered to Aircelle (Safran group) the first part to be processed in its new large-sized resin baths and oven: an electroformed nickel lay-up...
Red Composites: a real expertise in carbon fibre
Red Composites is based in the UK (Isle of Wight) and also in mainland China (Shandong). With extensive experience in prepreg manufacturing and composite material development, the company provides...
Housetec: a young company with a background of 40 years' experience
The construction sector, and in particular finishing and fittings, accounts for a significant share of the composites market in Japan. Over time, certain players have risen to the top, such as...
Hua Dong Fibreglass, an SME that exports worldwide
Hua Dong Fibreglass is proof that you do not have to be a multinational to export and capture distant markets. Product offerings, know-how and quality are by far the best publicity! Located in...
APPLICATIONS
Creative eye-catching design for a new Sheraton hotel
3B - the fibreglass company (Belgium), together with its Italian partners P.C.R. Srl and architects King Roselli Architetti (Italy), have won the prestigious JEC Innovation Award 2011 in the...
Multiplast builds the Groupama VO70
The recent holder of the Jules Verne trophy, Franck Cammas and his partner Groupama, have signed on with the Multiplast shipyard to build a 21-m monohull for the next team event, the 2011-2012 Volvo...
ICERP - JEC Innovation Awards Programme 2011: eight companies rewarded
For the second time, composite companies operating in India were invited to take part in a competition aiming to promote innovation. Stemming from a partnership between the ICERP-FRP Institute team...
MARKET
Latest appointments
Michelman strengthens its new global fibers & composites business unit Mr. Wenqing (Allen) Zhu has been hired to fill the position of Business Development Manager, Asia Pacific. Mr. Zhu will be based...
Rossignol Group : innovation and performance in winter skis applications
The ski has long been a "tool of transport" for man, based on a simple wooden structure with a variety of types and shapes. Today, it is a highly sophisticated structure designed for competitive sport...
FEATURE WIND ENERGY
WebCore Technologies: great ambitions in the wind industry
The wind industry has aroused a great deal of interest on account of its strong growth worldwide. Not a day goes by without a new project being announced. Yet competition is fierce and business is not...
New rovings for wind turbine blade applications
AGY recently introduced S-1 HM™ high-performance rovings for use in wind turbine blade applications. S-1 HM fibres were designed to offer superior value performance in the highly competitive wind...
Prepreg spar caps: a solution for today!
Hexcel recently initiated a design study with Aerodyn Energiesysteme GmbH to evaluate the weight-saving implications of producing wind blade spar caps from prepreg rather than the resin infusion...
Industrial software for manufacturing large components such as wind blades
A new version of PAM-RTM was developed to meet a growing need in the wind energy and aeronautical industries that need to manufacture higher-quality parts in less time while the complexity and size of...
Leveraging an end-to-end solution for composite wind turbine blades
As they are getting increasingly longer, wind turbine blades need to be stiffer and lighter to avoid cracks from fatigue loading and to help lower foundation construction costs. Current development...
Manufacturing rotor blades with highest precision while reducing costs
Better quality, reduced costs, higher accuracy, time-saving and simplicity – what sounds like a fantasy for production managers is now possible by laser specialist LAP. LAP is the first provider of...
A fully-automated manufacturing process for wind blades
GAMESA Innovation & Technology and M. Torres are the winners of the JEC innovation Awards 2011 in the Wind Energy category. They have teamed up to develop fully-automated equipment for the manufacture...
An innovative, certified blade repair system
Gurit was among this year's finalists in the Wind Energy Category of the JEC Innovation Awards for its Renuvo™ GL-certified blade repair system. The JEC Innovation Awards reward the best composite...
RESEARCH & DEVELOPMENT
Using nano-scratch testing to detect composite failure
Composite materials are more and more commonly used in a growing number and variety of applications. Material health testing, measurement and control needs are also increasing significantly,...
Processing technology for the rapid production of advanced composites
The drive to reduce composite part production cycle times has led to a growing interest in out-of-autoclave processing, which offers the opportunity to maintain part quality while significantly...
TECHNOLOGY & INNOVATIONS
Robotic machine helps reduce energy consumption
Automated Dynamics successfully built and installed a new robotic fibre placement machine for Mitsubishi Rayon Co. (MRC) and the University of Tokyo in Japan. The machine will support research and...
A new industrialized construction process for transport infrastructures
The Trans-IND project focuses on a new industrialized construction process for transport infrastructures based on polymer composite components. The project is co-funded by the European Commission...
Tape laying and fibre placement: complementary solutions
Since 1984, Forest-Liné has been developing a broad range of automatic tape-laying and fibre-placement systems. These technologies are intended mainly for the aerospace sector, which uses carbon-...
What's new in non-destructive testing labs?
Composites are now being used in critical components. Non-Destructive Testing (N.D.T.) methods have therefore been adapted in order to accommodate the specific features of these materials. JEC joined...
Rapid prototype composite tooling
In an effort to make composite manufacturing more economical, Leon Fainstein P.Eng., an instructor of the Mechanical Engineering Technology department (MET) at Red River College, and MET student Serge...
Thank you
You just used 1 credit. You have left.