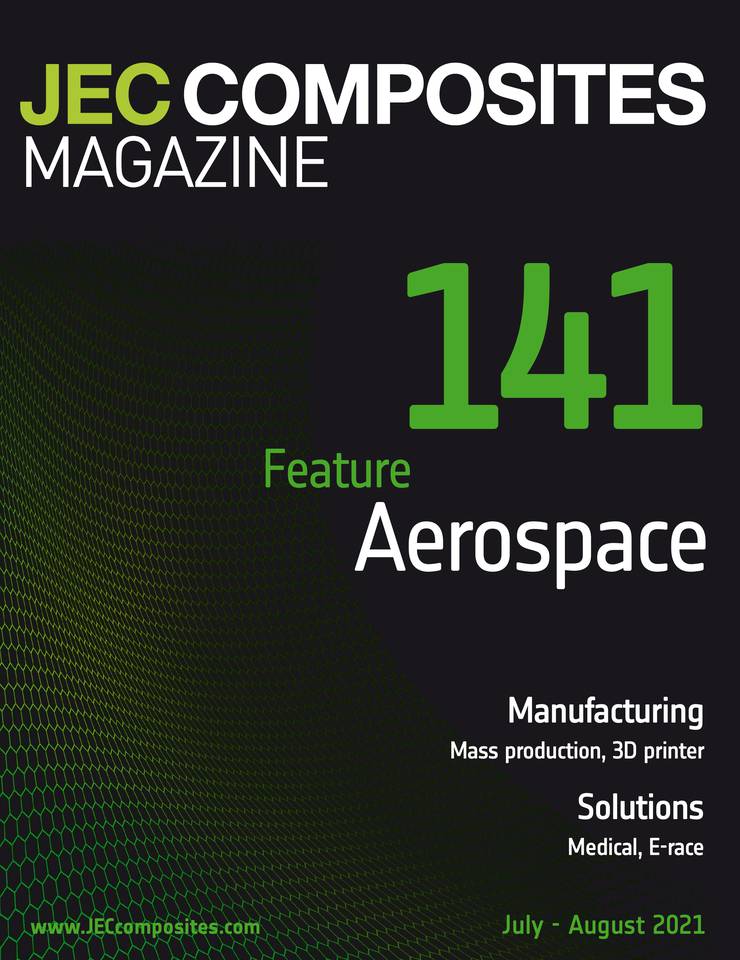 JEC Composites Magazine
N°141 - july 2021
Preview
JEC Composites Magazine is the point of contact of the international Composites Community, 6 times a year, with topics covering scientific information, business, technology, manufacturing, and application sectors trends.
In each and every issue, readers will learn about the entire composites industry value chain (from raw materials to application markets), and be inspired with current and future innovations.
The six sections of the magazine consist in:
NEWS: with interviews, articles about business development (M&As, appointments, partnerships and collaborations, awards etc.).
BUSINESS: with articles covering trends and markets, focusing on a specific country or region, with the composites market, or the application markets, or the companies strategies etc. in that country or region, and a startup focus.
MANUFACTURING: with articles about production processes and processing equipment.
FEATURE: an in-depth overview of a specific topic (typically an application sector), plus a JEC World Preview in April/May and Review in June/July.
SOLUTIONS: composites around us, with articles showing how composite materials are being used in applications which impact our everyday lives.
TECHNOLOGY: with articles about developments in materials, testing and control, repair, joining, design and simulation, recycling and reuse, R&D.
Enjoy your reading!
Contents
Aerospace: Challenges and dreams
"Faced with growing awareness of global warming and pressure from civil society, commercial aeronautics manufacturers are reconsidering their model: new fuels, novel designs, thermoplastic composites,...
Read More
N°141 - july 2021
ÉDITORIAL
Aerospace: Challenges and dreams
"Faced with growing awareness of global warming and pressure from civil society, commercial aeronautics manufacturers are reconsidering their model: new fuels, novel designs, thermoplastic composites,...
MOVING COMPOSITES FORWARD
« Composite material development hould b tailo ed t irec a plica ion"
Headquartered in Plano, Texas, Toyota Motor North America, Inc. (TMNA) is a holding company of sales and manufacturing subsidiaries of Toyota Motor Corporation in the United States, Canada, and...
NEWS
Airbus opens Aerospace Integrated Research and Test Centre
AIRTeC is a £40 million, state-of-the-art research and testing facility jointly funded by the Government's ATI programme and Airbus. Covering more than 10,000m2 of gross internal floor space - the...
JEC Composites Connect 2021 : a premiere for our industry
From June 1st to 3rd, 2021, JEC Composites Connect, first round-the-clock digital trade show and conference dedicated to the composites industry, has been a unique meeting place to discover...
BUSlNESS
Bio-based building blocks for high performance materials
Founded in 2016, Checkerspot is a high-performance materials company that designs materials at a molecular level. The company optimizes microbes to bio-manufacture unique structural oils discovered in...
The reality of natural fibre markets and research paving the way to valorization (Part 1)
Flax, hemp and other natural fibres are part of the solution for the transition towards sustainable development. Their variety provides new properties that make them stand out from the crowd. And yet,...
"We will emerge much stronger from the pandemic"
German major polymer producer Covestro established the development of its Maezio continuous fibre-reinforced thermoplastic composites in China. We spoke with Lisa Ketelsen, head of thermoplastic...
MANUFACTURlNG
Material & machine for complex composites manufacturing
Minimizing production cost and component weight in complex composite parts is often a mutually exclusive challenge. However, major advancements in Tailored Fibre Placement (TFP) technology and high-...
Flow field dynamics in pultrusion injection boxes
Injection boxes offer various benefits in pultrusion regarding the reaction speed of resins as well as reduction of volatile emissions for traditional materials. To leverage these benefits, IKV is...
Development of an innovative composite 3D printer
In the ever-expanding 3D printer market, there is an increasing presence of 3D printers capable of forming composite materials such as carbon fibre-reinforced polymers (CFRP). Toray Engineering is...
FEATURE
COMAC displays its ambitions in both conventional and green aviation industries
Over the next decades, China will ultimately establish a conventional aviation industry. Meanwhile, the country can overtake its Western counterparts in developing the green aircraft of the future,...
Optimfloor, designing the future of aircraft floor structure
The Optimfloor concept is a composite floor structure designed to replace metallic seat tracks with composite stiffeners that are integrated directly into the floor panels. JEC Composites Magazine:...
A new perimeter for Airbus' aerostructure business
The aeronautics manufacturer is reorganizing its aerostructure business and appears to be reconsidering certain decisions made at the end of the 2000s. Growing environmental pressure and the need to...
Optimized sealing in aircraft production
Protecting the environment while reducing costs – only a few of existing dispensing processes in the aerospace industry are state of the art. Dispensing technology, in association with sealing...
PVT device: characterizing volumetric and linear deformations of composite materials
At midway between a dilatometer and a calorimeter, the PVT (Pressure Volume Temperature) device provides composite manufacturers with a reliable way to determine the properties of materials to help...
Taking off after the pandemic: the Italian aerospace industry
In an article about the aerospace industry published a year ago, we examined the early impact of the Covid-19 pandemic on the sector and how, in a very short time, the effects were already dramatic...
Fabric turret unwind delivers continuous prepreg production
In the last decade, Cygnet Texkimp have designed and supplied more than 30 UD and fabric thermoset prepreg lines to the aerospace, auto-motive and industrial markets. This uncompromising attention to...
SOLUTlONS
The City, a new competitive backdrop
The first official eScooter race is soon to be organised by eSkootr Championship. The goal? To promote a new electric motorsport through a race across urban terrain. The race organisers recently...
Composites for medical applications are opening up new horizons
According to a recent study by Quince Markets Insights based in Pune, India, the global composites market is projected to grow with a compound annual growth rate of 5.2% until 2028. With the global...
TECHNOLOGY
Analysing the output data of Eddy current sensors using Artificial Intelligence for quality assurance of carbon fibres
The rise of carbon fibre reinforced plastics throughout its fields of application has given place to numerous innovations in its production process. Eddy current sensors for quality assurance of...
Comparative study of competitive magnesium oxide samples for SMC/BMC composites
Selecting a suitable thickening agent is extremely important to produce high-quality SMC/BMC composites, the most common agents being oxide magnesium and hydroxide magnesium. Russian Mining Chemical...
Rapid-cure epoxy formulations for next-generation composite manufacturing
Rapid materials processing, in conjunction with advanced automation, is predicted to be the future of high-volume composite manufacturing. A recent research breakthrough demonstrates novel, scalable...
Thank you
You just used 1 credit. You have left.