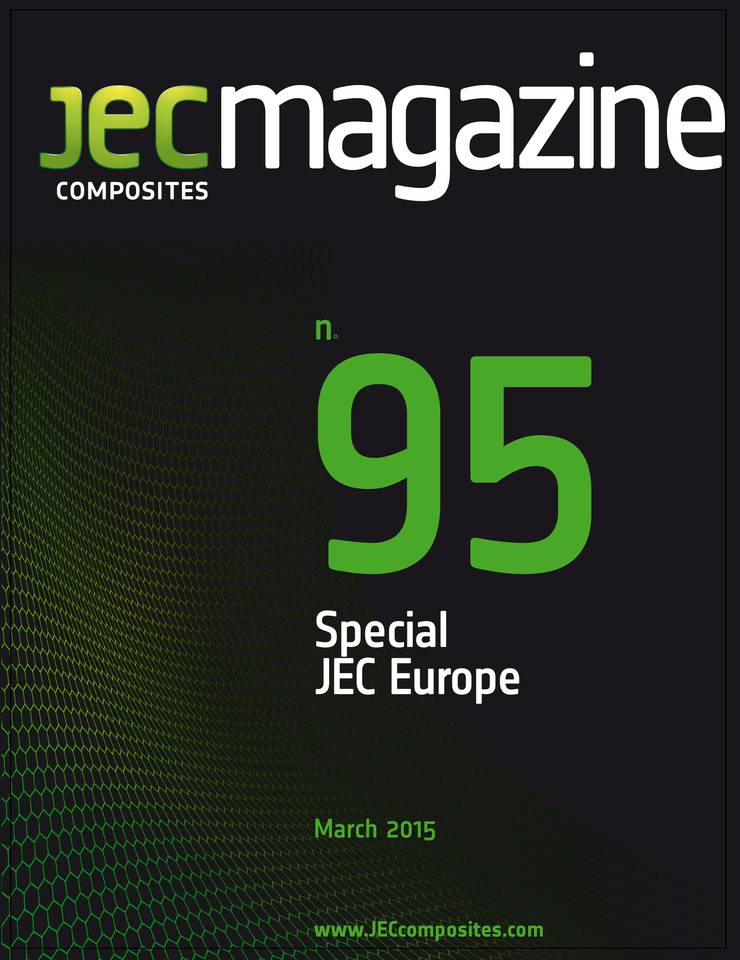 JEC Composites Magazine
N°95 - march 2015
Preview
JEC Composites Magazine is the point of contact of the international Composites Community, 6 times a year, with topics covering scientific information, business, technology, manufacturing, and application sectors trends.
In each and every issue, readers will learn about the entire composites industry value chain (from raw materials to application markets), and be inspired with current and future innovations.
The six sections of the magazine consist in:
NEWS: with interviews, articles about business development (M&As, appointments, partnerships and collaborations, awards etc.).
BUSINESS: with articles covering trends and markets, focusing on a specific country or region, with the composites market, or the application markets, or the companies strategies etc. in that country or region, and a startup focus.
MANUFACTURING: with articles about production processes and processing equipment.
FEATURE: an in-depth overview of a specific topic (typically an application sector), plus a JEC World Preview in April/May and Review in June/July.
SOLUTIONS: composites around us, with articles showing how composite materials are being used in applications which impact our everyday lives.
TECHNOLOGY: with articles about developments in materials, testing and control, repair, joining, design and simulation, recycling and reuse, R&D.
Enjoy your reading!
Contents
Lightweight, environmentally friendly composites
"In a world where energy savings and recyclability are sought, composites seem to stand out as one of the best solutions. So we are going to see a flourishing sector represented at the 2015 JEC Paris...
Read More
N°95 - march 2015
EDITO
Lightweight, environmentally friendly composites
"In a world where energy savings and recyclability are sought, composites seem to stand out as one of the best solutions. So we are going to see a flourishing sector represented at the 2015 JEC Paris...
POINT OF VIEW: STRATEGY
"We are an engineering-led company, founded by engineers"
Saertex's success is firmly established. However, the company, just like others, has to meet certain challenges and think ahead in order to ensure its future. In this context, we asked Bruno Lammers,...
COMPANIES & BUSINESS
"I am confident in the future of Zhongfu Shenying"
Zhongfu Shenying Carbon Fiber Co., Ltd. is a subsidiary of China Composites Group Co., Ltd. that belongs to China National Building Material Group Co., Ltd. – one of the world's top 500 enterprises,...
" Composites are going to be more important again with the batteries…"
At the last JEC Asia trade show on 17-19 November in Singapore, we spoke with Alain Prost, four-time world champion and current Renault ambassador. He is still very involved in competition, especially...
APPLICATIONS
Evaluating the viability of thermoplastic composite pressure vessels
To address issues with high-pressure hydrogen storage vessels, a U.K. consortium has worked on a thermo-plastic composite alternative. The team designed an unreinforced rotomoulded acetal liner...
Epoxy adhesive for a Harley-Davidson motorbike
An innovative epoxy adhesive provides the ideal solution to bond the composite tank shells and the metal front airings of a highly exclusive new Harley-Davidson motorbike. Odyssey Motorcycles was in...
New GRP enclosure for extreme environments
Intertec's Diabox range of instrumentation protection solutions welcomes a new addition in the form of a two-part box, specifically adaptable for extreme environments. The Diabox 277 allows for a...
MARKET
The European upturn continues
The European composites market is having trouble reaching its record volumes of 2007, although almost all European countries experienced a slight rise in their 2014 composite production compared to...
Glass fabrics demand will grow
Carbon has made a remarkable breakthrough in the composites industry over the past few years. However, glass fibre shows that it still has a very strong potential. Parabeam is credited with bringing...
Securing the supply of technical flax for the composite industry
FiMaLin is an association that is open to companies, technical centres and laboratories that are concerned by the issue of developing a sufficient, secure supply of high-quality technical flax fibres...
SPECIAL JEC EUROPE 2015
12th lnternational JEC Conferences: Knowledge and networking
⏵ March 10 th - 10:00 am «Mechanical behavior of composites» in partnership with: 10:00 am⏵ Serial production of tailored complex 3D preforms based on Fiber...
Know-how to develop tomorrow's lightweight production technology
Three years after it was founded, the Germany-based AZL Aachen GmbH, together with the Aachen Centre for Integrative Lightweight Production AZL of RWTH Aachen University, counts more than 50...
JEC Innovation Awards Program 2015 Life achievement Award
Stephen Tsai, Emeritus Professor Steve graduated from University of YALE 1961, and is currently a research Professor at Stanford University (Aeronautics and Astronautics department), Chief Scientist...
Innovations report 2015: France, country guest of honor Raw materials
Automotive Flaxpreg: a composite reinforced with very long flax fibres > Booth D67 Flaxpreg is a green and lightweight thermoset sandwich material reinforced with very long flax fibres that can be...
Composites Rhône-Alpes: a local composite network of innovative companies
For the 2015 JEC Composites Europe trade show in Paris on 10-11-12 March, Composites Rhône-Alpes initiated an original public relations exercise to present the companies in its network that are...
Making stone lighter and stronger with Pierre de Lin®
"Le Monde de la Pierre" (The World of Stone) is a specialist in the custom cutting and marketing of all types of materials, including natural stone. Created in 2005 by Laurent Beaurin, the company is...
Automated production lines for high-strength fibre-reinforced composites: a market requirement
The demand for high-strength composite parts is growing steadily and this should accelerate in the coming years thanks to the aviation and automotive industries in Europe. Indeed, the automotive...
Automated placement of inserts in composite sandwich panels
RUAG Space, a leading European supplier of space products, has a revolutionary new insert and process (patent pending) that automates the process for placing inserts in composite sandwich panels for...
Tool inspection mode capability on 5-axis machining
Diversified Machine Systems, a manufacturer of DMS CNC Routers, and their partner, Fagor Automation, announce new features such as the Tool Inspection Mode available on Fagor 8065 CNC Controls, which...
A revolutionary range of polycrystalline diamond (PCD) tooling blanks
The low machining speed and high wear rates of current tooling solutions limit the production capacity of today's carbon fibrereinforced plastics (CFRP) components. In 2014, Element Six (E6) launched...
Composite materials: unlocking mystery with invariants
A common, understandable invariant-based framework has been discovered that can rate all CFRPs and their processes, simplify design and testing, and lower the barrier of acceptance. ln a speech...
How many tests for composites: 2, 1 or 0?
A master stress-strain template is proposed that can rate all CFRPs and their processes. The two anchors of this template can be determined with data from a [0] panel with at most 2 tests; just like...
RESEARCH & DEVELOPMENT
Study on short natural fibres for composites
Reinforcing injection-moulded plastics with short natural fibres is a topical issue. The objective is to at least partially replace glass fibres to obtain lighter, more environment-friendly parts....
Adhesion between flax fibre and a biobased thermoset matrix
Epoxies are the thermoset resins most commonly used for composites requiring high mechanical performance. An increasing number of partially biobased epoxy resins are available on the market. Generally...
TECHNOLOGIES & INNOVATIONS
Meeting the challenges for lighter cars with innovative products
The European Parliament resolution to reduce average auto-motive carbon dioxide emissions to 95 g/km per car by 2020 will require the development of elec-tric, hybrid and lighter weight vehicles. The...
Carbon composites: Material systems with improved mechanical behaviour for various industries
Currently Carbon Fiber Reinforced Polymers (CFRP) are used in several industries with individual technological and economical challenges. Nevertheless the material utilization for an optimized...
Dynamic Fluid Compression Moulding (DFCM): a new step forward in composite mass production
Huntsman's development of a new epoxy resin system, together with a novel and cost-efficient process for compression moulding, now enables simple manufacture of structural composite parts, with cycle...
Graphene-based high-performance composites via plasma functionalisation
Graphene has significant potential in the production of high-performance composite materials. Structures manufactured from graphene-reinforced composites are considerably stronger and lighter than...
Reformable epoxy adhesive film
L&L Products introduces L-F610, an innovative resin film combining the adhesion and mechanical benefits of an epoxy with the processing speed of a thermoplastic. This amorphous material exhibits...
«We are constantly developing new products»
Sizing is a key element of a good composite. Only few people in the world are experts in this field. Dr. Andrew E. Brink from Michelman is one of them. Let him explain what is the importance of sizing...
Thank you
You just used 1 credit. You have left.