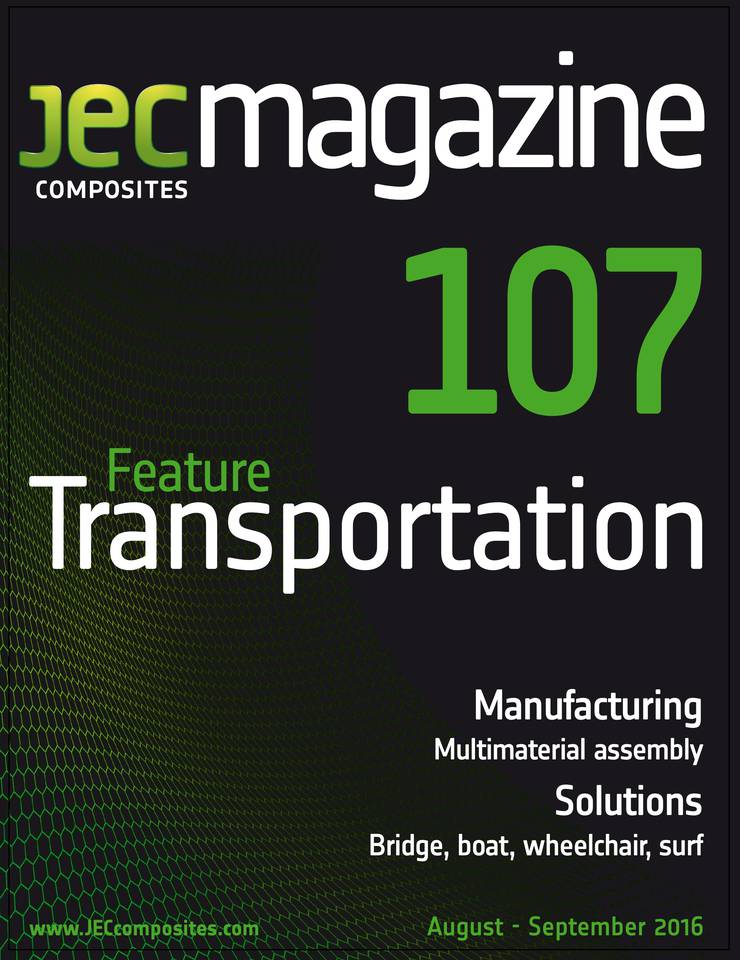 JEC Composites Magazine
N°107 - august 2016
Preview
JEC Composites Magazine is the point of contact of the international Composites Community, 6 times a year, with topics covering scientific information, business, technology, manufacturing, and application sectors trends.
In each and every issue, readers will learn about the entire composites industry value chain (from raw materials to application markets), and be inspired with current and future innovations.
The six sections of the magazine consist in:
NEWS: with interviews, articles about business development (M&As, appointments, partnerships and collaborations, awards etc.).
BUSINESS: with articles covering trends and markets, focusing on a specific country or region, with the composites market, or the application markets, or the companies strategies etc. in that country or region, and a startup focus.
MANUFACTURING: with articles about production processes and processing equipment.
FEATURE: an in-depth overview of a specific topic (typically an application sector), plus a JEC World Preview in April/May and Review in June/July.
SOLUTIONS: composites around us, with articles showing how composite materials are being used in applications which impact our everyday lives.
TECHNOLOGY: with articles about developments in materials, testing and control, repair, joining, design and simulation, recycling and reuse, R&D.
Enjoy your reading!
Contents
More in tune with your concerns
"In our last issue, we spoke of the success of collaborative projects. We touch upon the subject again today, as it were, as we present this No. 107 in a new format. I use the term "collaborative...
Read More
N°107 - august 2016
EDITORIAL
More in tune with your concerns
"In our last issue, we spoke of the success of collaborative projects. We touch upon the subject again today, as it were, as we present this No. 107 in a new format. I use the term "collaborative...
OPINION
"Industrial IoT creates continuous improvement in tomorrow's factory"
CTC Stade (Composite Technology Center GmbH, Stade) operates and simulates Plataine's Industrial Internet Production Optimization solutions and examines the opportunities that reside within...
NEWS
Aston Martin and Dow Automotive Systems form a technical partnership
The partnership will en-able an expansion of their collaborative development efforts. A broader portfolio of Dow solutions will be utilized for Aston Martin production models and race cars. For more...
Generation change in the management of Saertex
As a future-oriented step, Saertex CEO Bruno Lammers is passing the management of family-owned company in non-crimp fabrics and fiber-reinforced composites on to his sons Klaus and Simon Lammers on...
IACMI announces project to reduce cost of carbon fiber automobile structural parts
The Composites Institute, in partnership with Toray Composites America (TCA), announce the launch of a strategic project which aim to decrease cost of carbon fiber automotive structural parts by 15%...
EVENT
Experience Composites 2016 innovations
Below, we invite you to discover some innovations presented by CCeV' members in the field of recycling, medical or placement of fiber. Recycled carbon fibre products make lightweight structures a cost...
New composites for beginners concept
What trade fair concept does this enigmatic name conceal? Visitors can experience what composites make possible, says Prof. Hubert Jäger. And visit companies, manufacturers and research institutes....
Lightweight engineering for all
Since 2007 Carbon Composites e.V. (CCeV) has been bringing together fibre composite companies and research institutes with the aim of introducing carbon and ceramic composites into as many branches of...
BUSINESS
The road to success in carbon composites for the automotive market
Recently, there has been significant focus on developing auto-motive parts using lightweight materials. CAFÉ standards of 54.5 mpg by 2025 and the EU mandate of CO2 emission levels at 95g/km by 2020...
Passenger cars: 4% growth with highly technical challenges
Automobile manufacturers worldwide are subject to increasingly stringent standards on CO2 emissions and pollutants. This is a plus for the planet, one that imposes new technical solutions. Lowering...
MANUFACTURING
New injection moulding process
Continuous fibre reinforced thermoplastics are becoming more and more established in applications for isotropic metallic materials and fibre/plastic composites. One reason is the growing availability...
Multimaterial assembly – issues, problems and solutions
Multi-material assemblies, namely metal structures associated with composite structures, are booming. Indeed, full composite structures for full metal replacement are not always optimal due to thermal...
A path to the future: now is a time for robots
MTorres has been developing robotic solutions for quite some time to meet the growing needs of the aerospace sector. The aerospace industry is increasingly demanding the integration of robots in its...
Real-time tracking of parts & material genealogy improves throughput and quality
Total Production Optimization (TPO) software provides manufactur-ers with process automation and optimization. As a leading of Intelligent Automation Software for advanced manufacturers, Plataine...
Canyon bicycles: a business & technological success
Like a Silicon Valley start-up, Canyon GmbH's story started in a garage – or rather, in a trailer – in 1985. The leading producer of mid-range and high-end bicycles is now generating annual sales of...
FEATURE TRANSPORTATION
How genomics can revolutionize the automotive sector
There is a bright future with advanced biocomposites. Canadian and global manufacturers in the automotive, construction, aerospace, agricultural machinery, and other industries are creating an...
lnnovative approach for non-flammable transparent FRP
Various non-flammability solutions are available for FRP materials, for example the use of halogens, phosphorus or inorganic materials such as ATH or silica, but when a high level of non-flammability...
Specialised dangerous goods tanks for the transport of highly corrosive chemicals
Omni Tanker designs and manufactures composite road tankers for the transport of corrosive chemicals. Omni Tanker developed the A and AB road tankers specifically for highly corrosive chemicals. Omni...
Composite tank container for multimodal transportation systems
A tank container with a PCM (polymer composite material) tank was designed for multimodal container shipping of aggressive substances, chemical and petrochemical products by rail, car and sea...
FEATURE
Thermoplastic composite firewall for the truck market
This paper presents the composite firewall project, which was conducted over five years as a partnership between different players of the thermoplas-tic composites value chain: a chemical company, an...
Composite materials on board the Rio de Janeiro tramway
In preparation for the 2016 Olympic Games, the city of Rio de Janeiro has just installed the first line of the Citadis tramway in order to connect the city's financial centre, the Santos Dumont...
SOLUTlONS
The world's first fully carbon-reinforced concrete bridge
On 23 February 2016, Solidian GmbH received the innovation prize for structural concrete products of the supplier industry for a carbon-reinforced concrete pedestrian and cycle bridge built in 2015 –...
Carbon fibre racing wheelchair for 2016 Paralympic games
A new racing wheelchair provided by BMW of North America uses carbon fibre's lightweight and stiffness properties to offer Paralympic athletes a customizable and more aerodynamic model for the Rio de...
Using recycled carbon fibre for a sustainable racing sailboat
2013 America's Cup winner, Sir Ben Ainslie and his racing team, aim to bring success to the UK by picking up the trophy for the race itself, and by winning it all while being environmentally conscious...
Marine goes Green with bio-based materials
Cobra International, one of the world's leading manufacturers of windsurf, stand-up paddle and surfboard equipment located in Chonburi, Thailand, is gradually shifting all of its composite material...
Carbon prosthesis enhance
Functionality, degree of innovation and symbolic and emotional content are the evaluation criteria for the internationally recognised red dot award. Ottobock proved that the designs made by the...
Composites for
Pirelli is a golden retriever born without his left hind paw. Thanks to Groupon and Canine Assitants, Pirelli will be fitted with a state-of-the-art carbon-fiber paw. Once Pirelli has reached full-...
TECHNOLOGY
Cure kinetics of a fast-cure epoxy with silica nanoparticles
This article describes how the strong exothermic reaction of a fast-cure epoxy can be better controlled with the addition of non-reactive silica nanoparticles, further enhancing the benefits of a fast...
Structural health of polymer composites: non-destructive diagnosis using a hybrid NDT approach
A hybrid non-destructive testing (NDT) approach has been developed to characterize composites damage using simultaneously bulk and guided ultrasonic waves, acoustic emission, and passive and active...
Thank you
You just used 1 credit. You have left.