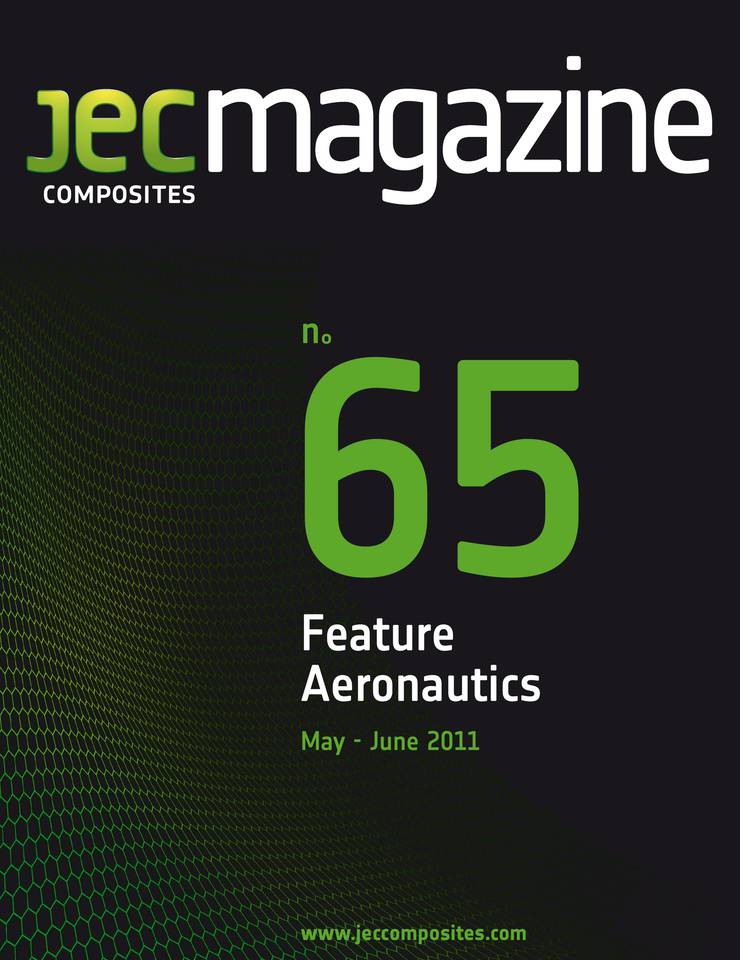 JEC Composites Magazine
N°65 - may 2011
Preview
JEC Composites Magazine is the point of contact of the international Composites Community, 6 times a year, with topics covering scientific information, business, technology, manufacturing, and application sectors trends.
In each and every issue, readers will learn about the entire composites industry value chain (from raw materials to application markets), and be inspired with current and future innovations.
The six sections of the magazine consist in:
NEWS: with interviews, articles about business development (M&As, appointments, partnerships and collaborations, awards etc.).
BUSINESS: with articles covering trends and markets, focusing on a specific country or region, with the composites market, or the application markets, or the companies strategies etc. in that country or region, and a startup focus.
MANUFACTURING: with articles about production processes and processing equipment.
FEATURE: an in-depth overview of a specific topic (typically an application sector), plus a JEC World Preview in April/May and Review in June/July.
SOLUTIONS: composites around us, with articles showing how composite materials are being used in applications which impact our everyday lives.
TECHNOLOGY: with articles about developments in materials, testing and control, repair, joining, design and simulation, recycling and reuse, R&D.
Enjoy your reading!
Contents
Business is booming
"I am, like you too no doubt, still somewhat reeling in the wake of the 2011 edition of the JEC Europe show in Paris this March, the event having been so packed and dynamic. I say packed, since there...
Read More
N°65 - may 2011
EDITORIAL
Business is booming
"I am, like you too no doubt, still somewhat reeling in the wake of the 2011 edition of the JEC Europe show in Paris this March, the event having been so packed and dynamic. I say packed, since there...
POINT OF VIEW: REDUCING THE GAP BETWEEN CARBON AND GLASS
Owens Corning: Enhancing & spreading glass fibre
Owens Corning was a main contributor to the development of composites both in terms of materials and in the education of end users. Recognized worldwide, this glass fibre specialist has seen the...
AGENDA OF EVENTS
In partnership with JEC Composites E-letter
2011 June 11th International Conference on the mechanical behavior of Materials (ICM11) June 5-9 Lake Como, Italy www.icm11.org JEC Conference «Robotics and composites» June 8 Paris, France...
COMPANIES & BUSINESS
The first acrylonitrile project in the Middle East
Saudi Basic Industries Corporation (SABIC), Asahi Kasei Chemicals Corporation and Mitsubishi Corporation signed a strategic Joint Venture Agreement on the 27th of April 2011 to form Saudi Japanese...
Dieffenbacher awarded with major order for Russian hybrid car production lines
The Russian company ё-AUTO (ё is a letter in Cyrillic alphabet pronounced as [yo] ) has placed an order with the German press manufacturer Dieffenbacher for 2 manufacturing lines for the production of...
From "Made in China" to "Created in China"
The 16th Annual International Conference on Fiberglass was organized by Jushi on 4-6 December 2010 at the company's headquarters in Tongxiang, China. Here is a review of this event and an interview...
APPLICATIONS
Linking man to horse
As part of its intensive R&D programme, the BRD Concept engineering and design firm has just launched an equestrian saddle incorporating a revolutionary all-carbon saddle tree. A traditional, top-of-...
Innovative composite solution using production waste
Reprocover and 3B have developed a range of moulded products that are based on a thermoset compound, 50-60% reinforced with Advantex® glass fibre. The products are made using recycled products and...
Composites play critical role in 1.2 million-cubic metre water plant
A new water filtration plant under construction in the Bronx is the centrepiece of the largest single construction project in the history of New York City. The filtration plant is designed to ensure...
MARKET
Purchaser : first step toward the added value
Securing the on-time supply of the required goods and service at the best quality and price is among the challenges a purchaser has to meet. We interviewed a purchaser in the highly competitive...
Carbon fibres: great opportunities but a lot of challenges
Carbon fibres are being used more and more. The automotive and wind energy sectors are likely to experience a dramatic increase in their use. Car manufacturers have begun to develop partnerships in...
Nanomaterials opportunity in composites
Nanomaterial applications are on the rise as manufacturers in a variety of industries are increasingly adopting this versatile material. In 2010, total worldwide nanomaterials represented $1.7 billion...
A second life for composite waste: recycling thermosets by solvolysis
Recycling of thermosets has been a major issue for the composite industry for years. Due to their cross-linked state, thermosets are neither fusible nor soluble and cannot be treated by simple...
Recycling materials from scrapped ski equipment
Skis are multi-material products (metallic & organic) that have forever presented end-of-life problems in mountainous regions. The Tri-Vallées company recently came up with an original response to...
Structural composites based on natural fibres and thermoplastic resins
The demand for new materials is constantly growing in the composite industry. Current research shows that natural fibres are increasingly used in green composites. In fact, they offer a wide range of...
FEATURE AERONAUTICS
Fully-automated production of curved preforms
This innovation won a JEC Award in the Aeronautics category at the Paris JEC Show in March. With this project, Brötje-Automation, well-known in the aeronautics industry, and their three partners...
An innovative aircraft structure produced by RTM using advanced stitched preforms
On 29 March 2011, at the latest JEC Composite Show Europe in Paris, the Latécoère company and its seven partners officially received an Award in the Applications/Aeronautics category for their...
Thermoplastic seatbacks for the aerospace industry
Cutting Dynamics, Inc. (CDI) has developed the most cost-effective means for processing lightweight thermoplastic advanced composite components for seatbacks for the aerospace industry. CDI uses a...
How to optimize manufacturing processes using industrial IT
The aerospace industry is adopting composites in very high proportions. The growing penetration rate of composites in this sector shows no signs of letting up, and with this come certain inherent...
Less is more when developing composite parts for UAVs
Unmanned aerial vehicles (UAVs) have experienced tremendous growth as the value of incorporating remote sensing technologies and weapon systems into pilotless aircraft has become more evident. The...
Composite manufacturing simulation to drive process and design innovation
This article goes through the development process supported by Finite Element (FE) manufacturing simulation applied to two industrial composites parts: an innovative thermoformed clip design developed...
Shearography: an optical testing method for the non-destructive inspection of composite materials
Many of today's high-tech products are made of composite materials which are specifically designed for their targeted applications. In addition to a specialised knowledge of the characteristics of...
Advanced Composite Solutions, a first-rate partner
Advanced Composite Solutions, a medium-sized company, operates notably in the aerospace industry. This company distinguishes itself due to its high flexibility, recognised technical know-how and a...
RESEARCH & DEVELOPMENT
Graphene nanoplatelets: bulk production via chemical expansion
Graphene nanoplatelets were synthesized using chlorosulfonic acid under ambient conditions. A simple treatment of intercalated graphite oxide particles with chlorosulfonic acid resulted in...
Filament-wound GFRP monopost
This paper presents the design process, the structural analysis and the characteristics of a hollow, cylindrical monopost entirely made of composites. This translucent structure is 40 m high, for an...
TECHNOLOGY & INNOVATIONS
The Acell patented SMC process
Until recent technical innovations, SMC moulding technology was only viable for high-volume production due to the high investment required for moulds and presses. The Acell patented sheet moulding...
Innovative D-SMC developments for fibre-reinforced plastics
In conventional SMC processing, semi-finished part production and processing are spatially and temporally separate. Extremely complex logistics and, therefore, financial expenditures are required to...
Load-optimised tailored thermoplastic FRP blanks for mass production
New insights in the processing of continuous fibre-reinforced thermoplastic prepregs allow the eco-friendly production of complex, safety-relevant and high-performance structural components by laser-...
Triaxial fatigue testing platform
AETech is an innovative company which develops its activities in the field of mechanical and material engineering as well as in non-destructive testing by acoustic emission technology. AETech focuses...
An exciting new NDT technique
Thermal Wave Imaging's VoyageIR is based on thermographic signal reconstruction (TSR), TWI's industry-leading signal processing technique, which allows unmatched sensitivity comparable to full-scale...
Chemical- and wear-resistant thermoplastic composites
Haufler Composites is a manufacturer of custom-made semi-products consisting of carbon fabrics and thermosetting or thermoplastic matrices. The company produces high-performance CF/PEEK boards...
Thank you
You just used 1 credit. You have left.