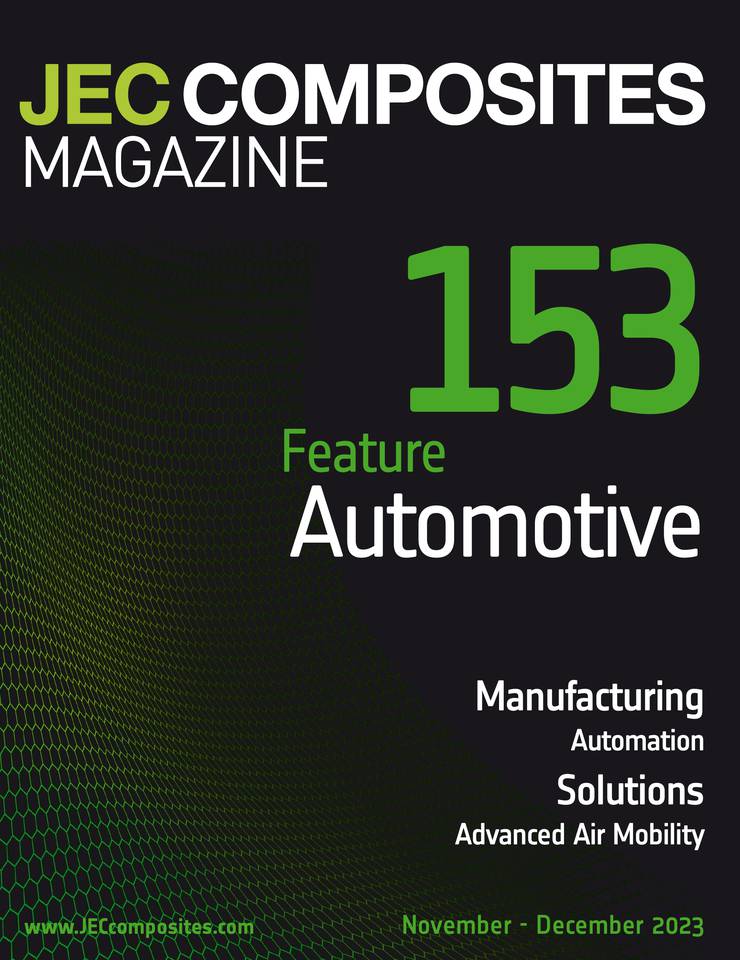 JEC Composites Magazine
N°153 - november 2023
Preview
JEC Composites Magazine is the point of contact of the international Composites Community, 6 times a year, with topics covering scientific information, business, technology, manufacturing, and application sectors trends.
In each and every issue, readers will learn about the entire composites industry value chain (from raw materials to application markets), and be inspired with current and future innovations.
The six sections of the magazine consist in:
NEWS: with interviews, articles about business development (M&As, appointments, partnerships and collaborations, awards etc.).
BUSINESS: with articles covering trends and markets, focusing on a specific country or region, with the composites market, or the application markets, or the companies strategies etc. in that country or region, and a startup focus.
MANUFACTURING: with articles about production processes and processing equipment.
FEATURE: an in-depth overview of a specific topic (typically an application sector), plus a JEC World Preview in April/May and Review in June/July.
SOLUTIONS: composites around us, with articles showing how composite materials are being used in applications which impact our everyday lives.
TECHNOLOGY: with articles about developments in materials, testing and control, repair, joining, design and simulation, recycling and reuse, R&D.
Enjoy your reading!
Contents
When decarbonation of mobility rhymes with composites growth
"Mobility, as a global requirement and a vital necessity, is becoming increasingly diverse. The coming legislations to decarbonate mobility, in general, and individual transportation, in particular,...
Read More
N°153 - november 2023
FROM THE EDlTORIAL TEAM
When decarbonation of mobility rhymes with composites growth
"Mobility, as a global requirement and a vital necessity, is becoming increasingly diverse. The coming legislations to decarbonate mobility, in general, and individual transportation, in particular,...
MOVlNG COMPOSITES FORWARD
"Our NAWAStitch technology helps create a virtually unbreakable new composite material"
The French startup developped for a decade a thoroughly new oriented research on carbon fibre-reinforced composites. Now has come the time for harvest and industrialisation stage of their pionneer...
NEWS
Technology & lnnovation
Composite-railway transoms to replace timber transoms A University of Southern Queensland and Austrak collaboration is right on track after a team of engineering experts travelled to Adelaide to...
Highlights and quality networking at the lnternational Composites Summit
The lnternational Composites Summit (lCS) was a focused event, characterised by valuable conversations. The seminar programme had a strong focus on sustainability and innovation, with updates from...
BUSlNESS
«We develop a solution that helps reduce harmful formaldehyde emissions»
Agrona is an innovating company working on green based composites to manufacture chipboards, which account for 60% of the global wood-based panel products. After 6 years of R&D in the field of...
Business opportunities for composites in the Asian automotive industry
The demand for composite materials such as bulk molding compound (BMC), sheet molding compound (SMC), short fibre thermoplastic compound (SFT), long fibre thermoplastic compound (LFT), etc. in the...
MANUFACTURlNG
Five-axis CNC machining, an innovation leap for finishing composite components
Although 5-axis CNC milling and machining is not unknown to the composites sector, using it for finishing components rather than for the production of tools and moulds is relatively new. Refitech...
Lattice reinforcements drive sustainable composites
Composites are becoming increasingly popular, thanks to their ability to deliver structural performance at low weight, which makes them especially valuable for industries like automotive. Traditional...
FEATURE
Composites mobility trends in ltaly
What tools exist to convert production across the supply chain, and eliminate traditional engines? Transport accounts for a major share of global greenhouse gas emissions. The e-mobility challenge is...
Organosheet composite solution for automotive mass production applications
As a Tier 1 automotive supplier, Valeo is a major player providing innovative solutions for autonomous driving, vehicle electrification and CO2 emissions reduction. Looking for lightweighting...
3D printed composite parts meet Nascar's need for speed and performance
Stratasys Direct Manufacturing 3D prints air ducts for the Next Gen car competing in America's National Association for Stock Car Auto Racing (Nascar) Cup series. This additive manufacturing...
Composite tech, a pionneer tool to decarbonize and electrify the automotive sector
Founded in 1968 out of Rhode lsland, Tillotson Pearson lnc. was a leading manufacturer of high-performance sail and powerboats; along with a wide range of composite structures used in industrial...
Addressing the needs of the hydrogen economy with a sustainable approach to CFRP recycling
ln the emerging hydrogen economy, there is a growing need for sustainable solutions for the automotive industry. As automakers face increasing pressure to adopt recycling and sustainability solutions,...
Cost-efficient carbon fibre wheel arises as a real alternative to aluminium
Polish-German wheel manufacturer Fibratech is on the good way to achieve the cost-efficient manufacturing of carbon fibre wheels for electric vehicles, and to deliver a real mass-production...
A modular composite platform for hydrogen-powered vehicles
WAE Technologies has developed an ultra-light rolling platform with a fuel cell at its core. lt will be accessible to any manufacturer wishing to save on research costs. WAE Technologies,...
SOLUTlONS
Pioneering advanced air mobility with composite materials
Urban mobility is literally taking off, thanks to remarkable technological advances in aviation. Among the protagonists of this revolution, Zapata, a company renowned for its bold innovations, is...
Composites get weaving for the grid
Composite materials are already well integrated in the electronics and electricity industries because of their very specific properties. Since they improve performance, durability, and efficacy of...
TECHNOLOGY
GFRP part inspection by robot with terahertz sensor
Glass-fibre-reinforced plastics and renewable natural materials, such as wood and cork, are being used ever more widely. lmaging by means of ultra-short light pulses in the terahertz range is a very...
Composites manufacturing science and engineering at Centrale Nantes - Nantes Université
The science and engineering of composites manufacturing is one of the topics covered by the lnstitute of Civil Engineering and Mechanics (GeM) at Centrale Nantes - Nantes Université, France. lt...
Thank you
You just used 1 credit. You have left.