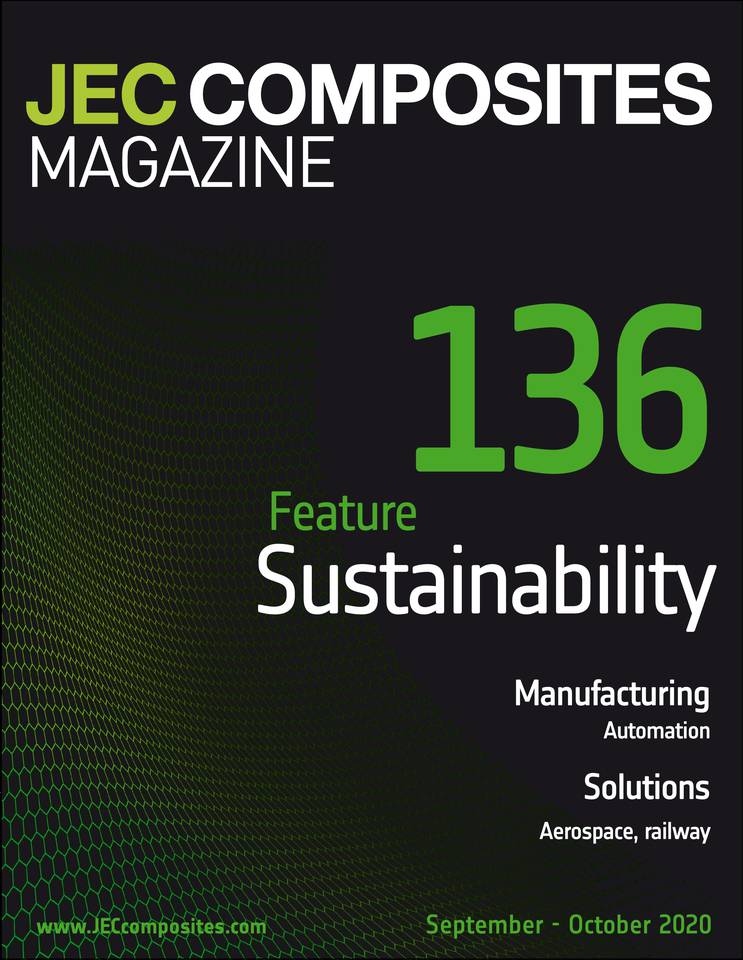 JEC Composites Magazine
N°136 - september 2020
Preview
JEC Composites Magazine is the point of contact of the international Composites Community, 6 times a year, with topics covering scientific information, business, technology, manufacturing, and application sectors trends.
In each and every issue, readers will learn about the entire composites industry value chain (from raw materials to application markets), and be inspired with current and future innovations.
The six sections of the magazine consist in:
NEWS: with interviews, articles about business development (M&As, appointments, partnerships and collaborations, awards etc.).
BUSINESS: with articles covering trends and markets, focusing on a specific country or region, with the composites market, or the application markets, or the companies strategies etc. in that country or region, and a startup focus.
MANUFACTURING: with articles about production processes and processing equipment.
FEATURE: an in-depth overview of a specific topic (typically an application sector), plus a JEC World Preview in April/May and Review in June/July.
SOLUTIONS: composites around us, with articles showing how composite materials are being used in applications which impact our everyday lives.
TECHNOLOGY: with articles about developments in materials, testing and control, repair, joining, design and simulation, recycling and reuse, R&D.
Enjoy your reading!
Contents
The path has been plotted
"Sustainability is a word that we hear more and more often, and deservedly so. But what's behind the word, beyond the idea of something lasting? What meaning should be attributed to it, when it comes...
Read More
N°136 - september 2020
EDITORIAL
The path has been plotted
"Sustainability is a word that we hear more and more often, and deservedly so. But what's behind the word, beyond the idea of something lasting? What meaning should be attributed to it, when it comes...
"We can change the way we envision global shipping overall"
FIBRESHIP is a revolutionary R&D H2020 project funded by the European Commission which attempts to develop a new market focused on the design and construction in composite materials of large-length...
NEWS
Recycling of polystyrene via depolymerisation
Ineos Styrolution reports final results of research project ResolVe: post consumer polystyrene waste becomes valuable feedstock. ResolVe was granted a funding from the German Federal Ministry of...
A new initiative to develop the next generation of sustainable composite materials in UK
Led by the National Composites Centre (NCC) and the Centre for Process Innovation (CPI) – two of the seven High Value Manufacturing Catapult centres – Sustainable Composites is a partnership between...
BUSINESS
Natural-fibre composites: an overview
The global natural fibre composites market was valued at USD 4.46 billion in 2016. It is likely to register a CAGR of 11.8% from 2016 to 2024. A spiralling demand for lightweight products from the...
When 3D printing meets sustainability
4D Pioneers is a growing start-up that uses additive manufacturing of high-performance materials to create a more sustainable future for the industry. With its team of experts, the start-up offers a...
Xinzhou bets on the bamboo-based composites industry
Globally, China has the greatest abundance of bamboo resources. It is no wonder that the country helped ignite the spark of an innovation inspired by this fast-growing grass plant. ln the mid-2000s,...
MANUFACTURING
lnnovation in wind power through multi-process-capable systems
The BladeFactory research project is searching for new innovations with multi-process-capable systems and automation. The project partners are working on issues from the wind energy industry with the...
Higher production capacity thanks to automated manufacturing
Using Rohacell® HERO polymethacrylimide (PMI) rigid, closed-cell structural foam core material, Evonik Resource Efficiency GmbH (Germany), together with leading technology partners, have successfully...
FEATURE
Composites recycling: in search of the circular economy
Recycling composite materials presents challenges, but companies across the industry are prioritising sustainable circular economic strategies and developing viable recycling processes and business...
A new generation of recycled composite materials for sustainable mobility
Composite materials play a key role in the development of lightweight structures that help reduce vehicle weight. The main advantage of using more lightweight materials is the reduction in CO2...
Healable composites to improve circularity
Composite structures are facing challenges regarding damage sensitivity, maintenance costs and sustainability. Inspired by nature, CompPair offers innovative preimpregnated textiles to build full...
New trends in composites and plastics recycling
In a general context of scarce accessible material and energy resources, Cetim Grand Est developed two eco-processes for the recovery of composite and plastic waste to help reduce the environmental...
lnnovative composites made from up to 92% reclaimed materials
"To get straight to the point, Infinici has developed a technology that allows us to produce new composites from EoL glass fibrereinforced plastics (GRP) and rigid polyurethane (PUR) composite...
Biocomposites and automation: a sustainable future for the building industry
BioMat/ITKE tackles problems of the contemporary building sector by leading research in the area of bio-based materials and their automatized application in architecture. Their 1:1 architectural...
Waste-free composite wheel production
Wheels are ubiquitous, not only in our daily lives but also in machinery. Lighter wheels are often beneficial as less moving mass consumes less energy. Fibre-reinforced plastic (FRP) wheels have...
From bottle to blade
With an industrial heritage going back to 1835, Gurit has an extensive track record in advanced composites, gained over the last 30 years in various market sectors. Today, the company specializes in...
Upcycling plastic bottles into value-added composite applications
For every drum of INEOS PET-based resin, 1,800 used plastic bottles are diverted from landfills and oceans. This is the contribution of the INEOS Composites business towards the creation of a circular...
Novel thermoset composites for more competitive and sustainable industries
Being aware that the thermoset composite materials sector needs processes that allow higher production rates and a recycling solution, CIDETEC Surface Engineering started studying dynamic covalent...
SOLUTIONS
Slinging rockets into space
Founded in 2014, the SpinLaunch company has developed an architecture to accelerate a small rocket to hypersonic speeds using a ground-based system that exploits rotational energy. The rocket will be...
Composites push back the final frontier
More than ever before, the sky is a topic of discussion and a growing concern. Integral to travel and transport of goods in aviation, our use of this space is also crucial to communications, with the...
Composite overhead line catenary system for light rail
A composite overhead line catenary system for light rail utilising carbon fibre provides increased aesthetics through a 50% reduction in support poles and no requirement for a tensioning system. The...
TECHNOLOGY
Developing an eddy current-based sensor system for quality assurance of carbon fibres
Carbon fibre-reinforced plastics are becoming increasingly important in various fields of application. While certified quality assurance systems with corresponding test procedures already exist for...
Advanced Composite Materials Facility University of Southampton
The Advanced Composite Materials Facility (ACMF) is housed in a state-of-the-art laboratory within the Chemistry Building at the University of Southampton. It incorporates thin film combinatorial...
Development of new type of plastics: Polypropylene 2.0
San-ei Kogyo, a company that specializes in industrial waste treatment and recycling, developed a continuous apparatus for the practical application of precise thermal degradation technology and...
Thank you
You just used 1 credit. You have left.