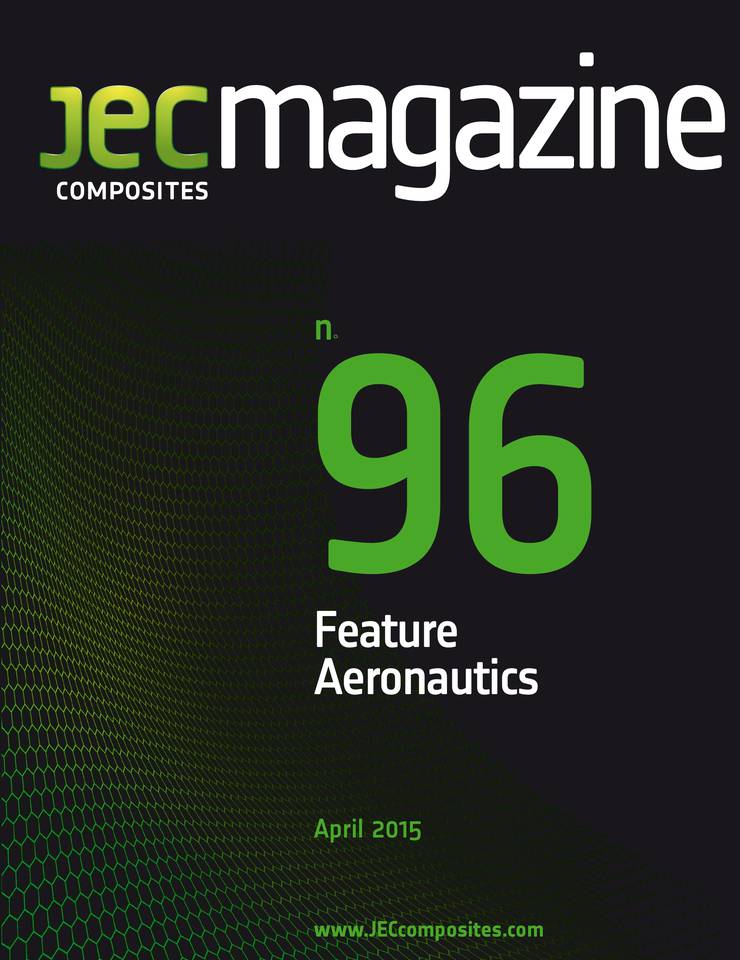 JEC Composites Magazine
N°96 - april 2015
Preview
JEC Composites Magazine is the point of contact of the international Composites Community, 6 times a year, with topics covering scientific information, business, technology, manufacturing, and application sectors trends.
In each and every issue, readers will learn about the entire composites industry value chain (from raw materials to application markets), and be inspired with current and future innovations.
The six sections of the magazine consist in:
NEWS: with interviews, articles about business development (M&As, appointments, partnerships and collaborations, awards etc.).
BUSINESS: with articles covering trends and markets, focusing on a specific country or region, with the composites market, or the application markets, or the companies strategies etc. in that country or region, and a startup focus.
MANUFACTURING: with articles about production processes and processing equipment.
FEATURE: an in-depth overview of a specific topic (typically an application sector), plus a JEC World Preview in April/May and Review in June/July.
SOLUTIONS: composites around us, with articles showing how composite materials are being used in applications which impact our everyday lives.
TECHNOLOGY: with articles about developments in materials, testing and control, repair, joining, design and simulation, recycling and reuse, R&D.
Enjoy your reading!
Contents
No limit, for composites
"As we write these lines, Bertrand Piccard and André Borschberg have just begun their round-the-world voyage aboard a solar-powered aircraft, the Solar Impulse, an aircraft powered solely by renewable...
Read More
N°96 - april 2015
EDITOR'S
No limit, for composites
"As we write these lines, Bertrand Piccard and André Borschberg have just begun their round-the-world voyage aboard a solar-powered aircraft, the Solar Impulse, an aircraft powered solely by renewable...
POINT OF VIEW: COMPOSITES INTEGRATION
Airbus: Materials as winning factor
To maintain its position as a global leader, Airbus is committed to cultivating a culture of innovation. Chantal Fualdes, Expert in composites Materials for Airbus explains us how the aeronautical...
CHINA
Carbon fibre: Zhongfu Shenying to keep going strong!
Zhongfu Shenying Carbon Fiber Co., Ltd. is a subsidiary of China Composites Group Co., Ltd. that belongs to China National Building Material Group Co., Ltd. – one of the world's top 500 enterprises,...
The President of USA announces manufacturing innovation hub in Tennessee
A Knoxville-area based consortium of 122 companies, nonprofits, universities and research laboratories is partnering with the Department of Energy to create a more than $250 million manufacturing...
Aircelle opens its first U.S. facility
Aircelle (Safran) formally inaugurated the Aircelle Services Americas facility at Indianapolis, Indiana, bringing the company's expertise in maintenance, repair and overhaul (MRO) for its jet engine...
Mission achieved for the IXV atmospheric reentry demonstrator
The experimental vehicle to develop an autonomous European reentry capability for future reusable space transportation has completed its mission. ESA's IXV (Intermediate eXperimental Vehicle)...
JEC AMERICAS 2015 WILL BE HELD IN HOUSTON
A world-leading independent converter of carbon fibre
After Boston and Atlanta, JEC Americas is moving down to Houston, Texas, this year for the first time. The industry is eagerly awaiting the new event, which is coming up soon. We asked exhibitors and...
The reinforcement of choice
JEC Composites Magazine: Can you summarise your expertise in the field of composites? Andrew Head : Over the past two decades, A&P Technology has supplied braided reinforcements, creating new...
The importance of integrating simulation tools in the manufacturing process
Byron Pipes holds the title of John Leighton Bray Distinguished Professor of Engineering at Purdue University, Indiana. He will be presenting the latest improvements from the cdmHUB in the Automotive...
CATAMARAN
A new technological age changes the way vessels are built and operated
Using GL/DNV rules, Trawlercat Marine Design (TMD) has designed a series of innovative high-speed carbon fibre power catamarans for the military and offshore wind farm industries. TMD is taking navy...
RIB
Rigid-hulled, inflatable powerboat
Polynt Group's Soffio project consists of a fast rigid-hulled inflatable boat (RIB) with superior abilities thanks to a specially modified epoxy vinylester resin toughened with a reactive rubber. The...
TRIMARAN
Lightweight design: key to the Ocean Eagle 43's rapid acceleration & long-range fuel efficiency
Commissioned by the Mozambique Government, the Ocean Eagle 43 is an innovation in maritime surveillance. The three trimaran vessels will conduct multiple missions throughout the Indian Ocean including...
CARBON FIBRE
In the starting blocks
This new annual briefing on carbon fibres follows on from last year's article: «Many growth drivers for carbon fibre» (JEC Composites Magazine #88 April 2014). The growth in demand shows no signs of...
Strategic project for a cost-effective carbon fibre supply chain
Some manufacturers worked together with the French automotive sector platform (PFA) and the French chemical industry union (UIC) to launch Force, a project to develop a supply chain for reasonably...
SIMULATION
New generation of software to accelerate composite materials developement
Composites offer enormous lightweighting potential to aerospace and automotive companies, and just as enormous a design challenge. Composites insertion is however hindered by the amount of physical...
COST-EFFECTIVENESS
Cost modelling of composite structures
In aeronautics, composite materials are weight-efficient but difficult and often costly to produce. To study this contrast, the authors are working on a methodology where the costs of composite...
LOW COST MANUFACTURING
Holistic quality approach for autoclave-injection composite manufacturing
High, reproducible CFRP product quality at a competitive cost level as well as faster and more cost-efficient assembly processes are the enabler to high-rate production scenarios, which are essential...
THIN-PLY
New design opportunities using thin-ply composites
North Thin Ply Technology (NTPT) supplies a wide range of high performance thin ply prepreg materials. Thin plies are now used in a wide range of high-performance composite applications such as...
HIGH TEMPERATURE
Benzoxazine components and OoA manufacturing process for aircraft and helicopters
Fibre-reinforced polymer composites are increasingly considered for replacing metals in high-temperature-resistant components for aircraft and helicopters. With very limited resin options available to...
Carbon fibres: history, players and forecast to 2020
Since knowing where you are going requires knowing where you're coming from, this study starts by reviewing the history of carbon fibre development before going on to describe the established carbon...
LFT
Discontinuous LFT composites for structural aerospace applications
Much progress has been made in replacing metallic structures with composites in new aircraft, with the Airbus A350 and Boeing 787 as two commercial production examples demonstrating over 50% composite...
THERMOPLASTICS
Thermoplastic composites for aerospace applications
Thermoplastic composites are emerging rapidly in aerospace, aviation and missile/defence applications. Thermoplastic composites offer lightweight advantages, high specific modulus and strength, design...
LASER PROJECTION
Projection technology for CFRP parts, conveniently controlled via tablet PC
Today, aircraft companies such as Airbus use carbon fibre composites to produce vertical stabilizers, wings, or even whole fuselage sections, because they are lighter and stronger than steel. The...
RELEASE AGENT
New release agent helps aerospace industry utilize lightweight composites
Chem-Trend, a specialist in the development and production of high-performance release agents and casting lubricants, is helping the aerospace industry remove mass, lower fuel consumption and respect...
MANUFACTURING
Finmeccanica-Alenia Aermacchi: a key role in the manufacture of the 787 Dreamliner
Alenia Aermacchi produces the horizontal stabilizer and the central and aft sections of the 787 Dreamliner fuselage, which together total 14% of the aircraft's structure. The company uses cutting-edge...
HEALTH MONITORING
Strain measurements and damage detection by fibre optics sensors in large structures
By means of a novel and robust automated technique based on strain field pattern recognition, a defect detectability study was performed for two 13.5-metre-long wind turbine blade prototypes under...
Health monitoring technique for large composite structures
The present work focuses on a structural health monitoring (SHM) technique to detect, locate and quantify damages that occur in large structures made of polymer-matrix composite materials while the...
IOT
Composite manufacturing: Internet of Things pushes the envelope of production efficiencies
Leading aerospace companies are now deploying advanced control and measurement applications that leverage the benefits of the Internet of Things (IoT). To make the IoT useful, one must turn the data...
BRAIDING
Tape braiding: high-performance fibrereinforced thermoplastic profile structures
Braiding of fully consolidated unidirectional fibre-reinforced thermoplastic (FRT) tapes is a key process step to manufacture semi-finished and functionalized carbon fibre reinforced plastic (CFRP)...
RESIN
Polyaryl ether amide resins – a prospective alternative to phenolic and epoxy resins
A few years ago, polyaryl ether amides were assessed as a new promising matrix resin material for composites due to an exceptional resin-fibre adhesion that results in high mechanical properties....
VACUUM INFUSION
Membrane-assisted vacuum infusion: a standard process all over the world
Over the past ten years, the VAP® membrane-assisted vacuum infusion process has become the de facto standard in serial production of high-quality fibre-reinforced polymer components. Aviation, vehicle...
MACHINING CENTER
Low scrap for high-volume part production
A new processing cell designed for the production of carbon fibre parts uses the fibre placement process to produce near-net-shape prepreg carbon fibre stacks which are then moulded to produce the...
PBT
Against dust and flying sparks
The first carbon fibre-reinforced Ultradur® polybutylene terephthalate, with low electrostatic charge, is suitable for reliable and durable components in automotive electronics and mechanical...
Thank you
You just used 1 credit. You have left.