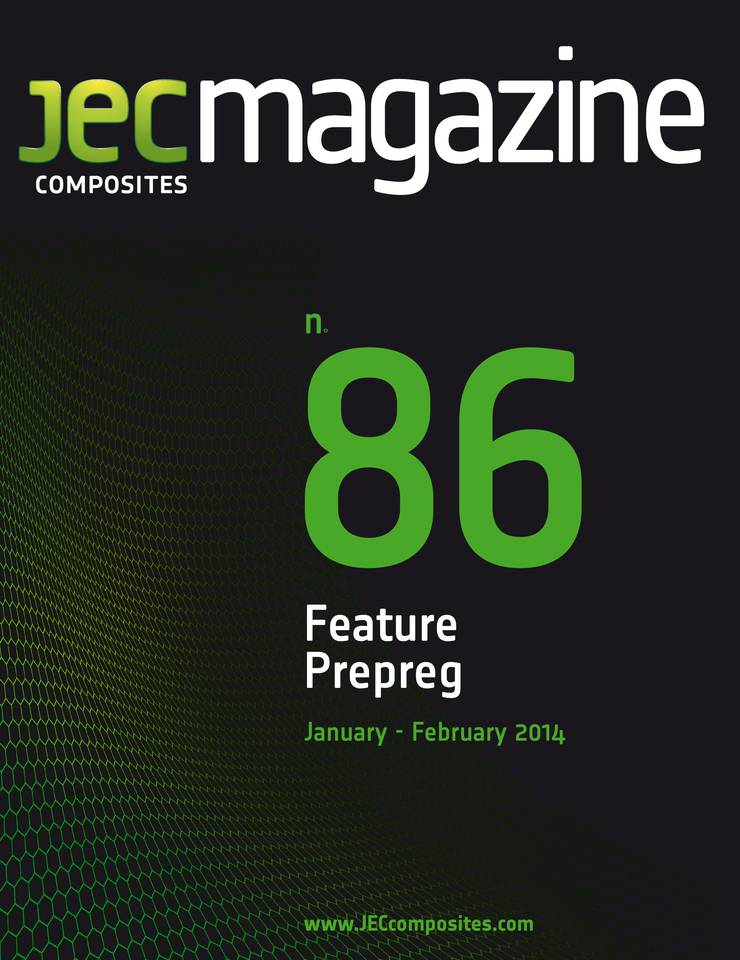 JEC Composites Magazine
N°86 - january 2014
Preview
JEC Composites Magazine is the point of contact of the international Composites Community, 6 times a year, with topics covering scientific information, business, technology, manufacturing, and application sectors trends.
In each and every issue, readers will learn about the entire composites industry value chain (from raw materials to application markets), and be inspired with current and future innovations.
The six sections of the magazine consist in:
NEWS: with interviews, articles about business development (M&As, appointments, partnerships and collaborations, awards etc.).
BUSINESS: with articles covering trends and markets, focusing on a specific country or region, with the composites market, or the application markets, or the companies strategies etc. in that country or region, and a startup focus.
MANUFACTURING: with articles about production processes and processing equipment.
FEATURE: an in-depth overview of a specific topic (typically an application sector), plus a JEC World Preview in April/May and Review in June/July.
SOLUTIONS: composites around us, with articles showing how composite materials are being used in applications which impact our everyday lives.
TECHNOLOGY: with articles about developments in materials, testing and control, repair, joining, design and simulation, recycling and reuse, R&D.
Enjoy your reading!
Contents
A bit more than just fibre
"We all more or less know that composites already play centre stage in our everyday lives – in vehicles, aircraft, building materials, boats, sports equipment, computers, energy, the medical world,...
Read More
N°86 - january 2014
ÉDITO
A bit more than just fibre
"We all more or less know that composites already play centre stage in our everyday lives – in vehicles, aircraft, building materials, boats, sports equipment, computers, energy, the medical world,...
POINT OF VIEW: VOLUME PRODUCTION
Producing in volumes comparable to plastic injection
Combining high performance and high production rates is not easy. This is the challenge taken up by Aonix with custom-made, turnkey machines & materials solutions. This company chose to use amorphous...
COMPANIES & BUSINESS
Plastic Omnium expands its presence in China
The company has inaugurated an automotive development center for its exterior parts business in the Chinese city of Anting, 30 kilometers from Shanghai. The new center whose current staff of 300...
Graphene in products touched by everybody, everyday
Applied Graphene Materials (AGM) has developed a novel process for the manufacture of high specification graphene. AGM offers a range of products, together with dispersal and product integration...
APPLICATIONS
Hyundai Heavy unveils membrane LNG cargo containment system
Hyundai Heavy Industries (HHI) has developed a high-performance membrane LNG cargo containment system. The shipbuilding giant's new containment system for liquefied natural gas received design...
Gold of Bengal offers jute fibre a second wind
Gold of Bengal is a bold, generous project that is part of a twofold corporate social responsibility and sustainable development initiative. The purpose of the project is to find new prospects for...
The maiden track test of the Formula E
The fully-electric Spark-Renault SRT_01E made its successful track debut at a circuit near La Ferté Gaucher, 80 km east of Paris, France. In the hands of Lucas di Grassi, it completed 40 laps during...
25% lighter than the standard
Officially launched to an international audience at the American International Motorcycle Expo in Florida last October, Skycraft is the world's first purpose-built freestyle motocross machine and a...
MARKET
Life cycle assessment (LCA) of continuous-filament glass fibre (CFGF)
GlassFibreEurope has commissioned a report compiling the cradleto-gate life cycle inventory (LCI) and life cycle impact assessment (LCA) results of several continuous-filament glass fibre products in...
Bigger, Faster, Cheaper
This slogan seems to sum up the main challenges facing our industry today. Finding solutions is not easy, but is essential if our young industry (compared to other materials) is going to achieve much...
FEATURE PREPREG
Gascogne Laminates: now a key player
With its latest investment of nearly 11 million euros in a state-of-the-art machine to manufacture silicone-coated release liners, Gascogne Laminates has captured a leading position in the prepreg...
Efficient prepreg processing
Hockey sticks and skis are not the products that leading global papermaker Sappi is usually associated with. However, the company's speciality paper Algro® Sol was also developed to support the...
Current prepreg production technologies
Selecting the best technology, making the right choice. These issues are considered each time a company thinks about making an investment. The growing use of prepregs makes this the right time to look...
At the foundation and future of prepreg technology
Hexcel's long history of weaving – stretching back into the 19th century – combined with 80 years of resin formulation made it a natural progression for the company to combine the two technologies...
What outlook for prepregs in the automotive industry?
The market potential for carbon fibre-based components in the automotive industry is huge. Several studies predict automotive will be the largest carbon fibre consuming industry within the next ten...
Innovation comes from more than just molecules
Innovation does not consist only in incorporating new molecules into the formulation; this is only one aspect. Innovative thinking also incorporates a new way of working. Drawing an analogy between...
Key evolutions in automated weight-saving processes
From time immemorial, the flight of birds has fascinated mankind. Since 1985, Mtorres has been developing weight-saving solutions with the same fascination and passion in an attempt to make aviation...
Toray Carbon Fibers Europe opens a technical centre for customer support & innovation
The Lacq basin, France, is set to become a hotspot for innovation and very high technology solutions in the carbon fibre sector. Toray is already equipped with manufacturing facilities and will soon...
Innovative benzoxazine prepregs for tooling
In the summer of 2010, GKN Munich selected Airtech Advanced Materials Group's Beta prepregs to manufacture a carbon fibre composite stringer support tooling for the production of Airbus A350 flap...
RESEARCH & DEVELOPMENT
Innovative additive manufacturing of composites
As we enter an era of fuel efficiency and global warming, energy has become a crucial challenge. Due to their low weight and low maintenance, composite materials have an ever more important role to...
Second-generation PIMC: powder in-mouldcoatings with internal mould release properties
Class A surface finishing of FRP (fibre-reinforced plastic) components used to be impossible without manifold costly manual operations such as filing, polishing or sanding processes. In recent years,...
TECHNOLOGIES & INNOVATIONS
Breaking down the barriers of nesting efficiency in composite cutting
Switching from the concept of 'point solution' for nesting software to an 'enterprise-level solution' that broadly looks at the whole cutting process is today's only option for manufacturers looking...
Cost-effective rigid vinyl composites reinforced with long fibres
New technologies without shearing are now available to produce PVC composites reinforced with very long continuous fibres, setting PVC as a premium choice for cost-efficient thermoplastic composites...
Reclaimed carbon fibre fit for purpose
ELG Carbon Fibre is a leading global CFRP (carbon fibre reinforced plastics) recycler. Based in Coseley in the west midlands ELG CF recycle all aspects of CF (carbon fibre) waste and have commissioned...
The composites design and analysis challenge
Composites offer a host of advantages for companies looking to reduce weight and increase performance of their products. The aerospace industry had led the way with the use of advanced composites but...
Clean wet-filament winding technology for the production of high-performance composites
A collaborative R&D project between the University of Birmingham's School of Metallurgy and Materials and a UK consortium of companies has successfully developed a new environmentally friendly 'clean'...
Thank you
You just used 1 credit. You have left.