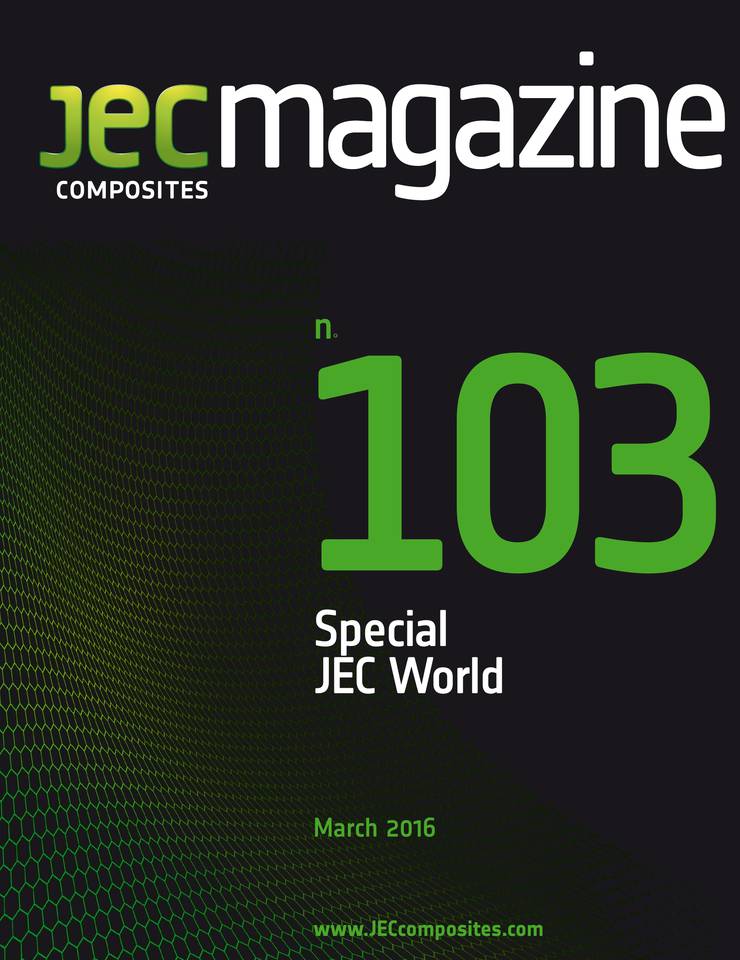 JEC Composites Magazine
N°103 - march 2016
Preview
JEC Composites Magazine is the point of contact of the international Composites Community, 6 times a year, with topics covering scientific information, business, technology, manufacturing, and application sectors trends.
In each and every issue, readers will learn about the entire composites industry value chain (from raw materials to application markets), and be inspired with current and future innovations.
The six sections of the magazine consist in:
NEWS: with interviews, articles about business development (M&As, appointments, partnerships and collaborations, awards etc.).
BUSINESS: with articles covering trends and markets, focusing on a specific country or region, with the composites market, or the application markets, or the companies strategies etc. in that country or region, and a startup focus.
MANUFACTURING: with articles about production processes and processing equipment.
FEATURE: an in-depth overview of a specific topic (typically an application sector), plus a JEC World Preview in April/May and Review in June/July.
SOLUTIONS: composites around us, with articles showing how composite materials are being used in applications which impact our everyday lives.
TECHNOLOGY: with articles about developments in materials, testing and control, repair, joining, design and simulation, recycling and reuse, R&D.
Enjoy your reading!
Contents
End-users are central to the composites market
"The composite industry has conquered new territories with a strong techni-cal background. The technological dimension still remains one of the sector's main assets, but it turns out that dialogue...
Read More
N°103 - march 2016
EDITO
End-users are central to the composites market
"The composite industry has conquered new territories with a strong techni-cal background. The technological dimension still remains one of the sector's main assets, but it turns out that dialogue...
POINT OF VIEW: LAMBORGHINI
"We are not a classic R&D team"
Automobili Lamborghini is a legendary brand. That is true. This winning spirit that animates the company since its establishment in 1963 is still present. This mindset notably through the Advanced...
COMPANIES & BUSINESS
ChemChina to acquire KraussMaffei Group for €925 million
The transaction is subject to closing conditions including customary regulatory approvals. The transaction is expected to accelerate the growth of the company in light of potential business synergies....
DuPont and Dow Chemical agreed to merge in an all-stock deal valued at $130 billion
The companies will combine in an all-stock merger of equals. The parties intend to subsequently pursue a separation of Dow-DuPont into three independent, publicly traded companies through tax-free...
TPI Composites awarded US$3M grant to develop a hybrid composite door
The company has been awarded a $3M program by the U.S. Department of Energy's Office of Energy Efficiency & Renewable Energy (EERE) under the 2015 Vehicle Technologies Program to design, develop, and...
Cytec opens an application centre dedicated to materials and technologies for high volume applications
The application centre will be located in Heanor, UK, adjacent to its existing manufacturing and R&D sites. This opening is a key milestone for Cytec in its strategy to develop composite products and...
Plastic Omnium to acquire Faurecia's Exterior Systems business for €665 million
Plastic Omnium signs a Memorandum of Understanding with the Faurecia group to acquire its Exterior Systems business for an enterprise value of €665 million. Faurecia's Exterior Systems' activity has...
Sonaca earns US$ 8.5 million loan to expand its operations in Romania
The European Bank for Reconstruction and Development (EBRD) is boosting Romania's fast-growing manufacturing sector with a US$ 8.5 million loan to Sonaca as the aerospace company expands its facility...
Germany's engine for the sustain-able implementation of CFRP in the country's leading industries
Carbon Composites e.V. (CCeV) is a German-speaking association of compa-nies and research institutes covering the en-tire value-added chain of high-performance fibre composite materials. CCeV networks...
"We will become active in the M&A market again"
With the acquisition of Citadel Plastics, last June, the A. Schulman, Inc. group moved up in the world of composites. During a visit to their site in Akron, Ohio, we questioned them about their...
APPLICATIONS
Carbon fibre-reinforced hockey stick
The 1N Nexus hockey stick is the latest result of a close partnership between Bauer Hockey and Oxeon AB. Reinforced with TeXtreme® carbon fibre fabrics, its lightweight properties, resistance and...
Individual fibre-reinforced polymer houses
Fibre-reinforced polymer components make durable, flexible and waterproof earth-sheltered homes possible. Green Magic Homes (USA) has introduced a new way to adopt "green" construction by providing a...
MARKET
Advanced composites market projected to reach USD 24.9 billion by 2020
Advanced composites are lightweight and high-strength materials designed for enhanced performance in a number of applications through improvements in structural, functional, or cosmetic properties....
European data: steady dynamics
"More of the same" is pretty much what can be said of the 2015 European composites market. In volume, the market grew 2.25% from 2013 to 2014, rising only to 2.49% from 2014 to 2015 – very slightly...
SPECIAL JEC WORLD 2016
13th lnternational JEC Conferences: Knowledge and networking
With 11 sessions and over 85 speakers, 56 presentations will take place in two separate rooms. Several guided booth visits organized along with specific conference sessions (Automotive, Fiber...
JEC World's new Planets: discover the best composite solutions
At JEC World 2016 in Paris (March 8-10), JEC will introduce four new display areas for the first time, for a total of more than 1,800 square metres. Each of these "Planets" (as the display areas are...
« We involve customers directly in the new product development process »
Hexion is very active in the automotive sector and offers innovative solutions. To learn more about the vision of the enterprise and its projects, we approached Francis Defoor, Global Market Segment...
JEC Innovation Awards Program 2016
Once again, the submissions for the JEC World 2016 Innovation Awards program were particularly impressive, both in quantity and diversity, but more importantly in quality. The choices that had to be...
Continuous basalt fibre: production development and new products
Kamenny Vek has been producing continuous basalt fibre under the brand name Basfiber® for more than 10 years. Over that time, technological process and equipment have been significantly modernized and...
Working to reduce weight, waste and cycle times
TUM and JEC Group continue their partnership on the occasion of the JEC World Show, that will take place on March 8-10 in Paris. TUM will be present in a special zone featuring the lat-est...
Holistic development of high-quality composite parts based on automated preforming
The reduction of production costs and the realization of lightweight targets for composite forming parts can only be successfully achieved by thinking and planning quality aspects in an integral way....
For greater efficiency in lightweight construction
Although a lightweight construction industry without composites is already inconceivable, there are still great hurdles to be overcome in industrial production. Creavis, the strategic innovation unit...
RESEARCH & DEVELOPMENT
Flax fiber and biosourced resins for all
Alexandre Guichard is embarking on a new adventure to revisit the bistro chair. On the occasion of his last visit to Paris, we asked him a few questions about this new Revology project – the concept,...
Fusion bonding of thermoplastic composites and metals
Hybrid components play an important role in lightweight design. Therefore, joining technologies are becoming increasingly important. As part of the Ybridio project, two hybrid joining processes –...
Study of the bending stiffness of fibrereinforced thermoplastics at forming temperature
This paper presents different cantilever bending tests used to characterize the bending stiffness of fibre-reinforced thermoplastics at forming temperature. The ASTM D1388 standard describes a...
Thermoplastic nonwovens for enhanced fracture toughness
Technical Fibre Products Ltd. has developed a range of very lightweight advanced thermoplastic nonwovens. These new materials can be used in CFRP composites as enhancing interleaves, significantly...
TECHNOLOGIES & INNOVATIONS
Alternatives to balsa wood in wind turbine blades
Sandwich structures made using balsa wood have been used in composite structures worldwide for more than 40 years. The aim of a core is to distribute stress and loads from one skin across the...
An integrated approach to composite design
In 2010, three composite experts from the composite consultancy company STRUCTeam – Julien Sellier, Radek Michalik and Rolf Dothagen – recognized the need for a single dedicated and integrated...
Much more than a formulator of resins and hardeners
Drawing on its rich experience acquired in the boating sector – a sector that is extremely rough on materials – Sicomin continues to progress not only from a technical viewpoint via new solutions, but...
Large-scale project for the repair of CRP-based series vehicles
Due to the increasing use of fibre-reinforced plastics (FRP) in automotive construction, the automotive industry and vehicle workshops are facing the challenge of providing economic repair methods....
New thermoplastic composite solutions for automotive lightweighting
Carbon emissions reduction is one of the key drivers for new developments in the automotive industry. Manufacturers and their development partners are working on multiple solutions to realize...
New thermoplastic honeycomb technology makes lightweighting cost-efficient
Recent developments in thermoplastic composites, often described as "organic sheets", further enhance the possibilities of replacing solid metal sheets by hybrid systems. EconCore, collaborating with...
Thank you
You just used 1 credit. You have left.