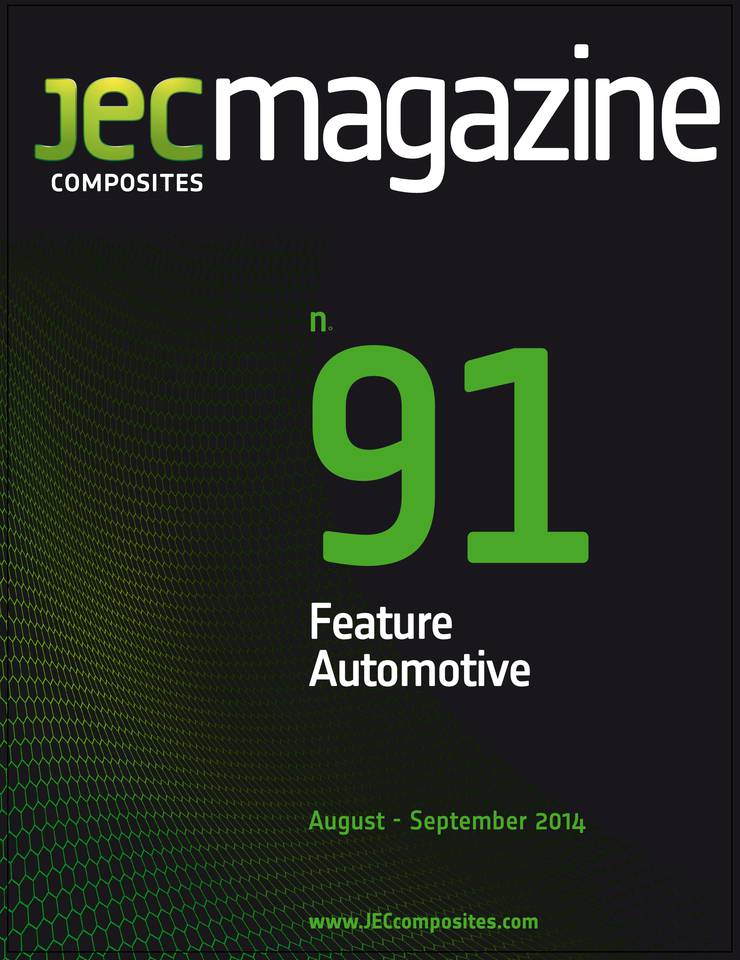 JEC Composites Magazine
N°91 - august 2014
Preview
JEC Composites Magazine is the point of contact of the international Composites Community, 6 times a year, with topics covering scientific information, business, technology, manufacturing, and application sectors trends.
In each and every issue, readers will learn about the entire composites industry value chain (from raw materials to application markets), and be inspired with current and future innovations.
The six sections of the magazine consist in:
NEWS: with interviews, articles about business development (M&As, appointments, partnerships and collaborations, awards etc.).
BUSINESS: with articles covering trends and markets, focusing on a specific country or region, with the composites market, or the application markets, or the companies strategies etc. in that country or region, and a startup focus.
MANUFACTURING: with articles about production processes and processing equipment.
FEATURE: an in-depth overview of a specific topic (typically an application sector), plus a JEC World Preview in April/May and Review in June/July.
SOLUTIONS: composites around us, with articles showing how composite materials are being used in applications which impact our everyday lives.
TECHNOLOGY: with articles about developments in materials, testing and control, repair, joining, design and simulation, recycling and reuse, R&D.
Enjoy your reading!
Contents
Healthy competition
"This year again, the automotive sector was a high-profile presence at the JEC Europe and Americas trade shows, both on the floor and in minds. Of course, that sector is one that everyone dreams of,...
Read More
N°91 - august 2014
ÉDITO
Healthy competition
"This year again, the automotive sector was a high-profile presence at the JEC Europe and Americas trade shows, both on the floor and in minds. Of course, that sector is one that everyone dreams of,...
POINT OF VIEW: GROWING PERSPECTIVES
Blossoming trend: Flax & hemp spread their roots in the composites industry
The European Confederation of Flax and Hemp (CELC) is the only European agro-industrial organization federating all the stages of production and transformation for flax & hemp. With its Technical...
COMPANIES & BUSINESS
in brief Partnership
Cytec and Dralon announce strategic collaboration Cytec Industries Inc. announced that they have entered into strategic discussions with Dralon GmbH, the recognized German manufacturer of acrylic...
Formax opens new automotive production facility
As a key supplier to the automotive industry, Formax invested in a new facility to lay the foundations for the next phase of its development as the move towards weight-saving, and consequently carbon...
AGENDA OF EVENTS
in partnership with 2014
September CCE 2014 September 3-5 Shanghai, China www.chinacompositesexpo.com ACCE - SPE Automotive September 9-11 Novi, USA www.speautomotive.com Bio-based Global Summit September 9-10 Brussels,...
APPLICATIONS
Composites in heavy transport: A Russian composite hopper car
The most effective way to reduce the fuel consumption of road and rail transport is to reduce the weight of vehicles. Lightweight engineering is based on the use of structurally-efficient materials...
Non-crimp 3D fabrics for composite structures
In recent years, as composites have become increasingly used in marine and aircraft structures, there has also been increased interest in using them to replace metals in automobiles, trucks, and...
MARKET
Local situations notwithstanding, forecasts of continuing global growth
The wind energy market continues to grow worldwide. Local differences can be very pronounced, and subject to harsh politi-cal decisions – for better or worse. Managing these variables is not easy for...
The future of thermoplastic composites – an application roadmap
On the verge of advancement to serial production of composite components, suppliers are facing the challenge to decide which infrastructure to build to achieve a fast return on investment and to be...
FEATURE AUTOMOTIVE
New generation of matrix resin: lower-weight components for the automotive industry
Leveraging the synergistic combination of matrix expertise, process know-how and an especially tailored adhesives portfolio, Henkel is able to offer a comprehensive range of sophisticated composite...
Vinyl hybrid resins for automotive applications
The use of composites in automotive components has been limited by environmental and productivity issues. This is also the case for polyester, vinyl ester and epoxy resins. A new class of vinyl hybrid...
Mixing and matching materials provides automakers with a lighter future
To meet stricter regulations aimed at significantly reducing emissions and improving fuel efficiency, automotive companies must drastically rethink the way vehicles are engineered and manufactured....
All terrain – all composite: Silberform expedition vehicle superstructure
CFRP monocoques are the state-of-the-art technology to build highend sports and electric cars because they combine minimum weight with maximum performance. In the range of expedition vehicles, few to...
"Tabwood": a local bio-composite for the automotive industry
Strength, stiffness and heat resistance are characteristics of natural fibre in common with conventional fillers such as talc and glass fibre but an advantage of natural fibre is lightness. TABWD®...
CFRP and eco-friendly technologies introduced to a future concept car
At the 2014 Geneva Motor Show, Hyundai Motor Company revealed a concept car that uses CFRP and eco-friendly materials developed by Lotte Chemical. The Intrado concept car (project name: HED-9)...
Lightweight construction 2025 – where the journey will go
Increase in productivity along with cost reduction are the main challenges for lightweight solution providers like Frimo. This means to develop highest-performance production equipment with future...
Additive manufactured parts – now for use in even the most demanding applications
Graphite Additive Manufacturing is a company that is rapidly expan-ding and is branching out into new and challenging areas. The company already supplies many Formula One teams with functional parts...
One component, one module, one body, one vision
With its latest project, EDAG Genesis, EDAG offers a visionary outlook for what might well be the next industrial revolution in automotive development and production. Acomponent, module, or even a...
RESEARCH & DEVELOPMENT
RTM process monitoring by pressure sensors
The Laboratory of Composite Materials and Adaptive Structures at ETH Zürich (Switzerland) investigates innovative monitoring approaches for the RTM process. The research focuses on the development of...
Adhesive/embossing hybrid joining process for ultra-lightweight CFRP/metal structures
Embossing process was applied to improve single-lap adhesive bonding quality for thermosetting CFRP and metallic thin sheets for the first time. The proposed adhesive/embossing hybrid joining process...
TECHNOLOGIES & INNOVATIONS
Major challenges for the polyurethane industry in the composite market
Polyurethanes belong to one of the most versatile families of poly-mers. On the market, polyurethanes can be found in a wide range of applications with very different properties, from low-density...
Prediction of fibre microstructure in injection moulding using innovative simulation technology
Long fibre-reinforced thermoplastics (FRT) are interesting mate-rials in the automotive industry because they have much higher mechanical properties than short FRT. However, mechanical properties such...
Honeycomb-based composites: strong, lightweight materials produced in high volumes at low cost
Wherever you look, you find the hexagonal shape of honeycomb; it is not only pleasing and intriguing (carpet patterns, decorations, etc.), but also the most functional shape in terms of contiguous...
Thank you
You just used 1 credit. You have left.