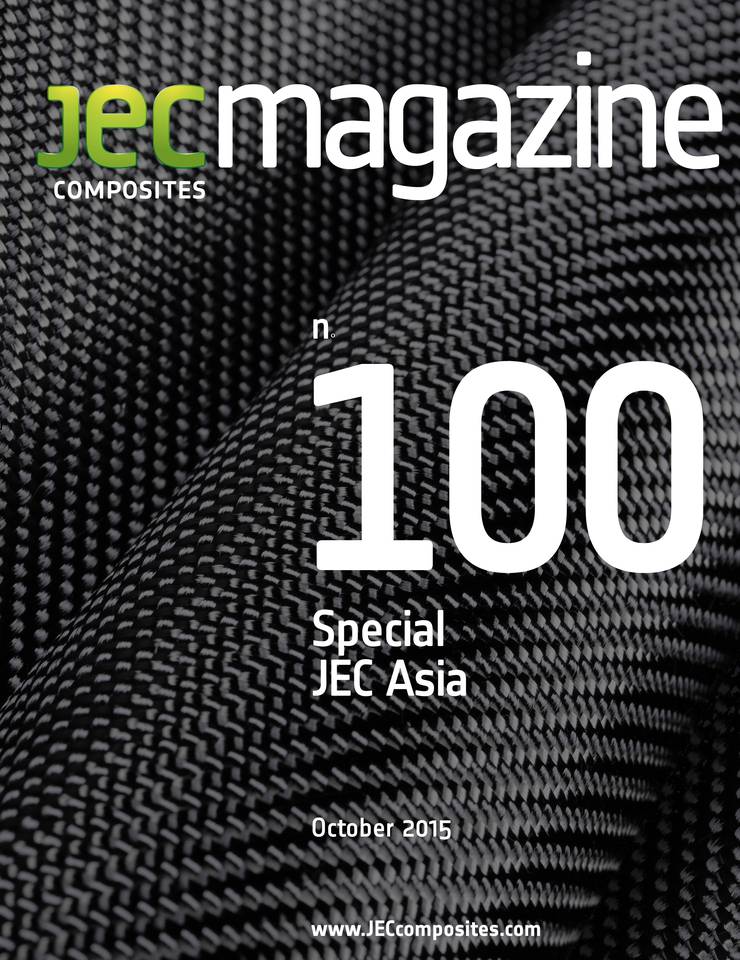 JEC Composites Magazine
N°100 - october 2015
Preview
JEC Composites Magazine is the point of contact of the international Composites Community, 6 times a year, with topics covering scientific information, business, technology, manufacturing, and application sectors trends.
In each and every issue, readers will learn about the entire composites industry value chain (from raw materials to application markets), and be inspired with current and future innovations.
The six sections of the magazine consist in:
NEWS: with interviews, articles about business development (M&As, appointments, partnerships and collaborations, awards etc.).
BUSINESS: with articles covering trends and markets, focusing on a specific country or region, with the composites market, or the application markets, or the companies strategies etc. in that country or region, and a startup focus.
MANUFACTURING: with articles about production processes and processing equipment.
FEATURE: an in-depth overview of a specific topic (typically an application sector), plus a JEC World Preview in April/May and Review in June/July.
SOLUTIONS: composites around us, with articles showing how composite materials are being used in applications which impact our everyday lives.
TECHNOLOGY: with articles about developments in materials, testing and control, repair, joining, design and simulation, recycling and reuse, R&D.
Enjoy your reading!
Contents
Time to celebrate the 8th session of JEC Asia and the 100th issue of our magazine
"Here we are in October 2015, finally publishing our Issue No. 100. Another thing to celebrate this month is the 8th JEC Asia in Singapore. All this is highly symbolic of the evolution of the market...
Read More
N°100 - october 2015
EDITO
Time to celebrate the 8th session of JEC Asia and the 100th issue of our magazine
"Here we are in October 2015, finally publishing our Issue No. 100. Another thing to celebrate this month is the 8th JEC Asia in Singapore. All this is highly symbolic of the evolution of the market...
POINT OF VIEW: THE FUTURE OF COMPOSITES IN MOBILE
Motorola: a composites-geared strategy
After Motorola won its second Award at the May 2015 JEC Americas in Houston for its Droid Turbo innovation, we approached Thomas Vondrak, Motorola's senior Director for NPI Advanced Technology &...
COMPANIES & BUSINESS
Airbus officially opens US manufacturing facility
The plant located in Mobile, Alabama, which will assemble the family of A319s, A320s and A321s, is officially open for business, with a skilled team of more than 250 Airbus manufacturing employees now...
GKN agrees to acquire Fokker Technologies for €706 million
The acquisition of Fokker further enhances GKN's position as a global supplier to the aerospace industry. Fokker is a specialist Tier 1 supplier to the commercial, military and business jet markets....
RUAG and ULA establish a strategic partnership
US launch vehicle manufacturer United Launch Alliance (ULA) and RUAG announce a strategic cooperation in which RUAG will establish a US composites production capability located within ULA's Decatur...
Solvay acquires Cytec for US$5.5 billion
Solvay has entered into a definitive merger agreement with U.S.-based Cytec to acquire 100% of its share capital for US$ 75.25 per share in cash. Headquartered in New Jersey with 4,600 employees...
Formax celebrates opening of new innovation centre
The innovation center will develop optimized multiaxial fabrics for the automotive, aerospace, marine, sports and industrial markets, and will also enable it to pursue new business opportunities in...
Strategic partnership between Textechno and AMAC
Textechno, an operating designer and manufacturer of testing systems for fibres, yarns and fabrics, plans to expand its worldwide activities in the field of Advanced Materials in cooperation with Dr....
APPLICATIONS
An innovative resin for the music industry
An innovative Araldite® composite resin is set to change the way trumpet bells are developed, bringing new properties to an industry with high-tech requirements. Huntsman Advanced Materials' carbon-...
New quartz fibre prepreg material for a watch
Richard Mille's new RM27-02 watch makes innovative use of composite materials thanks to their collaboration with North Thin Ply Technology (NTPT). Usually, the sports industry – and in particular,...
MARKET
China & India: two demographic giants in very different composites markets
These two countries are the most populous in the world. China accounts for 18.9% of the world population and India for 17.6%. China is the country that produces the most composites in volume; they are...
Statistical patent analysis for composite material shaping
While people may be familiar with patents as a means of protecting industrial property, they are less aware that they constitute a goldmine of information to gain an overview of any given sector, with...
Anniversary issue
For the publication of JEC Composites Magazine Issue No. 100, some of our regular readers, contributors and partners accepted to share their opinion about our trade journal in general, and also on its...
SPECIAL JEC ASIA 2015
8TH EDITION
Three inspirational keynote speakers to open new horizons during JEC Asia JEC Group enriches the business dimension of JEC Asia with the participation of 3 renowned motivational speakers over the 3...
15th lnternational JEC Conferences: Knowledge and networking
The JEC Asia 2015 conferences cover a variety of subjects, from eco-design and simulation to the automotive, aeronautics and pressure vessels industries, throughout five sessions that will each take...
JEC Asia Innovation Awards Winners 2015
This year, during the 8th annual JEC Asia - Composites Show and Conferences (October 20-22, 2015), 12 companies and their partners will receive an award for their composites innovations in a ceremony...
Successful advanced composites projects in Singapore
Advanced composites are a core field of expertise of the School of Applied Science (SAS) and the New Materials Technology Centre (NMTC) at Republic Polytechnic in Singapore. This paper features some...
Reduction of cure cycle time through microwave curing: a vision for the near future
Microwave curing has a huge potential to reduce the cycle time of heating processes in composite manufacturing. It also significantly reduces energy consumption. In theory and in special applications,...
FEATURE MARINE
Interchangeable motorboat pro-peller blades made of composites
With repair costs from motorboat propellers striking submersed objects running up to several thousand dollars for complete lower unit rebuilds, Brad Stahl knew there had to be a better solution. His...
The world's fastest sailing yacht
Last April, following 30,000 hours of work that lasted more than a year and mobilized 50 people, François Bich's Vitalia II catamaran – formerly called the Orange 2 – was launched at the Multiplast...
Non-destructive testing of composites benefits boat racing
We can thank the maritime industry for the "Bateau des Métiers" project at the Aérocampus. The principal aim of the project is to harness aeronautical and marine expertise to benefit training. Thanks...
A new generation of fast, fuel-efficient boats
After two years of development, Advanced Aerodynamic Vessels unveiled the prototype for a new type of fast boat on 25 March 2015 in La Rochelle. The prototype's radically new shape enables a combi-...
Primerless structural adhesives gain DNV-GL approval for marine applications
Two grades from Scott Bader's range of Crestabond® primerless methacrylate structural adhesives have now been independently approved by DNV-GL as "Duromeric" adhesives, suitable for use in the joining...
Rowing solo across the pacific in a 24-foot boat
Imagine crossing the Pacific alone in a 350-kilogram rowing boat. Add one brave woman, a devoted shore team and several science partners and you get Expedition Pacific, an amazing adventure that...
RESEARCH & DEVELOPMENT
Predicting in- and out-of-plane damage evolution in woven fibre-reinforced composites
In order to successfully design and qualify composite landing gear parts, it is essential to be able to reliably predict the mechanical and failure behaviour of composites. Therefore, Fokker Landing...
Using steam thermolysis to recycle carbon fibres from composite waste
In this article, Alpha Recyclage Composites presents a new steam thermolysis process to treat carbon fibre composites for recycling. The thermochemical process is used to recover the carbon fibres,...
TECHNOLOGIES & INNOVATIONS
Easy handling, high-performance thermoplastic solutions for composites
EMS-Griltech's Grilon fibre and yarn and Griltex thermoplastic poly-mers are specifically designed for composite applications, performing either as adhesives, additives or matrix resins. This article...
Why measure permeability?
Permeability is one of a reinforcement's intrinsic properties that must be controlled during the manufacture of a part made of a composite material. This property can be illustrated as the aver-age...
Polyurethane prepregs for cost-effective lightweight construction
For the first time ever, polyurethane (PU) prepregs suitable for storage can be both produced and processed on an industrial scale. These materials offer a cost-effective alternative to epoxy prepregs...
A new standard in multilayer composite pipe productivity
The latest high-density polyethylene pressure pipe grade from Total combines excellent processability with elevated temperature performance and long-term stability to raise processing performance to a...
COMPOSITES IN THE WORLD
Gardening is a childspaly!
London-based design agency Seymourpowell have got their act together to create a lawn mower that not only keeps your garden in well-groomed condition. But that's not all. This carbon fiber body lawn...
Let your style glows in the dark
Carbon6 Forged Carbon Fiber rings are hand-crafted using a unique forging method to offer the strength and lightness of carbon fiber in a striking marbled design that catches light to reveal deep,...
Thank you
You just used 1 credit. You have left.