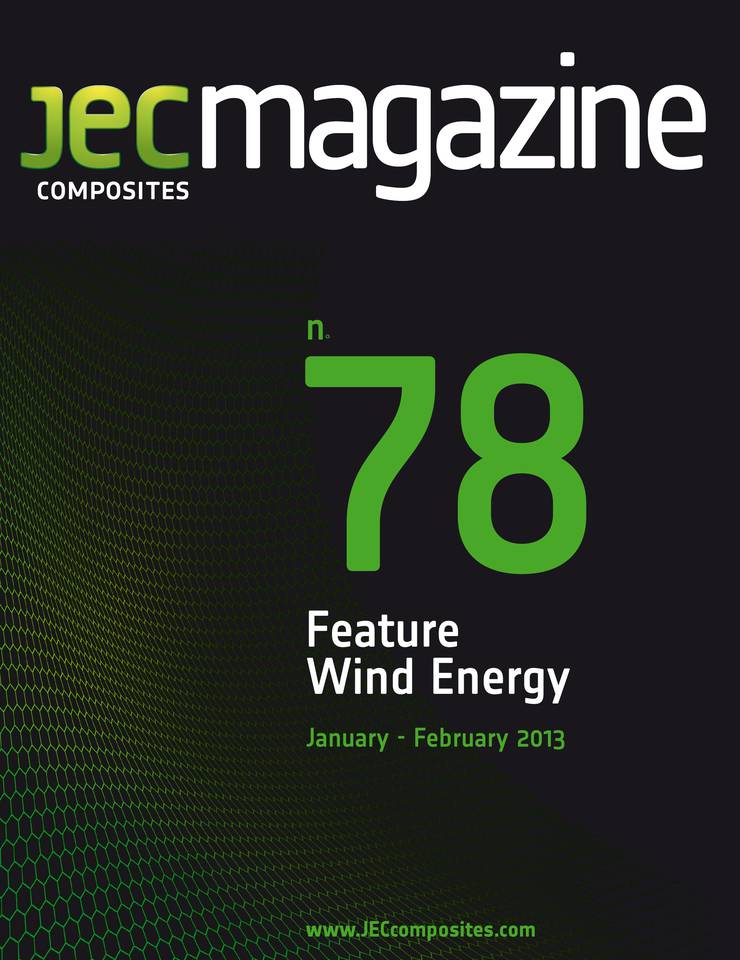 JEC Composites Magazine
N°78 - january 2013
Preview
JEC Composites Magazine is the point of contact of the international Composites Community, 6 times a year, with topics covering scientific information, business, technology, manufacturing, and application sectors trends.
In each and every issue, readers will learn about the entire composites industry value chain (from raw materials to application markets), and be inspired with current and future innovations.
The six sections of the magazine consist in:
NEWS: with interviews, articles about business development (M&As, appointments, partnerships and collaborations, awards etc.).
BUSINESS: with articles covering trends and markets, focusing on a specific country or region, with the composites market, or the application markets, or the companies strategies etc. in that country or region, and a startup focus.
MANUFACTURING: with articles about production processes and processing equipment.
FEATURE: an in-depth overview of a specific topic (typically an application sector), plus a JEC World Preview in April/May and Review in June/July.
SOLUTIONS: composites around us, with articles showing how composite materials are being used in applications which impact our everyday lives.
TECHNOLOGY: with articles about developments in materials, testing and control, repair, joining, design and simulation, recycling and reuse, R&D.
Enjoy your reading!
Contents
The environment each and every day!
"The first editorial of the year is always a difficult business. You would no doubt – and rightly – like to find a novel viewpoint or a piece of non-trivial information that hasn't already been...
Read More
N°78 - january 2013
EDITO
The environment each and every day!
"The first editorial of the year is always a difficult business. You would no doubt – and rightly – like to find a novel viewpoint or a piece of non-trivial information that hasn't already been...
POINT OF VIEW: QUALITY & SERVICE
FORMAX : Delivering tailored fabric solutions
Non Crimp Fabrics or Multiaxials are now commonly used across a range of applications including the Wind Energy sector. Whilst some suppliers focus on commodity materials, other more demanding niche...
Companies & Business
Development
BASF constructs new research building in Ludwigshafen BASF is constructing a new laboratory building that will combine research scientists from several specialties under one roof. The building is...
Announcement
Amber Composites builds momentum in automotive composites material specified for another new automotive program for major European OEM Amber Composites announced that their highperformance prepreg has...
Certification
ICE - AS9100 Certification announcement Innovative Composite Engineering announced that its facility had been certified to the AS9100:2009 Rev C Quality Management System standard after successfully...
Partnership
Zoomlion & Riba Italy carbon fiber material joint venture agreement signed Zoomlion and Riba formally signed an agreement to establish their joint venture, TOP Carbon SRL in Faenza, Italy. TOP Carbon...
Chongqing CPIC goes global
By acquiring Owens Corning's Capivari production unit in Brazil, CPIC Fiberglass is changing spheres. This investment signals the company's intent to become one of the sector's global players. Now it...
More information ...
Annual Customers' conference CPIC's 2012 Annual Customers' Conference was held on 8 September in Jinghong City, in the Xishuangbanna Prefecture. More than 200 people attended the conference, including...
Applications
Bridging from today to tomorrow
Bridge manufacturer Fiber-Core Europe, infrastructure company Heijmans and DSM have started working together to further intro-duce lightweight composite bridges in new road construction projects. The...
About Retrac Composites
Founded in 1998 and based in the UK, Retrac Composites Ltd. employs 30 people on a 1,000 sq. m facility to generate annual sales exceeding £3 million. Its sister company, Retrac Productions Ltd.,...
Making music with carbon fibre
In June 2011, Retrac Composites Ltd. was approached by Hurstwood Farm Piano Studios and Simpact Engineering Ltd. to discuss the possibility of manufacturing a revolutionary-design carbon composite...
Market
The global composite fibre market: a bright future
The global composites market is estimated at 8.7 million metric tons for 2012, and valued at €77 billion. Europe definitely focuses on high-performance composites: while accounting for only 22% by...
Glass fibre production worldwide: keeping pace
After having weathered the economic crisis, the market for glass-fibre-reinforced composites continues to expand, as we indicated the last time we discussed this topic. This section is an update of...
Carbon fibre production : many investments and projects
Carbon fibre manufacturing demands substantial capital investment and R&D resources. Every single step in the manufacturing process is crucial to the final quality of the fibre. Since our last issue...
Aramid and basalt: still challenger fibres
The volume of aramid and basalt fibre used in composite materials is still low compared to that for carbon and especially for glass fibre, and yet these fibres have many advantages. Here is an update...
Feature Wind energy
World wind capacity has crossed 250 gigawatts
With 16.5 GW of new installations in the first half of 2012 (compared to 18.4 GW in 2011), the worldwide wind capacity is expected to reach 273 GW by the end of this year. The slowdown in China...
Harnessing the wind: New technologies for longer, lighter rotor blades
In recent decades, wind energy turbines and rotor blades have seen a continuous up-scaling in order to achieve higher yield and efficiency. But for wind to compete with other energy sources, the cost...
An innovative wind blade sparcap technology
Epsilon Composite, a 25 years old company fully dedicated to carbon fiber-epoxy pultrusion, has implemented a new windbalde sparcap technology: The Carboglulam®. An efficient industrial process...
Prepreg in wind energy: removing the barriers
As the design of large multi-megawatt wind turbines progresses, wind turbine blade designers are investigating the benefits of new prepreg materials. Gurit's recently launched Spar-PregTM featuring...
Can flax replace E-glass in small wind turbine blades?
This article details a novel comparative case study on the physical and mechanical properties of 3.5-metre rotor blades manufactured using flax/polyester and E-glass/polyester. This study shows that...
Zhongfu Lianzhong: no lack of ambition
With the tremendous growth of the wind energy sector in recent years, the landscape has changed considerably. As the sector becomes organized at the international level and global players appear on...
Research & Development
Using composites to repair steel vessels
Composite patching has proved its effectiveness and cost benefits in the aerospace industry for several years now. However, there are several fundamental differences between aerospace and steel vessel...
Laser pre-treatment of CFRP for adhesive bonding
Pre-treatment of CFRP is essential for structural or ageing-resistant adhesive joints. Laser technology makes it possible to remove release agents/contaminants without damaging the joints, thus...
Technologies & Innovations
Microwave-assisted curing for resin transfer moulding
Currently, polyester, vinylester and epoxy resins are cured by heat, ultraviolet radiation or electron beam. The thermal process is the most common in this sector. The use of microwave radiation as a...
How C-PlyTM can change the way we design and manufacture
C-PlyTM is a recent patent pending invention by Stanford University and Chomarat that offers significant weight and cost reductions. Carbon/epoxy laminates are significantly stronger and stiffer than...
Construction of a CubeSat using additive manufacturing
Additive manufacturing allows great design freedom. The more complex the parts, the more useful this technique. The RAM-PART satellite is a two-unit miniaturized satellite (2U CubeSat) consisting of...
Thank you
You just used 1 credit. You have left.