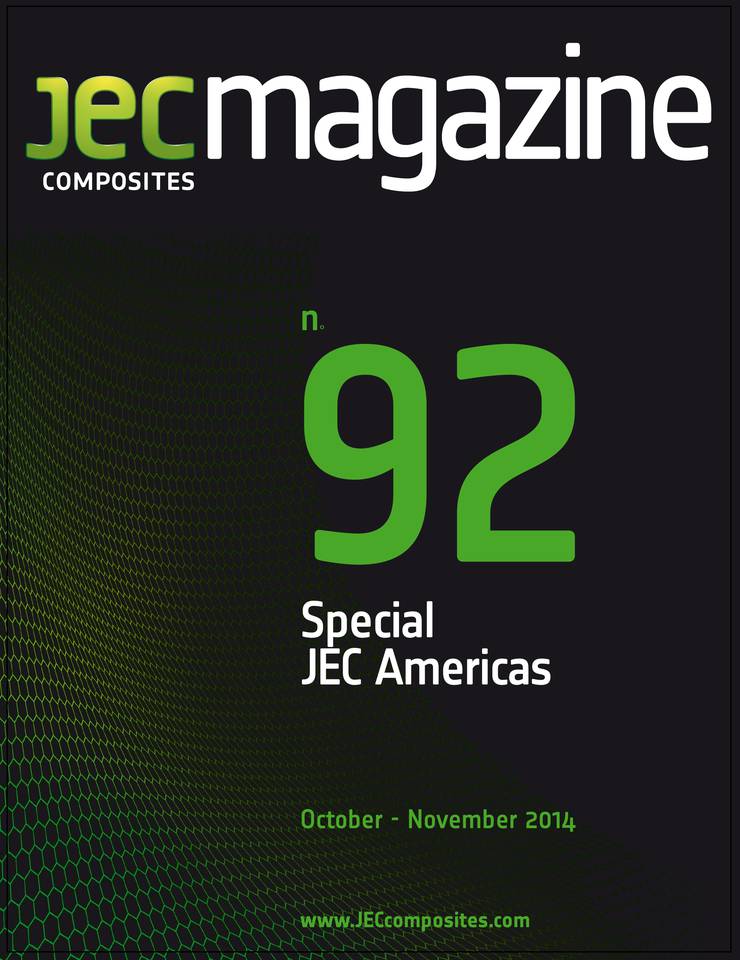 JEC Composites Magazine
N°92 - october 2014
Preview
JEC Composites Magazine is the point of contact of the international Composites Community, 6 times a year, with topics covering scientific information, business, technology, manufacturing, and application sectors trends.
In each and every issue, readers will learn about the entire composites industry value chain (from raw materials to application markets), and be inspired with current and future innovations.
The six sections of the magazine consist in:
NEWS: with interviews, articles about business development (M&As, appointments, partnerships and collaborations, awards etc.).
BUSINESS: with articles covering trends and markets, focusing on a specific country or region, with the composites market, or the application markets, or the companies strategies etc. in that country or region, and a startup focus.
MANUFACTURING: with articles about production processes and processing equipment.
FEATURE: an in-depth overview of a specific topic (typically an application sector), plus a JEC World Preview in April/May and Review in June/July.
SOLUTIONS: composites around us, with articles showing how composite materials are being used in applications which impact our everyday lives.
TECHNOLOGY: with articles about developments in materials, testing and control, repair, joining, design and simulation, recycling and reuse, R&D.
Enjoy your reading!
Contents
Bringing composite design and simulation to a larger audience
"Engineering modelling, analysis and simulation are a promising market in full evolution. According to market intelligence firm IDC, the global market amounted to US $10.3 billion in 2013 and should...
Read More
N°92 - october 2014
ÉDITO
Bringing composite design and simulation to a larger audience
"Engineering modelling, analysis and simulation are a promising market in full evolution. According to market intelligence firm IDC, the global market amounted to US $10.3 billion in 2013 and should...
POINT OF VIEW: OIL & GAS
Element opens new $5 million O&G materials technology center in Houston
Element Materials Technology, the USA's largest independent mate-rials testing and product qualification testing provider, has opened a new flagship Oil and Gas Materials Technology Center in Houston,...
COMPANIES & BUSINESS
in brief Partnership
Polystrand, Sanluis Rassini and PPG create advanced auto-motive composite project The partners are preparing a vehicle to compete in the Grand Touring Lite (GTL) classification in the Sports Car Club...
FibreCITY: building a renewable future with biocomposites
As the demand for companies to use renewable, green materials to reduce their environmental footprint is growing rapidly, a robust global biocomposites industry is needed to satisfy that demand. To...
RWTH promotes entrepreneurship: Apodius is born!
Alexander Leutner and Jonathan Roberz work as researchers at RWTH Aachen University, but they are also entrepreneurs: they are the managing directors of Apodius, a spin-off company established in...
AGENDA OF EVENTS
in partnership with 2014
October ACCM-9 October 15-17 Suzhou, China www.accm9.com 13th International Symposium on Multiscale, Multifunctional and Functionally Graded Materials October 19-22 Sao Paulo, Brazil www.mmfgm2014.org...
APPLICATIONS
Environment-friendly materials for composite production
Factors such as the growing environmental conscience, legislative pressures, depletion of synthetic polymers and rising costs are leading companies to explore new materials for the development of...
A unique hand-held ballistic shield
The Targa-light CX+ is a very light and high-performance ballistic shield, easier to manipulate and transport than its wheeled predecessor. Its high mobility and effective protection during delicate...
Polyurethane in the BMW i3 and reactive polyamide materials development
As a supplier and development partner for composite applications involving polyurethanes, epoxy resins and thermoplastics, BASF had on display, at JEC Europe 2014, a rear seat pan for the BMW i3...
MARKET
Bottlenecks to the development of biocomposite applications
Applications for biocomposites (polymers reinforced with plant fibres) are gaining ground, due to the specific characteristics of plant fibres. However, these materials have not reached a high level...
Manufacturing gigantic all-carbon-fibre parts: challenging yet routine
Magma Global subsidiary Magma Structures was created in 2011 to provide solutions for highly challenging large-scale projects. The British company can deliver highly engineered parts in sizes...
SPECIAL JEC AMERICAS - FALL EDITION 2014
Gain insight into the JEC 2014 l.C.S. Americas programme
Multi-Scale Modeling of Composites -A paradigm shift in the optimal engineering of composites materials & structures JCM: How can behavioral simulation change the composite industry as we know it?...
How does the use of fast-curing adhesives change the design of structural joints?
JCM: In your opinion, what is the real challenge in terms of design of structural joints? Sana Elyas : Designing a structural joint requires a clear understanding of the materials, loads, interface...
What are the main composite aerostructure developments in the High Performance Enterprise?
JCM: What is the real challenge in terms of composites aerostructures? John O'Connor : As composites have become a larger portion of aero-structures, the challenges associated with their design and...
I.C.S. ⏵October 28 - 10:00 am / 1:00 pm
● Changing perspectives in composite design - Time gain in composite design- Behavior checking and predictions Chairmen Rani Richardson, Dassault Systemes and Byron Pipes, Purdue University ⏵The...
JEC Innovation Awards Program 2014
The JEC Innovation Awards program has been a major staple in the composites industry for over 15 years, rewarding the most interesting and groundbreaking projects of the moment. This session focused...
Nonlinear multi-scale material and structure modeling platform
e-Xstream (Luxembourg) engineering is a software and engineering services company 100% focused on state-of the-art multi-scale modeling of complex multi-phase composites materials and structures (PMC,...
Composite design and manufacturing hub
Purdue University has recently launched the Composites Design and Manufacturing HUB (cdmHUB). It is a collaborative web interface platform designed to provide a platform for evaluation of composite...
Certified composite repair system for pipelines
Henkel presented its innovative solutions for the maintenance and repair of industrial facilities, equipment and components for the first time at the 2014 ONS (Offshore Northern Seas) international...
Successful first flight test for the VX-1 KittyHawk C-Ply™ aircraft model
The ¼-scale version of the VX-1 KittyHawk™ successfully completed its maiden flight on 6 June 2014 at the Foothills Regional Airport between Morganton and Lenoir, North Carolina, USA. KittyHawk™, the...
Composite aerostructure development in high-performance enterprises
The use of composites in the aerospace industry is dramatically rising. To achieve high performance in aerostructures development, companies must embed specialized composite design methods into their...
RESEARCH & DEVELOPMENT
Can silk become a fashionable polymer-reinforcing fibre?
While silks have long been (and incorrectly) hyped for use in ultra-light bullet-proof vests, they have found some niche technical applications (e.g. high-end tubular tyres and "ballis-tic boxers")....
Semi-automated production of composite beams
In cooperation with AirConcept GmbH, the Institut fuer Textiltechnik of RWTH Aachen University is developing a semi-automated process that combines textile preforming technologies with liquid...
TECHNOLOGIES & INNOVATIONS
Non-destructive testing of composite structures
Aeronautical and automotive fibre composite structures often have curved surfaces and complex material properties. Therefore, non-destructive testing is challenging when using classical methods such...
Diamonds advance composites drilling: optimum tool design is critical
Carbon fibre reinforced polymers (CFRP), alone or stacked with titanium and aluminium plates, are widely used in the aerospace industry worldwide for their high strength-to-weight ratio and stable...
From land, across the water and into the sky
It all began in a garage where the nucleus of the U.S. company German Advanced Composites, Inc. was born. Originally started as a private project, FastForward, a custom motorcycle based on an air- and...
Thank you
You just used 1 credit. You have left.