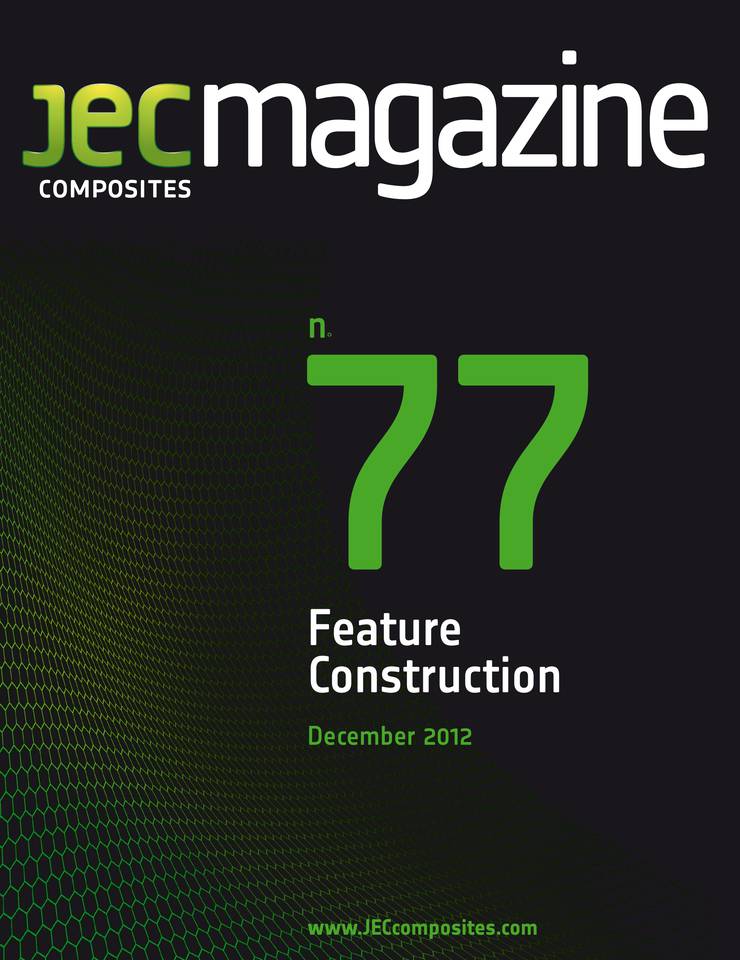 JEC Composites Magazine
N°77 - december 2012
Preview
JEC Composites Magazine is the point of contact of the international Composites Community, 6 times a year, with topics covering scientific information, business, technology, manufacturing, and application sectors trends.
In each and every issue, readers will learn about the entire composites industry value chain (from raw materials to application markets), and be inspired with current and future innovations.
The six sections of the magazine consist in:
NEWS: with interviews, articles about business development (M&As, appointments, partnerships and collaborations, awards etc.).
BUSINESS: with articles covering trends and markets, focusing on a specific country or region, with the composites market, or the application markets, or the companies strategies etc. in that country or region, and a startup focus.
MANUFACTURING: with articles about production processes and processing equipment.
FEATURE: an in-depth overview of a specific topic (typically an application sector), plus a JEC World Preview in April/May and Review in June/July.
SOLUTIONS: composites around us, with articles showing how composite materials are being used in applications which impact our everyday lives.
TECHNOLOGY: with articles about developments in materials, testing and control, repair, joining, design and simulation, recycling and reuse, R&D.
Enjoy your reading!
Contents
The United States, land of innovation
"A number of articles in this 77th issue of your JEC Composites Magazine deal with civil engineering, and more particularly with the bridge/foot-bridge sector. These articles highlight a rapidly...
Read More
N°77 - december 2012
ÉDITORIAL
The United States, land of innovation
"A number of articles in this 77th issue of your JEC Composites Magazine deal with civil engineering, and more particularly with the bridge/foot-bridge sector. These articles highlight a rapidly...
POINT OF VIEW: STRATEGY
Cytec: expanding its footprint on Composite market
Cytec announced a high number of new developments over the past months, including the restart of your carbon fibre expansion, the sale of its pressure-sensitive adhesive product line, the acquisition...
COMPANIES & BUSINESS
Azelis announces the sale of its Composites business
Azelis announced the sale of its international Composites business to VELOX GmbH who has acquired this business in its entirety. As a result, VELOX took over and manage the Composites business and its...
Harper lands project for multi-million dollar ultra-high temperature (UHT) carbon fiber system
Harper International, world leader in thermal processing solutions for advanced materials, has been awarded a project by a client for an ultra-high temperature (UHT) carbon fiber furnace rated to...
SGL Group completes 100% acquisition of Fisipe
The Carbon Company has successfully completed the acquisition of the Portuguese company Fisipe – Fibras Sintéticas de Portugal S.A. Following the conclusion of the compulsory of-fer and squeeze-out,...
JEC Americas 2012: An inaugural session beyond expectations
After three days of Composites networking and Knowledge sharing, the first JEC Americas Composites Show and Conferences closed its doors last November 9 on an excellent note. According to interviewed...
APPLICATIONS
Bespoke foldable mobile shelters
The DuraPlate® Foldable Mobile Shelter (FMS) is a multipurpose solution for everything from mobile offices to temporary living quarters. Foldable and quickly deployed, this shelter can be quickly...
A commercial van which raises the bar
In the world of commercial vehicles, the introduction of a truly new vehicle is a rare occurrence. That's why the all-new Reach (nothing to do with the EU regulation) is so important. Again,...
More seats despite change in standard passenger weight
Arboc Specialty Vehicles, LLC, a leading innovator in bus design, recently unveiled a new bus with a low-cost, lightweight high-performance floor system. Structural Composites teamed with Arboc...
MARKET
Recent nominations New commercial director for Ashland in South America
José Armando Aguirre is the new commercial director for Ashland Performance Materials, a commercial unit of Ashland Inc., in South America. He will report to Ted Harris, president, Performance...
Epoxy: the second-most-used thermoset resin for matrices
Epoxy resins are discreetly present in the daily life of each and everyone. They also play a crucial role in high-performance composites. There would be no Airbus A380 XWB or Boeing B787 without them....
FEATURE CONSTRUCTION
Composite materials growth in building and construction
Composites provide more effective solutions to the building sector's needs than certain traditional materials being used in construction. The building industry is currently receptive to learning more...
Natural-fibre composites in construction and rehabilitation
Composites bestowed with unique advantages like light weight and a high strength-to-weight ratio, drew attention towards novel applications and as substitutes for conventional materials such as metal,...
The largest composite bridge ever constructed in the world
The 9.75-m wide, eight-span, 164.6-m-long Knickerbocker Bridge, the largest composite bridge in the world, was inaugurated in Boothbay, Maine (USA), on July 18, 2011. It is made of hybrid-composite...
An innovative stress ribbon bridge using pre-stressed CFRP cables
Acciona Infraestructuras S.A. (Spain) received a 2012 JEC Innovation Award in the Civil Engineering Category for a stressed ribbon bridge built in Cuenca, Spain, using CFRP cables. This innovation was...
New FRP pedestrian bridge deck improves safety and provides critical connecting link
Composite Advantage LLC's FiberSPAN™ fibre-reinforced polymer bridge deck product was installed on a new 3-span steel superstructure at Wolf Creek National Park near Vienna, Virginia (USA). The new...
Composite drilling and completion centralisers with extreme mechanical properties
Matrix Composites & Engineering has developed a new range of patented composite drilling and completion centralisers for the oil and gas industry. The centralisers are used in offshore drilling and...
Huge sanitation project relies on GRP pipes
Connecting the eastern parts of Ajaccio in Corsica (France) to the Campo Dell'Oro water treatment plant is an ambitious project. To carry it out successfully, the participants – including the Ajaccio...
RESEARCH & DEVELOPMENT
Pulsed Infusion: a new liquid moulding process
Pulsed Infusion is a new double-bag vacuum-assisted technology for the manufacture of composite materials. Its main innovation is the use of a suitably designed reusable pressure distributor that...
Infrared welding of carbon fabric reinforced thermoplastics
The wide acceptance of high-performance composite materials introduces an issue regar-ding the bonding of these reinforced polymer materials. This study assesses the use of the infrared welding method...
TECHNOLOGIES & INNOVATIONS
Fully automated energy-efficient 3D preforming
In the manufacturing of advanced composites, the cost structure is dominated by process costs. In RTM, there is also a need to reduce process costs/cycle times in all phases, including preforming....
PCD vein technology facilitates composite machining
Everyone knows that to machine composite materials, you have to pay a lot of attention to the material and method used for each operation. This is why finding specific machining solutions represents...
Machining carbon fibre-reinforced plastics
Global market trends show a significant growth in the use of carbon fibre-reinforced plastics. Besides growth in the existing segments, an expansion into other segments can be seen. This automatically...
Thank you
You just used 1 credit. You have left.