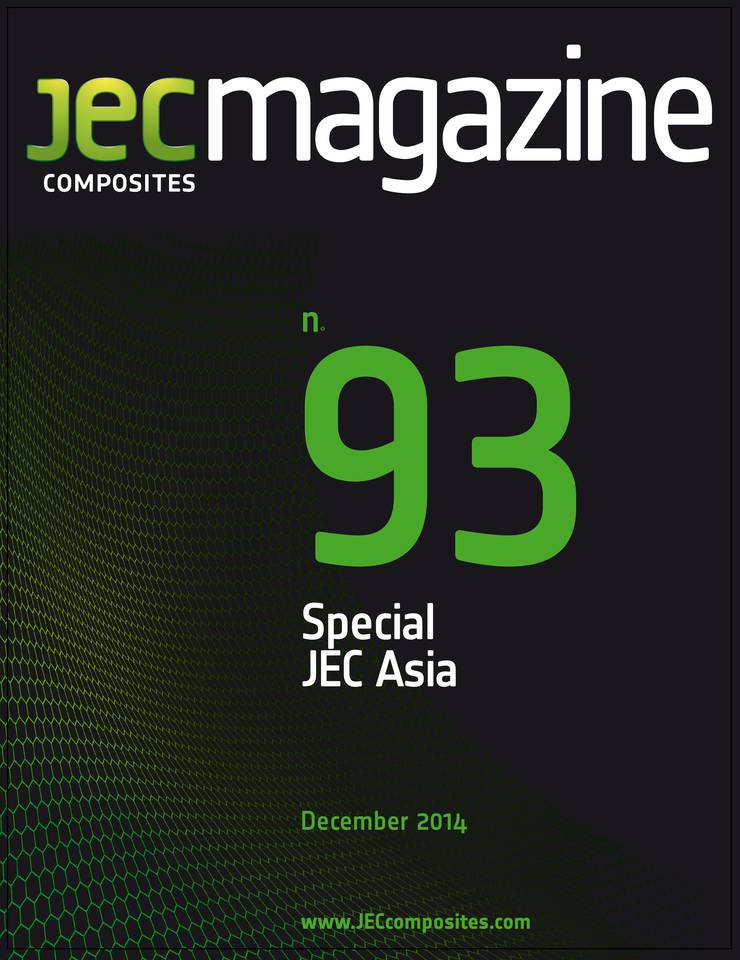 JEC Composites Magazine
N°93 - december 2014
Preview
JEC Composites Magazine is the point of contact of the international Composites Community, 6 times a year, with topics covering scientific information, business, technology, manufacturing, and application sectors trends.
In each and every issue, readers will learn about the entire composites industry value chain (from raw materials to application markets), and be inspired with current and future innovations.
The six sections of the magazine consist in:
NEWS: with interviews, articles about business development (M&As, appointments, partnerships and collaborations, awards etc.).
BUSINESS: with articles covering trends and markets, focusing on a specific country or region, with the composites market, or the application markets, or the companies strategies etc. in that country or region, and a startup focus.
MANUFACTURING: with articles about production processes and processing equipment.
FEATURE: an in-depth overview of a specific topic (typically an application sector), plus a JEC World Preview in April/May and Review in June/July.
SOLUTIONS: composites around us, with articles showing how composite materials are being used in applications which impact our everyday lives.
TECHNOLOGY: with articles about developments in materials, testing and control, repair, joining, design and simulation, recycling and reuse, R&D.
Enjoy your reading!
Contents
Vision and innovation in the Asian composites market
"In a global composites market that is growing at 6% per annum, Asia already accounts for nearly 50% of the world production. In 2013, the Asian composites market was around 4 million tons and...
Read More
N°93 - december 2014
ÉDITO
Vision and innovation in the Asian composites market
"In a global composites market that is growing at 6% per annum, Asia already accounts for nearly 50% of the world production. In 2013, the Asian composites market was around 4 million tons and...
POINT OF VIEW: SIMULATION
Optimization in simulation: When technology revolves design and innovation process
Since there are now many more variables to consider, simulation is necessary to efficiently apprehend all the data in order to develop adequate designs.These days, computer simulation methods are much...
COMPANIES & BUSINESS
in brief Partnership
NTU starts international consortium to develop materials for sporting goods Nanyang Technological University's Institute for Sports Research (ISR) has set up an international consortium to develop...
Gold of Bengal receives international award for its jute fabric
On Wednesday 10 September, the Convergences World Forum held its Awards ceremony at the Hôtel de Ville in Paris, France. For the seventh year in a row, innovators from all backgrounds gathered in the...
New line of cutting tools for composite machining
Komet Rhobest's new line of cutting tools was presented as a world's first at the JEC Europe trade show on 11-13 March (at Paris Porte de Versailles). This new line of cutting tools dedicated to the...
Continuous monitoring system for composite hydrogen storage tanks
The Technology Strategy Board (UK) is funding a £430k collaborative research project to develop a system for condition monitoring of hydrogen storage tanks for mass transit vehicles. R-TECH Materials...
AGENDA OF EVENTS
in partnership with 2014
December Wind Turbine Blade Manufacture December 1-3 Dusseldorf, Germany www.amiplastics.com 9th European Bioplastics Conference December 2-3 Brussels, Belgium www.en.european-bioplastics.org...
APPLICATIONS
Composite Advantage establishes FRP bridge installation partner
Composite Advantage has established partner company FRP Constructors LLC to provide critical on-site delivery and installation services for its fibre-reinforced polymer (FRP) composite bridges and...
A vacuum-infused boxbeam bridge produced and installed in Japan
The first vacuum-infused boxbeam bridge produced and installed in Nagano-Ryokuchi, Fukuoka, Japan, is the result of a cooperation between Japanese company GRP Construction and Dutch company Infra...
Innovative large composite tank for hydrogen gas fuelling stations
Starting with the development of a metallic fire extinguisher in collaboration with the Japan Nuclear Cycle Development Institute in 2000, Maruhachi is working on the research and development as well...
MARKET
Analysis of China's fibre-glass market and its future development
Since 2013, the global economy has slowly been coming back to life and the gap between developed countries and developing countries has become wider and wider. Specifically, the growth impetus of...
SPECIAL JEC ASIA 2014
Gain insight into the JEC 2014 l.C.S. Asia programme
From in-depth discussions around the current Asian composites market, to competitive production solutions allowing reduced cycle times, JEC Asia's conference sessions cover multiple industries such as...
JEC innovation awards programme Raw Materials
High-modulus PAN-based carbon fibre UHT's project is to transform general PAN-based carbon fibre into high-modulus carbon fibre. This solution provides a more efficient and convenient access to...
Future Pipe Industries strengthens the market!
Driven by the ever-increasing need for energy and water re-sources, the global pipe market is growing rapidly and at the forefront of this growth is the evolution to glass fibre. The demand for high-...
A composite body for EVA, an electric taxi for Singapore
EVA is an electric car specifically designed as a taxi for tropical megacities. It was designed, developed and manufactured by TUM CREATE in Singapore. The vehicle structure is entirely made of carbon...
FEATURE MARINE
New high-performance composite training centre
To address chronic recruiting problems, Multiplast (Carboman group) has created a training centre dedicated to the high-performance composites used in high-tech sectors like shipbuilding, aviation and...
"In the field of competition, I think that we are close to reaching the limits of the materials"
A sailor with boundless energy and a list of achievements longer and more colourful than a catalogue, Michel Desjoyeaux spoke to us for a while at the last JEC Europe trade show about composites and...
Barracuda develops car ferries with composite superstructures
The constant demand for producing light and resistant vessels has launched an ongoing challenge for boat builders worldwide. New material solutions and processes have increasingly contributed in the...
Flax fibre, balsa and biosourced resin for an electric catamaran ferry
The green revolution is under way! The town of Concarneau in Brittany (Western France) will take delivery of its first electric ferry to carry passengers across the harbour. The roof of this catamaran...
Composite superstructures for the world's largest destroyer
More cruiser than destroyer, the DDG 1000 is 185.9 metres long and 24.6 metres wide, reaching 15,610 tons at full load. The vessel's superstructures are made of composite materials. The Zumwalt...
Hart Marine delivers wave piercing pilot boats
Imagine having to bring a 100,000-ton ship into port in rough weather and heavy seas, navigating through a narrow, rocky passage bordered by dangerous reefs. Port Phillip Bay, which forms the entrance...
Composites at work for the world speed sailing record
The Around the World, Northern Atlantic, New York-San Francisco, 24 Hour Distance, and Nautical Mile are some of the records that have inspired the stout-hearted for a very long time. This includes...
RESEARCH & DEVELOPMENT
Determining the properties of wood plastic composites (WPC) by thermal analysis
Wood plastic composites, also called wood polymer compounds, consist of wood, polymers and additives. These compounds have gained increasing acceptance over the past years. While currently they are...
The challenges of multimaterial assembly
"The right material in the right place" is what must be the focus in order to meet all the requirements for quality, cost, lead time and performance for complex mechanical systems. This is true in all...
TECHNOLOGIES & INNOVATIONS
Aircraft nose landing gear doors manufactured lighter and faster using high-performance foam core
The fully tested and approved nose landing gear doors of a Dornier 728 have been redesigned using Evonik's new Rohacell® HERO polymethacrylimide (PMI) closed-cell rigid structural foam core material...
Choosing the right release liner
The composite industry is a fast growing, very interesting market. The use of carbon fibre composites in the aerospace industry is increasing in importance as weight reduction becomes the central...
Exploiting the potential of long fibre-reinforced thermoplastics
IKV is developing an integrative strength calculation procedure for LFT parts. The project is funded via the AiF (Confederation of Industrial Research Associations) by the German Federal Ministry for...
Thank you
You just used 1 credit. You have left.