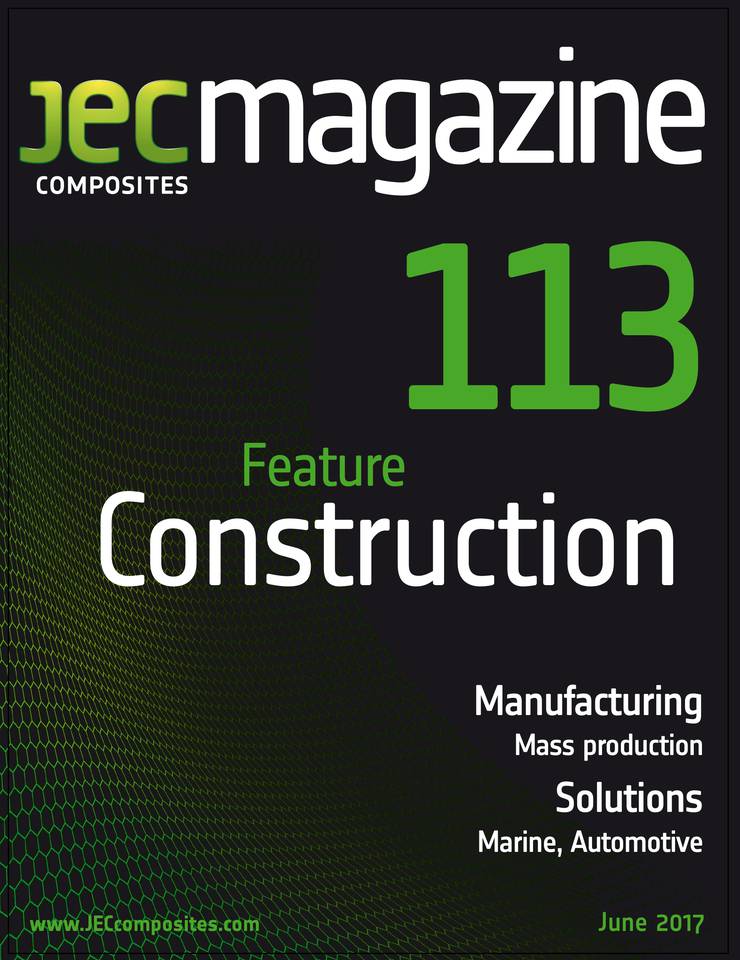 JEC Composites Magazine
N°113 - june 2017
Preview
JEC Composites Magazine is the point of contact of the international Composites Community, 6 times a year, with topics covering scientific information, business, technology, manufacturing, and application sectors trends.
In each and every issue, readers will learn about the entire composites industry value chain (from raw materials to application markets), and be inspired with current and future innovations.
The six sections of the magazine consist in:
NEWS: with interviews, articles about business development (M&As, appointments, partnerships and collaborations, awards etc.).
BUSINESS: with articles covering trends and markets, focusing on a specific country or region, with the composites market, or the application markets, or the companies strategies etc. in that country or region, and a startup focus.
MANUFACTURING: with articles about production processes and processing equipment.
FEATURE: an in-depth overview of a specific topic (typically an application sector), plus a JEC World Preview in April/May and Review in June/July.
SOLUTIONS: composites around us, with articles showing how composite materials are being used in applications which impact our everyday lives.
TECHNOLOGY: with articles about developments in materials, testing and control, repair, joining, design and simulation, recycling and reuse, R&D.
Enjoy your reading!
Contents
The Future of Building
"Construction – and by construction, we mean building and civil engineering – accounts for a volume of more than two million metric tons in the composite market, a far from negligible share that makes...
Read More
N°113 - june 2017
EDITORIALE
The Future of Building
"Construction – and by construction, we mean building and civil engineering – accounts for a volume of more than two million metric tons in the composite market, a far from negligible share that makes...
OPINION
"We have historically been blessed with a solid and loyal workforce"
Composite Horizons Incorporated (CHI) is a leading innovator and producer of composite parts for diverse industries. Established in 1974, , CHI has become a key supplier of aircraft components and...
NEWS
Nexcelle appoints André Robert as Executive Vice President of the GE Aviation/Safran engine nacelle joint venture
Based at Nexcelle's Cincinnati, Ohio, USA headquarters, Robert is a GE employee with management experience in both the commercial and business aviation segments. He previously was GE Aviation's on-...
LG Hausys acquires majority stake in c2i
LG Hausys, a subsidiary company of the Korean LG Group, has signed an agreement to purchase 50.1% of shares in the Slovak composites components producer c2i. The company is able to leverage the deep...
LM Wind Power lays first stone at Cherbourg blade factory
The facility will manufacture offshore wind turbine blades for multiple customers as LM Wind Power responds to demand for new offshore capacity in northern Europe. The manufacturer of wind turbine...
Boeing expands production with investment in new UK site and US facility
Boeing announces that it plans to open a production facility in Sheffield, United Kingdom, to manufacture high-tech components for Boeing's Next-Generation 737, 737 MAX and 777 aircraft. These...
The future of composites in automotive industry
A Huntsman Advanced Materials proprietary survey unearths attitudes towards the use of composites in the automotive industry, helping identify future trends and ensure innovations meet customer needs....
Stelia Aerospace inaugurates its Aeronautical Factory of the Future in Méaulte
After more than one year of transformation and an investment of 70 M€, the Stelia Aerospace factory in Méaulte inaugurates its Aeronautical Factory of the Future, specializing in aerostructure...
Porcher Industries to invest more than €50 million in capacity, R&D and technology
Porcher Industries, founded over 100 years ago and recently acquired by Warwick Capital, has appointed André Genton as Chairman of the Executive Management Board, to provide the expertise for this...
The Porcher Industries Group on all fronts
Founded over 100 years ago to weave silk yarns, and graduating from those to technical textiles, Porcher Industries was acquired by Warwick Capital in June 2016. To provide the expertise for this...
NEWS agenda
2017 June World Wind Energy Conference and Exhibition (WWEC2017) June 12-15 Malmö, Sweden www.wwec2017.com Multicomp June 14-15 Nottingham, UK www.multicomp-conference.com Paris Air Show June 19-25...
BUSlNESS
Start-up of an experimental recycling line for composite materials
At JEC World 2017, Cetim-Cermat presented its new pilot line dedicated to the recycling of plastics and composites. The line is set up in Mulhouse (eastern France). The development of Thermosaïc®...
Testing the use of recycled carbon fibres in China's Chery electric vehicle
Lightweighting is a key issue for the automotive industry, especially for China's booming electric vehicle (EV) market. A new Sino-British partnership uses recycled carbon fibre materials as a...
Continued growth for thermosets
Some thermoplastic producers are predicting the death of thermosets, but the figures say otherwise. While it is true that the estimated growth rates for thermosets are lower than those for...
MANUFACTURING
Snap-cure material toolbox for high-volume applications
SGL has developed a new resin system with a few minutes' cycle time and a high glass transition temperature. This new system is the essence of the company's new toolbox for high-volume high-...
lntegrating design and costing
Costing as an innovation driver within product design is mostly underestimated, even though its potential for cost saving is usually well known. Conbility GmbH and the Aachen Center for Integrative...
FEATURE CONSTRUCTION
Composites in construction: the economic opportunity is vast
Composites have evidently made significant incursions into many manufacturing sectors, frequently where their strength to weight advantages offered increased performance over other materials and...
The Future of Composites in Construction Innovation Awards 2017
The number of submissions received for the Innovation Awards program is proof that composite materials for construction have widespread applications. So, for its first edition, the Future of...
CIVIL ENGINEERING
Highly integrated ductile reinforced carbon composite I-beam This innovation is enabled by a novel continuous and direct weaving process, called Add-on Weaving, which offers great freedom in combining...
STRUCTURAL CLADDING
Structural FRP composite panel with moulded Ultra-High Performance concrete finish Ultra-High Performance Concrete (UHPC) provides an aesthetically pleasing, durable, fire resistant surface. But where...
International JEC Conferences: knowledge and networking ROOM B16
June 20 th - 08:30am Construction: A Segment Filled With Possibilities With forecasts of the number of accommodation capacities doubling by 2050, the question...
June 20th - 01:30pm Durability of Composite Materials in Construction
There are no structural reasons justifying the lack of composite materials use in architecture, but so far, architects have been reluctant to taking them into consideration. This session will develop...
June 21th - 8:30am Ensuring Safety While Maintaining Performance in Buildings and Infrastructure
By nature, composite materials are inherently thermally resistant, which makes them a realistic and cost-effective option for buildings, where flame retardancy is a crucial challenge. However, the...
June 21th - 1pm Composites as a Worthy Alternative to Traditional Materials in Buildings and Infrastructure
There are no structural reasons justifying the lack of composite materials use in architecture, but so far, architects have been reluctant to taking them into consideration. Often, the full potential...
FREE ACCESS SESSION June 21th - 12:30pm Connecting Technical Textiles and Composite Materials in the Building and Construction Fields
co-organized with: 12:30pm T.R.C. (Textile Reinforced Cement) a New Generation of Composite Materials, Patrice Hamelin, Emeritus Professor, Ecole Nationale d'Ingenieurs de Saint Etienne (ENISE) •...
June 22nd - 10am Developing Building Codes and Guidelines: Is Standardization an Attainable Goal?
The rigor of code-compliant requirements making it possible to use fiber-reinforced plastics in buildings is what has prevented these advanced materials from being adopted in a faster manner by the...
"That is what led me to composites"
On the eve of the Future of Composites in Construction trade show taking place 20-22 June in Chicago, we asked Eric Davis, architect and teacher at the School of the Art Institute of Chicago, to tell...
"This material that starts out as cloth can be shaped to any form imaginable"
Without getting ahead of the presentation that he will give at the Future of Composites in Construction trade show 20-22 June in Chicago, we asked Alphonso Peluso, Studio Associate Professor of...
Between minimalism and baroque: a first in France's construction sector
The architecture firm Wilmotte & Associés has completed an exceptional, monumental project near the Eiffel Tower: the Russian Orthodox Spiritual and Cultural Centre, with its five golden onion domes...
"The world of composite materials must align the planets"
Fabrice Bonnifet, Managing Director of Sustainable Development and QSE for the Bouygues Group, talks to us about the practical consequences of the COP21 agreements and opening up prospects for...
Composite materials for a creative façade design
The façade of Hub Zero, Dubai's first immersive family entertainment park, lights up in an ever-changing pattern. An eye-catching landmark at Meraas' City Walk, the centre offers a fully interactive...
From fibreboard to composite honeycomb cores for custom-built doors
This article is a case history on the use of a unique composite honeycomb core to replace fibreboard cores in high-end, custom-made residential wooden doors. The first application was an oversize door...
Protective module against damage caused by the collapse of buildings during earthquakes
Over the years, the civil engineering sector has developed anti-seismic infrastructure to an increasing extent to ensure all works meet specific design requirements. Shellife Srl designed a new...
lntegrating a biobased monomer makes for magical wood
With his amazingly rich, eclectic career, Timothée Boitouzet wins you over with his calm, magnetic enthusiasm. His translucent bionic wood has won him fame through a substantial number of awards and...
SOLUTlONS
Finally, a long-range electric speedboat
Founded in 2014, the Swedish company Candela Speed Boat achieved within just two years what other boat builders are still dreaming of: a completely emission-free long-range speedboat. Saertex®, a...
Carbon fibre composites for a vehicle structure with innovative subframe
In pursuit of lower vehicle weight to reduce emissions and improve fuel efficiency, Magna International Inc. developed a prototype carbon fibre composite subframe in cooperation with Ford Motor...
Full-size composite replica Spitfire fighter aircraft built using advanced materials
The Spitfire Heritage Trust recently completed a major project, successfully building from scratch an exact, full-size all-fibreglass replica of the iconic WWII Battle of Britain Supermarine Spitfire...
Scooters are too trendy for kids
The CarbonRider is a high-end electric scooter that claims to be the lightest electric scooter in the world. It is both unisex and is aimed for riders of all ages. The thing is packed with more tech...
TECHNOLOGY
40 years of research in the mechanics of composite materials and structures in Cachan
Created in 1975 by Pr. J. Lemaitre, the Laboratory of Mechanics and Technology in Cachan (LMT-Cachan) is a joint research laboratory associated with the Ecole Normale Supérieure Paris-Saclay, the CNRS...
X-ray computed tomography for assessment of mechanical properties and monitoring damage
A coupled experimental and numerical approach was developed to overcome the limits of integrative simulation methods in the case of short glass fibre-reinforced thermoplastics. On the one hand,...
New bio-based hybrid woven fabric as an alternative reinforcement
Saint-Gobain Adfors and Dehondt Composites investigated the addition of flax fibre into glass fabrics to form a hybrid material. The new structure shows promising results, as it enhances a number of...
Smart restoration of internal defects in damaged composite aerostructures
This paper presents a research project related to in-situ healing of damaged composite aero-structures. The team of five researchers was awarded a twoyear technology innovation fund from Singapore's...
Thank you
You just used 1 credit. You have left.